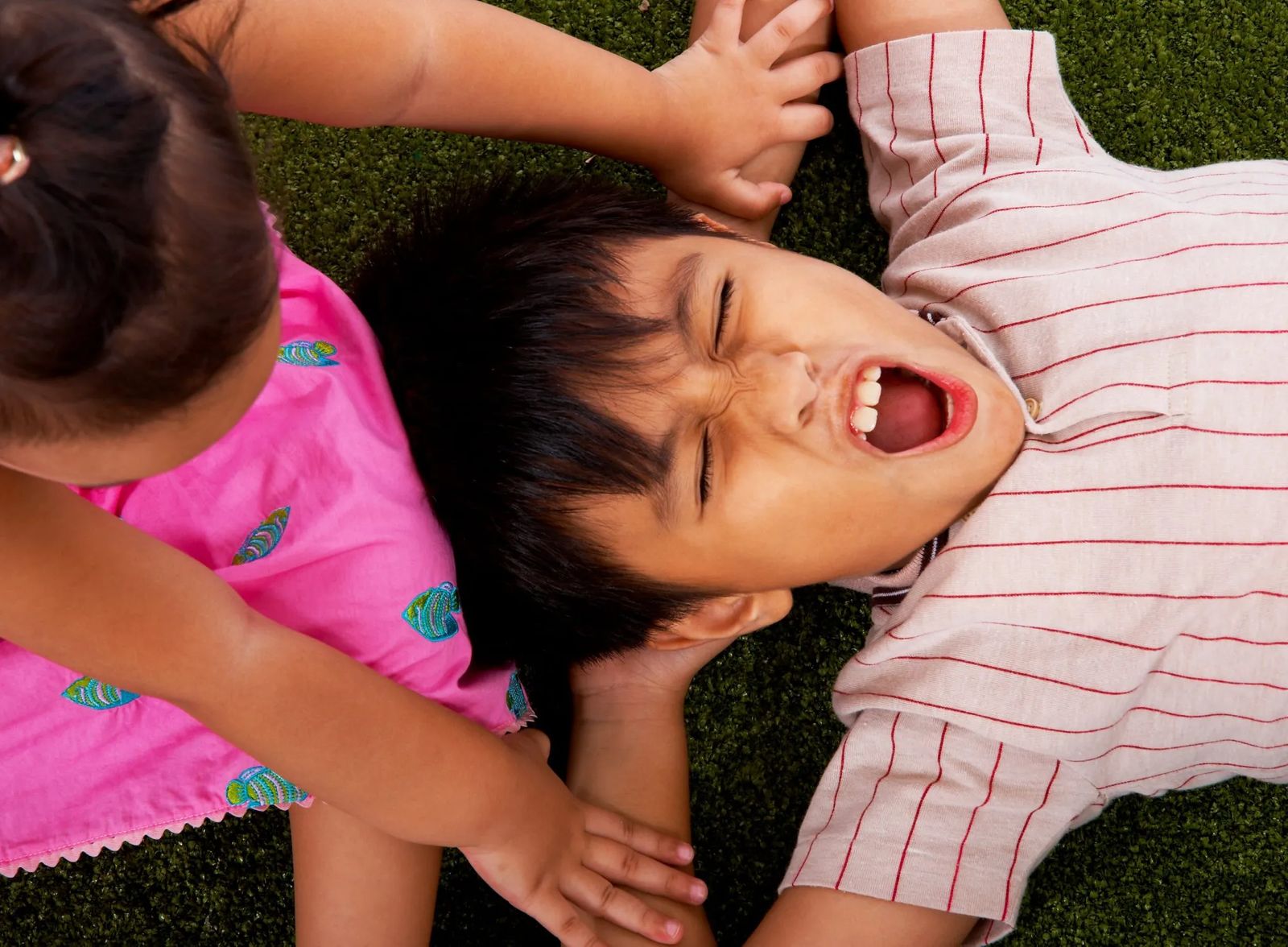 Your Child's Brain on Stress
The side effect of a fast-paced, tech-focused life
On school nights, the Henderson home goes quiet at 9:30 p.m. when all incoming calls and texts are blocked. At 10:30 p.m., Internet access goes dark. It's one of the strategies that parents Brian and Lynann use to minimize stress for their four busy, connected children. These days, they only have two sons, age 16 and 14 living at home. Being busy with sports and other after-school activities is their norm, but managing stress for their children has been a priority throughout their marriage.
While the Hendersons are proactive, all too often, stress can still creep into family life. Like most families, it has a significant impact on the most vulnerable members – children. Today's children are involved in more after school activities than any time in history, more is demanded of them at school, and technology is rapidly changing and posing additional challenges and temptations. Kids are stretched thin.
"Children in a state of stress suffer a myriad of problems including trouble at school, headaches, stomach upset, aggressiveness, withdrawing, depression, risk-taking, and substance abuse," says Karen Graf, the manager of the school nurse program at RiverStone Health.
Dealing with 19 school nurses in the outlying areas of Yellowstone County, she's seen an increase in students taking medications for stress-related mental health issues including clinical depression and anxiety. Surveys show that one in five students is living with mental health issues, and Graf believes stress is a contributing factor.
"As adults we need to look at our kids and what causes them stress because what causes us stress isn't the same as what causes them stress," Graf says. "Modeling healthy coping methods can help."
A closer look at stress
At a manageable level, stress can be a positive experience for children. With some guidance from parents, it will serve them for the rest of their lives.
"You want your kids to experience enough stress that they become resilient," says Dr. Michael Bütz, psychologist and owner of Aspen Practice in Billings. "It's a long-term process."
Parents, however, need to understand that each child has a different stress level, and there's not a blanket process for each child to deal with stress. Even within a family, there can be a significant difference between one child and his or her siblings.
"The most important thing parents can do is provide their child with a reasonable and understandable structure to their lives," Bütz says.
The home needs to be a refuge based on trust. A home that provides structure, giving children a clear understanding of who makes decisions, how they are made, and how disagreements will be resolved, says Bütz. Parents should have an eye out for good nutrition, a good night"s sleep and some unstructured free time for all in the family.
"The capacity of parents to handle stress directly relates to children's reaction to stress," Bütz says.
The Hendersons keep an eye out for changes in their children's attitude. When they escape to their rooms during family time or develop a negative, critical attitude, it's usually stress that's dragging them down.
Technology a factor
These days, technology is advancing at a dizzying pace. Children are bombarded with constantly changing technology and all the distractions it provides. It's not unusual for children to have their own computers, smart phones, tablets and game consoles that connect them to social networks and a vast array of information. From an early age, they're programmed to respond to technology.
"Parents don't shield their children from technology nearly enough," Bütz admits.
He encourages parents in his practice to limit access to technology, set and communicate their expectations, and use parental controls on all the devices used by their children. All devices have them, Bütz says, and if you need help setting them, ask for help at the store where you bought them.
Parents need to supervise online activities – at every age. Keep an eye on what they're accessing, what they're posting, and who they are connected with. Bütz adds that it"s critical to keep lines of communication open from an early age, and model the behaviors you expect from your children.
Activities in moderation
Lynann estimates that her boys, who are both in high school, spend at least two to three hours a night on activities outside the normal school day. They are busy with athletics, leadership activities, volunteering, and homework. The list is long, and they also have at least one or two hours of homework a night. Aside from a few hurdles now and then, the boys both manage their schedules well, Lynann says.
"My kids aren't that different from most kids out there," Lynann says.
She's right. It's common for kids to have activities scheduled for every night of the week, and it's a struggle for more than half of them. In the survey Graf has referenced, about sixty percent of students in Yellowstone County schools said they had trouble managing their time at school and after school.
Bütz recommends that families limit activities to three nights a week if possible, and parents need to be sure to provide kids with the opportunity to spend unstructured time on some nights and weekends with family and friends.
"Parents need to help children make choices about what to be involved in," says Bütz.
Lynann and Brian understand how busy their children are and work with them to build schedules that allow for healthy eating, healthy sleep habits and incorporate time for friends and family.
"And downtime is critical," she says.
Setting priorities
Managing stress takes devotion from the entire family, and that means it needs to be a priority for parents. "What do we value?" Bütz asks. "We value where we spend our time and where we spend our money. That is a very important issue when it comes to stress."
One of the best ways of prioritizing family is through family dinners. It's one of the only factors that has proven, through multiple studies, to correlate with raising well-adjusted children.
"It doesn't have to be every night, just most nights," Bütz says. "Pulling that off means limiting activities and outings."
Family dinners buffer children from stress partly because they're not someplace else. They are home, connecting with parents and siblings. Parents need to turn off the TV, place cell phones – even their own – in another room, and connect the old fashioned way, through conversation.
Shared activities that every member of the family can participate in can also bring down the stress level. It doesn't take a trailer full of snowmobiles, a pool in the back yard, or an expensive vacation. It can be as simple as a picnic at a nearby park, a walk through the neighborhood, or a few minutes sitting on the front porch. It doesn't take much creativity either, just time.
"Focus on the most important things in life," Bütz says, "and all the rest will sort itself out."