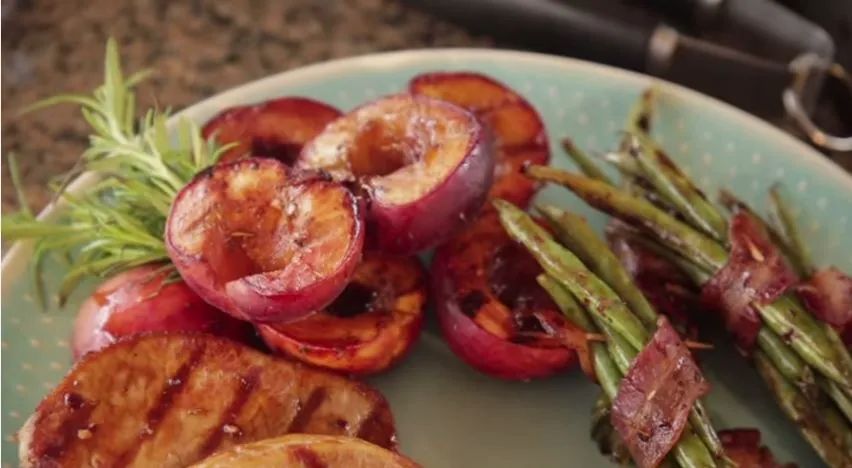 Yummy Balsamic Pork
Fire up the Grill for Dinner Tonight!
This recipe is a tasty dish that incorporates a lot of different flavors that the whole family will love! Enjoy these grilling tips from Annessa Chumbley for Grilled Balsamic Pork Chops with Bacon Wrapped Green Beans and Grilled Peaches.
Ingredients
4 boneless pork loin chops, about 3/4 inch thick
4 peaches, cut in half, pit removed
1 tsp McCormick Italian Seasoning
1/4 tsp McCormick Red Pepper Flakes
1 bottle Essential Everyday Balsamic Salad Dressing
1 tsp Fresh Cuts minced garlic
1 tsp Essential Everyday soy sauce
1 lb bacon
1 lb green beans, rinsed and cleaned, strings removed
3 Ziploc gallon size bags
Directions
2. Remove all bags from refrigerator, allowing the pork and peaches to sit on the counter. Remove green beans from marinade. Using a bacon slice, wrap about 5 green beans with bacon. Secure with toothpick. Continue until all green beans are wrapped.
3. Preheat grill to a high temperature. Place pork chops, peaches and bacon wrapped green beans on the grill. After 3 minutes, flip pork chops and close lid to finish grilling until internal temperature in 145 degrees F, about another 3-4 minutes. Remove to plate and tent with aluminum foil, allowing to rest.
4. Peaches will be done after about 5 minutes. Remove and place on a serving plate.
5. Continue cooking green beans and bacon, turning as needed, about 7-9 minutes, until bacon is crisp. Remove from grill and serve.
Grilling Tips
• When you"re selecting pork, look for the darkest shade of pink that you can find. Pale pork is not your friend.
• When reusing a marinade that has been in contact with meat as a baste it"s absolutely critical that you bring the reserved marinade to a boil for five minutes to ensure that you"ve killed any germs. If you"d like to baste, just reserve a portion of the marinade for later use.
• Only flip your meat once! The pork will let you know it's ready to be flipped when it stops sticking to the grill.
• The USDA doneness temperature for pork has been reduced to 145*. There is no need for grandma"s balsa wood pork chops. Slightly pink pork is not poison.
• Don't pull your beans off the grill until the bacon is nice and crispy.