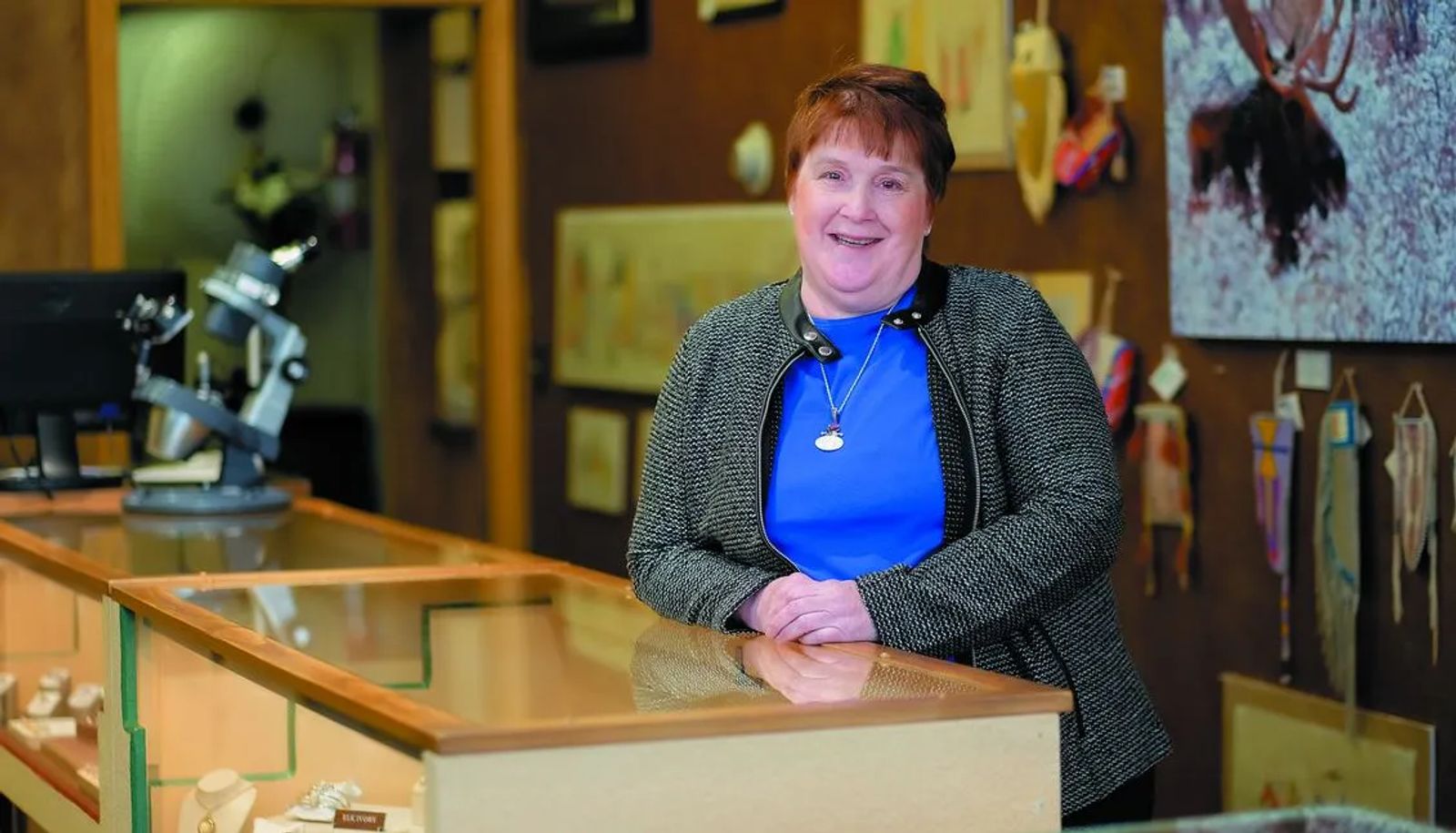 A Crown Jewel of Billings
On The Rocks with Debbie Meyers
In a heartbeat, Debbie Meyers lost her husband, her business partner and best friend. Within a year of suddenly losing the man in her life, another blow was dealt when a decade-long colleague and close friend died tragically in a car accident. "Sometimes I just wanted to crawl in a closet, sometimes with a bottle of whiskey or just a blanket," says Debbie about the heartache and trials she has faced the past year and a half.
The pain of losing two very special people in her life remains tucked in her heart. Yet through it all, Debbie's voracious appetite for life sparkles when sharing her passion. It's given her a purpose-driven life. Being one of only six goldsmiths in the Magic City, she pursues this profession with absolute resolve.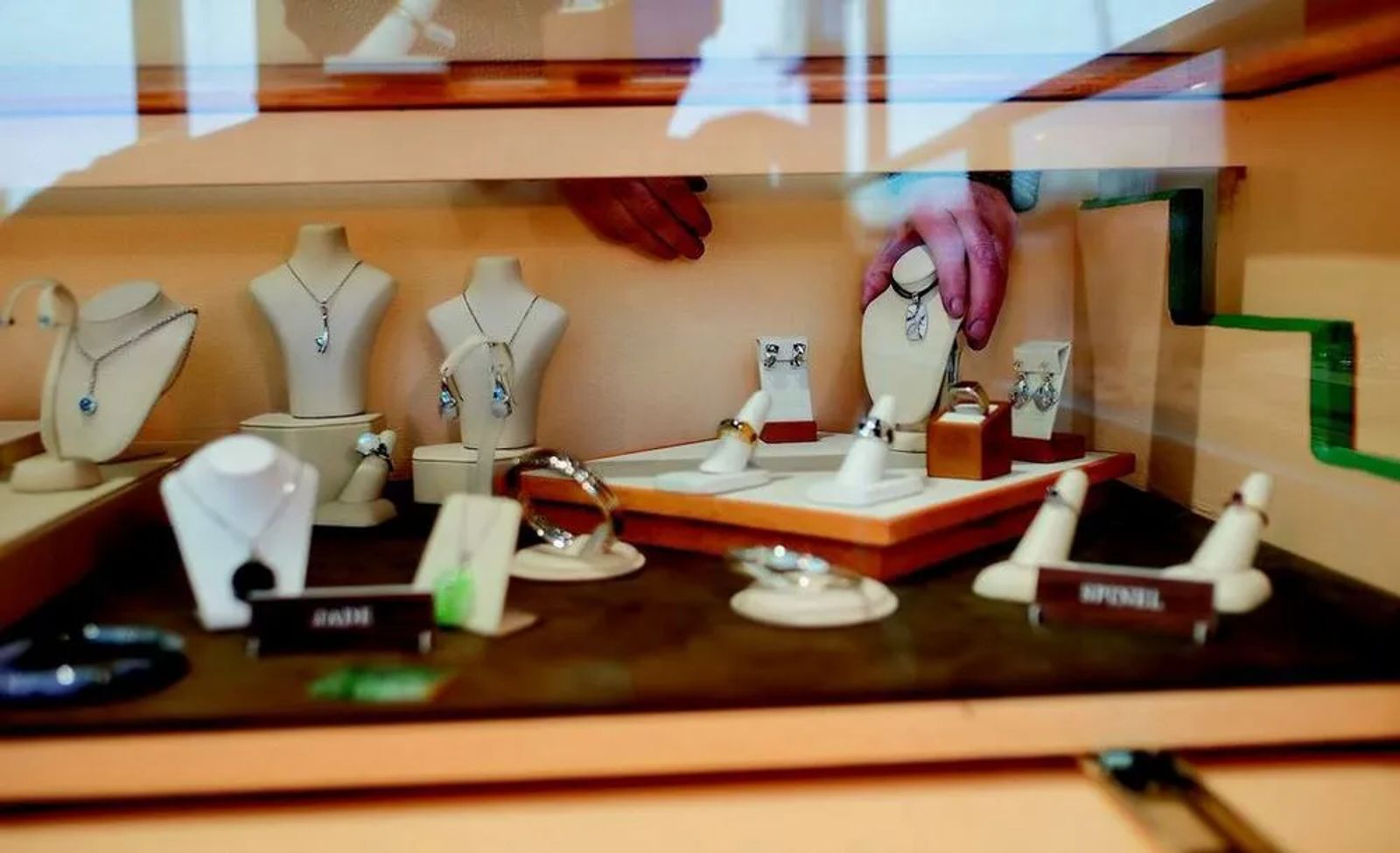 When you take a peek inside her display cabinets, you"ll find unique masterpieces with both a dazzling modern design and classic feel — with colorful gemstones, diamonds and pearls. As we chat, it"s hard not to notice the necklace Debbie is wearing, which displays a large garnet complemented with green tourmaline, small diamonds and rubies. Set in 18-karat yellow gold, this custom piece portrays her intrinsic talent to create beauty.
Personal signature pieces are Debbie"s specialty. She goes the extra mile to fashion ethnic pieces reminiscent of those that date to the time before Christ. She gets excited about refashioning and restoring a piece of jewelry that once belonged to someone's loved one. She delights in designing something with sentimental value. "I absolutely love what I do," exclaims Debbie. "I get a lot of satisfaction in having someone put a piece of jewelry on and wear it for years."
Her fascination for creating stunning jewelry came about at an early age. It's all she's ever done and all she's wanted to do.
"I remember when I was five, my babysitter took me to her home. She turned off the lights and turned on a black light. Fluorescent stones inside a case glowed in the dark. It was the coolest thing ever," sings Debbie. "Never had I seen anything so beautiful."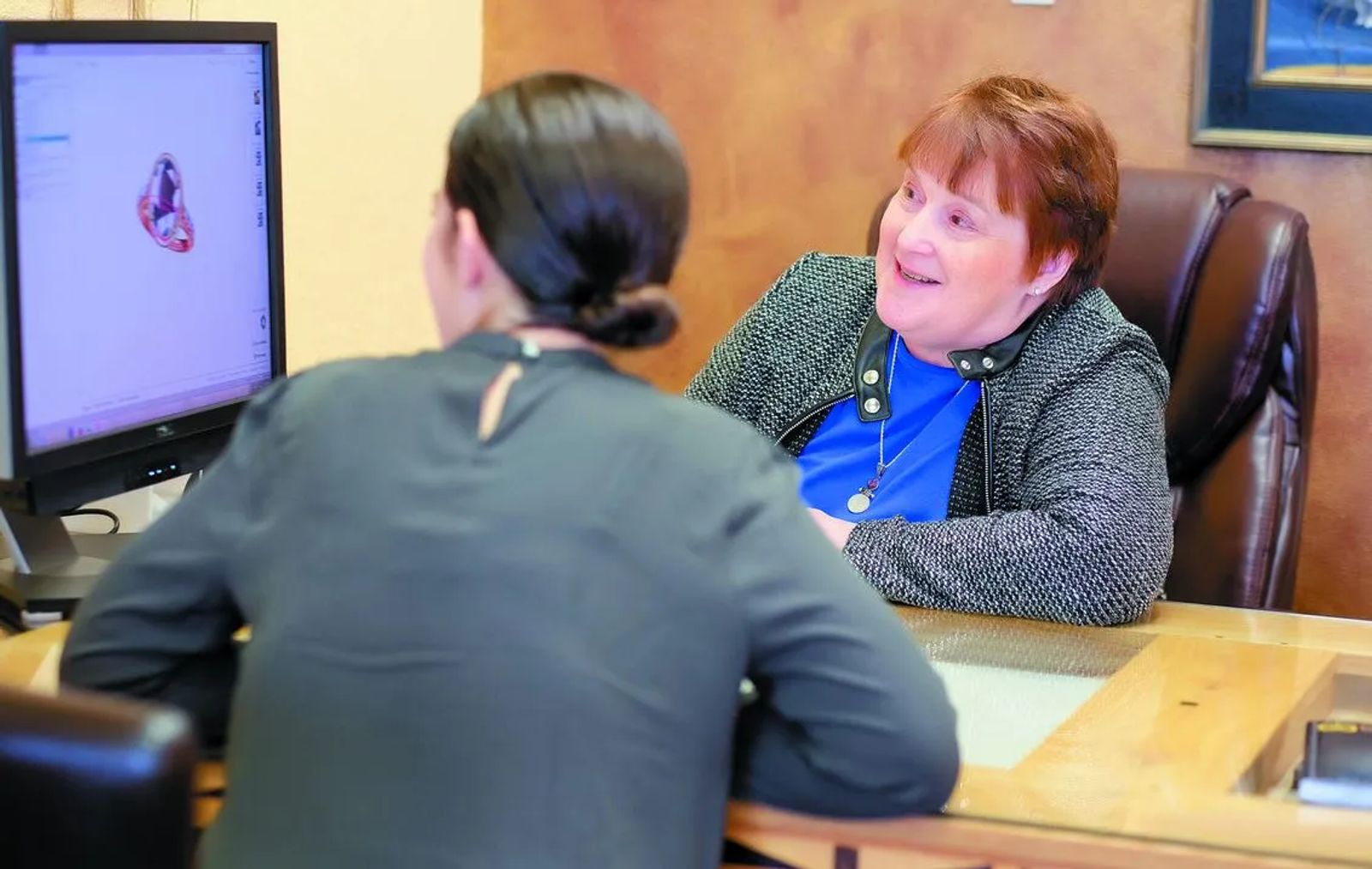 Now, the mother of two grown children and a first-time grandma, Debbie's ardor for gleaning natural beauty from the earth has carried through the generations. She unabashedly admits, "I'm a rock dork." As she grabs her work apron and slips it over short red hair on an early morning recently, she shares with obvious glee, "You see something shiny on the road, anywhere, you pick it up."
Her sparkling hazel eyes fix on something. She takes a few quick steps to her work bench. Her well-worn jeweler's bench is one of five inside the inner sanctum of dMeyers Custom Jeweler on 24th Street West. This cozy room has seen a ton of diamonds, precious metals and gemstones pass through its door. She lightly taps an index finger on the top of the bench, holds it up and smiles. "Like this," offering a small speck of bling. "We're like magpies," she laughs referring to herself and two of her jewelers, Rob Hayward and Jim Harmon. "We pick up anything shiny! You look at stuff so differently when you do this."
It"s the extra attention to detail that keeps Debbie"s customers coming back time and time again.
"She's become a tremendous resource for my immediate and extended family," assures Judy Chapman, a business colleague and personal friend of Debbie's. "My son works in Saudi Arabia and wanted a large amethyst cut in the size and shape of a life-saver for his wife, a symbol with special meaning. The torus cut (a gemstone with a portion removed from the center) is really only done by one gem cutter in the world and Debbie tracked the man down while he was on a buying trip in India." Judy marvels at the ingenious lengths Debbie goes to make sure her work shines. "Debbie actually went to the store and bought a package of lifesavers so she could give the gem cutter the correct measurements," says Judy. "The stone is so thick she had to custom-craft a bail (piece that attaches to the top of the stone for a chain to slide through) so she could place the amethyst on a chain. It's a special necklace and looks like a lifesaver!"
With a passion like Debbie"s, it"s probably no surprise to hear that she works six to seven days a week. It"s been that way for decades. Her son, Nathan, and daughter, Cassie, pretty much grew up in the store.
"I was back in my shop 12 hours after giving birth to my son," shares Debbie. She also vividly recalls when, at the age of two, "Nathan shoved a pointed file into my foot pedal and knocked out all the electricity."
Nathan may not be testing out files and foot pedals like he did when he was little, however, he does work alongside his mom in the business he's grown up in. He manages the front end of the store, which also includes Tom's original business, Buffalo Chips, an Indian arts and crafts shop that Tom started four decades ago.
"We've worked with the Smithsonian, other museums, the movies and clientele from Europe," explains Debbie. "Europeans study it — Indian arts and crafts. They hold it to a respect that it should be."
While Tom worked the day-to-day business, including the financial part, Debbie built her custom jeweler business. "When Tom and I were married, I was doing trade work for other jewelers in Billings. I started here at the store with one small case and it's morphed on me," she laughs with ease.
When Tom passed away, it's clear Debbie's taken charge of what they had shared as a couple. Learning how to manage the successful business didn"t come easy. "It was overwhelming for so long," cites Debbie. "It felt like I'd lost my brain. It's a whole lot better now because of friends, family, colleagues and my staff. They were here to pick me up."
It just so happened that about a year before Tom died, he enlisted the help of Susan Keller, a former business owner and bookkeeper, to computerize the store's books. "He passed away just a couple of days before we had finished putting everything in the computer," remembers Susan.
"Debbie had a lot of learning to do on the business end," she says. "She was forced to take over a business but she didn't give up. We buckled down and went non-stop. It amazes me how extremely talented Debbie is and how she has so much knowledge about jewels. And she's persevered in learning the nuts and bolts of business. It was a hard lesson but she's grasped it now and won't let go!"
Debbie chose to ignore the tug to give up, to sit down or to call it quits. She acquiesced to the fact that she had employees and family counting on her. She couldn't stop. Besides, there was too much yet to learn.
"If you focus on what you want to do and your end product, you'll be fine. Wally Montague told me this many years ago and I've taken it to heart." – Debbie Meyers
"You never stop learning," acknowledges Debbie. "The jewelry industry has changed more in the last century than in 7,000 years because of equipment and technology, considering that Cleopatra wore crushed stones for eye shadow," she adds with a wink.
Debbie's encyclopedic mind for anything connected to the jewelry industry attests to her rock solid acuity. Who knew the Egyptian queen's deep blue eye color was made from ground lapis lazuli stone?
Soaking up the rich historical context of her profession over the years, Debbie also absorbs and embraces new technology. A state-of-the-art laser-welder here in the work area allows repairs to be made on a piece of jewelry without having to cut the stone. Or this expensive machine can cut the stone, if needed, so it can be replaced.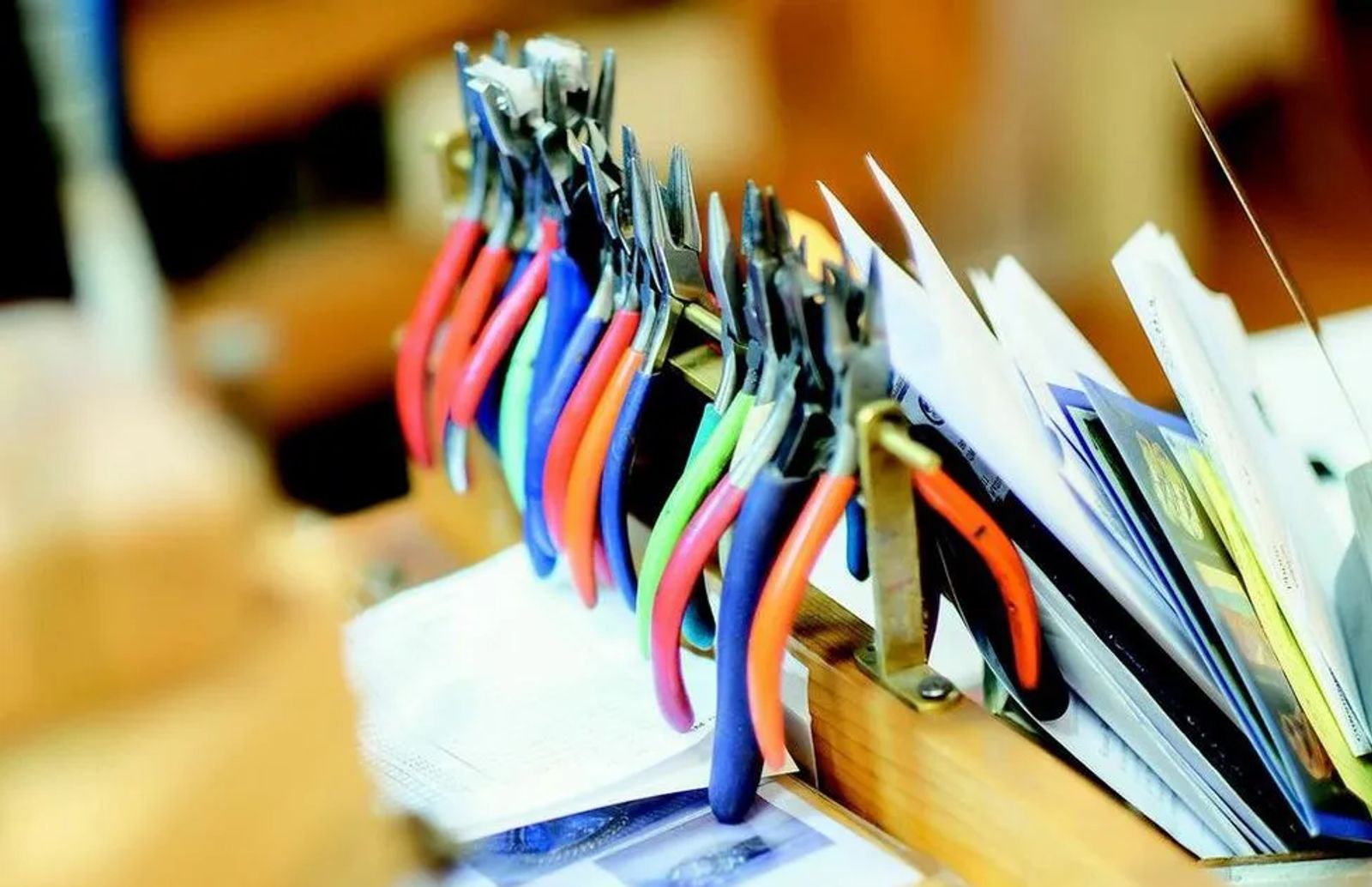 Other equipment and tools in this work space look like a menagerie of surgical instruments and wood-working apparatus. Sharp files, tweezers of all sizes sit straight up in metal containers on each jeweler bench while saws, grinders, hydraulic presses, tumblers and polishers, all implements of this artistic trade, sprawl about. These are the tools of the trade for this goldsmith.
While her work has transformed over the years to keep up with the times and the trends, Debbie"s own personal and professional life is like gold that"s been tested in fire. She"s still overcoming major loss. With each and every custom jewelry piece designed or new gemstone acquired, Debbie Meyers looks at each as a sparkling opportunity to let her creativity shine. She knows there'll be challenges to meet and greet throughout each day, however, this crown jewel of Billings plans to rock her way through each and every pebble of it.