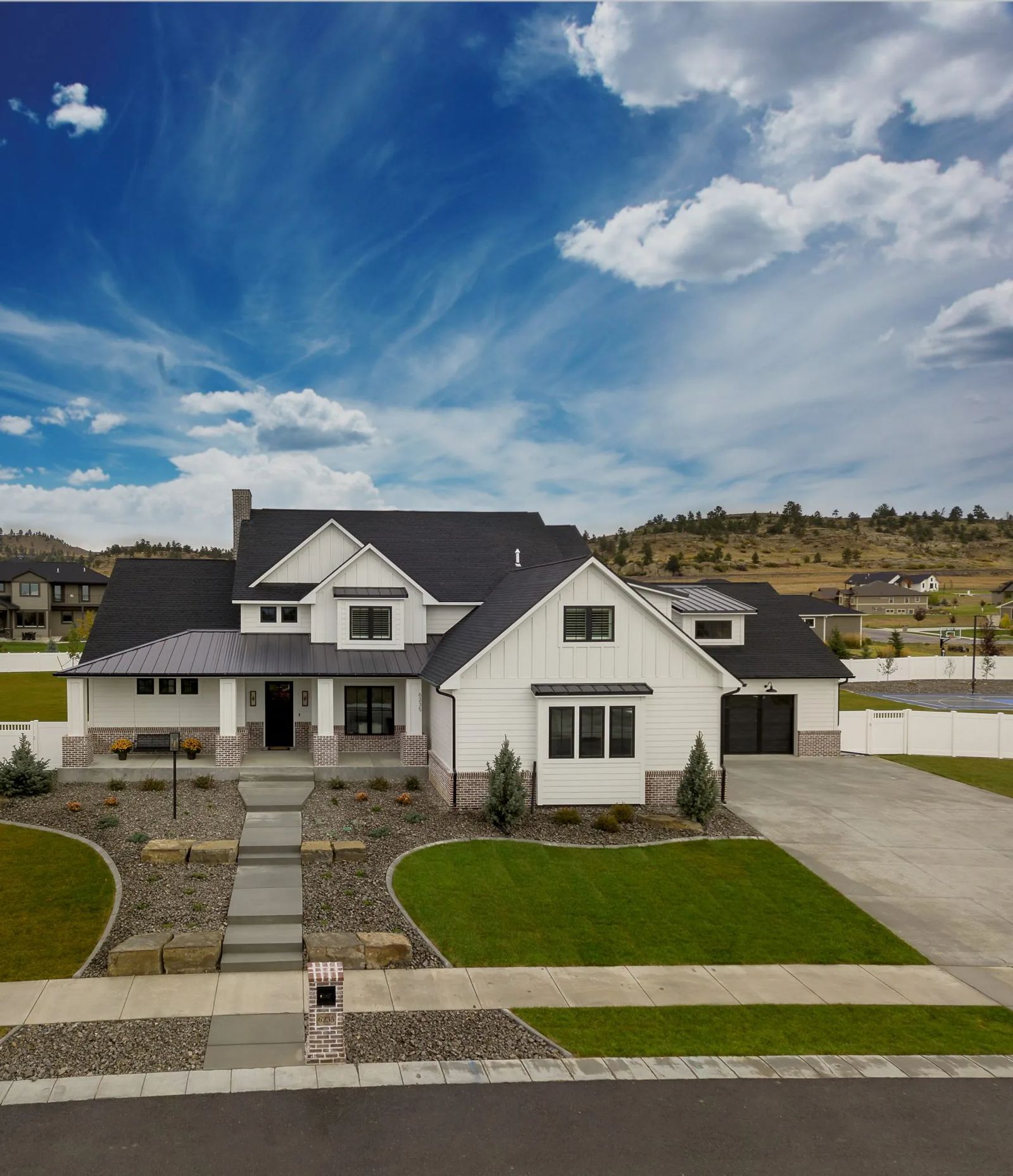 Fourth-generation builder rises to the top in the Parade of Homes
Sitting on a sprawling 1.2-acre piece of real estate in the Ironwood subdivision is the crown jewel of the Billings Parade of Homes, the winner of the prestigious People's Choice Award.
The title didn't come easy for Sam Nelson, a general contractor and owner of Cougar Construction, and also a fourth-generation home builder. There was stiff competition among the 11 homes featured. But in the end, this three-level home belonging to Eric and Kristi May and their four children presented a plethora of reasons why it was clearly the year's favorite.
"We took our time," says Sam, as we chat in the great room with its 20-foot ceiling and view to the backyard pool area. "We were done with the plans about one year before starting construction."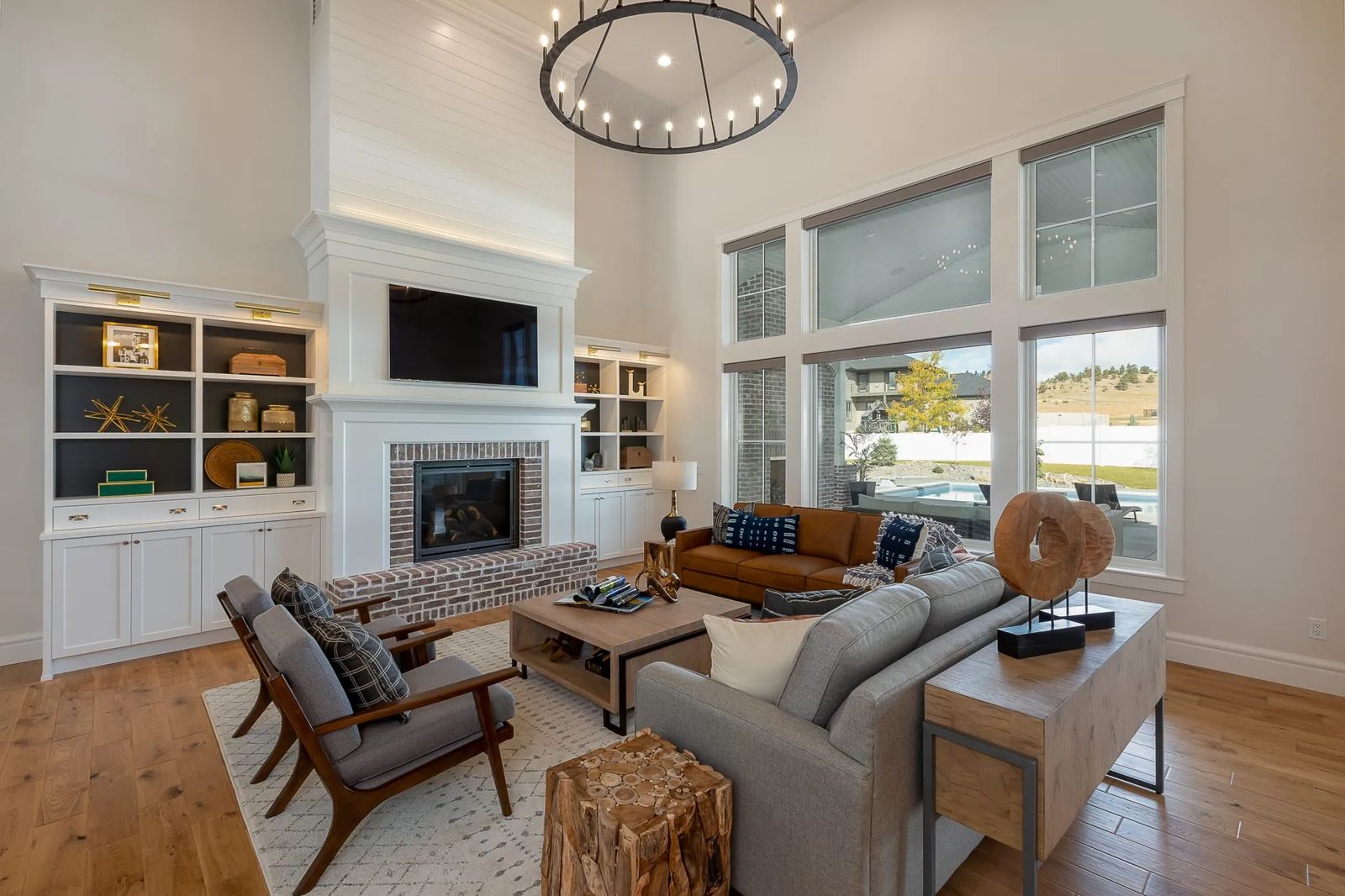 Eric was finishing his radiology training in Minnesota and knew he and his family would move to Billings for his position as a radiologist at Billings Clinic. "When we came to look at houses," Eric says, "we didn't find much. We did see a house that Cougar Construction had built, but it was too early for us to buy a home here. We called Sam and found he was building a spec house next door to where we are now."
Instead of buying the spec house, Eric and Kristi held out for their "dream" home. After moving here, they rented a duplex from Sam for a couple of years while forging ahead on the perfect plan.
Sam credits Kristi with having an "excellent eye for everything." Eric adds, "Kristi compiled her style, especially in the great room. We'd show Sam pictures of what we liked." Kristi laughs and says, "There were lots of Pinterest pictures!"
This incredible great room succinctly reveals the May family lifestyle. A brick fireplace reaching to the 20-foot ceiling graces the area, with built-in bookshelves on either side. A five-foot diameter chandelier from One Source Lighting hangs above.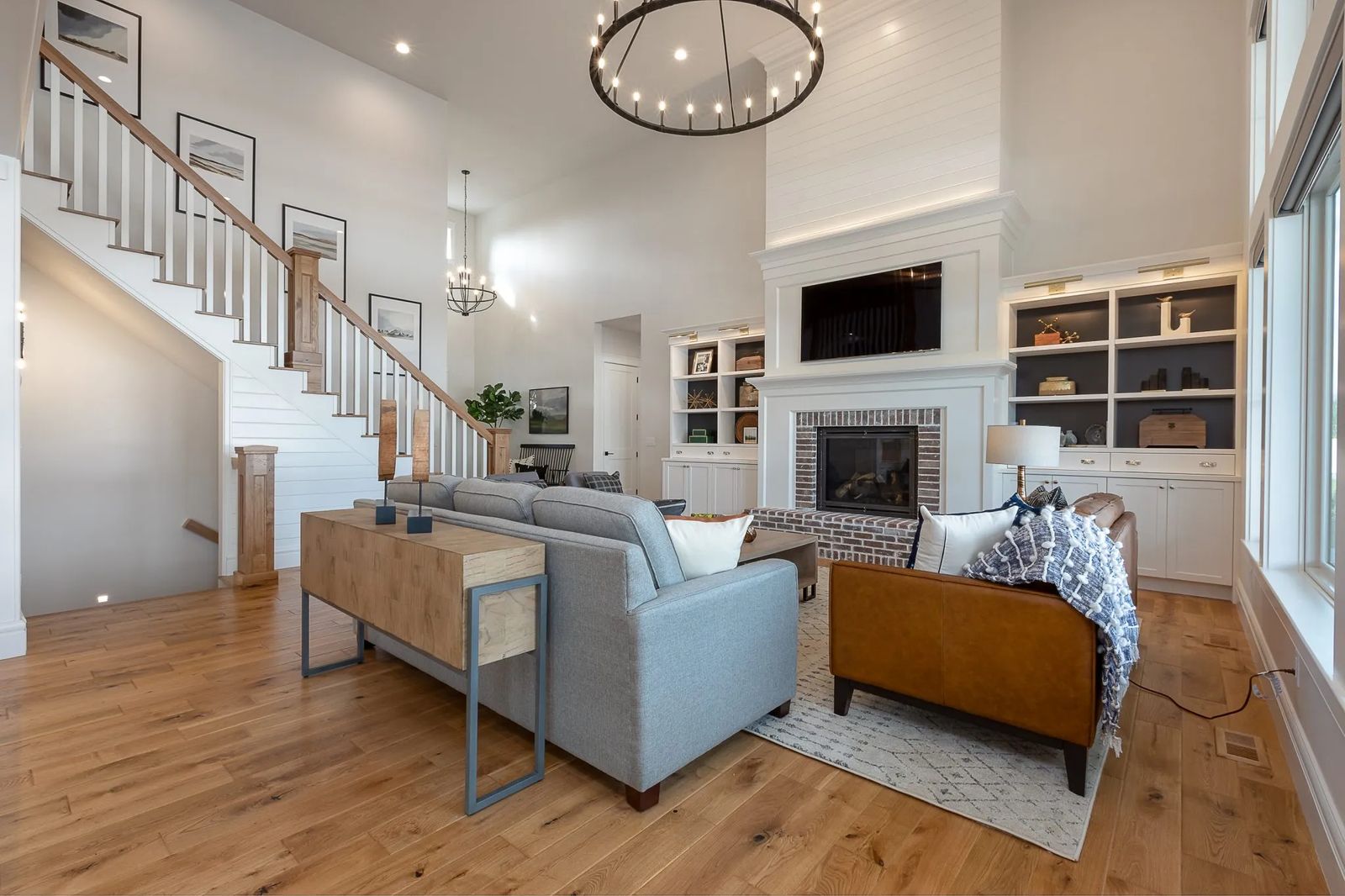 Most importantly, the kids are visible throughout this open-concept design. Kristi keeps a "good sight-line" on the four little ones whether they're out on the covered back patio or in the adjacent dining or kitchen area. Plus, this 6,660-square-foot home allows for big gatherings of friends and family.
Just off the front entry is the formal living room. Dark French doors make an appealing contrast against white walls. Much smaller in comparison to the great room, it features crisp white walls and ceiling. Kristi says, "We don't let the kids go in!"
The kids enjoy their private space upstairs. Up they go in style on a white staircase with custom railing, treads, and posts made of white oak. Eric made sure the kiddos received their own bedrooms, promising them they'd be upstairs in their new house.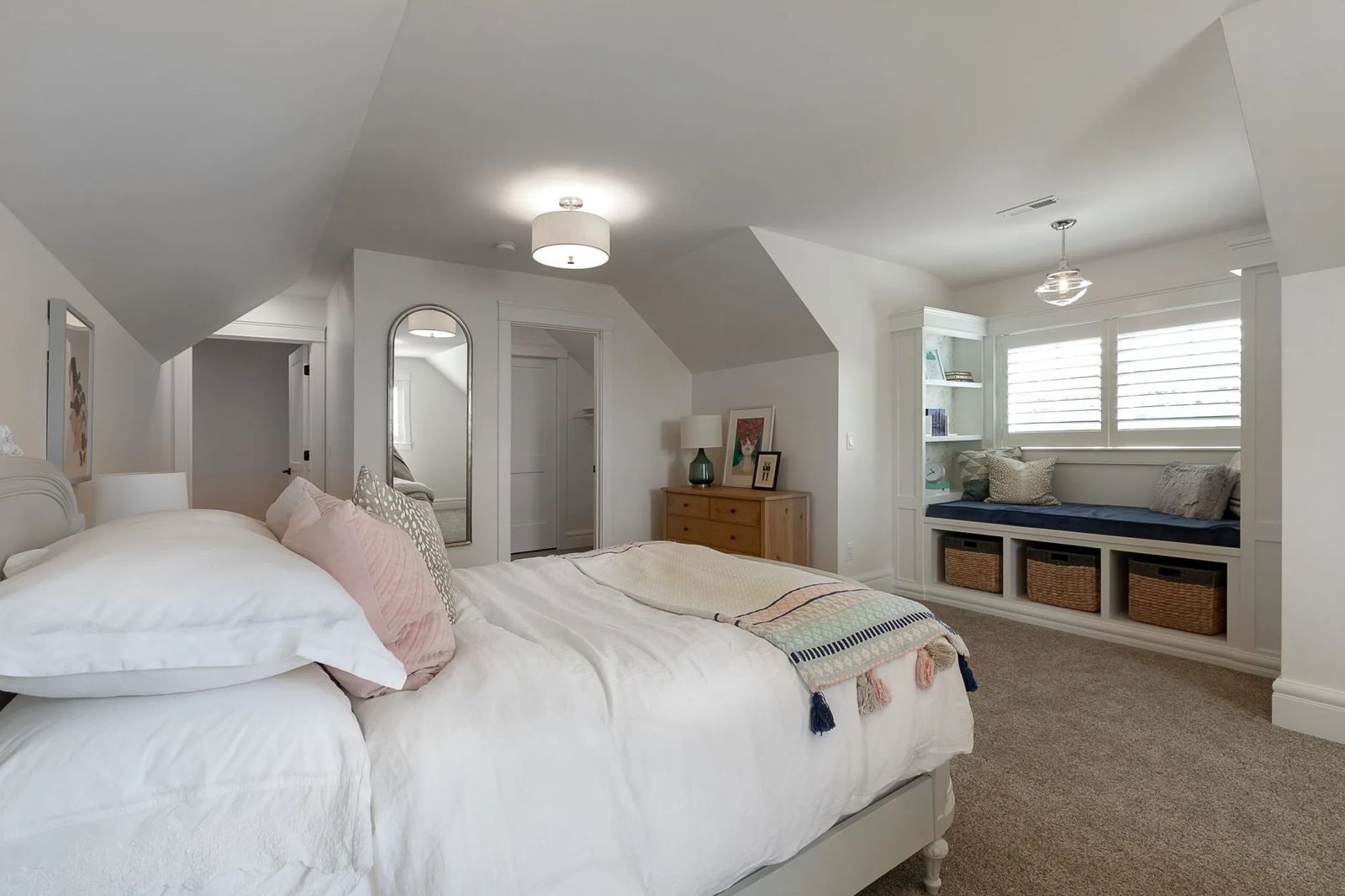 The "boys' wing" accommodates Ryan, 11, and Colin, 3. Each relishes his own bedroom and the masculine-style boys' bathroom. Colin gets a window bench in his room. Ryan is satisfied with a blue planked ceiling that highlights his drum set. Perhaps this is why he posts a sign on his door that reads, "No Siblings Allowed."
Sarah, 9, got her pick of the girls' wing. She chose the larger of the two bedrooms, but she ended up deciding to share her 2-year-old sister Emily's room, for now. The girls' bathroom is sweet and flowery. A small laundry room sits between the two wings.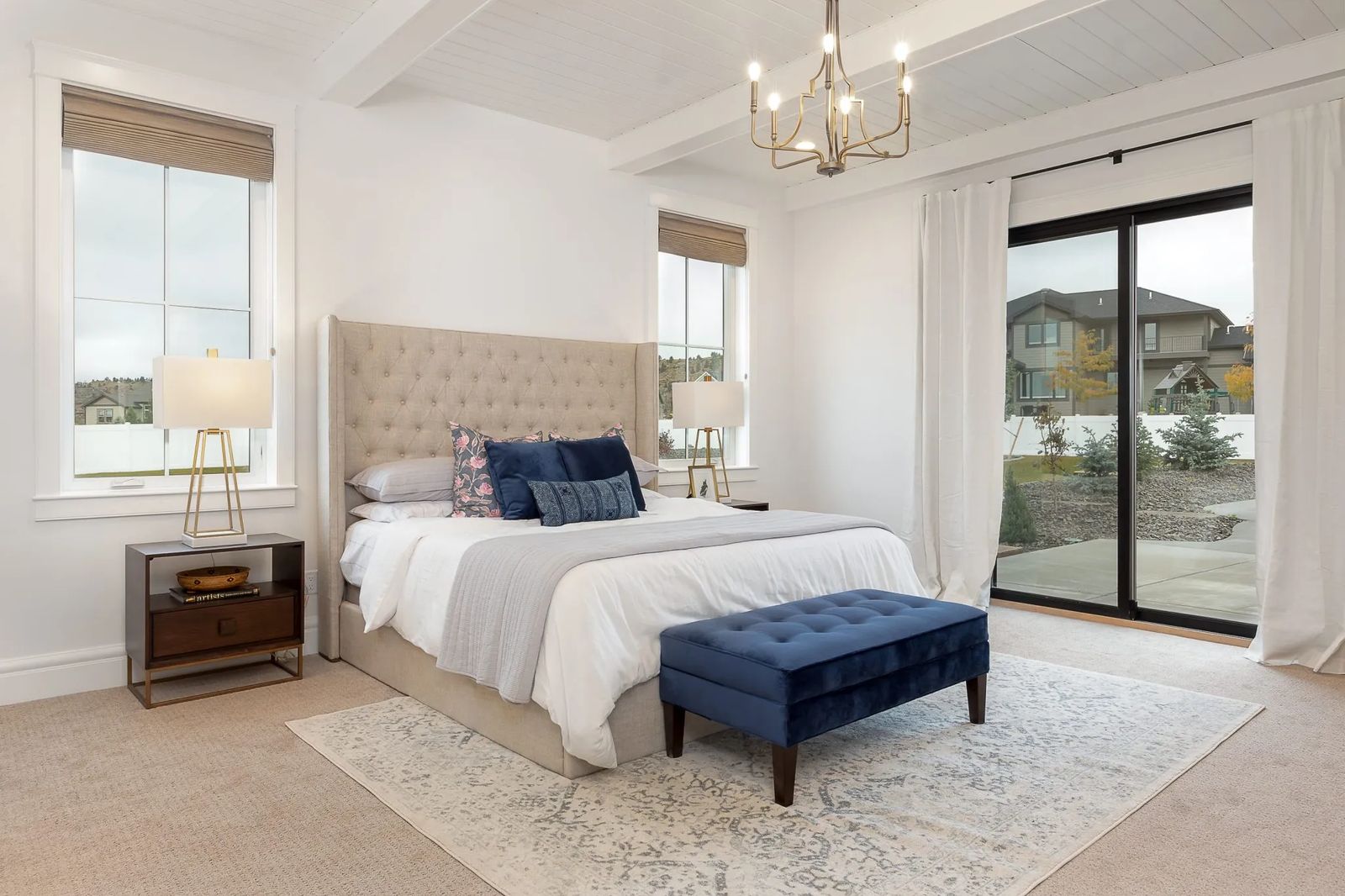 The master suite is on the main floor. While warm white oak flooring from Rich's Flooring Abbey Carpet flows throughout this level, Kristi and Eric's sanctuary features lush carpeting. A white quartz fireplace augments this cozy space with sheer elegance. Long white drapes lend sophistication to sliding glass doors leading onto the walk-out patio. The 10-foot ceiling features a tongue-and-groove design.
Graphite cabinetry in the spacious en suite marks a striking contrast to white walls and white quartz double sink vanity. A large glass-enclosed tiled shower and a generous walk-in closet finish this master bath sumptuously.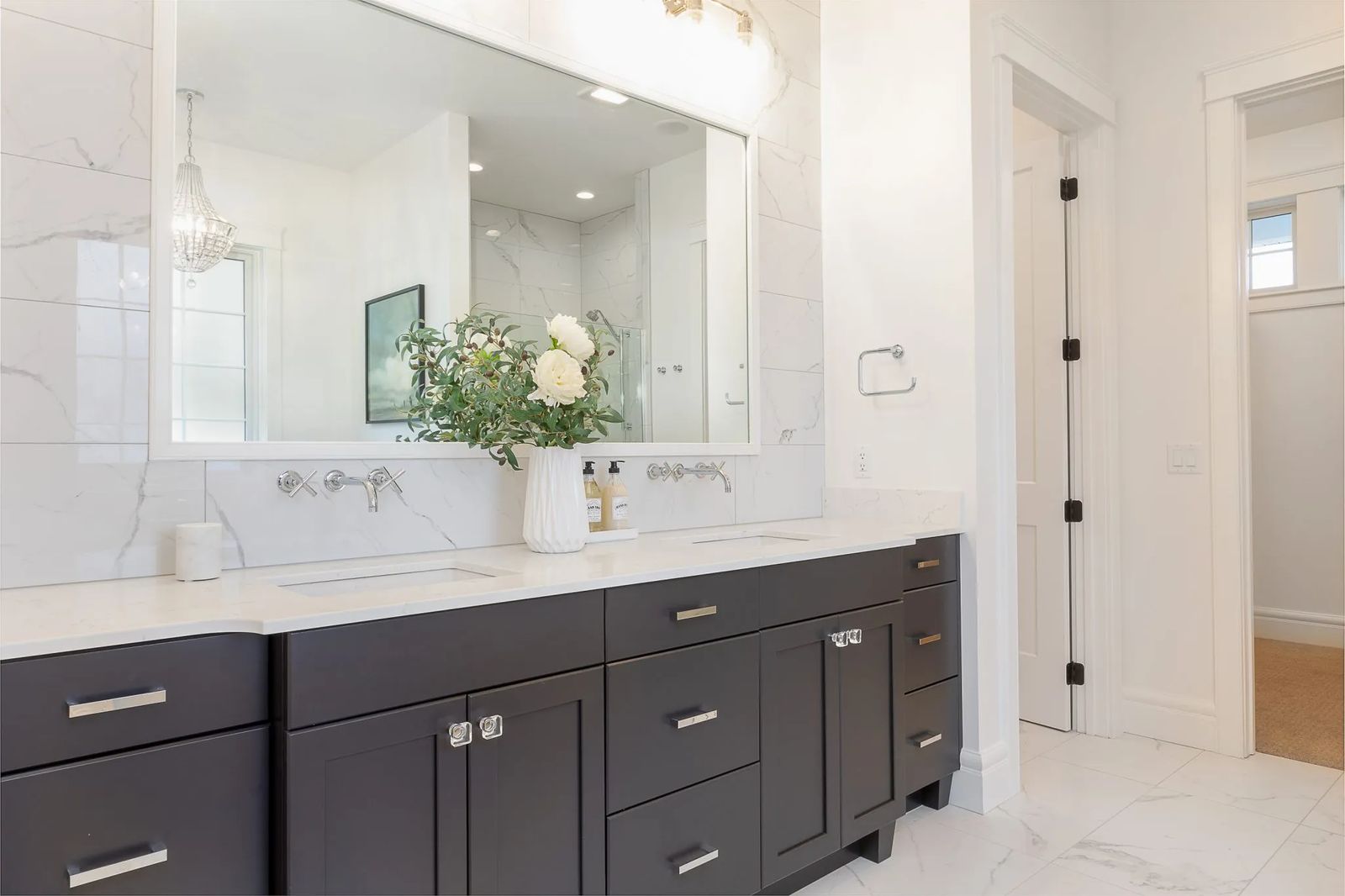 Across the length of the house from Kristi and Eric's private retreat is the mainstay of the home — the gourmet kitchen. Its character reflects farmhouse nuances enhanced with modern amenities.
"It's modern farmhouse," Sam says, surrounded by white custom-made cabinetry from Calder Creek Cabinetry & Design. "They give the kitchen a clean look that's bright," Kristi adds. The extra-high tongue-and-groove ceiling emphasizes the look.
A white quartz center island lightly tinged with gray veining and nine feet in length runs almost the width of the space. A prep sink sits at one end. "I like the look of Carrera marble," says Kristi, "but this is not the upkeep. And I wanted a prep sink at the isle that wasn't so far from the fridge."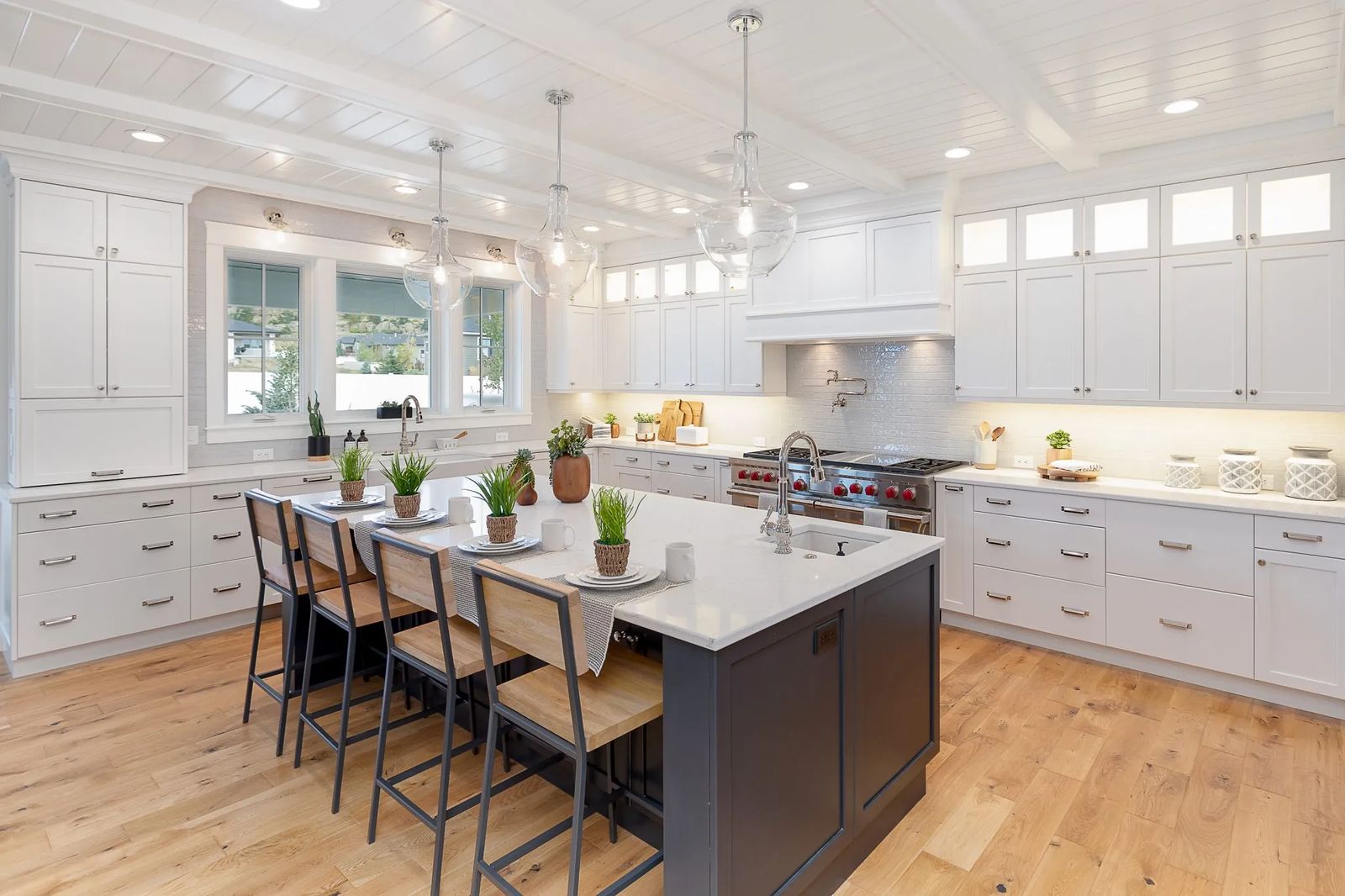 Stainless steel appliances like the Sub-Zero fridge, the double Wolf gas top stove and oven with pot filler, and two built-in dishwashers deliver the necessities for a big family. "We were reluctant at first about two dishwashers," Eric says, glancing at his wife. "I use them every day," Kristi says.
Another novelty used daily in this household is what Sam mentions as the No. 1 comment heard during Parade showings. "We call it the Costco door," he quips.
In the pantry, a half-size door sits floor-level. "We were on the fence about it," admits Eric, "and Sam said, 'do it.' We back up into the garage and push the groceries right into the pantry."
Kristi adds, "We use it a lot! Colin uses it as his personal door. It's very functional."
The home was also designed with a mudroom. Coming in from the garage, the mudroom with a tiled floor and a cubby for everyone takes care of coats, boots and more. The laundry room, with its extra storage, is right across the hall.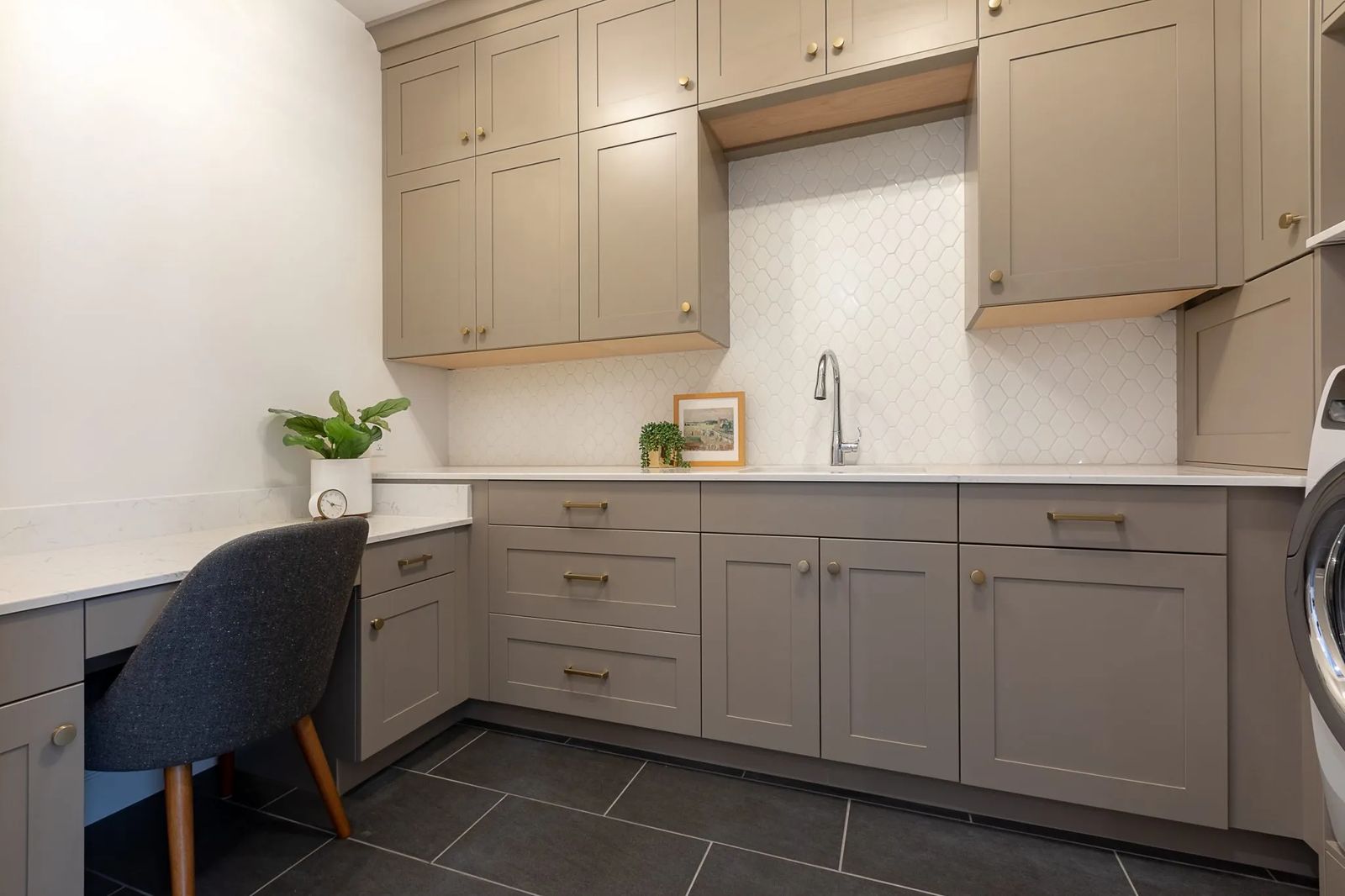 The family also enjoys the downstairs area. They can watch movies in the theater space, and snacks are just steps away in the kitchen. A built-in playhouse rounds it out.
Eric's office is on the opposite end of the lower level as is the guest bedroom and bath.
When both sides of the family come to visit, they appreciate the privacy and comfort of the guest spaces. There's room for everyone inside this lovely home, as well as outside.
Outdoors will certainly be the place to be this coming spring and summer, with the pool from Thompson Pools. There's also a bathhouse, basketball court, fire pit, an immense yard to scamper about in, and a covered patio area with full-size brick fireplace by Apex Masonry and a built-in grill area.
The kids (all ages) even have a water fountain for when they're out playing and get thirsty, Sam points out.
From the beginning of this project to the end, the homeowners found there are many decisions in the planning process. They worked closely with Sam and his wife, Jaime, who helped Kristi with the interior design. Carrie Klein helped with the interior design, as well.
Thanks to the perfect plan, it became an outstanding favorite. "We feel blessed," Eric says.
OTHER PHOTOS OF THIS HOME