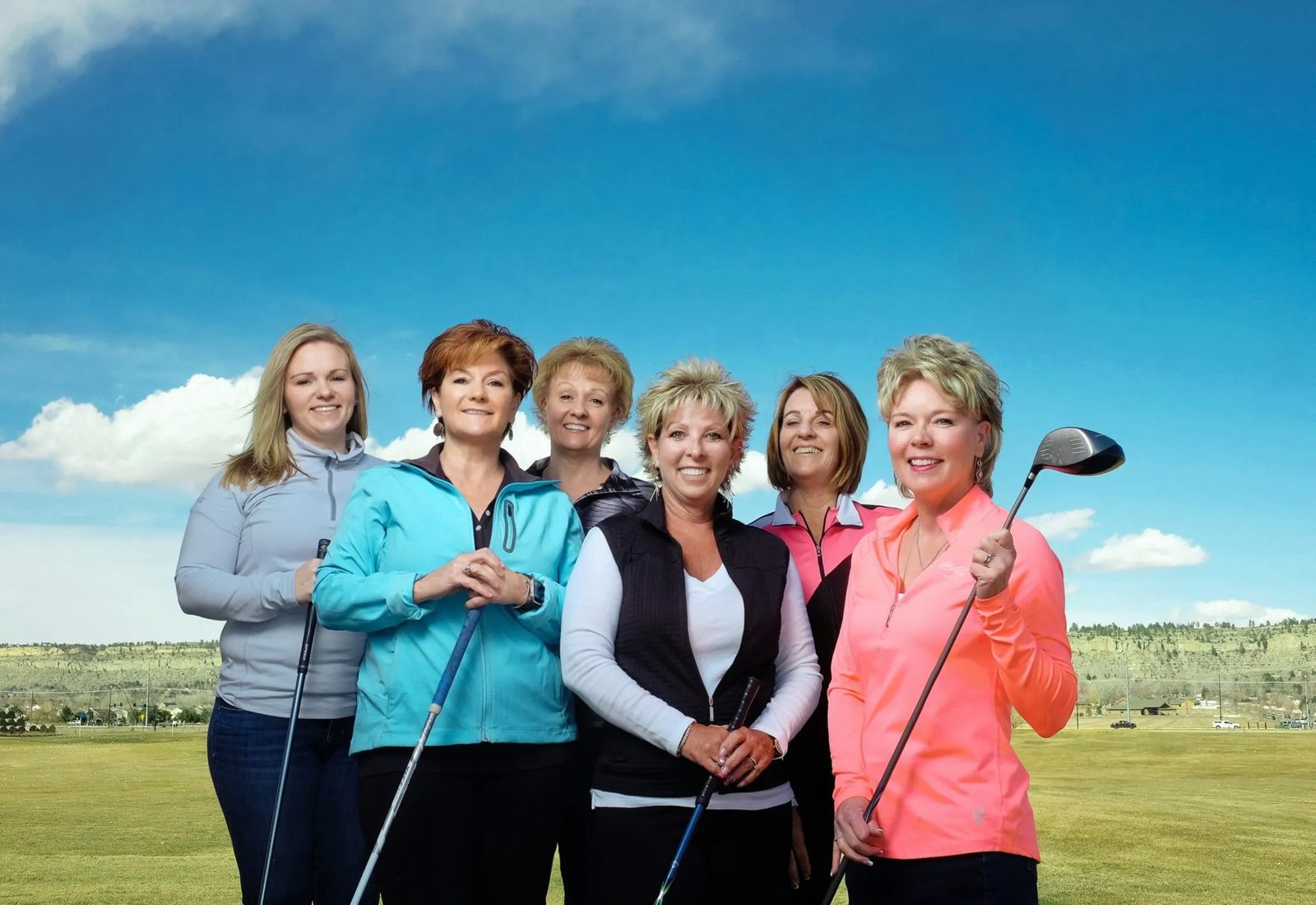 A League of Extraordinary Women
On and Off the Greens
What is it that excites people to chase a little white ball over hills, through trees, and across water only to land in a pile of sand? Do you wonder how this equates with fun? Have you been asked to join a golf league when you don't know a driver from a putter or don't even understand the lingo?
Hang with us a bit here. We discover golf involves a lot more than the pursuit of the proverbial white ball. Chatting recently with a group of spunky ladies and fellow golfers reveals the true essence of what entices them to do what they do.
Whether you're looking to take up the game, join a league or just find out what's so fascinating about this sport, you'll be itching to dig out the clubs and hit the green with these four girlfriends.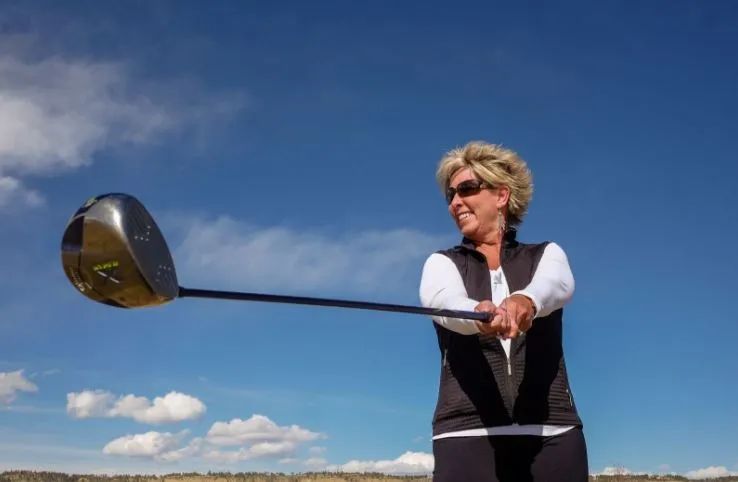 "Golf is our reason to get together," explains Robin Geck, captain of the Geck Garage Door team of ladies at Lake Hills Golf Course. The team is sponsored by Robin and her husband, owners of Geck Garage Door.
The ladies' league plays once a week. "On Wednesday nights we have a commitment to each other. You don't have to be a good golfer. You have to be a committed individual," advises Robin.
The golf season (considered April through October) demands accountability from about 8 or 9 ladies. Different ones rotate in and out so that there are always four players to golf for points during league night. "In rain, snow or hail, we play," Robin points out.
Before pursuing golf in 1993 and after Carol Pickens had asked her to join a league at Lake Hills, Robin fed her zeal for outdoor activity by playing on a softball team with childhood friend Lennis Moore. The softball days abruptly ended though when Robin broke her knee on the field. Not one to give up, she grabbed ahold of the silver lining in the cloud that arrived in the shape of a little white ball.
"Lennis came on a couple of years later," notes Robin, after a tad of coaxing. "Lennis said to me, 'I'm not going to chase a little, white ball around!'" With both gals giggling at the memory, Robin sums it up, "And, here we are!"
"We've been together since third grade," chimes in Lennis, who works at Darnielle Insurance. "And now we share pictures of our grandbabies. We're a work in progress."
Rounding out this energetic foursome is Dani Bestrom, office manager for D&D Transport Refrigeration Service, and Marie Anderson, a retired Lockwood school teacher of nearly four decades.
"Golf brings all different ages together," emphasizes Marie. "We learn so much with mixed generations and lifestyles. We always have something to talk about. We're fun girls that golf together."
Learning to golf while in her early 40s, Marie admits, "I took up golf in self-defense. My husband would disappear (golfing) so I had told a neighbor friend that I wanted to learn and have that kind of fun. It's broadened my life and my friendships. I've had something for myself."
Marie linked up with Robin and Lennis when she received a call from Robin who was looking for an extra league player. "I told Robin that I didn't know anything about golf," exclaims Marie. "Robin said, 'it's not about golf, it's about girls getting together.' We've been friends ever since, almost 20 years. We've raised our kids. My son dated her daughter in high school. We know each other's lives – divorces, kids, you name it. We've gone through all the trials and woes together. We're still golfing together and I'm now babysitting Robin's grandkids."
This troupe of youthful fifty and sixty-something grandmothers stick together like glitter on glue. Dani, who connected with the team over a dozen years ago, bowls with Marie on Wednesday evenings during the winter. This keeps their usual mid-week outing consistent while staying fit.
"We love the exercise," acknowledges Marie. "When we golf we always walk the course. It's physical and mental socialization, everything wrapped in a nutshell. And what we talk about is sacred. Everything is safe. Our husbands know this is girl-bonding time."
"We love one another and we support one another on and off the course," contributes Lennis. The team agrees amidst lots of laughs and giggles that they "always go for a glass of wine and a bite to eat after league to discuss the game."
The lingo for this expedition is called 'the 10th Hole' since the league plays nine holes. "Even club members that don't golf want to know where the 10th Hole is," cheers Robin.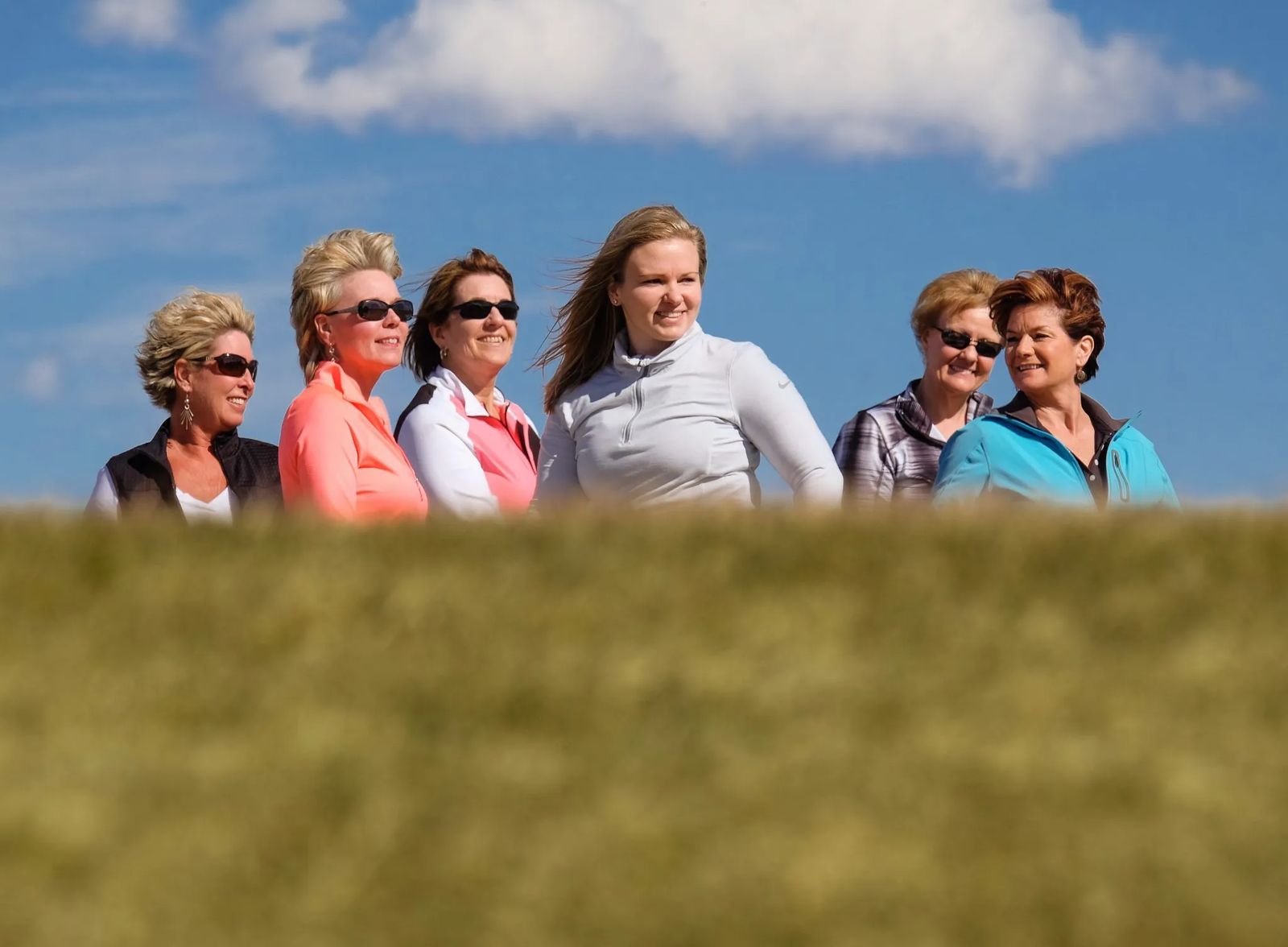 Make no mistake, these women love playing a competitive round of golf. They stay in the top five in the league. They attribute their trophies and plaques to commitment, comradery, and skill. "It's a team effort. Everybody has to play their part," advises Robin.
The experience proves to have given back as well. "Golfing made me develop empathy at school for all youngsters and how to deal with personalities and all levels of skill," shares Marie.
"I taught third and fourth graders, as well as, gifted and talented. When golfing, I knew what to do but I could not always strike the ball the way I should. It made me more empathetic with kids, as something doesn't always come with the first or second try. This applied to the rest of my life." She's even taught her grandson how to golf. "I got him started and caddied for him at his first golf tourney when he was eight!"
"You learn to have patience for people," whispers Lennis. "My biggest cheerleaders are my golf team. You laugh no matter what."
Dani, who knows golf etiquette and rules, started a league at EagleRock Golf Course. She loves encouraging others. "I get the biggest thrill out of seeing someone play the game of their life. I love to see people do well." Dani suggests joining a league and finding a team that will "help you learn" should you be inclined to take up the game.
Marie knows this to be true. She remembers receiving that phone call from Robin asking her to join the league. "They were all strangers at first and it frightened me. I didn't know the women or the rules of golf. I went on faith and the doors opened."
This league of extraordinary women counts their friendships as the most important element of golf.  On or off the greens, they're there supporting one another.
"It's what it's all about," confides Robin.
TEE TIME. JOIN A LEAGUE! Enjoy an outing with the girls and meet new friends on the course. Make sure to match your skill level with the league's level of play. Some leagues prefer an established golfer while others love to help a newbie learn the game.
Eaglerock Golf Course offers 'Ladies' Night Out' starting late April. Owners Lenita and Matt Martinson invite the "non-avid" golfer to get out of the house or away from the office. You can show up by yourself or bring an office party. Matt says, "Do something fun that's social and recreational." Call Lenita at 406-655-4445 for more information.