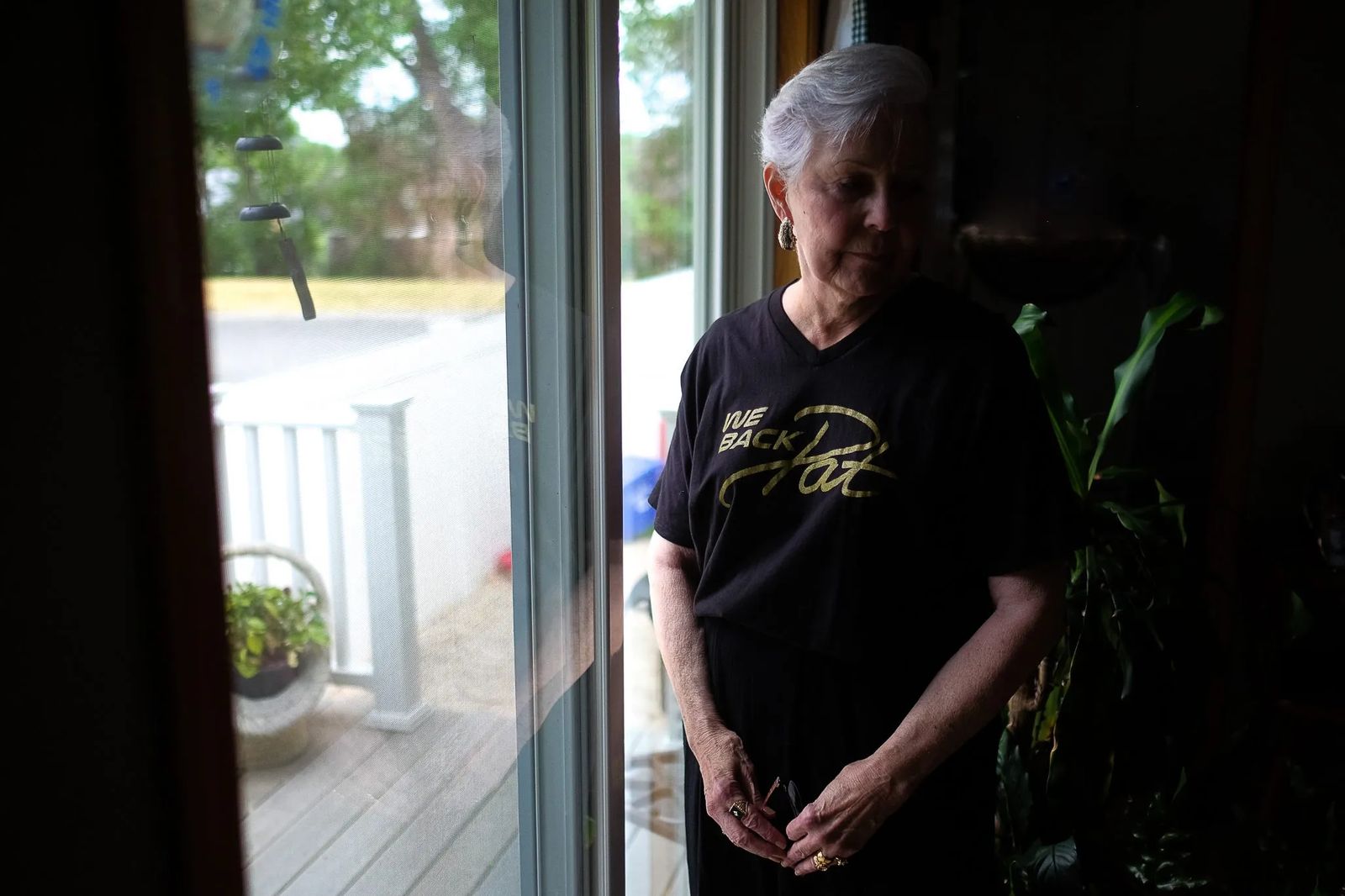 Behind the Locked Doors of Alzheimer's
One woman's journey to understanding
A plastic bag filled with keys reminds Nancy McGrath of her journey to the locked doors blocking her understanding of Alzheimer's disease. The rooms that once held the frustration and confusion of her mother's disease have been unlatched.  After the death of McGrath's mother, Mary Jane, at 82 in the fall of 2001, there is finally some clarity and resolution after years of anxiety and guilt.
I sat down with McGrath at her dining room table, as spring was blossoming. She spoke mostly in a calm candor with occasional tears releasing exasperation and self-reproach. Today she is wearing a black t-shirt with the logo in gold writing: "We back Pat" in reference to Pat Summitt, the head coach of the University of Tennessee Lady Volunteer basketball team who was diagnosed with Alzheimer's in 2011 and lost her fight with the disease this past June.
McGrath admits, "I simply did not understand what was going on in the early stages."  At the time, she attributed her mother's unusual actions to grieving the death of her father in 1991. "My dad was really a gregarious man. He was tall and had a big laugh. He would walk into some place and was big happy. My mom was his shadow."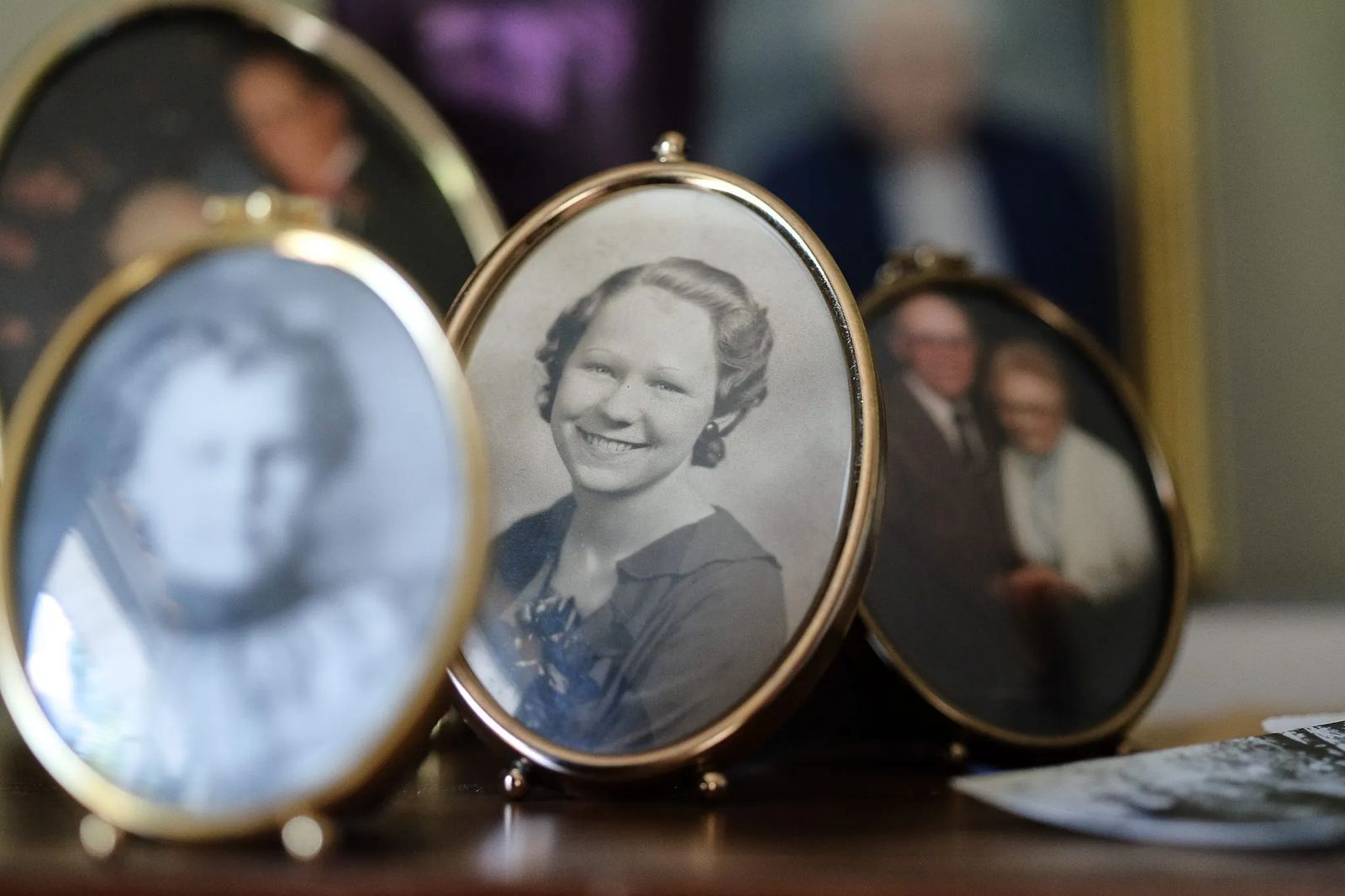 At first, McGrath says, "When my dad passed, my mom would not have any of us stay with her. She did not come to our house." McGrath did not worry because "She continued to go to church religiously." Then suddenly, "One day she called me, shaken.  'I lost my way home,' she said. 'It was raining so hard, the windows fogged up and I could not see.' People who knew us stopped, and had taken her home." The severe weather was common in Iowa and it was not unusual for people "to pull over and lose their orientation." It wasn't long before her mother stopped going to church altogether. The minister visited along with others trying to encourage her to return. However, "People's goodwill wears out when they do not get a response," McGrath says sadly.
"She was unreceptive to people. We realized more that she was pulling in her circle tighter and tighter. She did not feel comfortable with us in the house." McGrath continues, "I had no access to her home. The fact she did not let us into the house bothered me." When Nancy and her husband Ed came to pick her up at the house or drop off food, she met them at the door.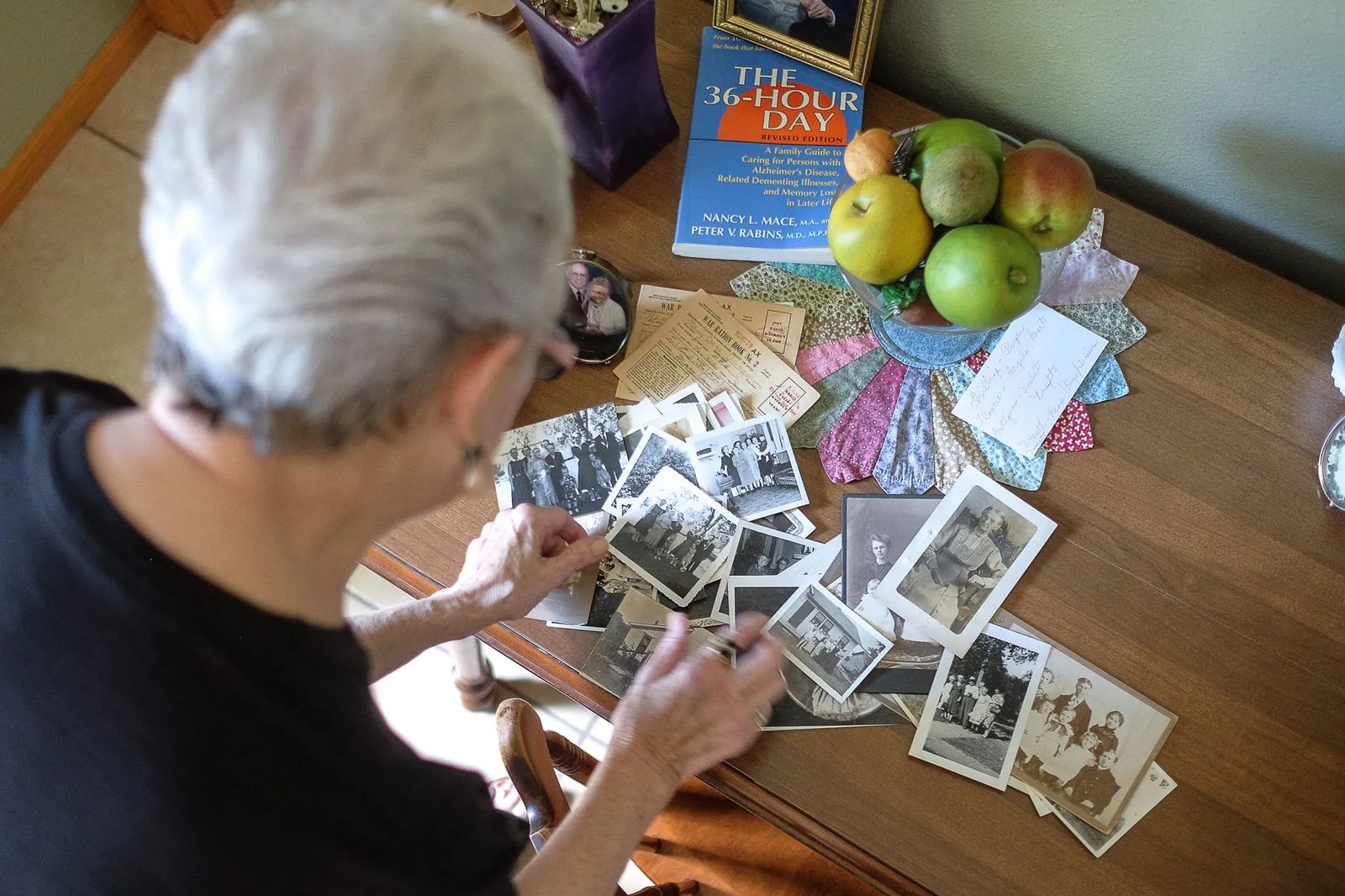 At dinner one night, Mary Jane realized she did not have her purse with the garage door opener that allowed her into the house. McGrath expresses, "I felt her agitation that she felt as though we had it (the purse)." When they got to the house, Ed found a hammer to try to break a window but to no avail as she had installed bullet -proofed glass.  When they finally gained entry, the purse was right beside her chair. Mary Jane reprimanded her daughter with an accusatory look. "There is a sense of mistrust," McGrath conveys.
McGrath regularly took her mother to her doctor's appointments. Even though her mother's physician gave her a clean bill of health, the periods of confusion continued. One day, McGrath arrived to pick up her mother only to find her not at home. After calling the police and having them break into the home fearing something had happened, McGrath's mother eventually returned home, stepping out of a friend's car.
McGrath finally gained remote key access to have the locks changed on her weeks later.  During this time, McGrath convinced her mother to secure medic alert for emergency medical assistance. "I took off work early and met the lady who installed the medic alert system. She was nice to mother, but was mean and sarcastic to me. I could not figure out where this animosity was coming from."
McGrath worked as a high school business education teacher. "I got a call at school one day from a lady who does my mom's hair telling me she had fallen and broken her hand." At the hospital, McGrath went through her mother's purse. She pulled out the usual items: coin purse, garage door opener, and keys, but then found six pairs of scissors.  "She was carrying the scissors as some kind of self protection."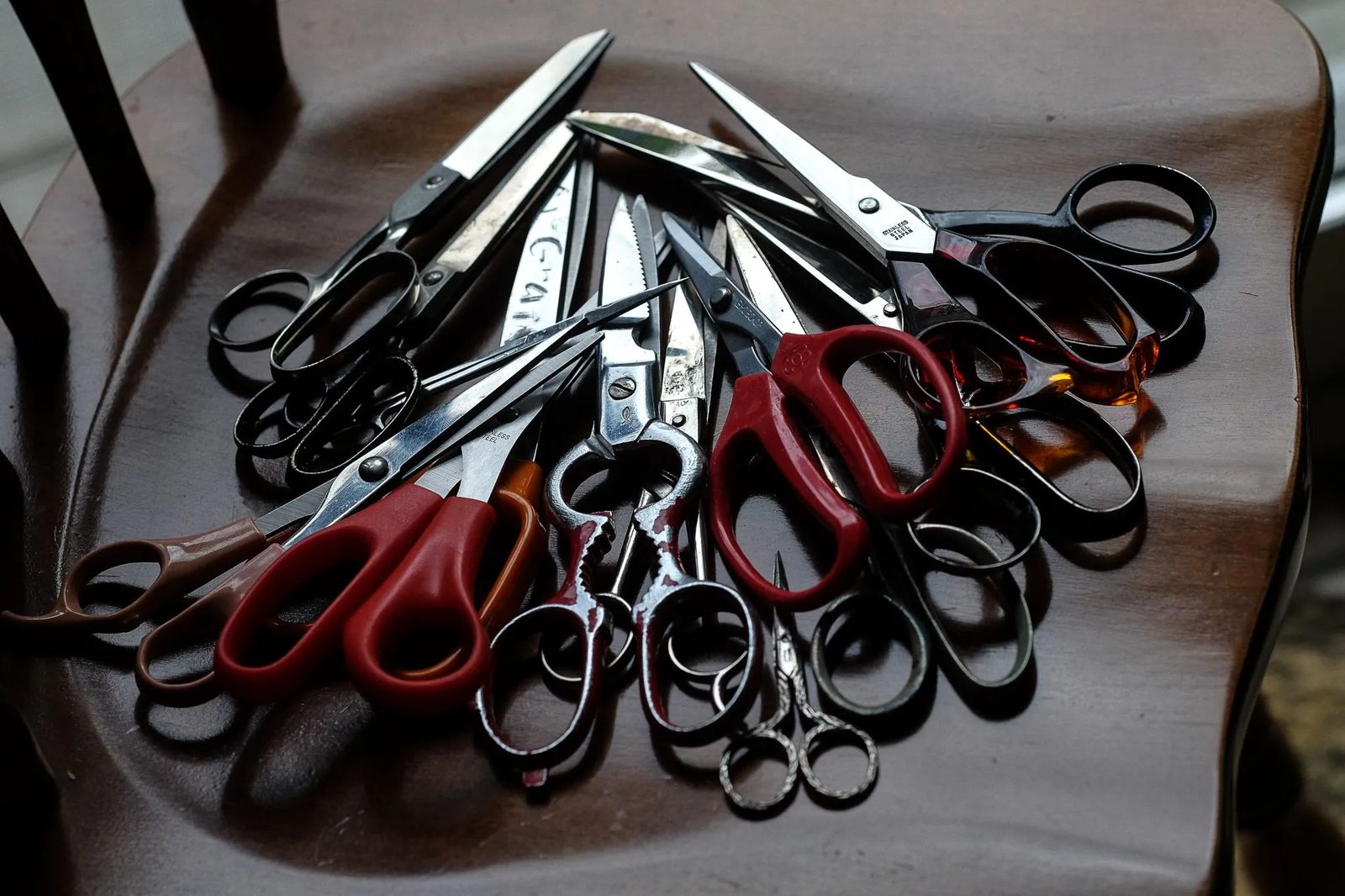 When McGrath arrived at her mother's house to pick up some personal items, she found "boxes of opened and unopened food all over the counter." McGrath remembers, "She had been an extremely good housekeeper." Though Meals on Wheels delivered her meals regularly, "It was obvious she was not eating." Further, her mother had a housekeeper and it was obvious the house was being neglected.
After leaving the hospital, Mary Jane remained in a care center until she passed away. Revelations soon came. McGrath discovered that the hairdresser had been picking her mother up to take her to get her hair done. The cleaning lady was bathing her and escorting her to the grocery store. The woman from the medic alert company, who had been rude to McGrath shared that her mother had accused her daughter of being abusive. Also, she revealed, "You should know she buzzed that thing every day to talk to someone."
When cleaning out the house, McGrath and her husband found more scissors, but discovering the bag of keys supplied some resolution. In the years after her father's death, her mother changed the locks countless times with keys filling a gallon size plastic bag.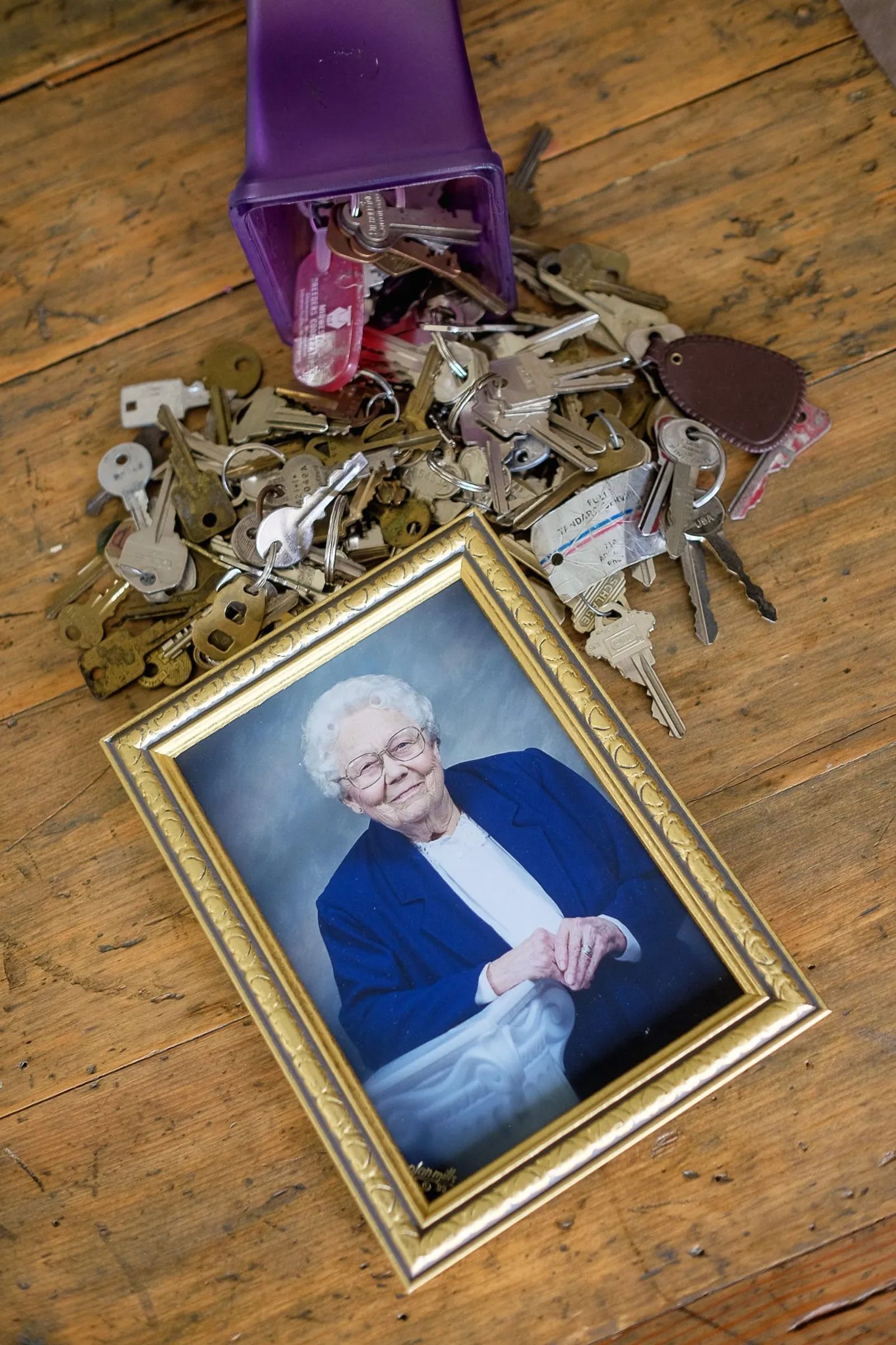 Mary Jane lived in fear, yet during the onset of Alzheimer's, she tried to conceal her illness   "Everything was done to keep me from seeing the truth," McGrath laments. "No one could see she was broken, hurting and scared." Unfortunately, as the caretaker, McGrath was also suffering.
At the time McGrath did not have the resources and could not talk to anyone about what she was experiencing. Today, the Alzheimer's Association provides the keys of support for not only those afflicted with the disease, but also for caregivers. With time, McGrath continues to unlock the doors to understanding how Alzheimer's took her mother's life.
Memory loss that disrupts daily life
Challenges in planning or solving problems
Difficulty completing familiar tasks at home, at work or at leisure
Confusion with time or place
Trouble understanding visual images and spatial relationships
New problems with words in speaking or writing
Misplacing things and losing the ability to retrace steps
Decreased or poor judgement
Withdrawal from work or social activities
Changes in mood or personality
ALZHEIMER'S MYTHS
Myth 1: Memory loss is a natural part of aging.
Reality: As people age, it's normal to have occasional memory problems, such as forgetting the name of a person you've recently met. However, Alzheimer's is more than occasional memory loss.
Myth 2: Alzheimer's disease is not fatal.
Reality: Alzheimer's disease has no survivors. It destroys brain cells and causes memory changes, erratic behaviors and loss of body functions.
Myth 3: Only older people can get Alzheimer's
Reality: Alzheimer's can strike people in their 30s, 40s and even 50s.
Myth 4: Aluminum exposure can lead to Alzheimer's disease.
Reality: During the 1960s and 1970s, aluminum emerged as a possible suspect in Alzheimer's. This suspicion led to concern about exposure to aluminum through everyday sources such as pots and pans, beverage cans, antacids and antiperspirants. Since then, studies have failed to confirm any role for aluminum in causing Alzheimer's.
Myth 5: Aspartame causes memory loss.
Reality: This artificial sweetener, marketed under such brand names as Nutrasweet and Equal, was approved by the U.S. Food and Drug Administration (FDA) for use in all foods and beverages in 1996. Since approval, concerns about aspartame's health effects have been raised.
Myth 6: Flu shots increase risk of Alzheimer's disease
Reality: A theory linking flu shots to a greatly increased risk of Alzheimer's disease has been proposed by a U.S. doctor whose license was suspended by the South Carolina Board of Medical Examiners. Several mainstream studies link flu shots and other vaccinations to a reduced risk of Alzheimer's disease and overall better health.
Myth 7: Silver dental fillings increase risk of Alzheimer's disease
Reality: According to the best available scientific evidence, there is no relationship between silver dental fillings and Alzheimer's.
Myth 8: There are treatments available to stop the progression of Alzheimer's disease
Reality: At this time, there is no treatment to cure, delay or stop the progression of Alzheimer's disease.
In Montana, 19,000 people are believed to be living with Alzheimer's or some form of dementia with 49,000 people serving as their caregivers. The number of people affected is expected to grow by 42% by 2025. Currently, Alzheimer's in the 6th leading cause of death. Source: Alzheimer's Association Facts & Figures Report.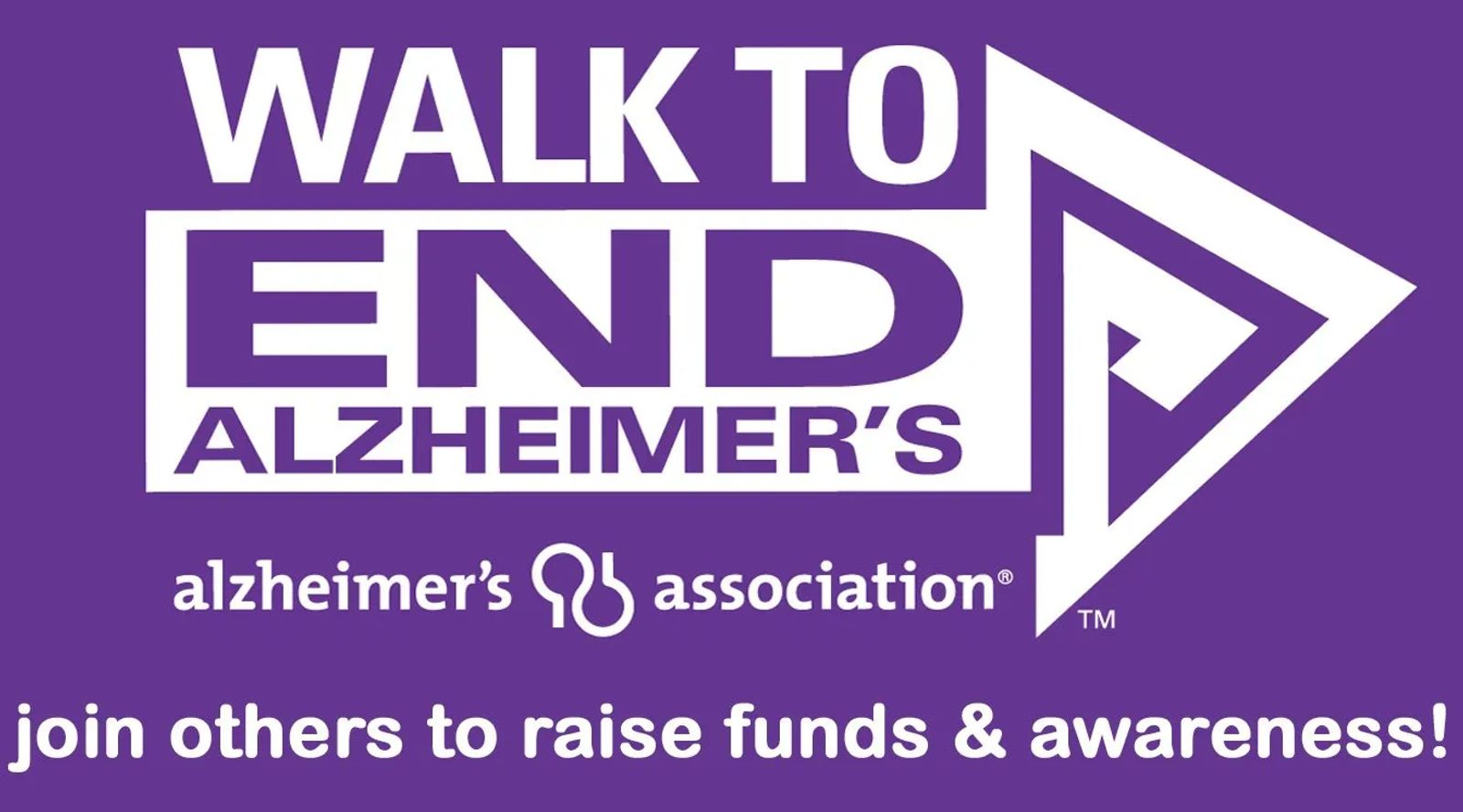 On September 25th, those who suffer, those who care for and those who support the fight to end Alzheimer's will join forces at ZooMontana to help reclaim the future for millions. The Walk to End Alzheimer's is the world's largest fundraising walk held in more than 600 communities nationwide. To sign up, visit www.alz.org/montana and click on the Walk to End Alzheimer's tab.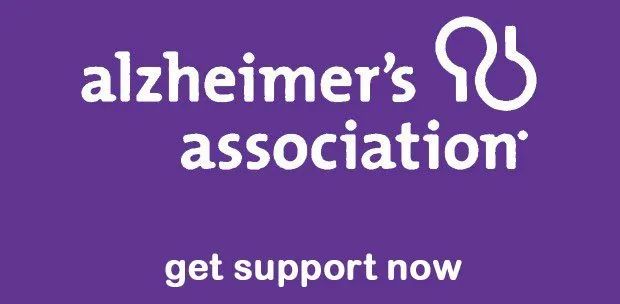 The Alzheimer's Association is the leading voluntary health organization in Alzheimer's care, support and research. The mission is to eliminate Alzheimer's disease through the advancement of research, to provide and enhance care and support for all affected, and to reduce the risk through the promotion of brain health. Visit alz.org/montana for more or call the 24/7 Helpline at 800.272.3900.