Creating Happiness
Face Painter Amy Schad sparks smiles with a little paint and a brush
If you ask Amy Schad, there's nothing more fun than face painting. She and her brother, Patrick Branger, a professional clown, have made a business out of making people happy. She paints faces and he makes balloon animals, juggles and performs magic tricks. Together, they spread joy at festivals, fairs and other events across the region.
"It's ridiculously fun," Amy says.
Indeed, there's real magic when Amy picks up her mirror and turns it around for children to see their faces, painted like a princess, cheetah or superhero. They light up, and so do their parents.
"There's a rush when you're making someone happy," she says. "If you're making people happy, you're happier. It's contagious."
The business that Amy and Patrick share is called Montana Premier Entertainment, and it's a much larger enterprise than just clowning and face painting. Montana Premier Entertainment rents a wide variety of inflatable bounce houses, in addition to carnival games, dance floors, stages and lighting and sound equipment. Patrick handles all the logistics, and they have a gig almost every weekend all summer long. Plenty more birthday parties, corporate events and Christmas parties fill in gaps during the rest of the year.
Patrick roped Amy into the business about 12 years ago when he bought her a face painting kit for Christmas — and a few days later said, "I've booked you for a face painting gig in two weeks."
Amy went to work studying YouTube tutorials on face painting and practicing on herself to get ready. The event went well — and Amy was hooked.
"It all kind of snowballed from there," she says.
While Patrick lives in Billings, Amy lives in Livingston with her husband and four children, ages 10, 8, 4 and 6 months. She is a naturally social person, with positive energy to spare. She owns a salon and is surrounded by people all day every day. She is also a rep for a hair color company and travels around to teach coloring techniques to other stylists. Even though she spends many weekends and some evenings painting faces, she thrives on the interaction, especially with children.
"She's busy, but she's always willing to do more," Patrick says.
Amy's kit is about a $5,000 investment in a professional line of highly pigmented body paint like Hollywood special effects artists use. It's safe for even the most sensitive skin. It won't easily wipe off, but it's also easy to remove with a washcloth and mild cleanser. Her work is so amazing that even adults will sometimes stand in line to have their faces painted.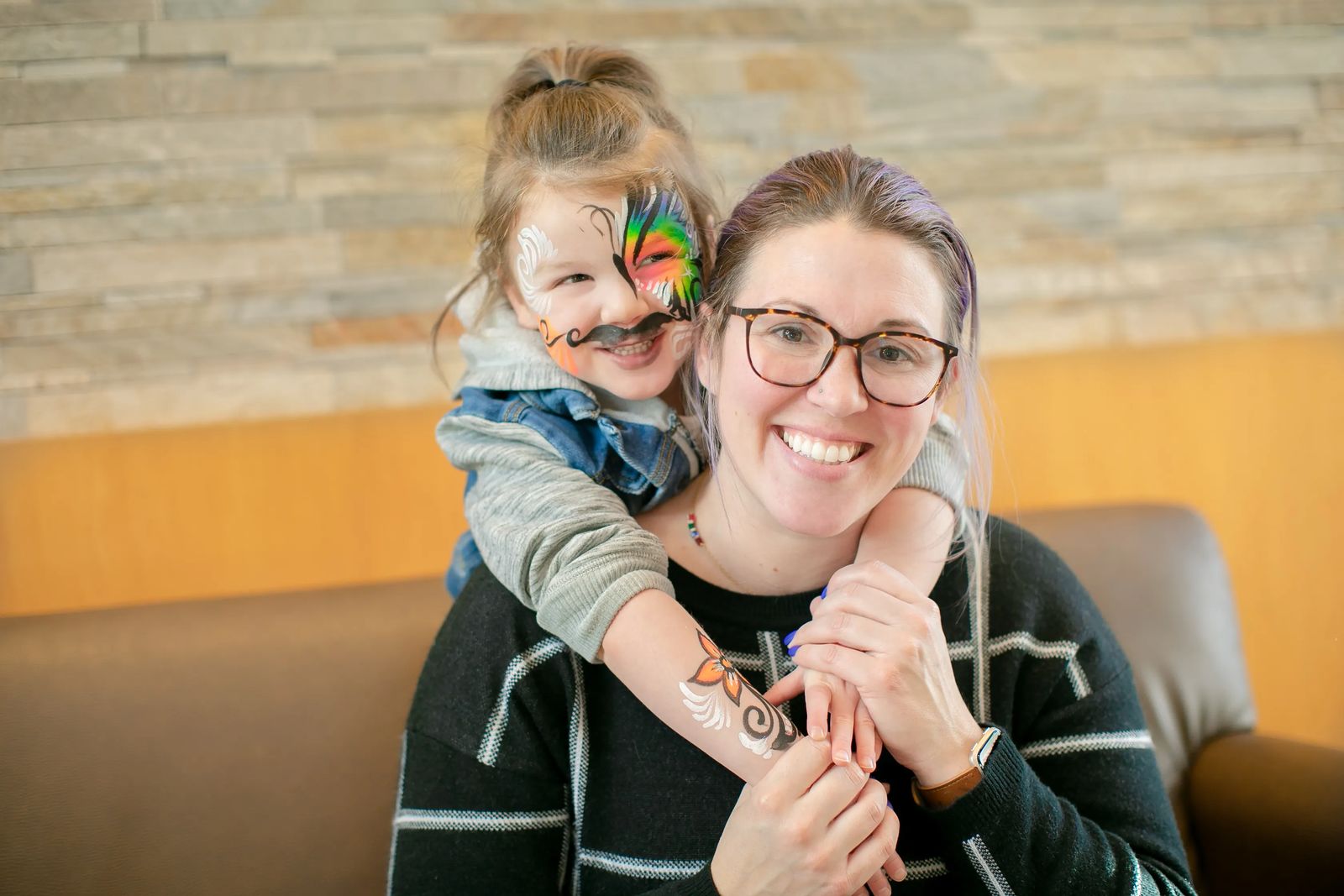 Unlike other face painters on the circuit, Amy doesn't travel with a display of options or flipbook of designs, so when a child asks for a princess-tiger or a make-believe superhero, Amy is happy to give it a try.
"It's fun to come up with something new and creative," she says.
Amy has always had an innate artistic ability and painted and sketched all through childhood and high school. Patrick and Amy's parents always encouraged them to pursue their passions and supported them in their various endeavors — Patrick in his clowning and Amy in her salon. They all pitch in to keep Montana Premier Entertainment on the road, and their mother provides childcare while Amy is painting faces.
"What's fun about these events is when we get done, we all get to spend time together," Patrick says.
While Patrick has always encouraged Amy to try clowning, she's adamantly refused. He's starting to wear her down, however, and has talked her into dressing like an elf for Christmas parties. She made her own costume — a huge, fluffy skirt and top in bright Christmas colors. They play Santa's helpers, and Amy will paint faces while Patrick makes balloon animals.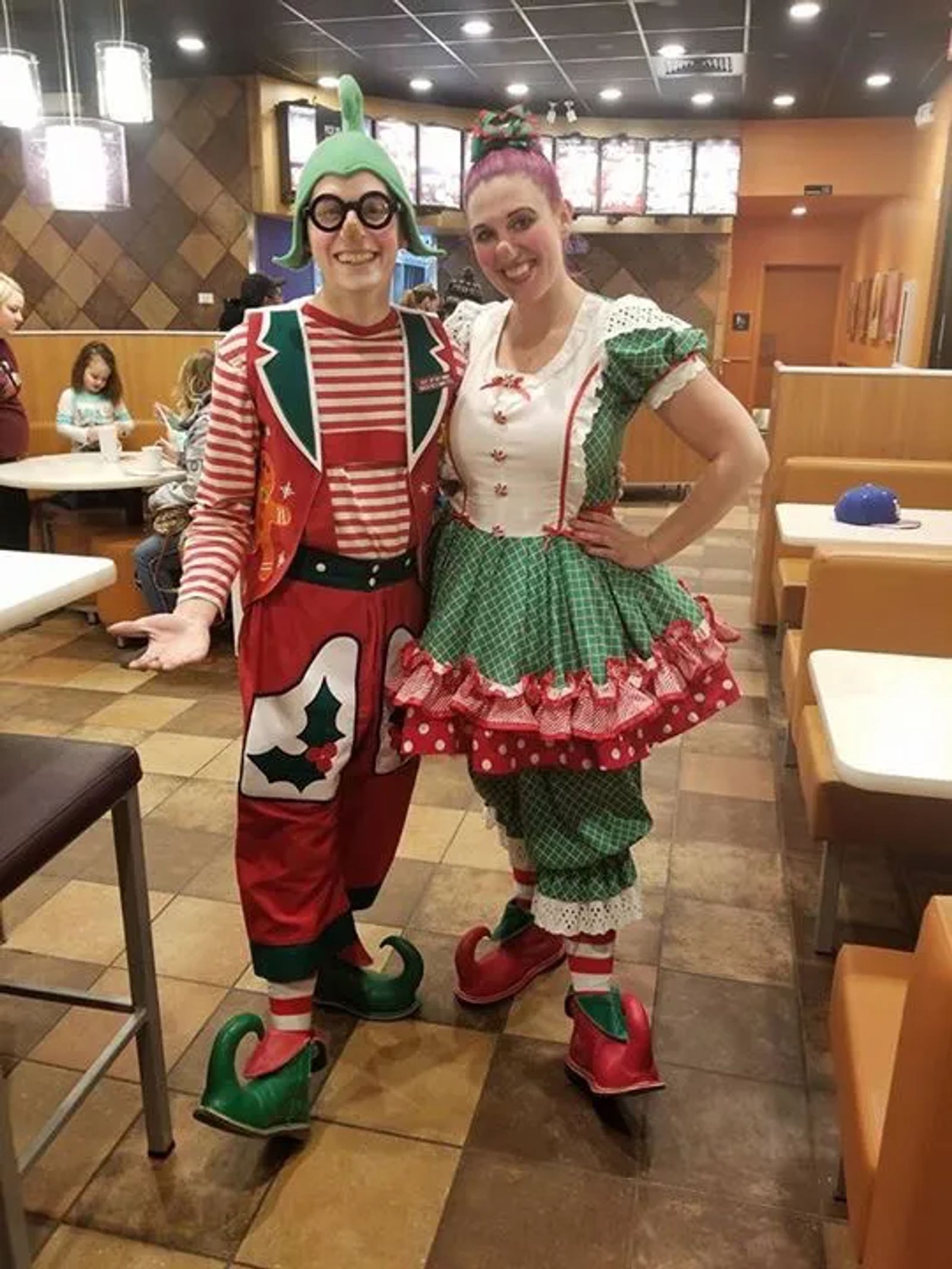 "Christmas events are a lot of fun, and elfing is a ton of fun," Amy says.
These days, Patrick is busy booking events for the summer, and so long as Amy's up for it, he'll pack their calendar. She's always game, but has to ask, "Did you talk to mom? Is she available?" If she is, they'll be there with balloons, face paint and an entourage of family members.
"It's fun doing what we do, making people happy," Patrick says. "It helps people forget about what's going on in their lives for a little while. It's amazing."