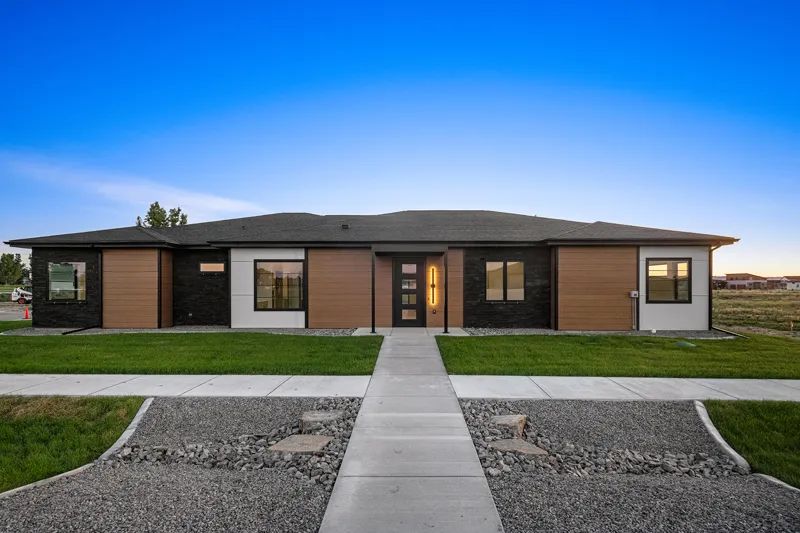 Dressed to The Nines
Contemporary West End homes flush with design inspiration
Driving through The Nines development on Billings' West End, you notice how different each house looks. Yet, there's a subtle similarity defining this upscale neighborhood. Perhaps it's the clean lines of each home, the large picture windows, or the mixed materials used to create individual artistic flair.
These houses with a modern edge were built to turn heads. "The Nines is unique," says 25-year-old Conner Bokma, co-founder of CB Built. We stepped inside two of his latest homes. "It's a super custom identity not to be replicated any time soon," he says of the development.
The 90-acre community of P3Coleman Property Development is located between 60th and 64th Streets with varying size houses and lots. The streets are named after country clubs around the United States, hence The Nines.
"We're a breath of fresh air for people," says Conner, who grew up in Denton and graduated from Montana State University with a construction engineering technology degree.
"They get to see their (house) plans, budgets, schedules and the level of communication we offer," he says of the homebuilding process. "It's a fun experience for people to build with us."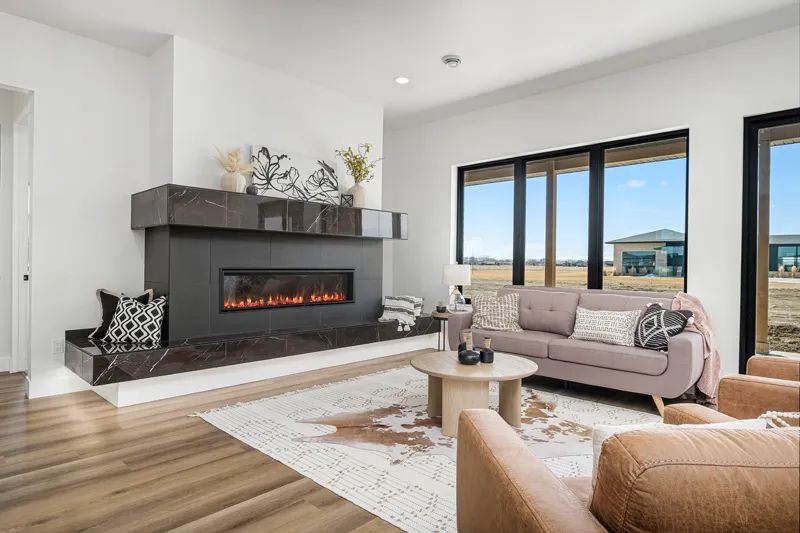 The two flagship projects of CB Built lay in walking distance of one another. The thoroughly "modern sleek" house sits on the corner of Muirfield Place, while the "mountain modern" house is on Riviera Place.
Both one-level homes feature open-concept design highlighted with soaring 10-foot ceilings and 8-foot kerf (no trim) interior doors. Large Pella windows grant great views of the pastoral surroundings, while CB Built's stunning signature tiled linear fireplace with floating illuminated hearth romances the living/kitchen areas.
Stunning kitchens in both houses are Beyond the Box exquisite. "There was a lot of cabinetry design freedom in these projects, which inspires the creative in me," says Beyond the Box Designer Ragan Yetley.
The spaciousness of the 2,932-square-foot Muirfield house is complemented by engineered hardwood flooring flowing seamlessly through the main living and kitchen area. The kitchen's clean lines give off an uber-modern vibe with straight flush crown molding topping rift cut white oak veneer cabinetry.
"Veneers are excellent choices for contemporary flat panel door styles," says Ragan. "Being thin 'slices' (called flitches) of actual hardwood, veneers provide the same richness and grain variation as solid wood but without some challenging characteristics such as expansion and contraction."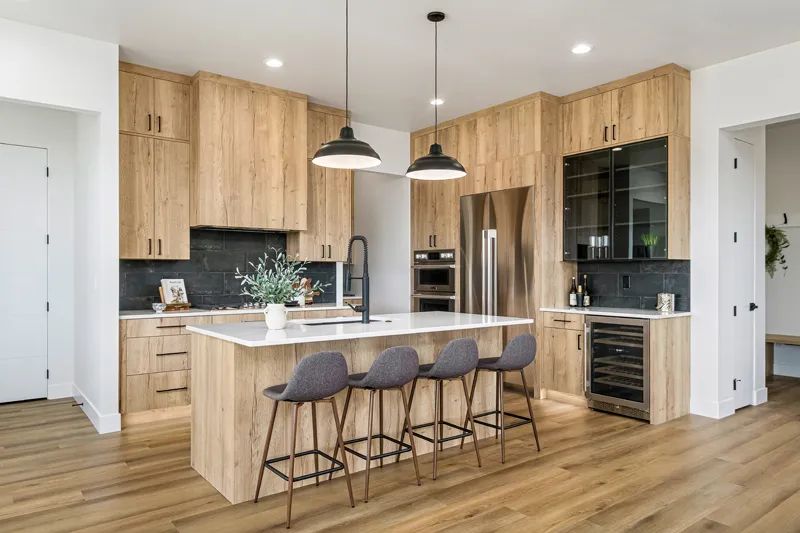 Details like gold edge pulls deliver a classy low profile look on the upper cabinetry while long gold pulls on the lower cabinets enhance the distinction.
Floating shelves add to the kitchen's appeal as natural light streams in from a giant window in the accompanying butler pantry. Enriching the overall space is the center island. Its matte-black base showcases the richness of a 10½-foot Eternal Calacatta Gold quartz countertop.
Light-colored square backsplash tiles with coordinating grout keep it sleek and chic, as do flush stainless steel luxury appliances. This gourmet kitchen lends itself to memory-making gatherings.
You'll entertain in style while enjoying the outdoor view across the room where a bevy of windows and a sliding patio door invite the outside in.
"The flow of the home is super-efficient," notes Conner. "We prioritize our kitchens, the fireplace and the master suites. It's user-friendly with no steps."
This three-bedroom, three-bath home impresses the most sophisticated. The exceptional owner's suite allows quiet indulgence to unwind from the day. Plush carpeting gives a warm ambiance to this prominent space.
An ample barn door reveals the gorgeous spa-like en suite. A floating vanity with underneath lighting complemented by lighted mirrors juxtapose elegantly. The striking herringbone pattern black tile walk-in shower is a knock-out.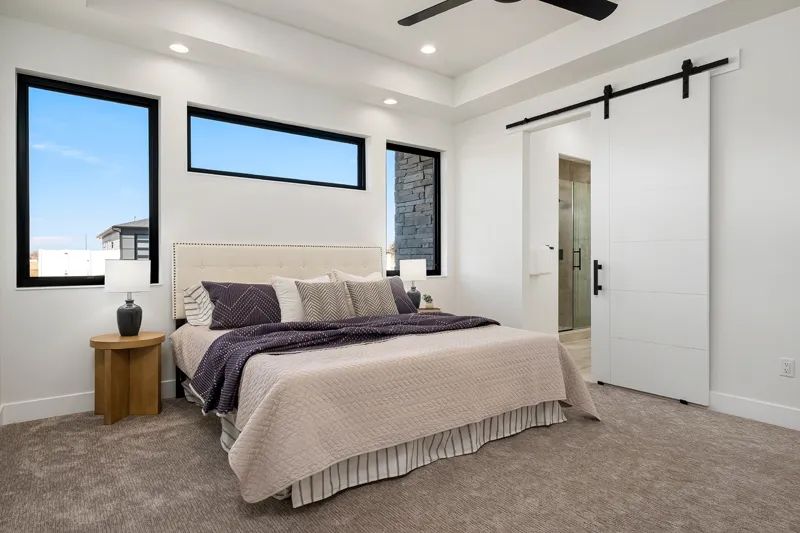 A large private den in the owner's quarter boasts the ideal place to sip an Arnold Palmer. "This space can be an office, a workout room, a nursery, or whatever you want it to be," Conner says.
An oversized guest bedroom with a tiled quartz bathroom sits adjacent to the owner's personal quarters. The third bedroom with en suite conveniently sits on the opposite side of the house, fulfilling the intriguing potential of Muirfield Place.
"Throughout the houses, there are luxury touches everywhere," Ragan says.
The 2,632-square-foot Riviera home introduces a totally different look, yet all the details and high-end features are present. "We're not a production builder," emphasizes Conner. "We custom design each home."
The layouts of each house offer diversity starting with the exteriors. Riviera's front entry expresses a Montana modern look with its grand scale covering and strategically positioned white cultured stone. Wood and white stone columns define it.
Its mountain modern construction casts a rustic charm throughout. The CB Built signature tiled linear gas fireplace with floating illuminated hearth adds depth to the more rustic look with its glossy finish.
The kitchen cabinetry features an oak-textured laminate called Roanoke. "These laminate materials provide unique color and texture characteristics and represent the latest offerings in lamination technology," Ragan says.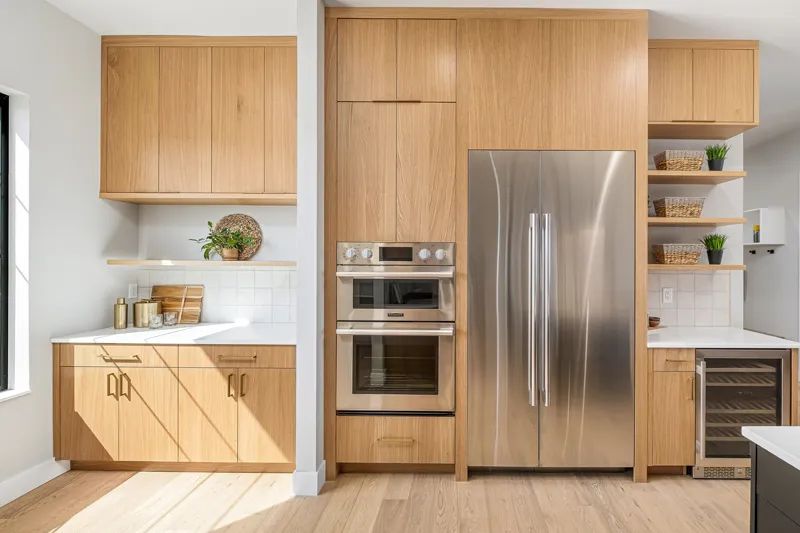 Black backsplash laid in a brick pattern distinguishes these warm tone cabinets, bestowing a more traditional feel. Toe-kick lighting adds just the right glow. A hosting bar at the edge of the kitchen further reveals its personality — with its sharp-looking black metal-frame upper cabinets with dark glass doors above and a mini beverage fridge below.
A creamy Eternal Calacatta Gold quartz countertop graces the center island. Two pendant lights hanging above the isle perfectly contrast the warm tones of Luxury Vinyl Plank flooring.
The heart of the home doesn't skip a beat. A designated dining space is sure to please with its open views to the patio and backyard area. Finishing it off is a butler's pantry with abundant storage space.
The open concept of the three-bedroom, two-and-a-half bath Riviera home flows efficiently. Two identical oversized bedrooms sit on one end of the home separated by a grand bathroom accentuated with black and white subway tile.
Conner directs attention to a front office, complete with closet and, also, an easy-access powder room sporting a quartz apron front vanity. We stop to check out a linen closet before taking in the owner's suite on the other end of the house.
This is a space you can settle into for long periods come rain or shine. It's an airy oasis. "We're detailed-oriented," says Conner.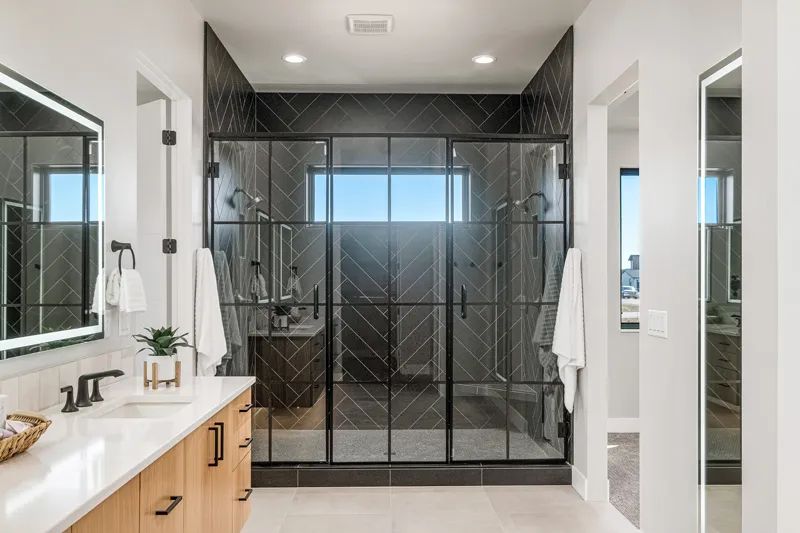 Details cover every inch of this roomy boudoir with its fine quality carpeting and extra closet space. And, the over-the-top en suite decked in earth tones really exudes a natural feel. Take your pick between the tiled walk-in shower embellished with two shower heads and the free-standing soaking tub. There's plenty of space for both in this private getaway.
All cabinetry in both houses are from Beyond the Box, but this particular en suite's vanity displays a cabinet or "tower" between the sinks. Lighted mirrors can be found on both sides. The walk-in closet readily accommodates the most serious fashionista.
This well-planned en suite flows into the utility room. Laundry appliances tucked behind sleek cabinet doors keep this area clean and bright. When the family troops in to hang up their jackets and put their shoes away in the mud room, they're able to walk right into the kitchen.
"All of these small touches come together and create homes that make you feel at home," says Ragan.
The unique design and use of design elements in the two CB Built homes reflect what Conner and his "team" of local craftsmen and women he works with have achieved. "The objective is to add a new flare," says Conner, "a new taste to the market."
The Muirfield and Riviera homes definitively contribute a new flare to the market. They're dressed to The Nines.
FOR MORE INFORMATION ON CB BUILT, visit: p3coleman.com/cb-built. The Nines residential development offers community amenities such as a community pool and fitness center, a full-size basketball court, future pickleball courts and extensive parks with walking trails.