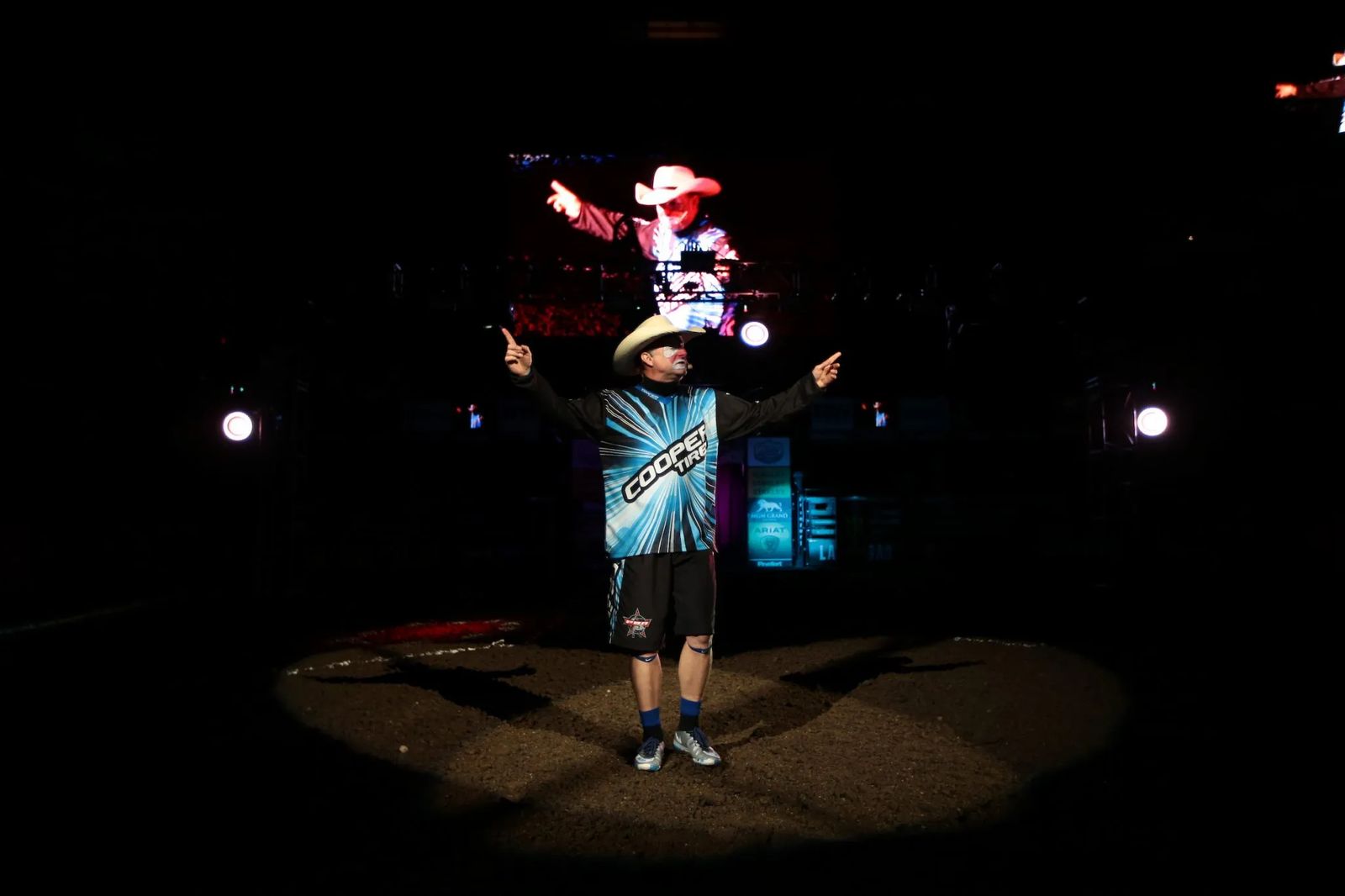 Flint Rasmussen: The Man in the Can
PBR's Made in Montana Rodeo Rock Star
As the arena lights dim, the spotlight comes up capturing the showman Flint Rasmussen as he kicks up in the dirt to take to the center of the rodeo arena. The low hum of the impending music begins, and the crowd goes wild as he strikes a pose and begins to shuffle his feet in an improvisational Irish jig. The engulfing sound of the crowd's laughter rises. Rasmussen, with his own brand of comedy, erupts into his performance. He feeds off the crowd, breaks into his 'famed' dance moves and crosses the earthen floor to serenade an unsuspecting, now illuminated, spectator in the stands. This showman has been described as part slapstick comedian, part late night television host. Watching Rasmussen's act unfold, there's little doubt he earned his titles of eight-time Professional Rodeo Cowboys Association's Clown of the Year and seven-time honoree of Coors' Man in the Can. Underneath that black cowboy hat, and shocking white and bold red face paint, however, is a humble and grounded family man with a deep respect for rodeo.
Flint Rasmussen during Round 1 of the 2016 PBR World Finals in Las Vegas, NV. Photo by Christopher Thompson[/caption]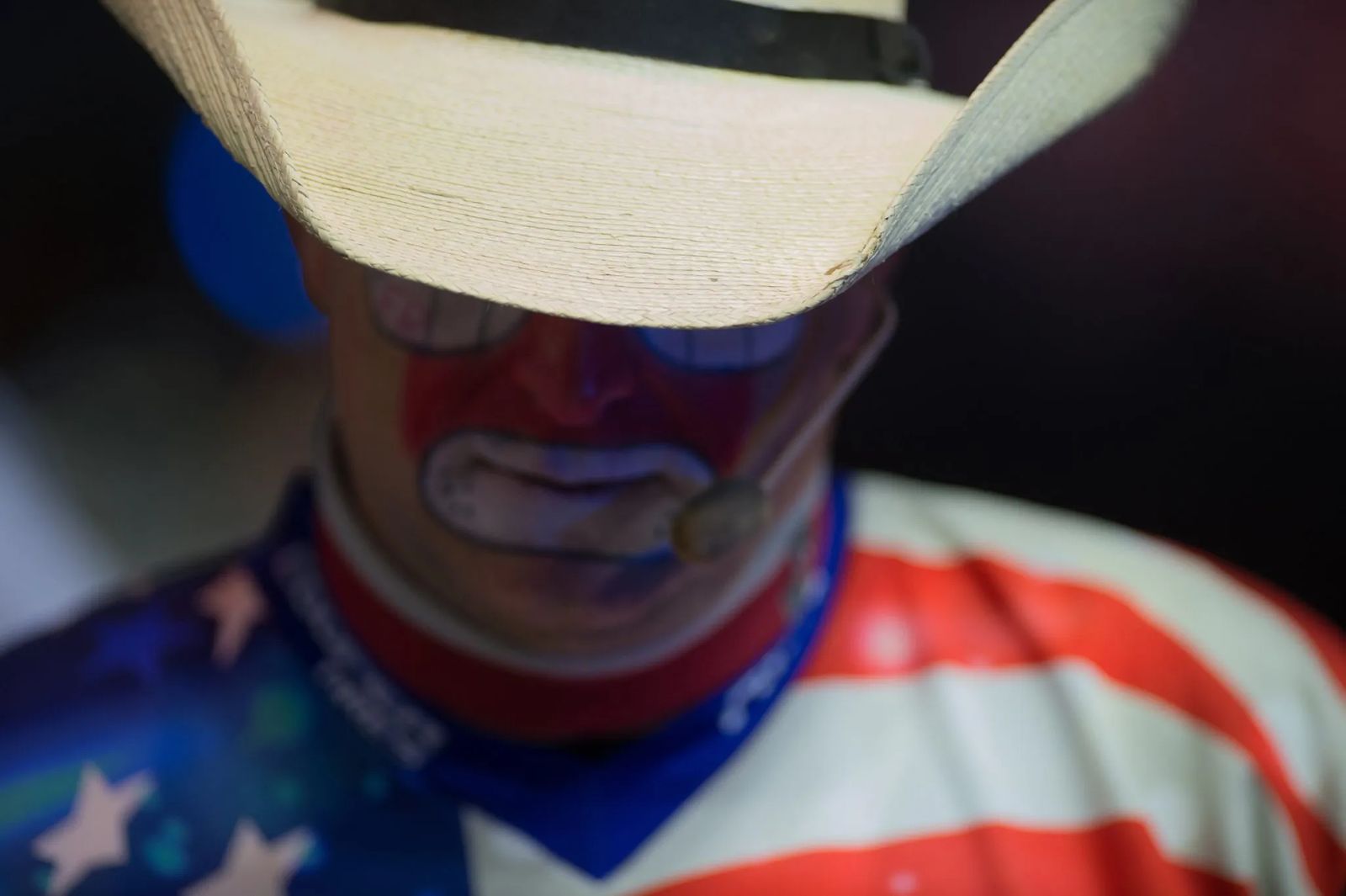 While Flint Rasmussen has always adhered to being the great barrel man he has become with his high energy and natural sense of humor in the arena, his true persona is completely opposite of the Professional Bull Riders' man behind the can.
Raised in Choteau, Montana, Flint received good grades. He was a successful athlete. He enjoyed drama and singing. "All of this helped shape my shows into a success over the years. I've always been an entertainer," Flint Rasmussen will tell you.
He's a University of Montana Western Dillion graduate. That's where he earned a double major and received his teaching certification with honors. It was during college he took his first dive into the rodeo barrel. "It all happened when my dad, brother, and I were at dinner after a rodeo. I said I thought I could do the clown's act better than he had. So, my brother said, 'Then do it.' And the next weekend I was in the center of the arena doing exactly that, and I thrived. I've always enjoyed entertaining and realized I'd missed it. In the rodeo arena, I got to be in front of the crowd again. Even though they were small rodeos, it was an addictive adrenaline rush," says Rasmussen.
It was a natural fit for Rasmussen since he grew up traveling the rodeo circuit on weekends with his rodeo announcer father, Stan Rasmussen, before his first performance in Superior, Montana, in 1987. "Having been raised around rodeo, I knew all the behind the scenes from the bucking chutes to roping boxes. I used what I saw first-hand and would spin off it to make my performances entertaining," Rasmussen says.
Flint Rasmussen during Round 1 of the 2016 PBR World Finals in Las Vegas, NV Photo by Christopher Thompson[/caption]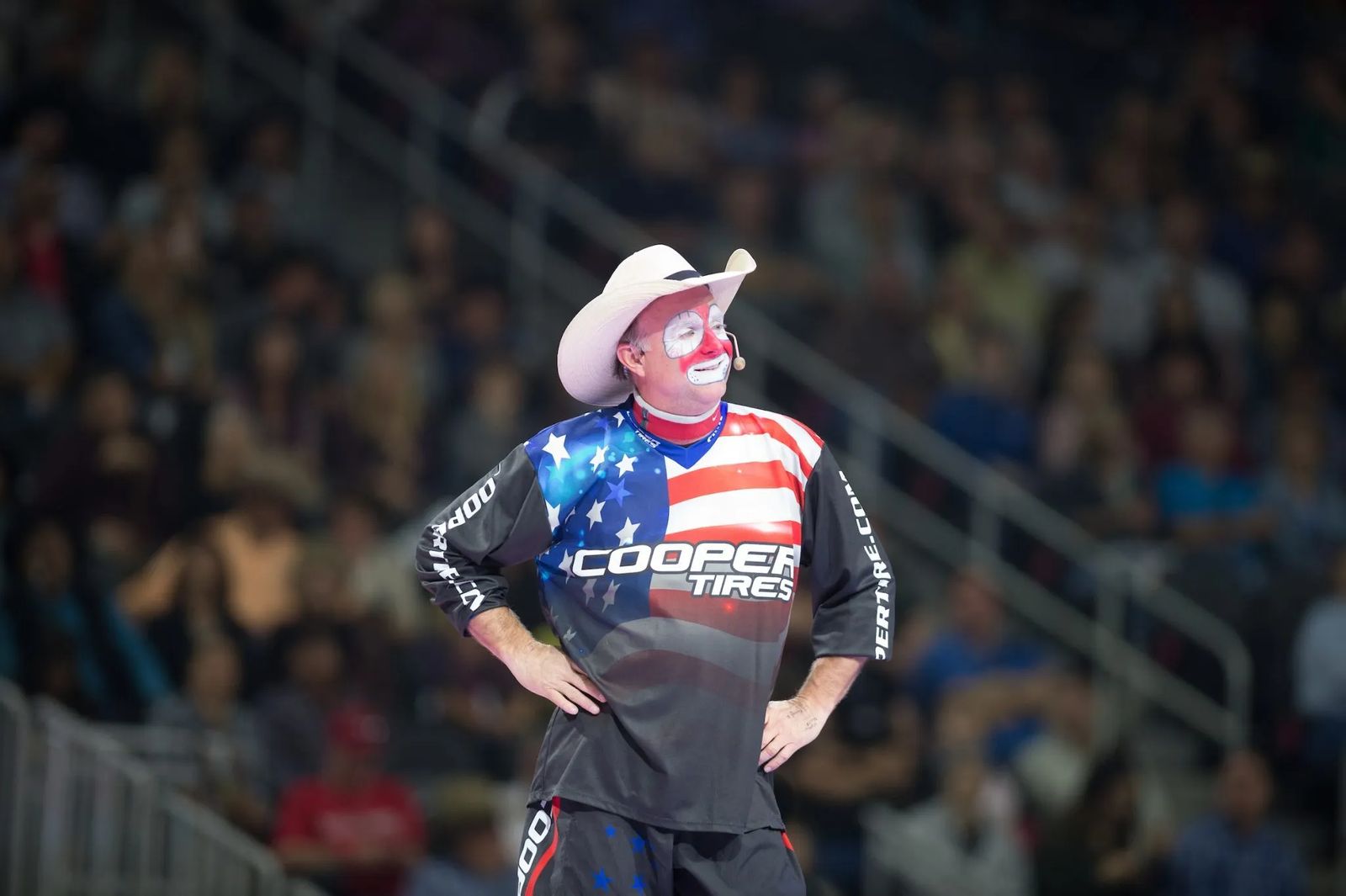 Rasmussen didn't have big goals when he started. "I thought this was just going to be a summer job. Making it big wasn't on my radar," he says. "Actually, they used to have these Mexican fighting bulls come out into the arena and knock the barrel around. Well, after I was holding on to my barrel with every ounce of strength I had, and two bulls were bouncing my barrel around like a soccer ball, I r-e-a-l-l-y thought this wasn't what I had bought into. I thought, 'Hey, I still have my teaching certification. I could go back and be just fine,'" Rasmussen jokes.
But even being tossed around by Mexican fighting bulls didn't slow him down. He kept developing his talents from rodeo to rodeo, loving every minute of it. While having no formal training, he did take advice from Loyd Ketchum, also a Montana native and a recently retired professional bullfighter. "If anyone taught me anything about my career in the arena, it's Loyd. I listened and took his suggestions seriously. I absolutely consider him my mentor," says Rasmussen.
It did take a few years before bigger rodeos were offered. "My first PRCA event was in Red Lodge after I'd been working as a barrel man for about five or six years. They called and told me I could have the job at the Fourth of July Rodeo if I got my PRCA card. So, I got my official PRCA card, and that opened even more opportunities," says Rasmussen.
Flint Rasmussen awards the Cooper Tires Fan of the Night during the championship round of the Thackerville Built Ford Tough series PBR. Photo by Andy Watson[/caption]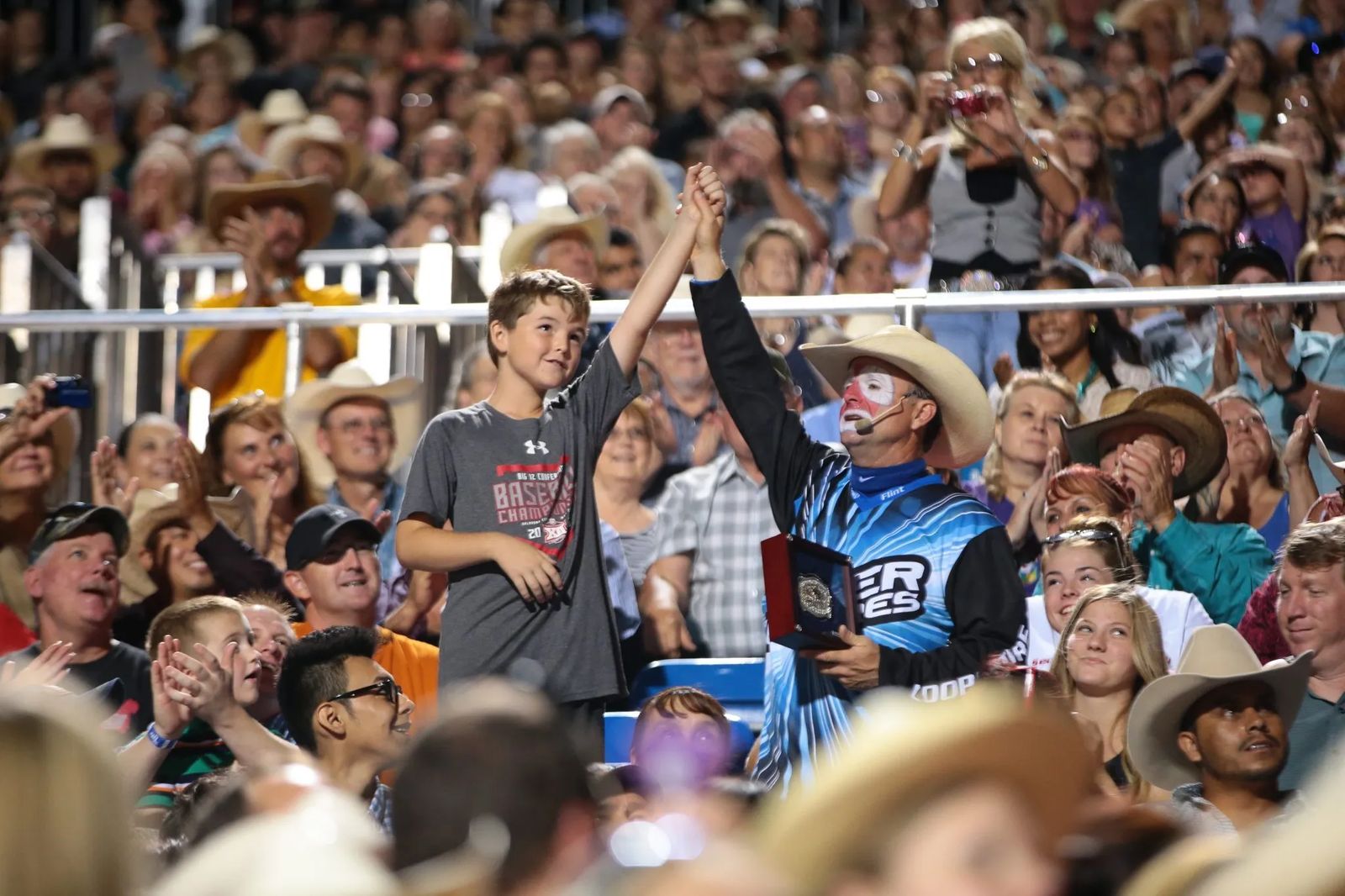 The rodeos did get bigger, and a pivotal point in his career was when he was asked to go to Northern California for a season. "Something in me changed. When I got to some of those, it was different for me. I was out of my usual comfort zone. The bigger the rodeos, I realized the more fun it was. I felt even more challenged and felt a need to be bold in my performances. It was then I knew this is exactly what I wanted to do, and suddenly things really started happening for my career," Rasmussen says.
During this time of developing a career as a famed rodeo clown, Rasmussen met and married his wife, Katie, also a Montana native. They have two daughters, Shelby and Paige. "When we were first married, Katie was still teaching, so we didn't get to travel as much during the school year, but during the summer season we were able to spend more time at events," he says. "She's as much rodeo, if not more than me, because she competes," Rasmussen says of his wife. "She's made it to the Montana Pro Circuit Finals, and I am an entertainer for rodeo. I haven't competed like she has or at the level she and my girls do," says Rasmussen. "If there's anyone I've learned the most from in my life, it's her and my girls," says Rasmussen. "Katie always has a smile on her face, and has taught our girls, and me, how to always be gracious and respectful, in victory or defeat."
And with all he's learned on the job, he imparts plenty of advice for up-and-coming athletes.
Flint Rasmussen during the first round of the Iron Cowboy, Built Ford Tough series PBR. Photo by Andy Watson/Bull Stock Media. [/caption]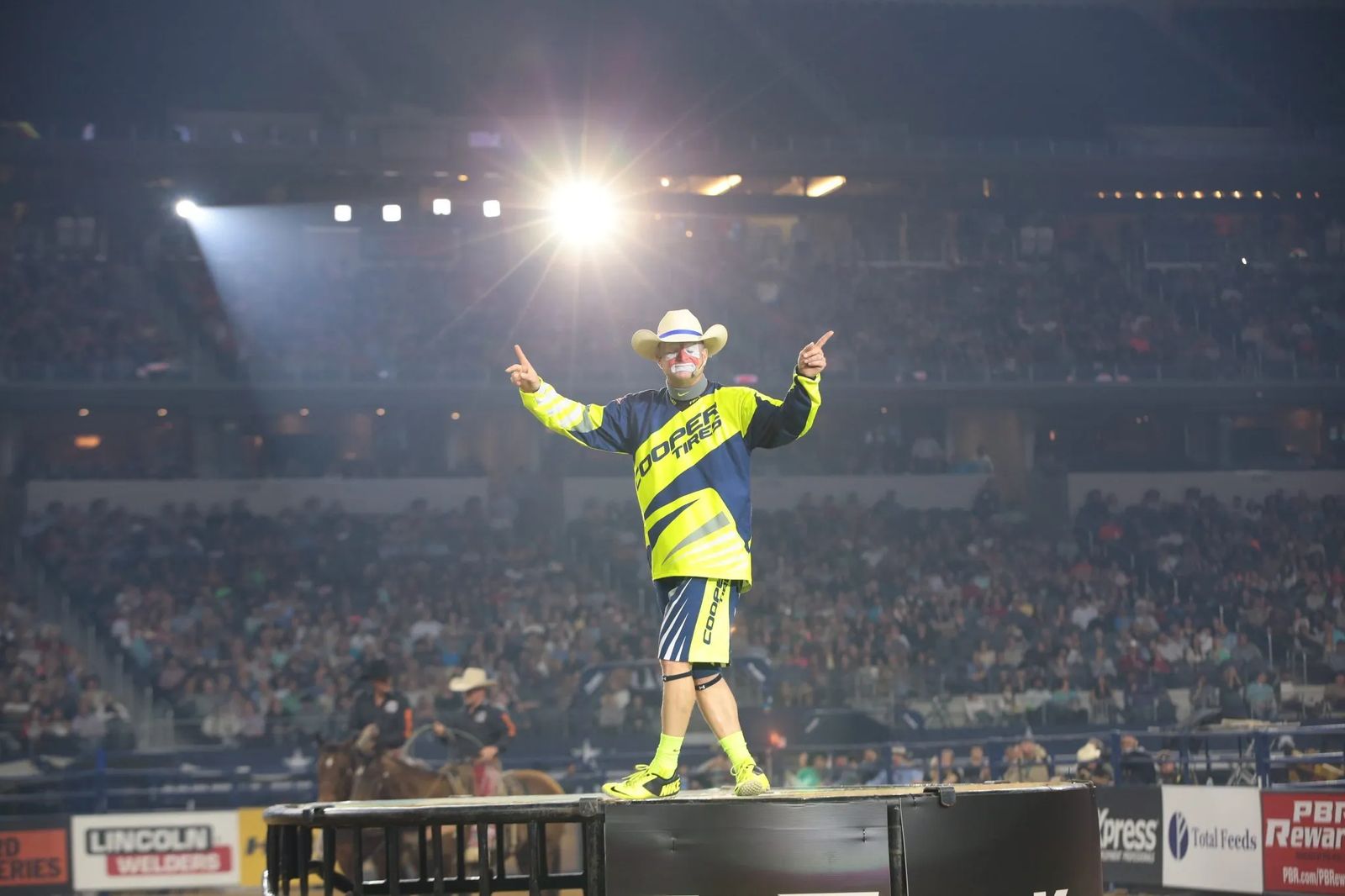 "If I could tell any athlete, be it a budding first-time steer rider or a world champion bull rider, or even one of the kids I'm coaching in track, it would be what she's instilled in our family and fueled in me — hold your head high, say thank you no matter what, and regard yourself and your sport with a higher respect overall. There's always another big game, a rodeo to compete, race to run, or life. Take what you learn in the arena and make it good with yourself. It's about your attitude and how to be successful in the end. But mostly, be a good person in the midst of it all," Rasmussen says with conviction.
Rasmussen signed exclusively with the Professional Bull Riders in 2006. "Just when I felt like I had done everything I could in rodeo, and thought, 'What could I do next?' that was when my career took a turn with the PBR. They're progressive and are always keeping me on my toes. As soon as I think I have a handle on where we're headed, they say, 'Hey, why don't we do this?' It keeps me motivated and having fun," Rasmussen says.
When he's not diving head first into his clown barrel, he's hosting "Outside the Barrel" on Sirius XM's Rural Radio each Friday evening. "During the week, I'm preparing for my show featuring western lifestyle topics, music artists, and industry friends," says Rasmussen. "This is something I look forward to continuing."
Rasmussen, who turned 49 in January, isn't headed out of the arena anytime soon but knows he won't be able to entertain PBR crowds forever. "I'm still young at heart, and in really good shape, but I know things will change. When that time comes, I'd like to be an influential part of it all. I enjoy the media side of the industry. I also like to be creative and work with the production team and sponsors," he says.
"I'm asked often how do I keep my energy up for the shows? I remind folks I'm only doing it for two hours a night in my height of performing. I feel great out there. When the show is over, I feel it and I'm done until the next show. What folks don't see is the production side. There's actually a lot of thought into every performance. It's timing lights, sound, announcers, my acts — everything has its time, place, and purpose. While I do get to have my improv moments, there are quite a few folks involved in making it look easy," says Rasmussen.
When the PBR reaches its pinnacle of the season, Rasmussen is traveling for three months, every weekend, and three-to-four days per week. "My chosen profession has a lot of hustle and bustle involved. I'm in the spotlight, have fans reaching out to ask me all sorts of questions. They're great and these successes mean we're doing what we're supposed to for our audiences, which I enjoy. But when I come home, I like to come to the quiet, go rope, and look out at our Montana mountains. Coming home to my family and hometown keeps me grounded. I like that I can drop into the local bank or grocery store and chat with everyone in there. Choteau is a small town. So, when people see me out and about, I'm just the 'Flint' they've always known, there are no pretenses," says Rasmussen.
"We love that we're raising our girls here. They've been fortunate to go to major cities, been exposed to culture, attend rodeos at AT&T Stadium in Texas, been to Disneyland many times, and can be a part of it all. I believe everyone should travel and see other places. But we appreciate knowing our girls have been raised with the freedom to go outside anytime, jump bareback on a horse together, and head over to the neighbors to play and jump in the creek," he says. "In my traveling, I've gotten to see different perspectives — so have my girls. Even though they may have watched me become a little more reserved over the years in public because of my profession's spotlight, they see part of the reason is our lifestyle. We live in a place people crave to visit," says Rasmussen. "Our western lifestyle in Montana is truly a disappearing way of life."
When Flint has time on the family ranch, there are fences to fix, there is yard work to be done and of course, the occasional hunting or fishing excursion to be had. While he holds many titles, one of his favorites is "Rodeo Dad." He says, "There's nothing more I love to do than to jump in the truck and drive to one of the girl's rodeos. I enjoy just standing behind a gate cheering on my daughters and their friends. It goes back to the heart of rodeo on a whole. It's not only a lifestyle but a family. There are not too many sports where you watch a high school steer wrestler jump from his horse and put the steer down, then the next turn he's on the hazing horse helping his buddy to do the same. It's the way of rodeo. I see it now with J.B. Mauney and Cooper Davis. Both are PBR World Champion Bull Riders, but they'll be the first back there helping each other in the chute or congratulating the other on a great ride. That's just what it's all about. Everyone's there to help each other," says Rasmussen.
Flint Rasmussen and his puppet during the third round of the New York City Built Ford Tough series PBR. Photo by Andy Watson[/caption]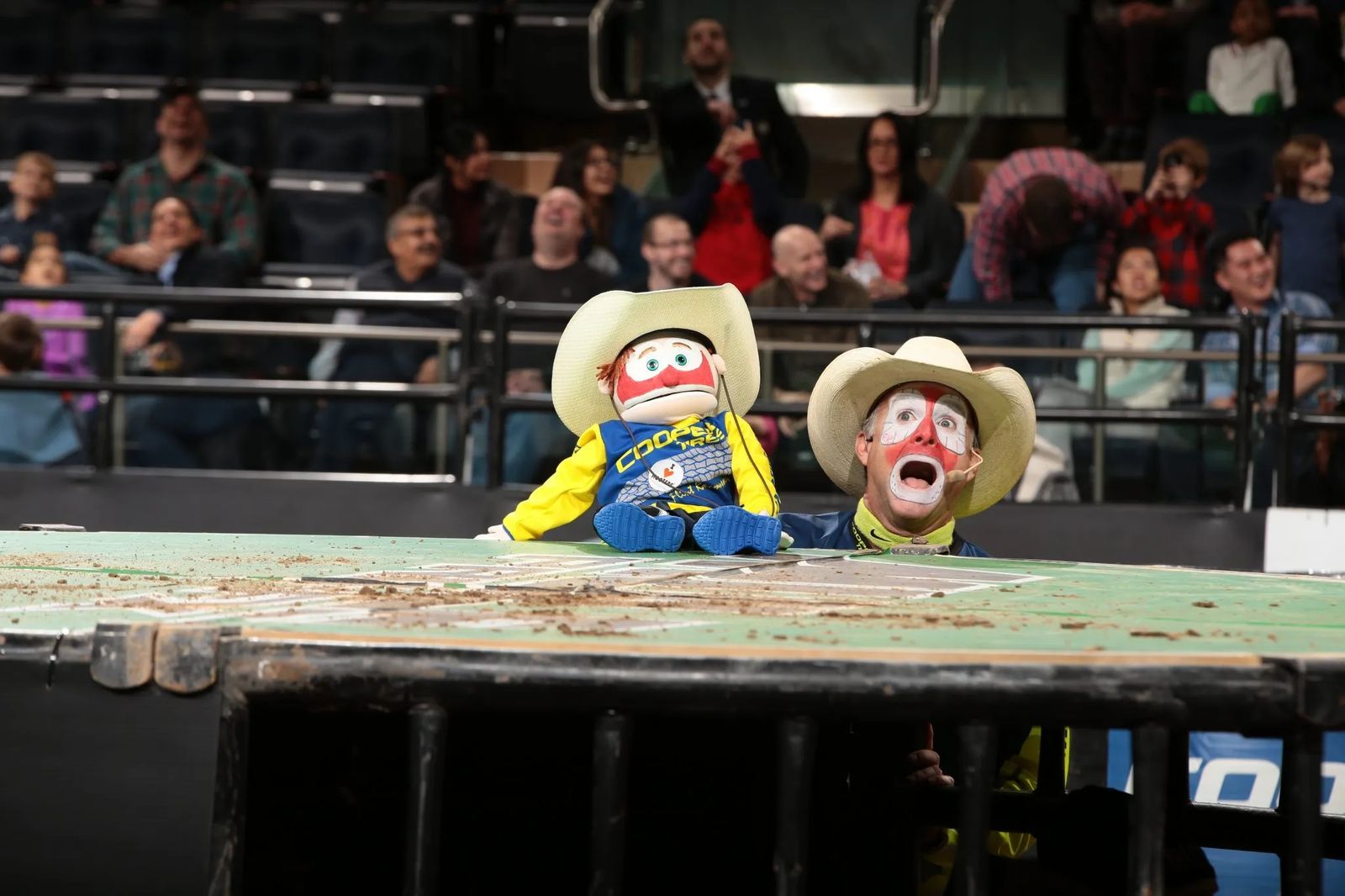 The PBR will bring Rasmussen back to his home state in April 2017. "I'm looking forward to our event in Billings.  It's one of our smallest markets, but longest runs," says Rasmussen. "It's a testimony to the people of Montana.  We love coming back here. It also gives our audiences a chance to see these World Champion athletes. If anything, I get more nervous performing for our Montana crowds because I want to make it the best show possible for them."
Fans hold up a sign for Flint Rasmussen during the second round of the Oklahoma City Built Ford Tough series PBR. Photo by Andy Watson[/caption]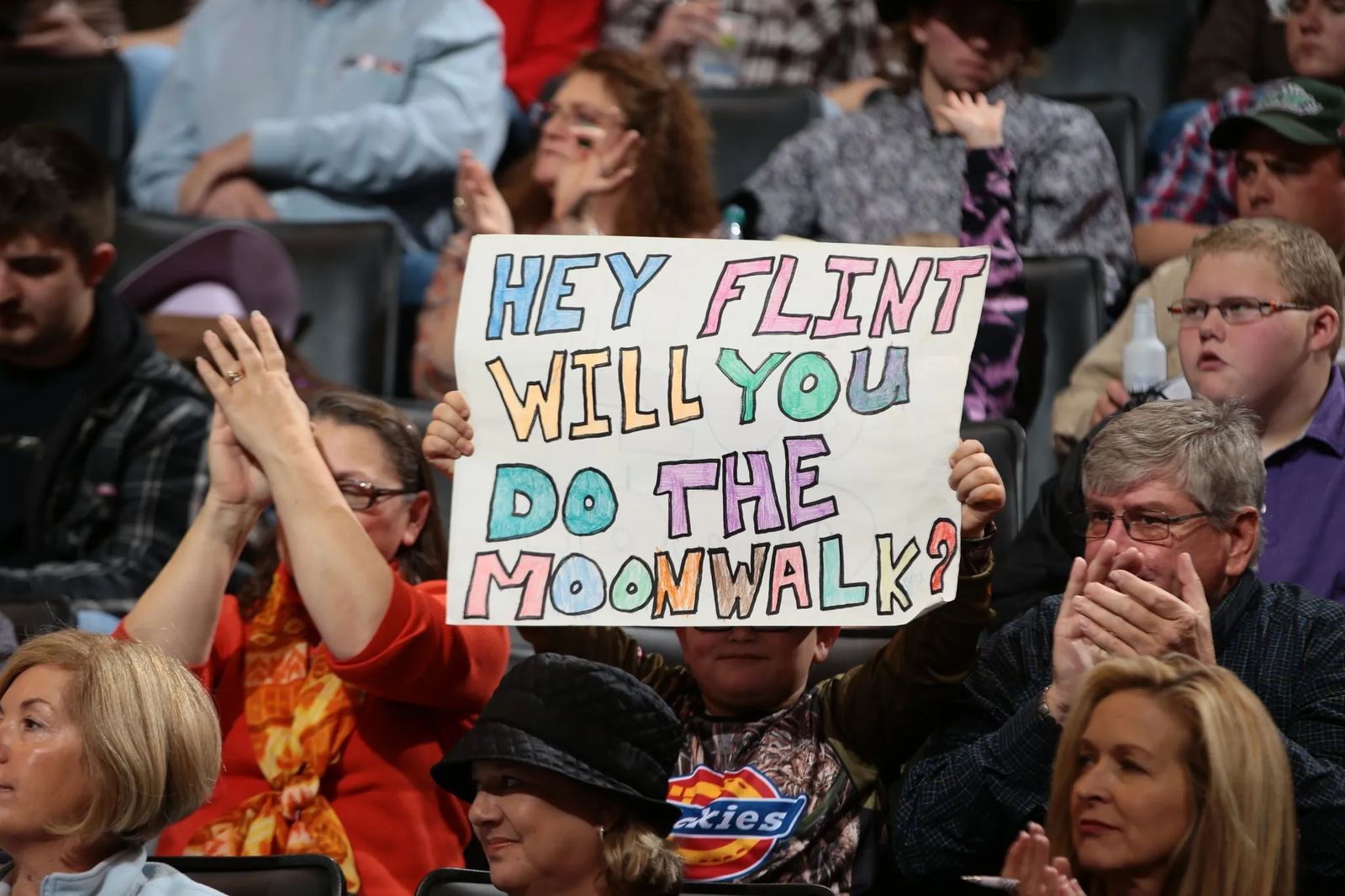 While Rasmussen's PBR Entertainer performances have proven timeless in the arena for 30 years, there's much more to this man in the can. He's showcased his creative talents to entertain global audiences. He might be a successful businessman, but he's most at home with his family and is grateful for being raised with the values of his western lifestyle. There's little doubt, as he dons his black cowboy hat and rodeo clown garb, he's proud of his Montana roots.