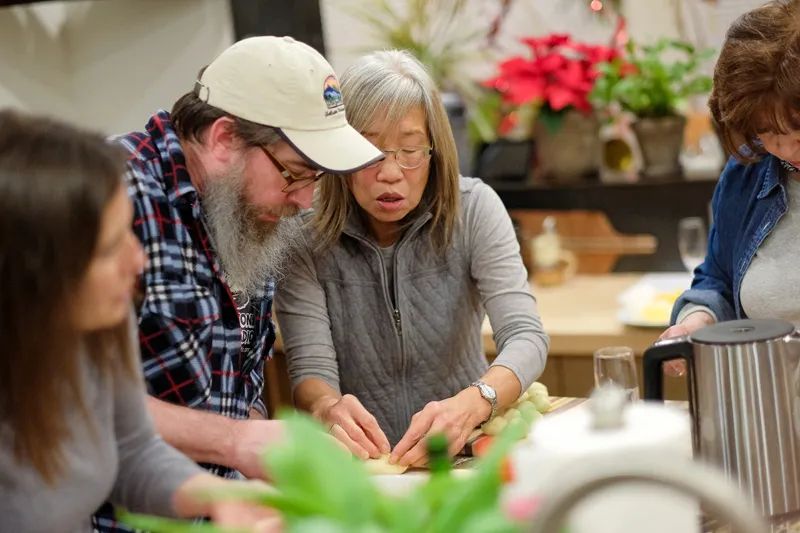 FOODERTAINMENT
When food becomes the life of the party
By Stella Fong, Photography by Daniel Sullivan
Foodertainment. It's a clever way to teach and feed guests. It's a chance to try new flavors and having a hand in creating it all together.
Stella Fong, Yellowstone Valley Woman contributor, cookbook author, and host of the monthly "Flavors Under the Big Sky" on Yellowstone Public Radio, hosted a foodertainment party for the YPR staff. Potstickers proved to be the belle of the ball.
Stella, if asked, would deflect the credit for the potsticker party to Sarah Brown, fellow YPR community programmer, host of weekly "Field Days," and local writer.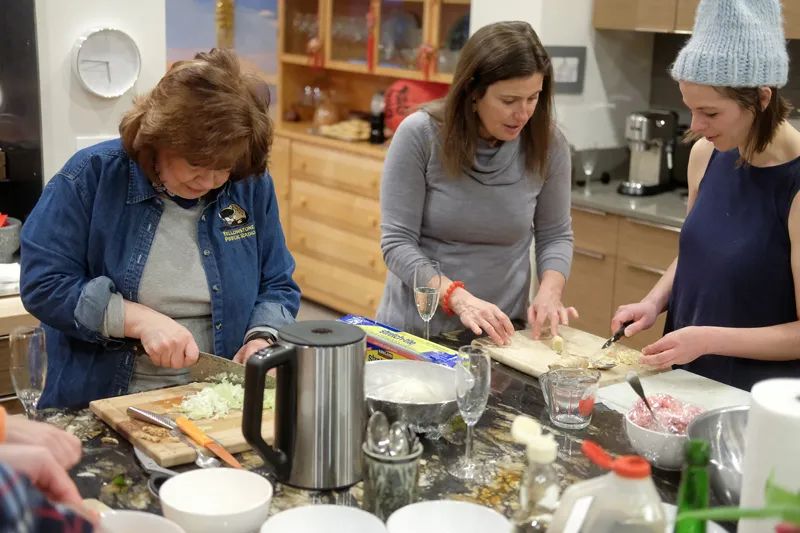 Sarah says she wanted to learn to how to make potstickers from an expert and watch the little tricks Stella could provide.
"And, it's super fun to do this with people from work," Sarah says. "This is a group of people who don't normally interact in this way."
There is prep work to do before guests arrive. Most important is deciding what the guests can make and what needs to be prepared ahead of time. Stella's fare for the YPR gathering was Jiaozi (potstickers or Chinese dumplings), Shrimp Siu Mai, Long Life Noodle Salad, and Almond Cookies.
The salad was a side dish and the cookies were the finale to the meal, so those were prepared before the party took shape. The filling for the Siu Mai was also prepped beforehand, so as people arrived they could be put to work filling the wonton wrappers that would then serve as an appetizer.
The potstickers were the main event. Guests did most of the work, making the dough, preparing the filling and creating the dumplings. Cooking them was left to Stella.
There was laughter, wine and well-fed guests by the end of the evening.
Like the idea of foodertainment but are not quite ready to tackle potstickers? Individual pizzas and ice cream sundaes are easy to prep with savory possibilities.
Potstickers, pizza, sundaes … sounds like a party.
Enjoy!
POTSTICKERS (JIAOZI), makes 36
~Recipe from Stella Fong
DOUGH
2½ c. all-purpose flour
1 c. boiling water
FILLING
½ pound Chinese cabbage or Napa cabbage
1 pound lean pork, finely ground
2 T. water
1 T. dry sherry
1 T. soy sauce
1 T. sesame oil
1 t. salt
1 t. finely chopped, peeled ginger
1 package dumpling or gyoza wrappers or use Dough recipe
Vegetable oil
About 1 to 2 c. chicken broth
1/4 c. soy sauce
2 T. rice vinegar
Hot chili sauce (optional)
Garnish: Ginger, finely julienned
Place flour in a large bowl. Make a well in the center. Slowly add boiling water, mixing with a fork or chopsticks. Cover the bowl with plastic wrap or a towel and allow to stand for 15 minutes. In a large bowl, combine water, sherry, soy sauce sesame oil, salt and ginger. Add pork and mix together. Finely chop cabbage (Do not over chop or the filling will be too runny.) Add to pork mixture. Mix ingredients together. Divide dough into 36 even pieces. Shape each piece into a ball. With a rolling pin, roll dough to a circle, about 4-inches in diameter.  Wet edges of dumpling wrapper with cold water. Place 2 teaspoons of filling in the center of each wrapper. Fold the round in half forming a half-moon shape.  Pinch the edges together.  Place dumplings on a lightly greased plate. Heat over medium heat in a nonstick sauté pan with just enough oil to lightly coat the bottom of the pan evenly. Arrange dumplings in the pan with the pleated side up around the edge of the skillet, without touching. Fry until the bottoms are golden, about 2 minutes.  Add about ½ cup of chicken stock or enough to cover the bottom, cover the pan and cook for about 10 minutes or until all liquid has evaporated. Add more broth if needed. Loosen dumplings from the bottom of the pan with the back of a spatula. Transfer them, browned side up, to a heated platter. Repeat with remaining dumplings, stock, and oil. Serve dumplings immediately with soy sauce and vinegar mixture and hot sauce garnished with ginger.
LONG LIFE NOODLE SALAD, serves 6 to 10
~Recipe from Stella Fong
DRESSING
8 T. sesame oil
8 T. soy sauce
3 T. balsamic vinegar
3 T. sugar
2 t. salt
1 T. chili oil
10 green onion stalks, sliced diagonally
1/3 cup chopped cilantro
One 14-ounce package fresh Chinese egg noodles
10 stalks green onions, sliced diagonally
1 carrot, julienned
3 T. sesame seeds
Cilantro leaves, for garnish
Combine all ingredients for dressing and stir until sugar and salt dissolve. Set aside. Cook noodles according to package instructions to not overly soft. Drain and rinse with cold water. Toss noodles with dressing. Set in refrigerator for at least an hour to overnight. Bring noodles back to room temperature. Toss in green onions, carrots and sesame seeds. Garnish with cilantro leaves.  
SHRIMP SIU MAI, makes 30
~Recipe from Stella Fong
FILLING
4 dried black or shiitake mushrooms
2 c. hot water
3/4 pounds shrimp, peeled, deveined
4 ounces bamboo shoots
MARINADE
½ t. dry sherry
1 t. sesame oil
1 t. salt
1/4 t. sugar
1/4 t. ground white pepper
1 T. cornstarch
1 egg, beaten
30 round wonton wrappers or gyoza wrappers
1 medium carrot, diced
30 cilantro leaves
4 to 6 c. boiling water
Soak mushrooms in hot water, about 20 minutes or until soft.  Squeeze out liquid and remove stems and discard. Set aside. In a food processor, process shrimp until finely chopped.  Add mushrooms and bamboo shoots and finely chop. Set aside. In a medium bowl, mix together dry sherry, sesame oil, salt, sugar, white pepper, cornstarch and egg. Add shrimp and mushroom mixture. Mix well. Place 2 teaspoons filling into the center of the round wrapper. Pleat wrapper around filling to make a little pouch, leaving the top open.  Smooth filling on top with a spoon. Press carrot and cilantro leaves on filling. Arrange as many dumplings in the steamer as you can, keeping dumplings from touching. Steam dumplings for 8 to 10 minutes. Repeat with remaining dumplings. Serve immediately with soy sauce.

ALMOND COOKIES, makes 36 cookies
~Recipe from Stella Fong
1 c. vegetable shortening softened
1 c. sugar
1 egg
1 t. almond extract
2½ c. flour
1½ t. baking powder
Pinch of salt
36 blanched almonds
1 egg yolk
1 T. water
Preheat oven to 350 degrees. Line baking sheet with parchment paper. Set aside. In a medium bowl, cream together shortening and sugar. Mix in egg and almond extract. Sift flour with baking powder and salt. Combine sugar and flour mixture. Divide dough into thirds. Cut each third into 12 pieces. With hands, form pieces into small balls and flatten into 1½ inch rounds. Arrange cookies on a baking sheet one inch apart. Press a whole almond into each cookie. In a small bowl, mix together yolk with water. Brush cookies with egg mixture. Bake for 15 minutes or until slightly golden. Cool on rack.