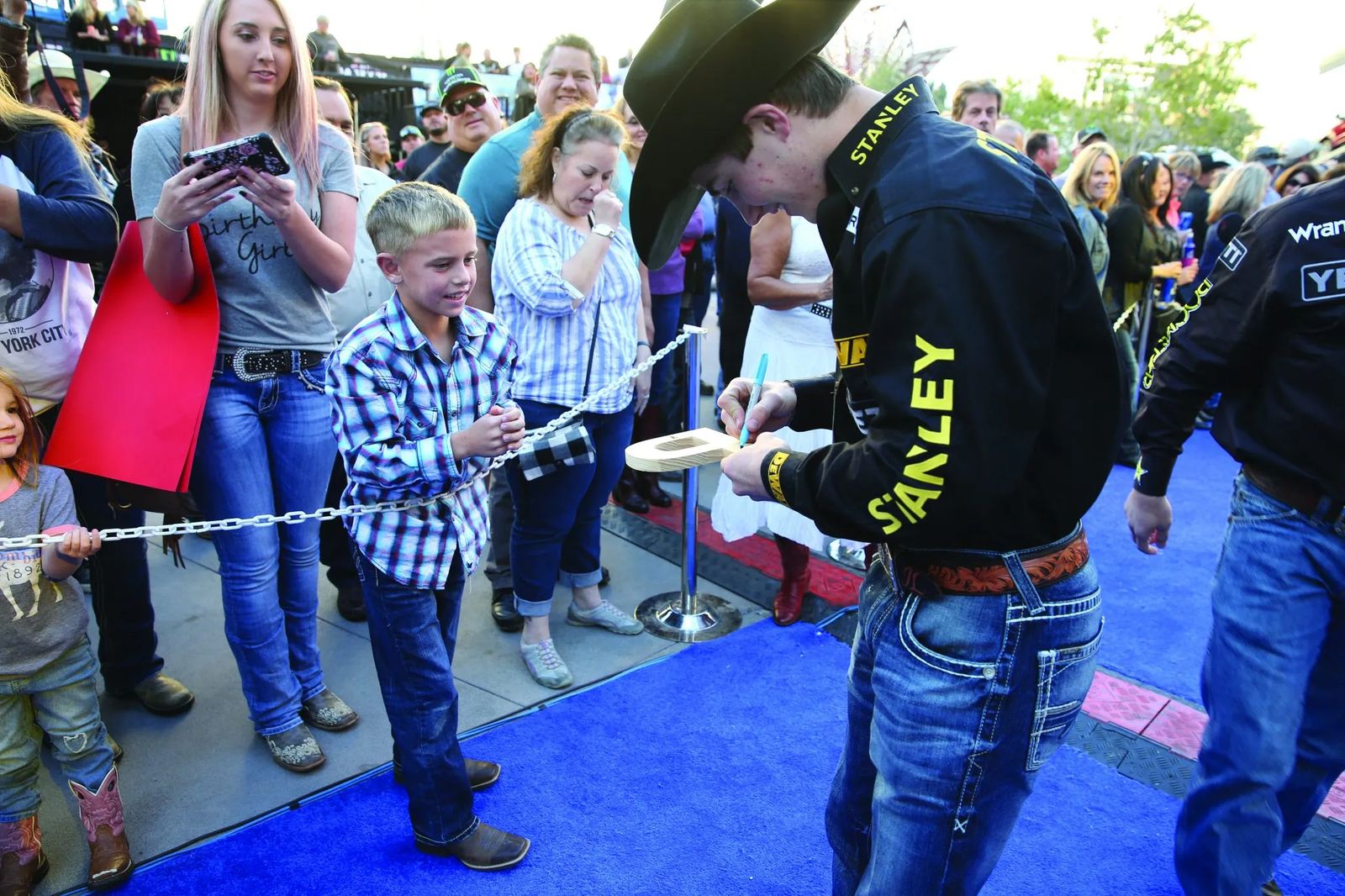 For Bull Riding Champ, Family Comes First
Family, friends & working on the ranch keep Jess Lockwood grounded
People in Montana have good reason to be proud of Jess Lockwood.
Last November, at the age of 20, he became the youngest person ever, and the first from Montana, to win the Professional Bull Riders World Championship in Las Vegas.
But we have other reasons to be proud, reasons that go beyond his achievements and say something about the kind of place Montana is. The main reason is that Jess, unlike most of the people competing in professional bull riding these days, grew up on a working ranch, surrounded by an extended family for whom ranching and rodeoing were second nature.
Almost as soon as he could talk, Jess was telling people he was going to be a bull rider. He was barely two and a half years old when he rode his first "bull."
As his mother, Angie Lockwood, explains, "Way back when, Bodacious was the PRCA master of the bulls. Bodacious was famous around the world. Jess thought he was a bull rider as soon as he could climb on his dad's back, and he always pretended he was riding Bodacious."
In February 2000, Angie, pregnant with Jake, Jess's little brother, was visiting her sister, Lisa Lockhart, and her family in Oelrichs, South Dakota. As usual, Jess was wearing what his mother called "his cowboy get-up" — boots, spurs and chaps — and his Uncle Grady, Lisa's husband, jokingly said to him, "Jess, I have Baby Bodacious down in the barn."
It was actually a little white roping calf, Angie says, no relation to Bodacious, but Jess was all ears, and when Grady asked him if he wanted to go ride Bodacious, Jess said yes. So Grady took Jess down to the barn, where he set him on top of "Baby Bodacious."
"Right away the calf bellered," Angie says. "And Jess turned to look at Grady and tears just started running down his face. But Grady said, 'You still want to ride him?' Jess just nodded his head, and away he went."
"We joked about that from that day forward," Lisa Lockhart says, "that we jump-started his career."
Those family connections are part and parcel of who Jess Lockwood is.
"We're all just pretty normal people around here," Jess says. "Just ranch, and that's pretty much what we do. We don't do a whole lot. Some people like fame and all that, and we just like being normal."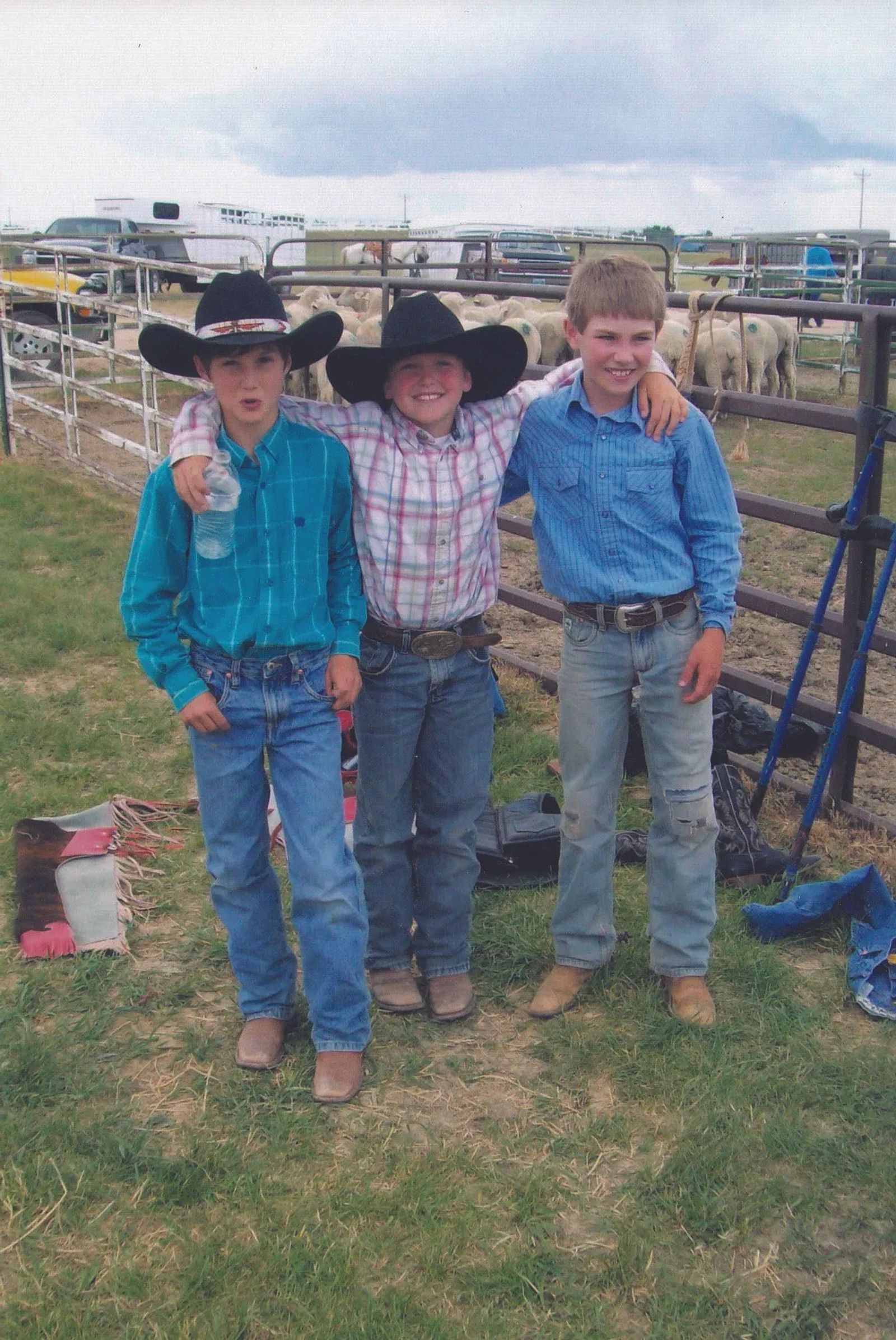 Normal, for Jess, meant growing up on the family ranch near Volberg, a tiny town midway between Miles City and Broadus. His parents, Ed and Angie, both went to college on rodeo scholarships. Although Ed was later known as a saddle bronc rider, he started out riding bulls, too, and in 1979, as a student at Miles City Community College, he was the Big Sky region bull-riding champ.
Angie, originally Angie Schillinger, hailed from a ranch near Circle, and she was such a dedicated barrel racer that she took first in that event, at a rodeo in Williston, North Dakota, just 10 days after Jess was born. Ed, who went on to be the Montana circuit champion bronc rider in 1992, hung up his reins in 2000. Angie kept barrel racing until 2004.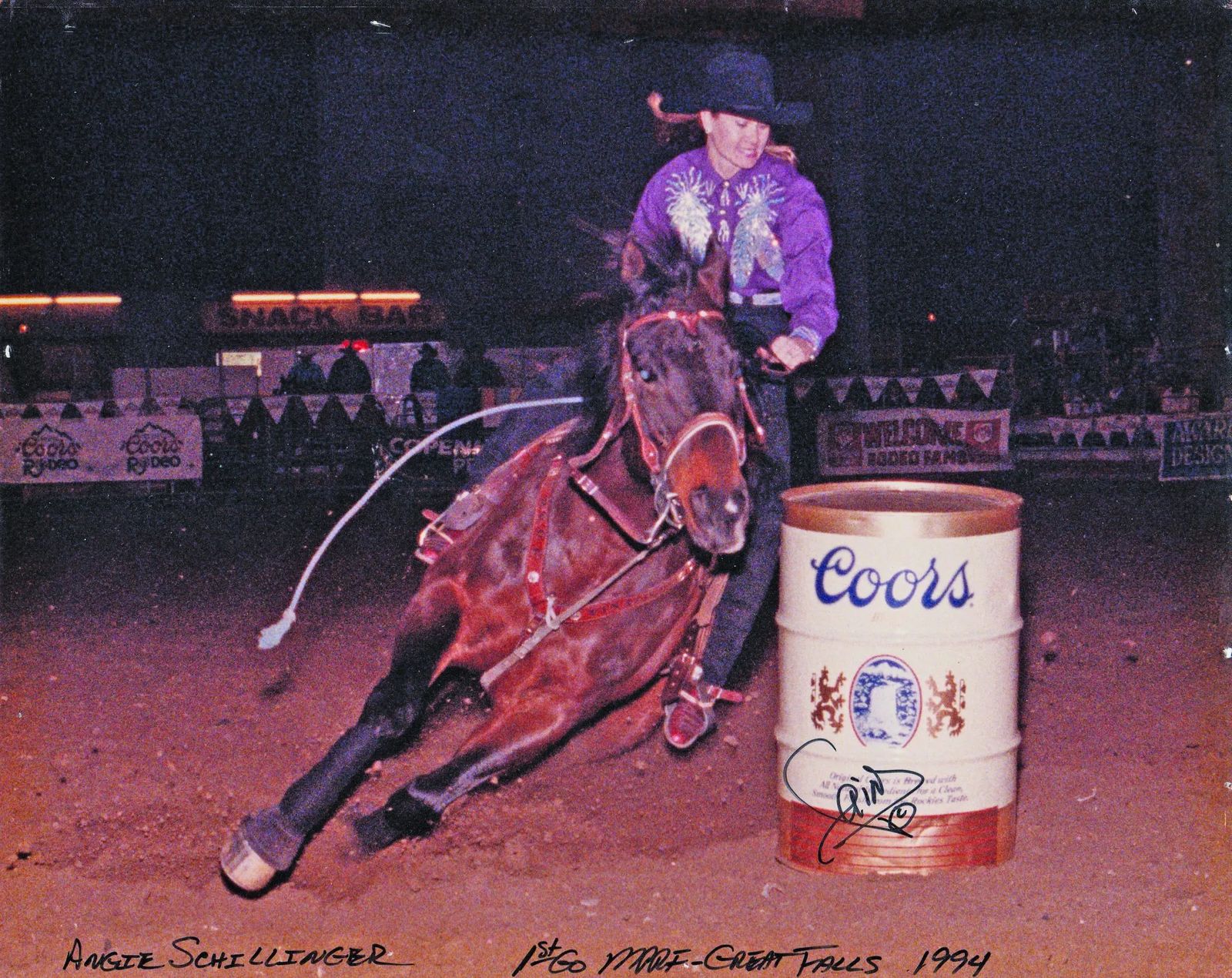 "It was a long haul for us," Angie says. "We each put in 20-some years of rodeoing."
Most young people involved in rodeo today would hardly believe how she and her sisters got started, Angie says. Her older sister, Debbie Wolff, learned how to pole bend by running a course on the ranch that consisted of five trees, which had to substitute for the standard six poles. By the time Angie and Lisa were pole bending, their father had set up some homemade poles. But these were not the flexible poles used in competition — they were pipes set in five-gallon buckets of concrete.
"If you knocked one of them over, oh, it was ugly," Angie says. "Nobody wants to look at my sisters' and my legs."
For the Schillinger family, rodeo also meant Dairy Day in Brockway, one of the oldest, wildest rodeos in Montana, still going strong every July. Dairy Day has always been an open rodeo, meaning you didn't have to be certified with any professional organization to compete. Throughout the day there were pony races in the open space between the spectators and the rodeo grounds fence. Families gathered from far and wide for the annual Dairy Day, and legendary quantities of beer were consumed.
By the time Ed and Angie's children were born, they were too busy rodeoing to take in Brockway, but the kids all got into the Youth Rodeo Association early on. They all cut their teeth on steer riding, break-away roping, barrel racing, pole bending and goat tying.
"Jess was one of the best goat tiers in the state," Angie says, still sounding a little proud of the achievement.
Jess Lockwood in the opening during the fifth round of the Built Ford Tough series PBR World Finals. Photo by Andy Watson[/caption]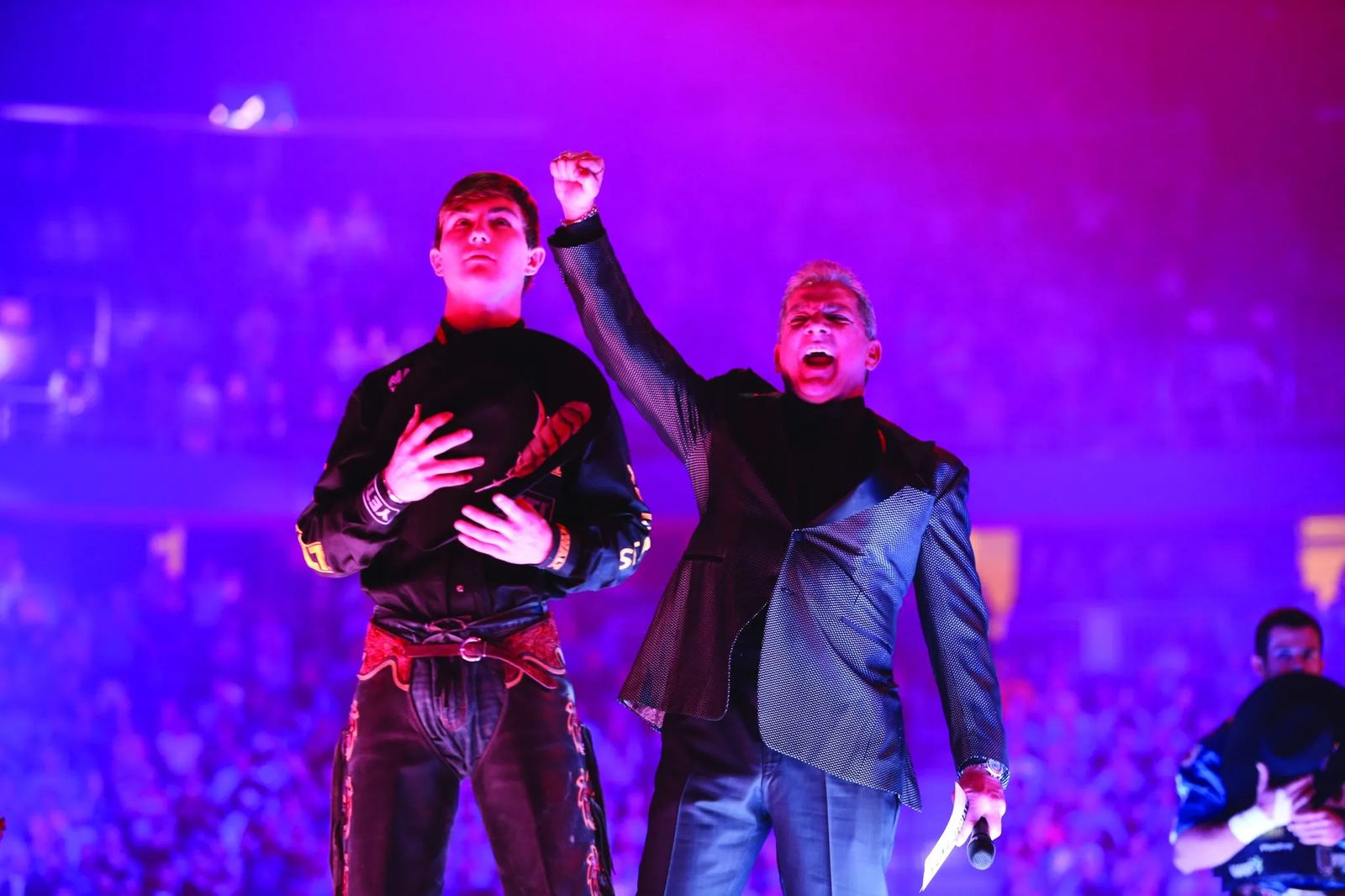 For Jess and brother Jake, growing up in Volberg also meant maintaining close ties with their cousins, Grady and Lisa's kids, over in South Dakota. Jess and cousin Alyssa were just three months apart, while Jake and cousin Thane were separated by just four months. After Angie quit rodeoing, Lisa's own rodeo career was really taking off, so Lisa's kids would spend most of the summer on the ranch in Volberg while Lisa was off competing.
"Those kids, every summer they spent together," Angie says. "They're like peas and pods together."
When Jess was just a little boy, riding those imaginary bulls on the living room floor, it was in the company of Jake, Thane and Alyssa.
"They bucked horses, they tied calves," Angie says. "Alyssa would get up on a coffee table and start the rodeo off singing the national anthem. She might not have any clothes on. She'd be up there in her underwear.… It's been a fun ride."
Through Jess's remarkable rise to the top of the bull-riding world, the ranch in Volberg and the close connections with family have kept him grounded. That's one reason his mother has a favorite among the many, many stories that have been broadcast or written about her son in recent years.
Jess Lockwood attempts to ride Jane Clark/Gene Owen's Lester Gillis during the fifth round of the Built Ford Tough series PBR World Finals. Photo by Andy Watson[/caption]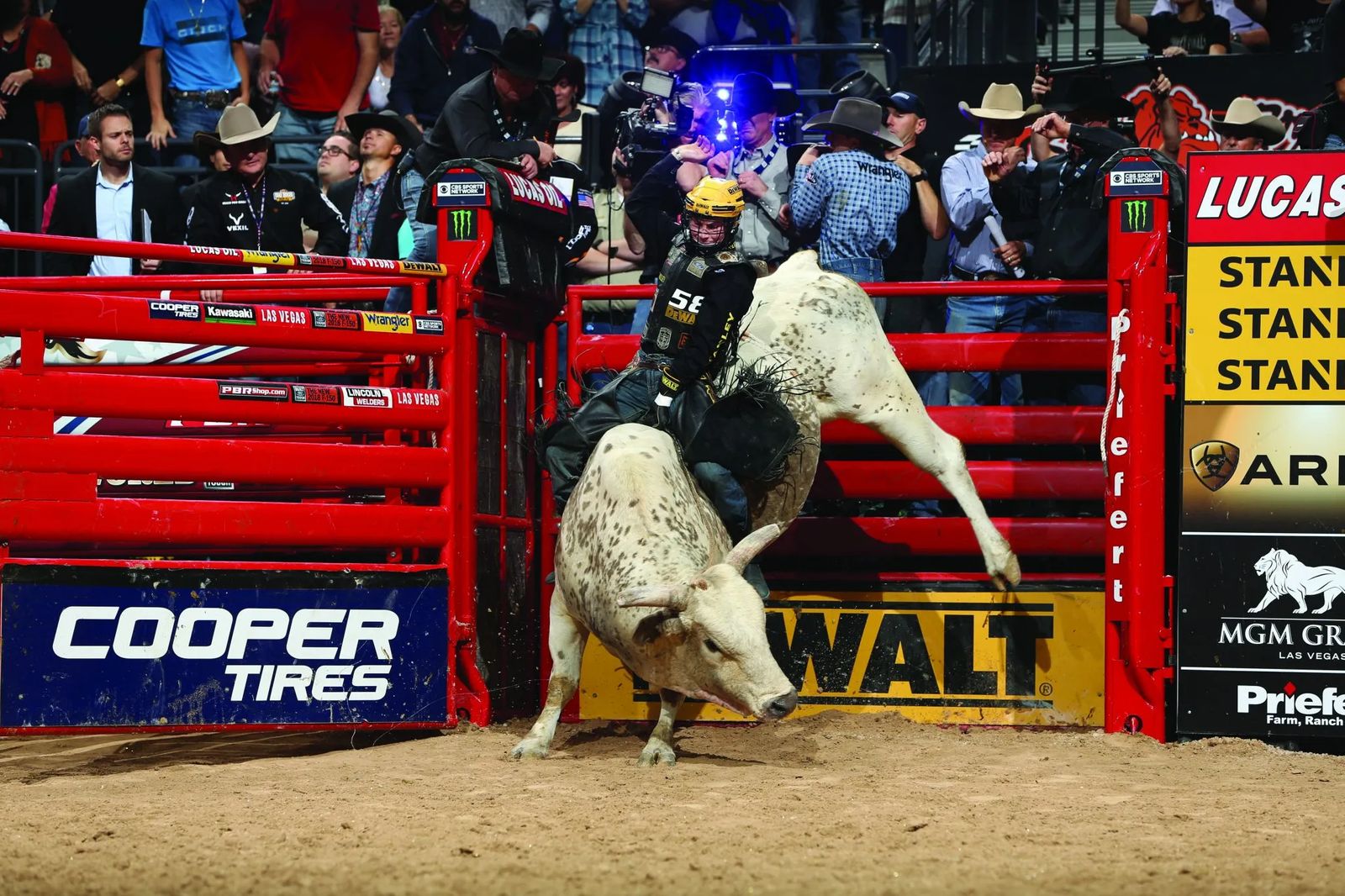 The story was by Justin Felisko, posted on the Professional Bull Riders website the day after Jess became the youngest champion in history. Angie thought so highly of the story because it captured the camaraderie between Jess and his brother, his cousins and his good friend, Weston Hartman.
In that story, Jess told how he dealt with the stress and the pressure of competing on bull-riding's biggest stage, how he managed to stay close to his roots at a time when it seemed like everybody in Las Vegas wanted to talk to him or take his picture.
Jess told Felisko: "The four that stayed in the room with me the whole time — the Lockhart cousins, my brother and Weston — having those four with me all the time, I just feel relaxed and I'm having fun."
Jess Lockwood sets his hand during the third round of the 2017 BFTS PBR World Finals in Las Vegas, NV. Photo by Matt Breneman / bullstockmedia.com[/caption]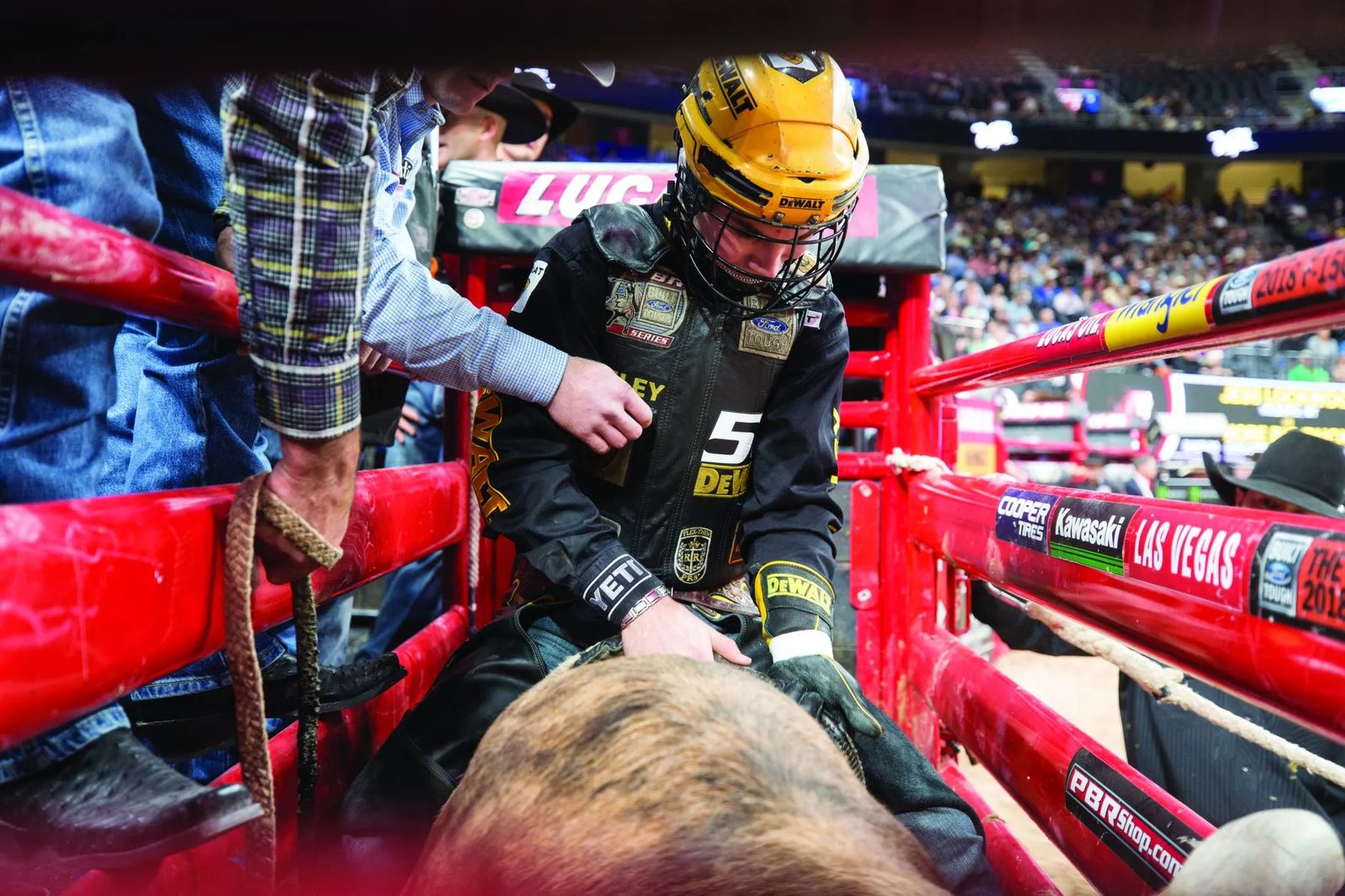 Relaxation was not easy to come by in 2017. Jess, who was only 19 when the year began, competed in many of the biggest bull-riding competitions in the country, sustaining a slew of painful injuries in the process. He was forced to sit out five weeks of the 2017 season with a torn groin, and in the second part of the season, competing in Missouri, he was knocked unconscious by Sweetpro's Bruiser, the PRCA and PBR Bull of the Year. On top of that, there were broken ribs, a bruised kidney and a punctured lung. Did we mention the bout of pneumonia?
But he toughed out all of that last year, winning $1.5 million and placing first in Built Ford Tough Series events in New York, Sacramento, Tulsa and Austin.
Jess Lockwood is crowned the youngest PBR World Champion during the fifth round of the 2017 BFTS PBR World Finals in Las Vegas, NV. Photo by Matt Breneman / bullstockmedia.com[/caption]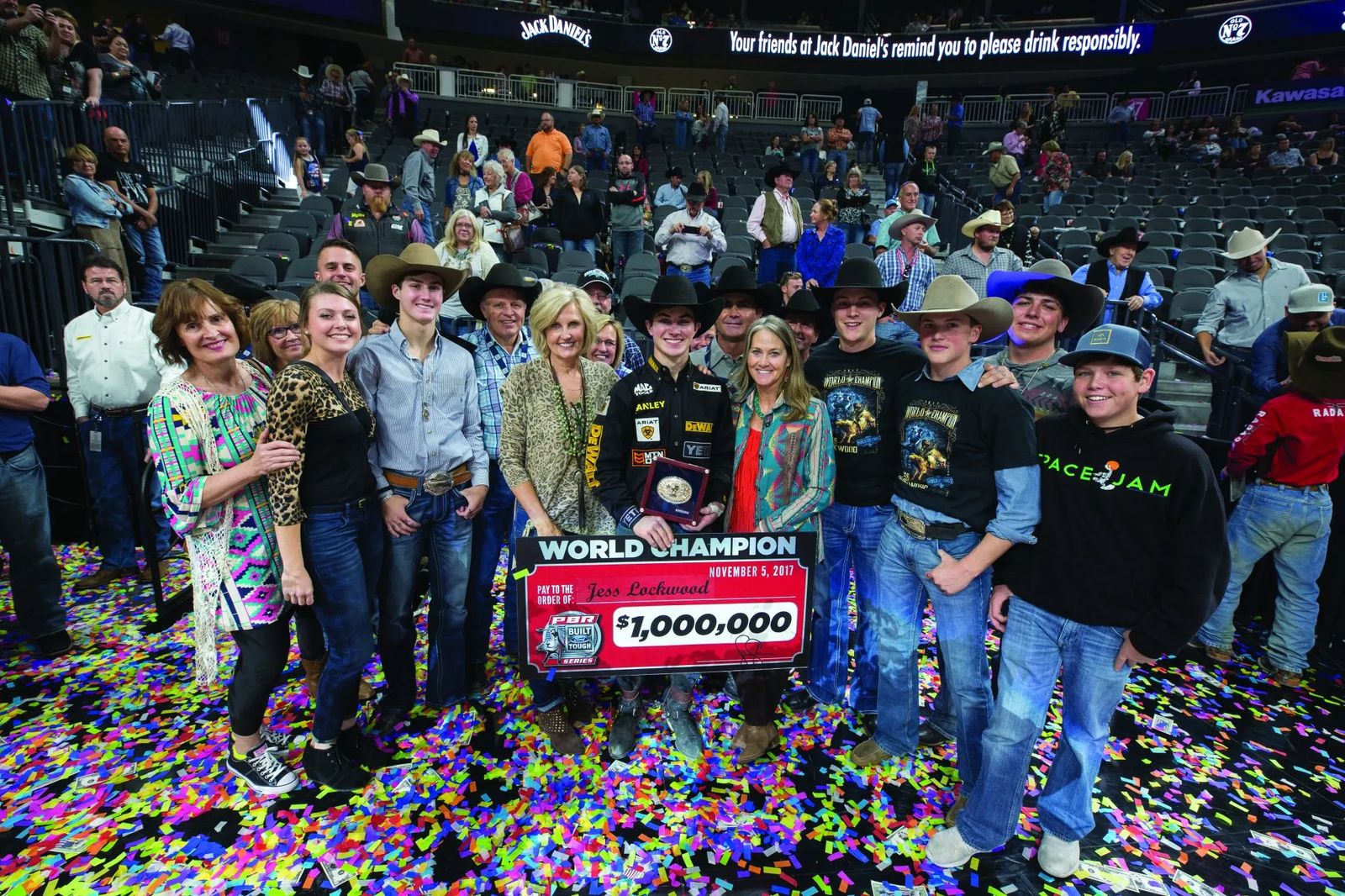 At the end of January, speaking by phone from the family ranch, Jess brushed off his injuries, and a recent spell of sickness.
"I'm good," he says. "I kind of got sick over the weekend with food poisoning-flu stuff, but other than that I've been good."
He's stays good by exercising in a workout shed he built on the ranch, where he uses free weights and workout machines. In mid-January, he had a dry sauna installed in the shed. In the past, when he had the time, he also helped coach the wrestling team at Powder River County High School in Broadus. Jess, who wrestled at 103 pounds as a freshman (and won the Class B-C title), says he now weighs 130 pounds and is up to 5-foot-5 in height.
In the same way that he dismissed his recent injuries, he says it hasn't been too hard getting used to all the acclaim and the constant attention that comes with winning the bull-riding championship.
Jess Lockwood is crowned the PBR World Champion during the fifth round of the Built Ford Tough series PBR World Finals. Photo by Andy Watson[/caption]
"Oh, it hasn't been bad," he says. "If you put your mind to something and really want to do it, you'll be successful at it. You shouldn't be too surprised when any of that stuff happens. If you're surprised when that stuff happens, you weren't, I guess, very confident in yourself. It's really nothing at all. I mean, heck, just talk to people."
His mother, though, tells a bit different story. It wasn't that her son was being rude, she says, but he did get tired of all the demands, of spending too much time being the champion and not enough time being himself with friends and family. The cowboys competing in the PBR finals needed security just to get across the street from the T-Mobile Arena in Las Vegas to the Monte Carlo Resort & Casino hotel.
"It just gets so overwhelming," Angie says. "It would take Jess forever to get there." Even if he stayed in the arena a bit and came out last, she says, "people would stop him and stop him and stop him, and he couldn't get back to the hotel."
There was also the nightly stretch of 45 minutes reserved for the media. "The media was hard to handle right then," Angie says. "It was interviews and interviews and interviews." And then there was Shania Twain, the country music star who suddenly materialized just when Jess had received his oversized presentation check for winning the bull-riding title.
"It wasn't Jess getting in a picture with her," Angie says. "She photo-bombed him, in a sense."
Once, Jess got so fed up with it all that he put his foot down. After Las Vegas, he was sporting the hair style he had had in the eighth grade, because of a bet with his friend and competitor Derek Kolbaba — that whoever won the bull-riding title would have to grow out a mullet.
Jess was in New York, about to go on a Fox TV show for an interview. He had to get up at 5 a.m., and when he got to the studio and found out he had 90 minutes to kill, he promptly stretched out on a couch and fell asleep — deeply asleep, as is his custom, Angie says.
Well, 15 minutes before showtime, a woman came in and woke him up, saying it was time for his makeup. Partly because he wasn't yet fully awake, he later told his mother, he said to the woman, "I ain't wearin' no damn makeup. If I'm sporting a mullet and looking like this, you think I need any damn makeup?"
"So," Angie says, "he went on without any makeup."
The best remedy for stress is coming home to the ranch, Angie says. There, Jess can do chores all day if he wants to, or he can do a workout, take a nap or run over to his grandpa's place, 300 yards away.
"If he quit rodeoing tomorrow," Aunt Lisa says, "there's always going to be a place within the family. … There's a lot of us, I'm not going to lie. It's a huge family support system."