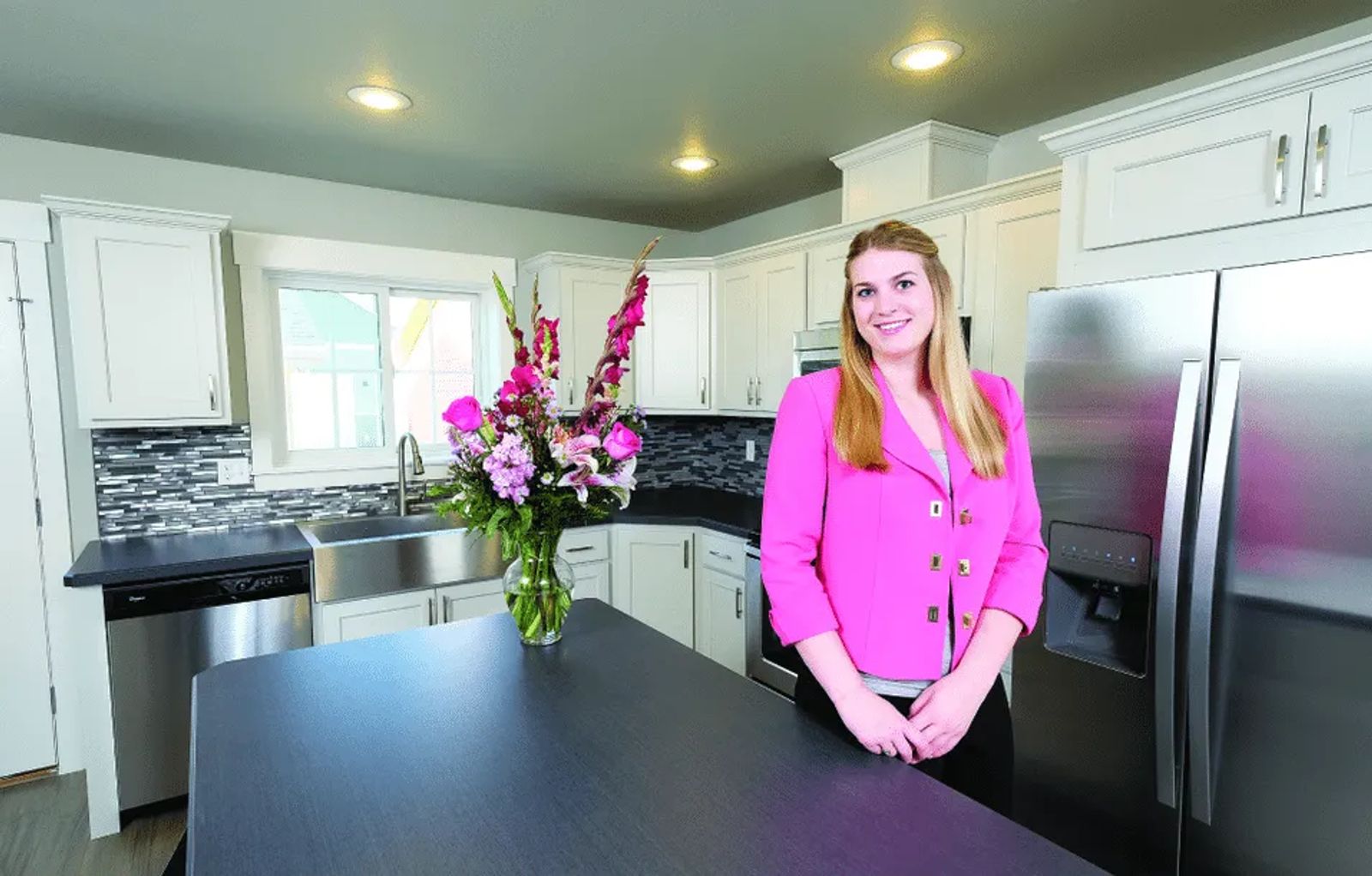 It's a Beautiful Day in the Neighborhood
A First Time Homebuyer Settles in

A young professional with a master's degree in accounting from the University of Montana, Ana moved to the Magic City last fall to work as an auditor at Eide Bailly LLP. This tall blonde twenty-something "likes Billings" and thinks her townhouse in Josephine Crossing is the best thing ever. "I'm thrilled," exclaims Ana stepping out onto the porch to offer a warm welcome to her new digs. "It's so exciting. I'm very lucky. My mortgage is cheaper than rent!"
Her joyful enthusiasm bubbles over as she politely leads the way indoors where her newly-arrived light blue furniture adds a pop of color to the pleasing neutrality of the gray with a hint of blue walls.
The freshly painted walls here in the main floor living space contrast nicely with rich wood tones in the laminate flooring from CarpetsPlus Colortile. Big windows cased in white trim offer striking distinction, as well. "I love the bright colors," beams Ana.
The recently built townhouse reflects her vivacious personality with its brightness and openness. The 1300-plus-square-foot dwelling fits perfectly into her personal color scheme. "I trusted the designers after seeing the other homes here in Josephine Crossing that had the same layout as my new townhome," shares Ana.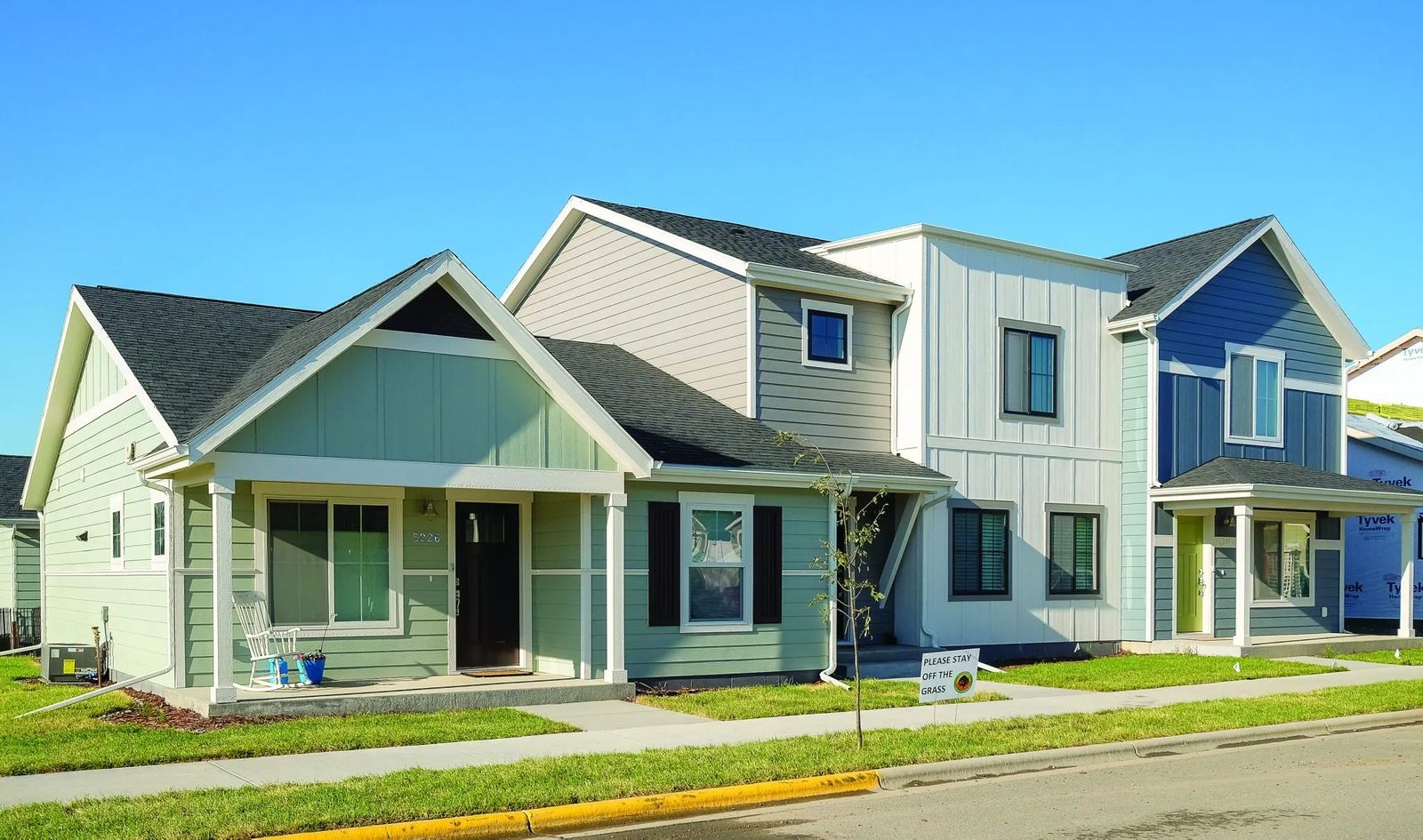 The designer touch is evident. Walking from the living room into the open dining/kitchen area, Ana pauses at the center island. Appropriately, there is space for several stools to accommodate her best friend that is "like a sister," along with her friend's daughter that is "like a niece." And, it'll be fun for mom and dad when they visit from Ana's hometown of Helena. "The colors of everything tie together nicely," she dreamily considers. "I love the off-white cabinetry and the counters with shades of brown and tan."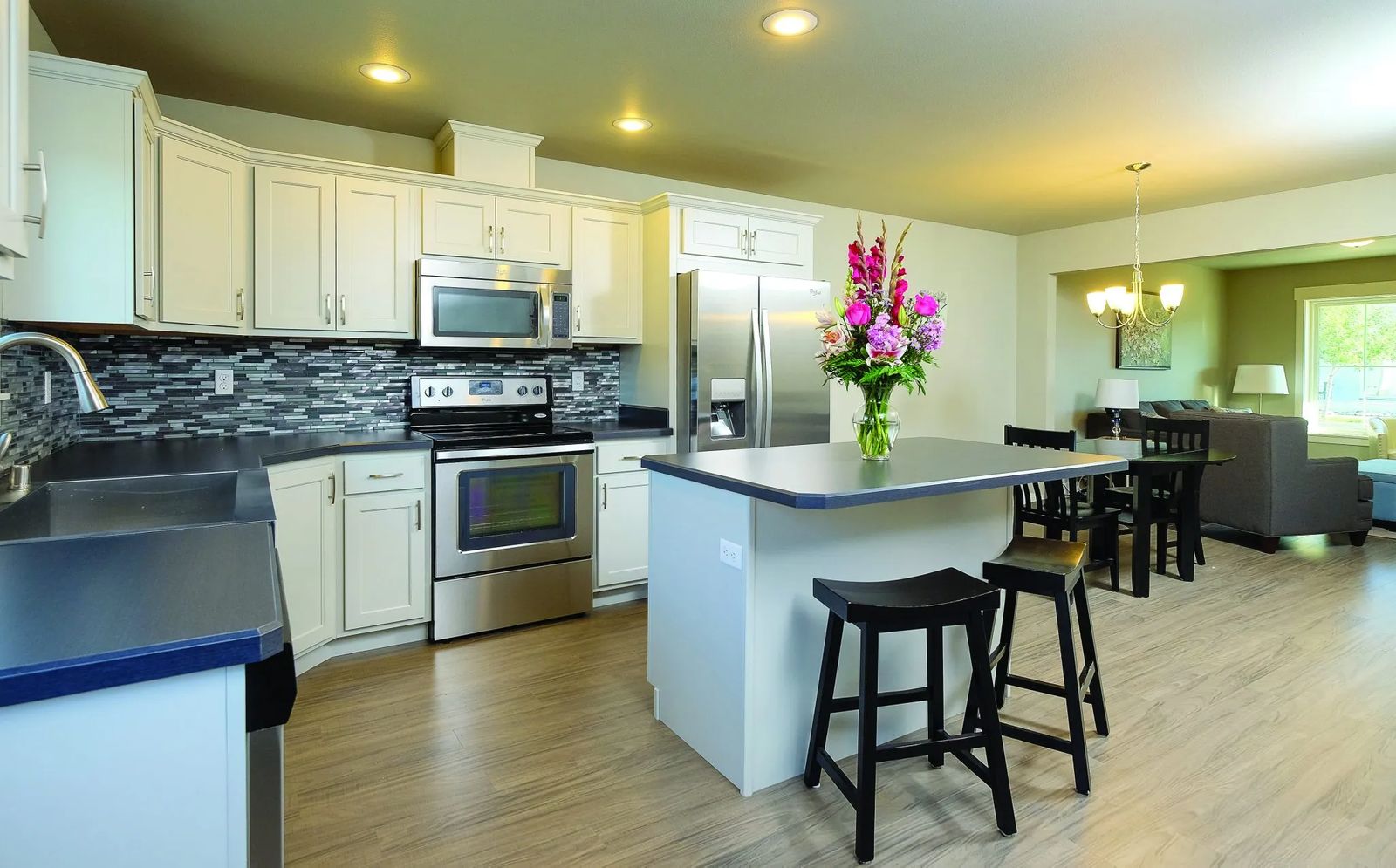 The colors are luscious indeed. The soft whiteness of the kitchen cabinets from Kitchens Plus highlights the black and silver-tone backsplash that, in turn, focuses attention on the stainless steel farm-style sink. "I wanted this backsplash," marvels Ana, "and I'm big into the farm-style sink." Stainless steel appliances from Kitchens Plus complement Ana's well-dressed kitchen, wrapping it with contemporary flair.
Along with the main floor's air of chic comes a second level that harnesses its share of panache. The staircase sits unobtrusively off to one side of the kitchen area.
At the top of the landing, Ana comments that it offers the "perfect size" with a hallway linen closet, laundry area and two bedroom en suites. "I like that both bedrooms each have a bathroom. It's like having two mini-masters."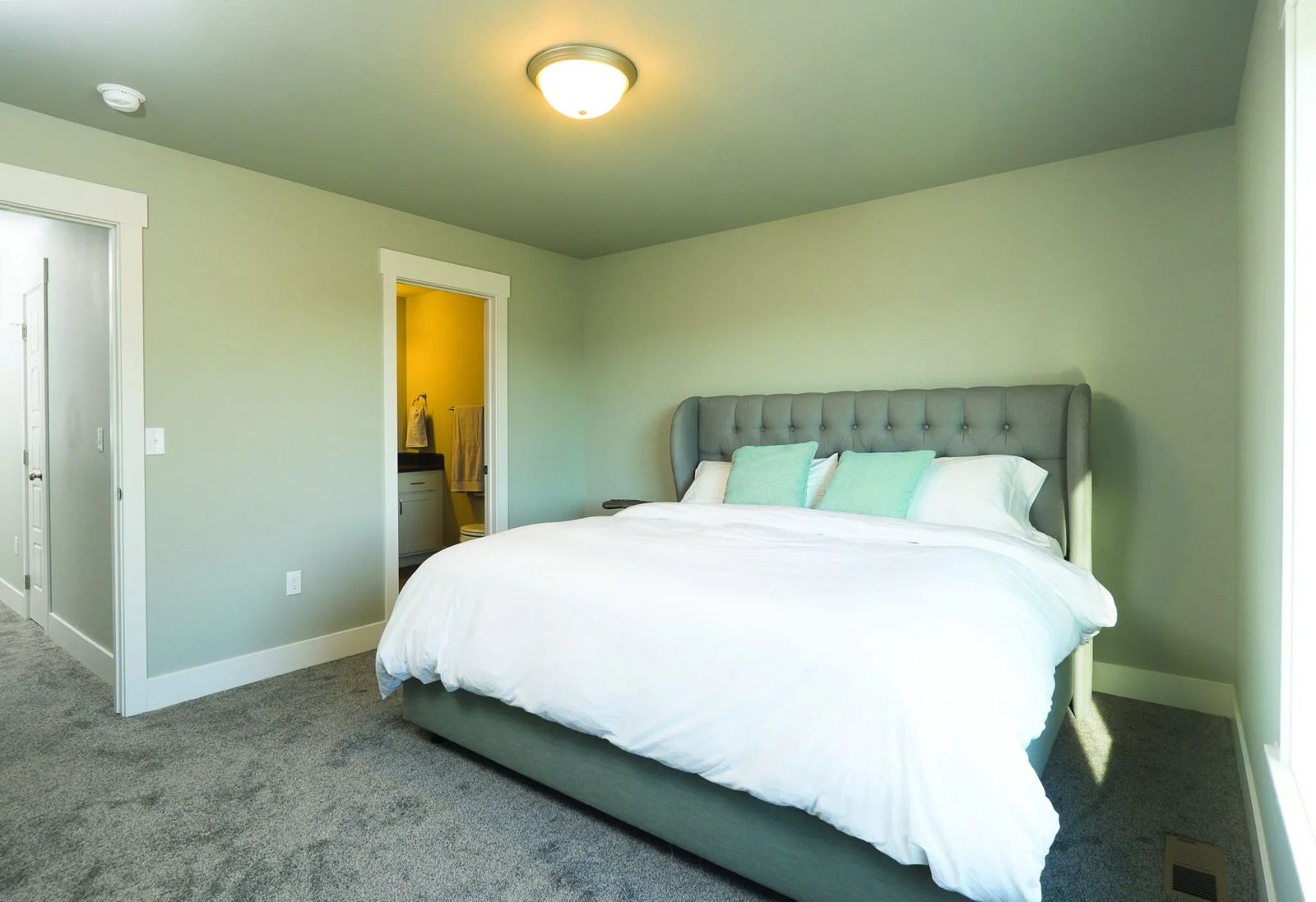 Obviously, Ana's parents will appreciate the private guest quarters when spending a weekend with their daughter. She notes that her "niece" is already saying she has a room to stay in. Ana is delighted that she never needs to give up her own privacy or her king-size bed.
"Having a king bed in my master suite makes it homier," confides Ana. "Plus, I have a decent-size walk-in closet and a bigger bath and shower. Polished nickel hardware in the bath lends a bit of elegance, too. "I'm in love with it," she sings.
Ana grasps the entire notion of homeownership. She loves the home she's chosen as much as where she's chosen to live. "I like Billings," she states. "After growing up in Helena, going to my first couple of years of college in Spain and graduating from U of M, it's nice to have a permanent place in Billings. I see myself here for the foreseeable future, that's why I invested in a house, especially a cute little one like this! This is the first six-plex to be built and I'm the first to move in!"
McCall Homes started building the townhomes in Josephine Crossing during the first part of the year. They're in the process of building more. These fashionable rows of houses offer many amenities, attracting homebuyers like Ana. Plus, the safety factor of this tight-knit community makes this neighborhood quite desirable. "I was sold on the neighborhood," says Ana. "My mom was too." It's a place where everyone knows his or her neighbors.
"There's a sense of community here," cites Kelly Smith from the sales and marketing team at Josephine Crossing. "It makes for a vibrant life as it's nice for people to live alone, yet, connect with their neighbors, neighbors they can count on."
It's also affordable. "Ana is a great example of a young professional who's still single that can totally afford to buy a brand new home," continues Kelly. "A lot of young people think they can't afford to buy, but, here you can have a new energy-efficient home with great features at a great price with interest rates that are still under four percent. In addition, we're seeing other women in a transitional state of life or couples that are downsizing enjoying the newness of the home and the affordability."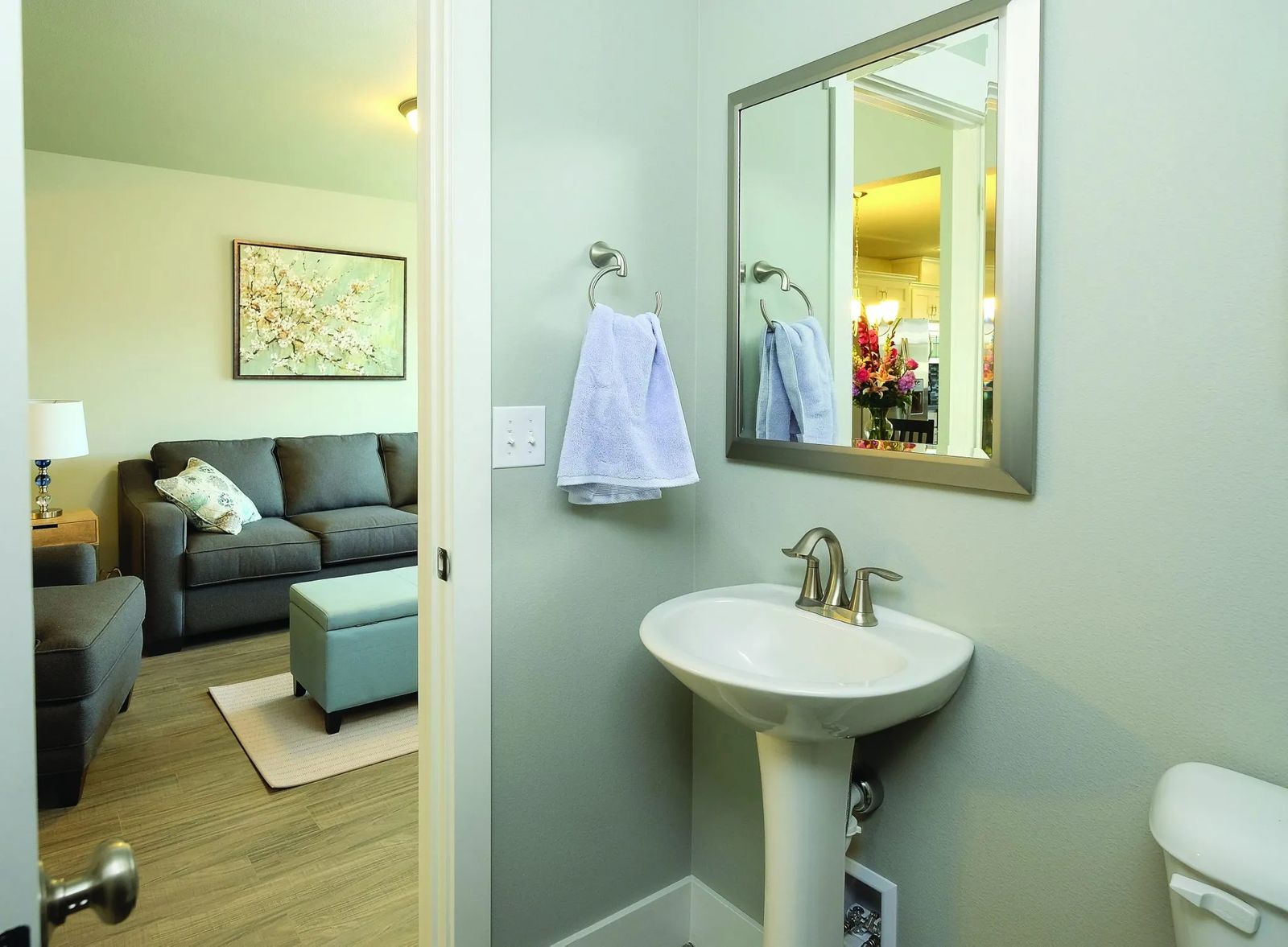 Realtor Kelly Metcalf of Glover Realty Group LLC, who worked with Ana through the stages of finding her first home, concurs, "This brand new construction is affordable. It's also a great opportunity for someone new to town to meet people due to its community atmosphere. You also feel very safe in that neighborhood as you have to drive into it."
The safety factor, the feeling of "community," as well as, new quality construction, affordability and the townhome's modern pizazz all fell into place for Ana's mom, too. "Ana and I looked," says Kelly regarding their search for Ana's first home, "and then her mom came to town. When she saw it, she said (to Ana), 'Yep, this is the place you need to get.' It was an awesome decision that they came together on."
Kelly enjoys helping first time homebuyers like Ana find the right home. She remarks how important it is for novice homebuyers to understand the process of purchasing a residence and having their finances in order. "If you buy right and make smart decisions," she says, "you improve your long-term financial stability. Home ownership is a key for one of the major investments you make in your life."
Ana holds tightly the key to her first home. She's made a smart decision and taken that big step. She's thrilled with the fact that she owns a valuable piece of real estate. "It feels unreal that it's happening," she says. "It's very exciting."
It's a beautiful day in the neighborhood and Ana is taking full advantage of it. This first time homeowner is "just busy settling in."