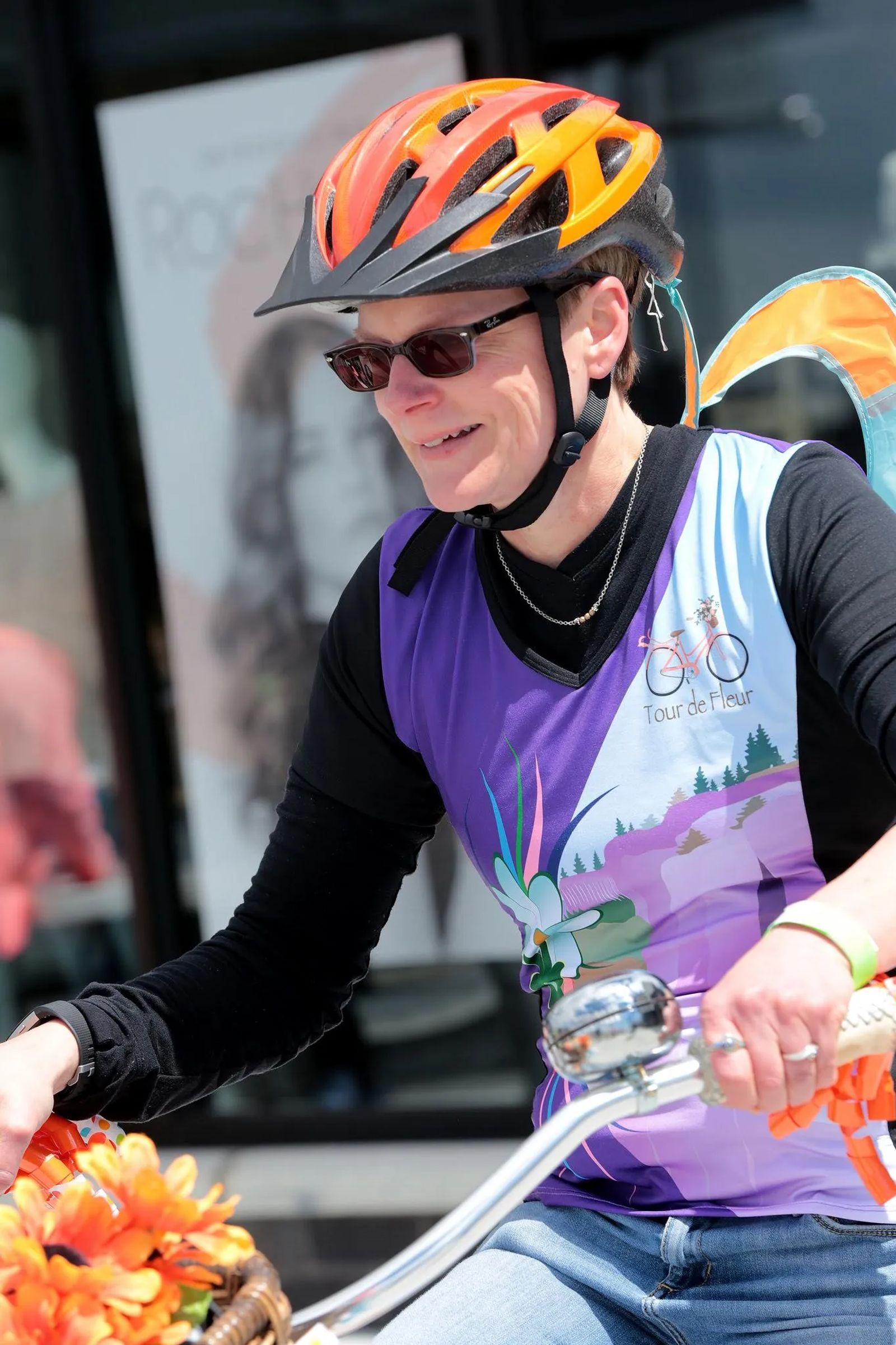 Overcoming Injury
Cyclist rekindles interest in pedal-powered transportation thanks to Tour de Fleur
When a pickup truck plowed into a group of cyclists on a rural road in Wisconsin more than a decade ago, one of the first things to cross Sandy Vancleeve's mind was whether the children in the group were safe.
"We were just going along smiling, laughing. All of the sudden, boom!" she says.
As her bike launched into the ditch and into a bank of leaves that fateful day, Vancleeve remembers that her vision faded to black and white.
"When I hit the ground, I thought, 'Oh, my God. The kids,'" she says. Within seconds, she realized that the children had escaped harm. But that sense of relief proved to be only temporary as severe pain racked her body.
"Everybody came running over. I didn't want to look at my leg," fearing that she might have a broken bone protruding from the skin, she says. Fortunately, a doctor who owned a nearby vacation home witnessed the accident and provided assistance.
The driver, an elderly woman, was distraught for having caused the accident and was later cited by authorities, Vancleeve remembers.
After a ferry ride from Washington Island, the site of the accident, she was loaded into another ambulance and transported to a nearby hospital.  Despite the knee injury and a large hematoma on her leg, hospitals workers told her she was capable of traveling, so they gave her pain medication and she flew back to Billings the next day.
Unfortunately, VanCleeve's recovery dragged on for months. The process not only frustrated Vancleeve, it baffled her doctors. X-rays and an MRI revealed no evidence of damage to her injured knee. Finally, a surgeon decided to do exploratory surgery and was able to diagnose and repair the injury to her kneecap.
"When I went in for the MRI, it would flop back in place. But when I walked, it would flop back to the side," she says.
Vancleeve, a long-time runner, yearned to return to an active lifestyle, but the accident left her skittish about riding a bike again.
"A few years after the accident I bought a cruiser bike, but every time I got on it I kind of freaked out," she says. "I tried riding it here and there, but finally I just parked it."
Vancleeve began rekindling her interest in cycling after meeting Kristi Drake, executive director of Billings TrailNet, a few years ago. Drake had given a presentation about bicycle commuting to the Montana Association of Female Executives. Vancleeve, a member of the group, was intrigued.
"She wore her cycling clothes and changed into business attire while she was doing her presentation," she says. After Vancleeve shared the story of her cycling-related injury, Drake offered to help her get back on the bike.
The process took some time, but Vancleeve is finally getting her cycling confidence back. Last year she completed Drake's Bicycle Black Belt safety class, a hands-on program that helps cyclists understand issues such as traffic laws, bicycle codes and lane positioning.
Vancleeve was also named the honorary participant in Tour de Fleur, a fun ride and bike decorating event for women and children. This year, she's on the planning committee for the event, which is May 6 at Shiloh Crossing.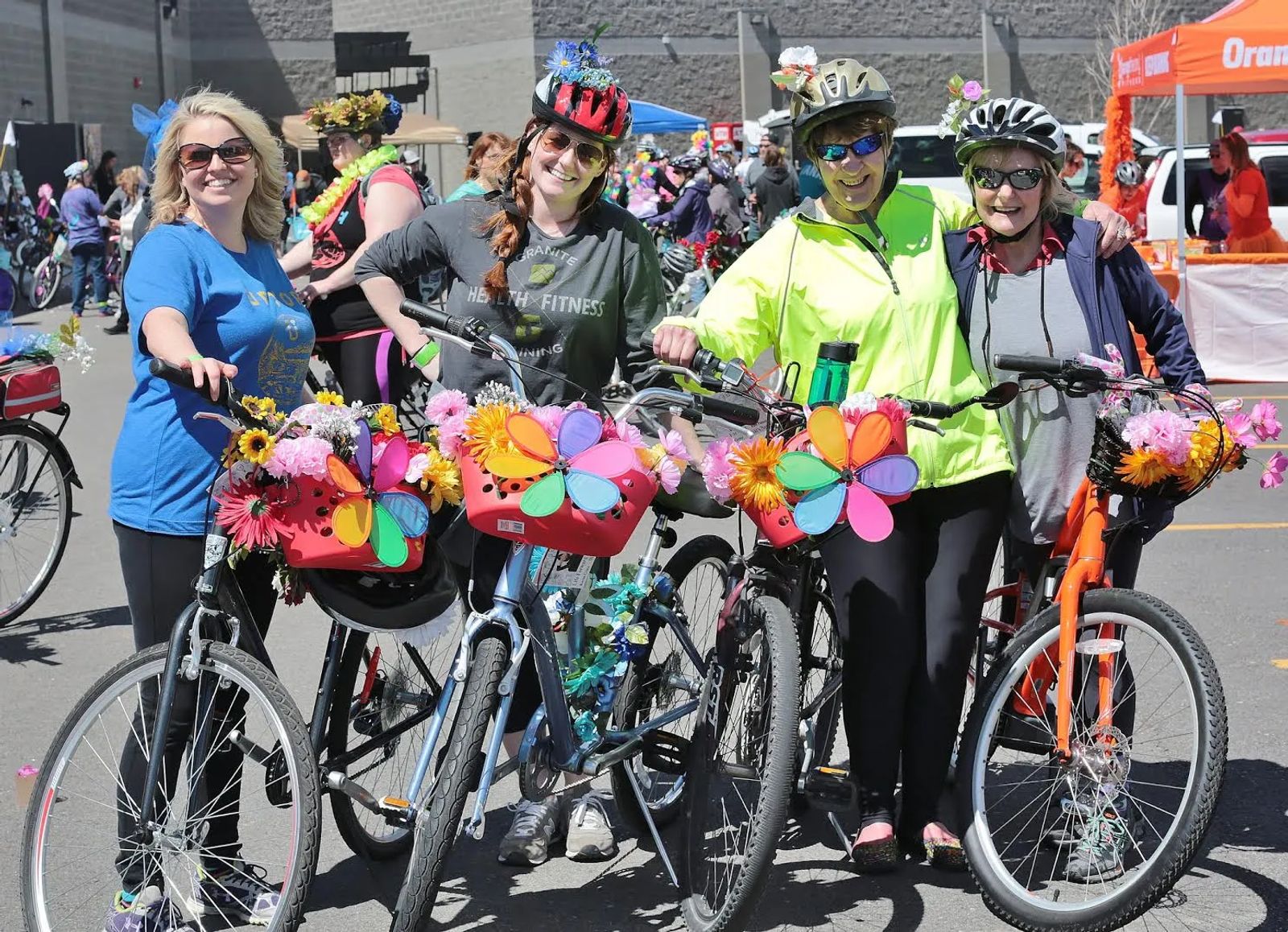 "Many women have a curiosity for riding but are more likely to take up the sport with a friend who can help make riding a more feasible activity," Drake says. "Ultimately, it was the memory of my encounter with Sandy which propelled our committed group of volunteers to develop the Tour de Fleur."
Vancleeve is thankful for Drake and Tour de Fleur for helping her renew her interest in two-wheeled transportation. "It was a great moment at last year's Tour de Fleur to ride with Sandy and see her big smile," Drake says. "It helped her overcome her nervousness, and she has been riding ever since!"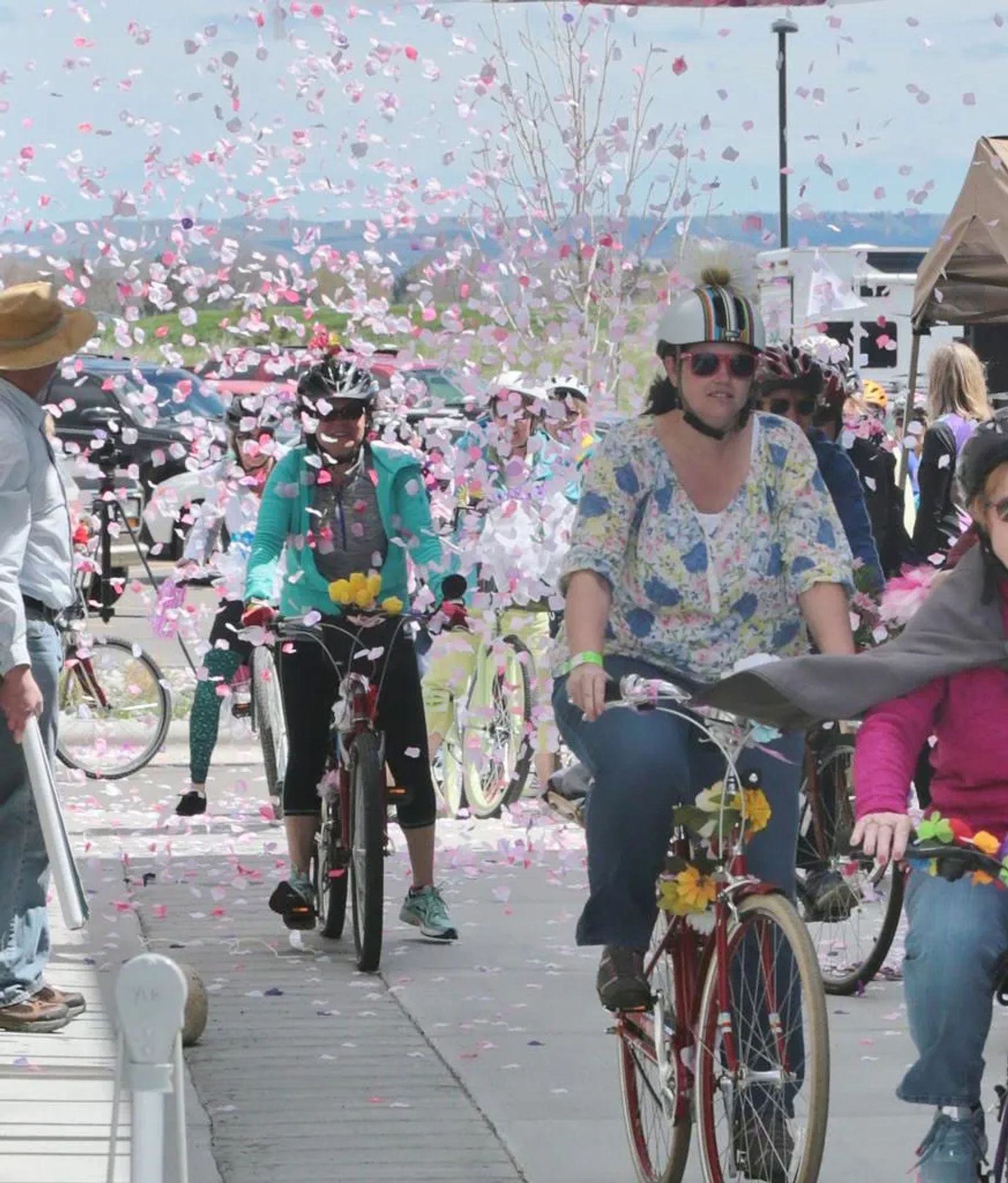 PEDALS & PETALS
Sign up for this year's Tour de Fleur
The third annual Tour de Fleur, a celebration of two-wheeled transportation for women and kids, is scheduled for May 6 at Shiloh Crossing.  The event is organized by Billings TrailNet, and proceeds will go toward Billings TrailNet's efforts to improve Billings bikeways and trails. Riders will tour Shiloh Crossing and the nearby Shiloh Conservation Area in rides that cover either 1.5 miles or 5 miles. Games will be provided by the Shops at Shiloh. Mimosas will be provided by Levity, and the celebration will also feature live music by Song Dog Serenade. For more on the event, the TrailNet events page HERE. To register, contact Billings TrailNet at (406) 281-1244 or sign up by clicking HERE.