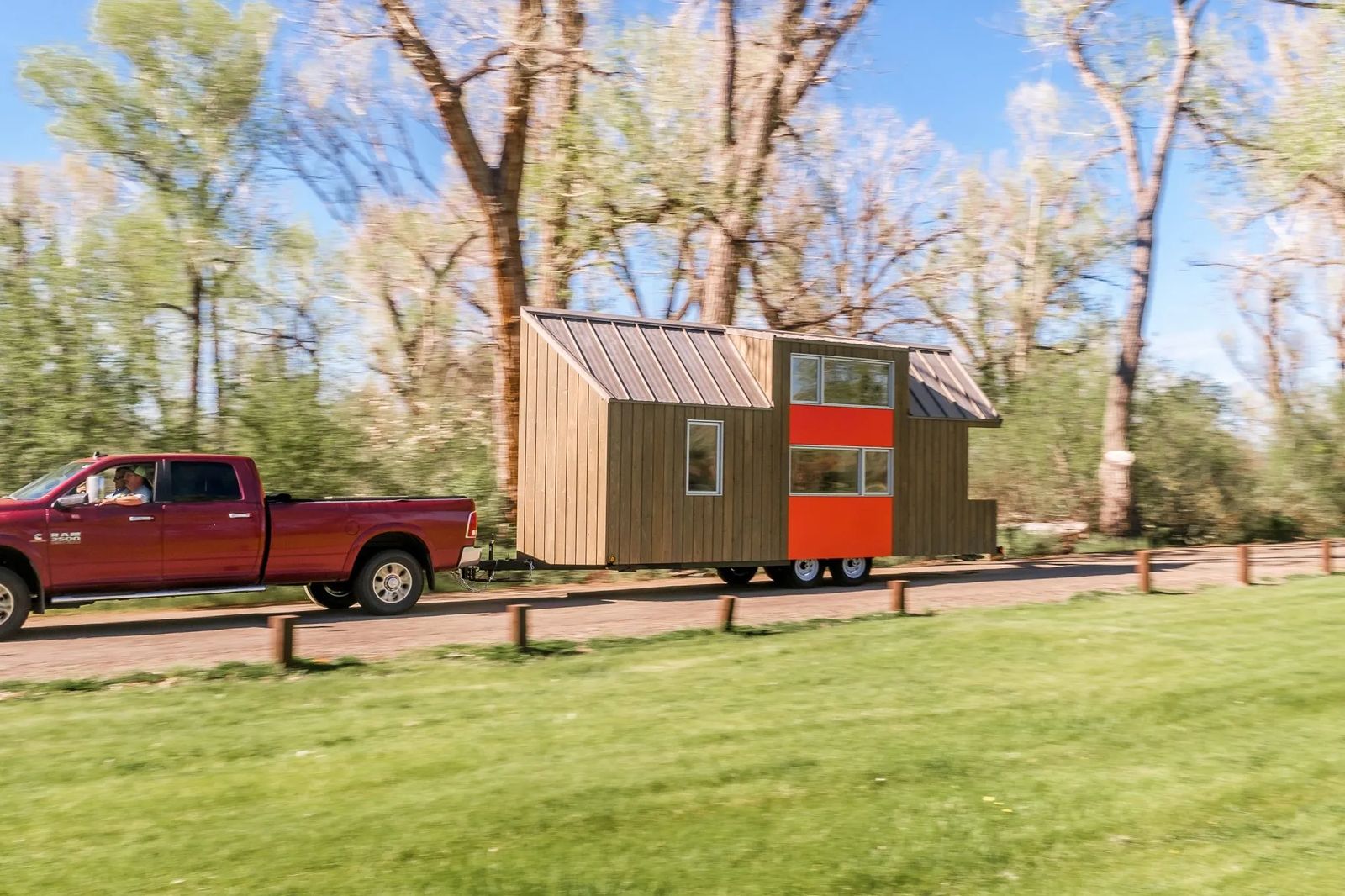 The Quest For a Tiny House
Downsizing to a Simpler Life
When Sonia Meccage determined the time had come to let go of more than three decades of ranch life, she seized the opportunity of engaging her longtime conviction of living a simpler life. A life downsized from the traditional.  "I've always been a minimalist," says Sonia. "I like clean, tidy and organized."
Surfing the web years ago Sonia discovered the modest concept of living tiny. "I came across Jay Shafer," dubbed the 'Tiny House Man,' by Oprah Winfrey. He literally wrote the book, The Small House Book, inspiring a mega-trend that has turned into a social and architectural movement.
"This appealed to me," says Sonia about living a less-cluttered lifestyle. "We don't need all the things we think we need to have. We can get by on a minimal amount and still be content."
Enthralled with Shafer's ideas, Sonia attended a seminar in Colorado to hear the tiny house icon speak. "He advocates a well-built tiny house. I was definitely intrigued. When I saw his original tiny house, I was smitten. I was very inspired. You can reduce your footprint on this earth!"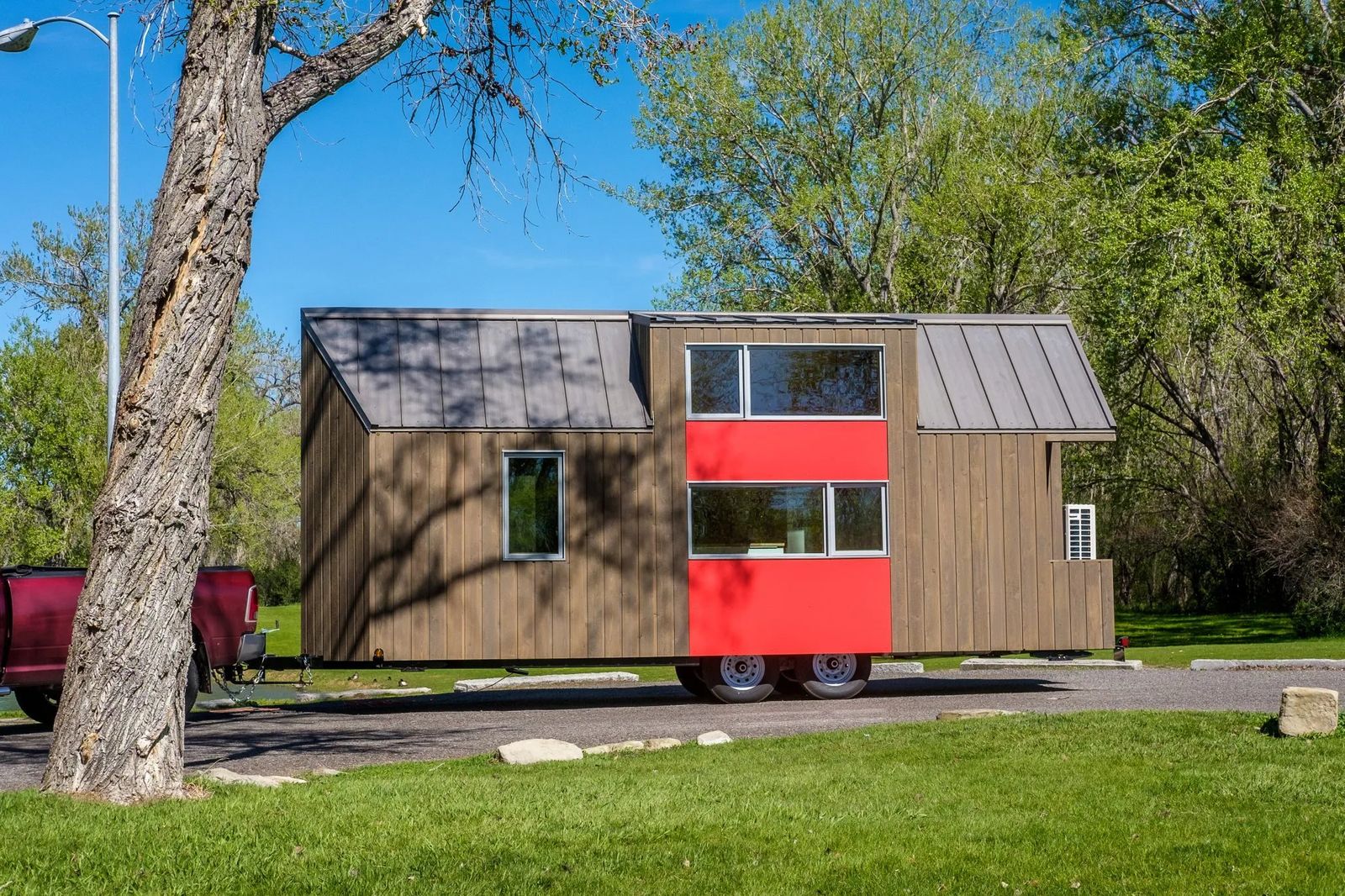 Sonia's quest this past year to travel a new path in life brought her to Billings to meet with Architects Brian Johnson and Nick Pancheau, her son-in-law. Brian and Nick, along with Architect Jeff Kanning, own Arch 406, a full-service design build contractor, sister company of Collaborative Design Architects.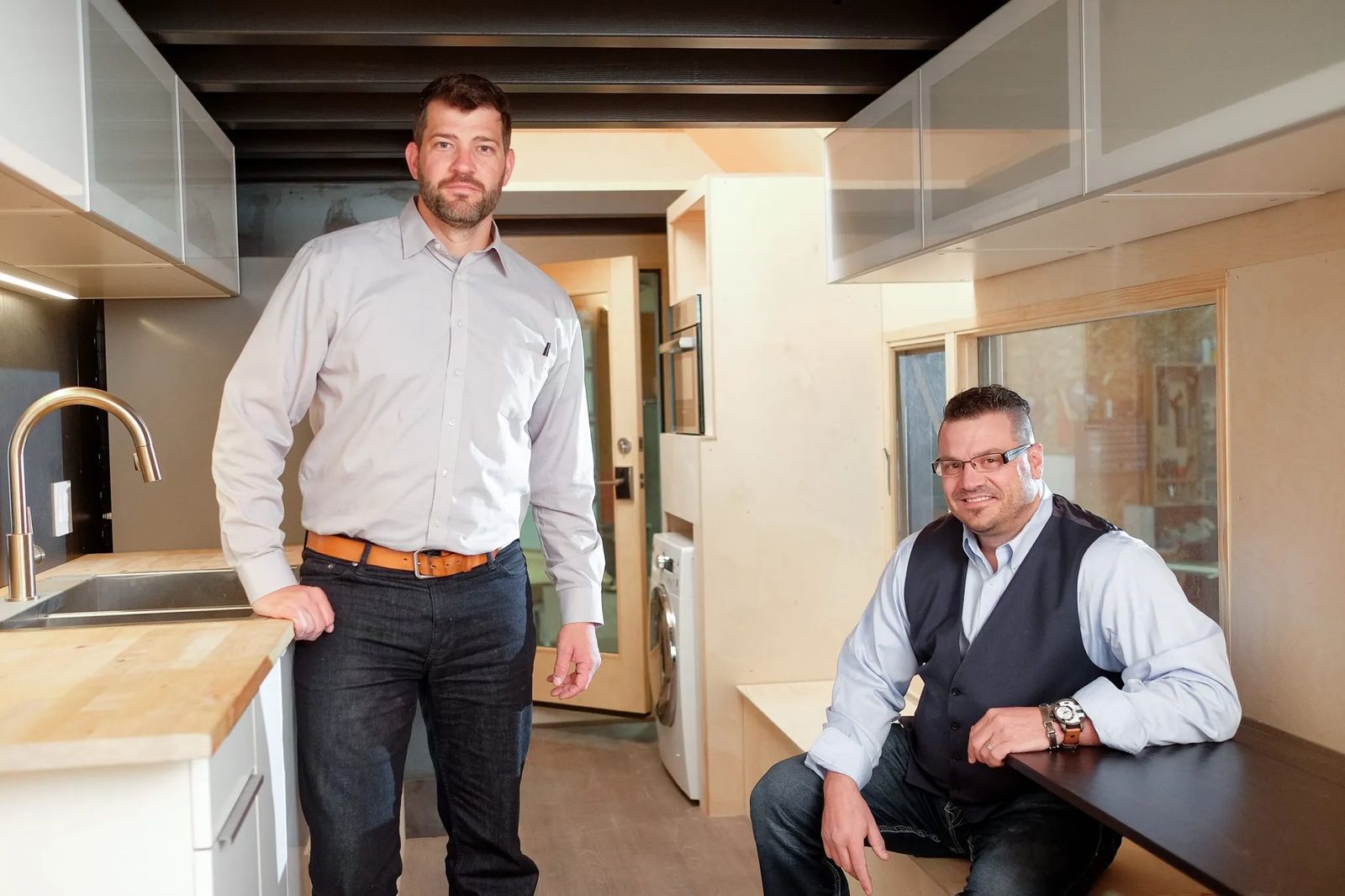 "I didn't want to be tied down to a house," clarifies Sonia, an energetic sixty-something legal secretary in Bozeman. "The intrigue I had for a tiny house came back. I can be mobile with it. I can travel around to various places."
"We've designed our homes to fit the Montana Department of Transportation standards with lighting, width and height for traveling down the highway," says Brian. "Our three models of tiny homes are designed by engineers and architects just like with our million dollar homes."
A hands-on operation, Arch 406 started custom-designing and building tiny homes and food trucks eight months ago. They construct these products locally. "We're not here to sell the tiny lifestyle," explains Brian, "we're architects selling our service and time and something we've made. In Billings, we've realized there's a niche here for us to design and build smaller projects and, as architects, we can also provide the ideas for models of homes."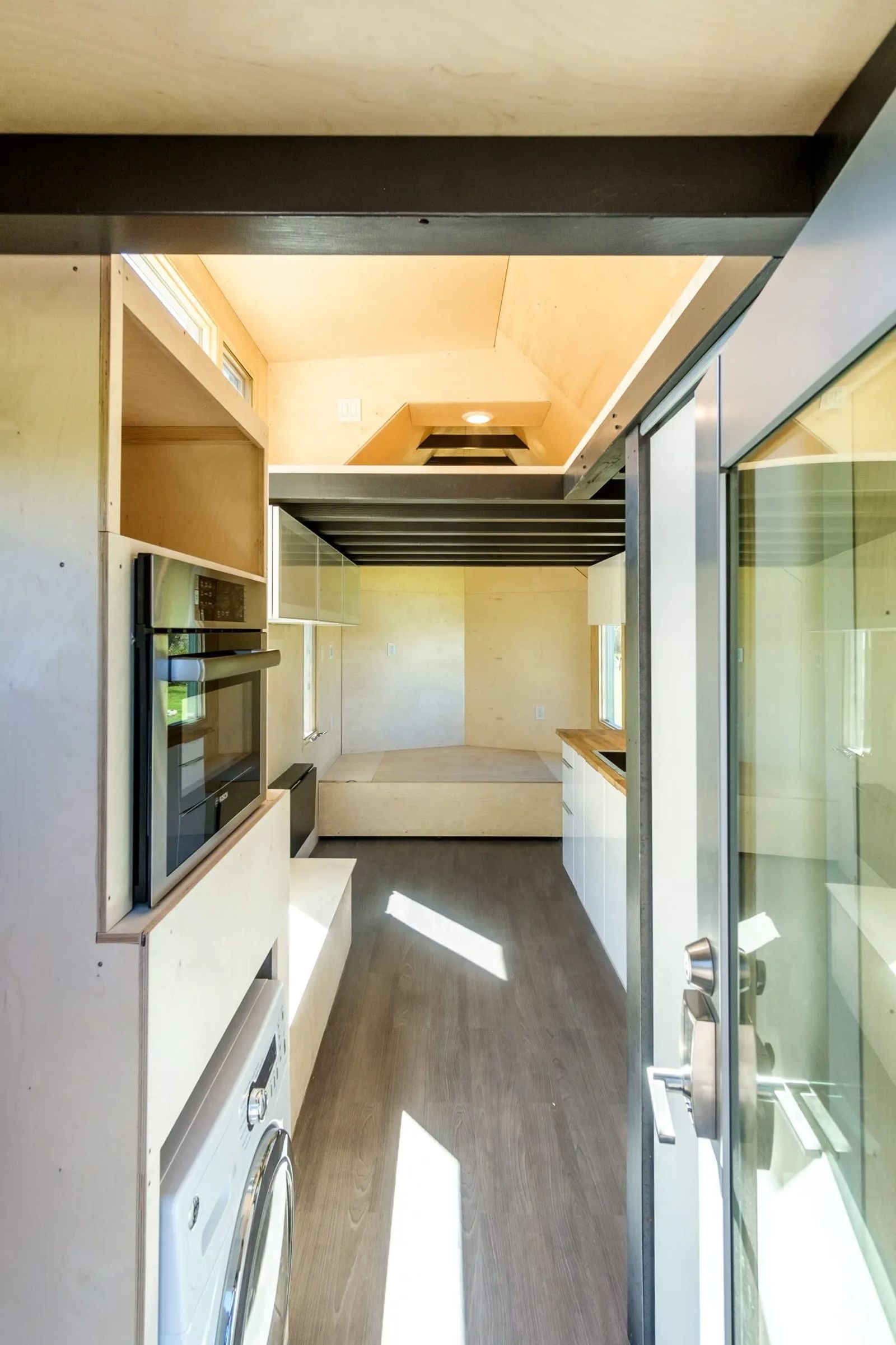 The tiny house models include the Wedge designed by Brian, a 240-square-foot home on wheels that starts just under $70,000. The Nomad, Nick's design, the one Sonia has chosen, finishes out at just over 300 square feet of living space for a few thousand dollars more. The third model, the Mansard, (French for roof as this model sports a roof deck), starts at $88,000, complete with a full-size bathtub. Each home comes fully furnished and prices include the trailer it sits on. The longer the trailer (lengths are 20, 24 and 26-feet), the more exterior storage it offers.
"Sonia approached us as she wanted to downsize, simplify. She didn't want to live her life with a mortgage payment. This is our first one sold," smiles Brian.
"I wanted to have my son-in-law's first tiny house," shares Sonia. "I wanted to tap into Nick's creativity. He's an excellent architect and I have full faith in Nick and Brian and their team. We sat down and I conveyed my personal preferences, that it be sleek with an organized look. I also mentioned my age and asked for a bed on the main floor. Then, I stepped back and let them have their creative space."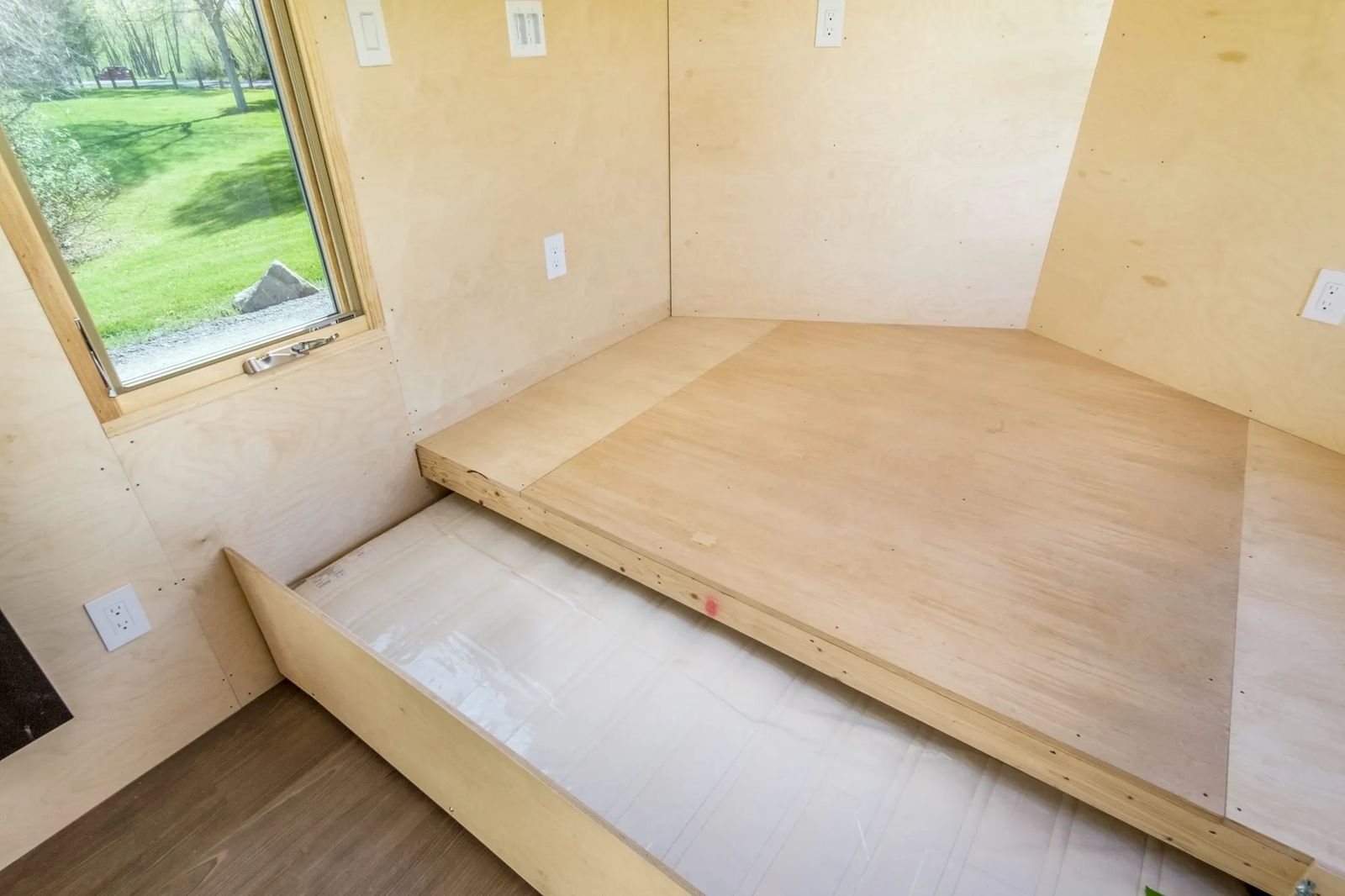 The first impression of Sonia's small dwelling reflects our Montana landscape. Its rustic-industrial exterior combines stained cedar siding with a bonderized metal roof from Bridger Steel. The high-pitched gable roofline gives it a clean, distinguished quality while its one dormer lends some mountain swagger to the overall look.
Adding a bit of contemporary zip, beautiful red FunderMax laminate panels cover a section of the exterior. "They are an expensive product imported from Europe," mentions Brian, "to withstand the elements." Complementing this high-end feature, large tempered glass windows placed on either side invite natural light to flow through 339 square feet of functional space. A petite covered porch plays host to the heavy-duty aluminum front door entry.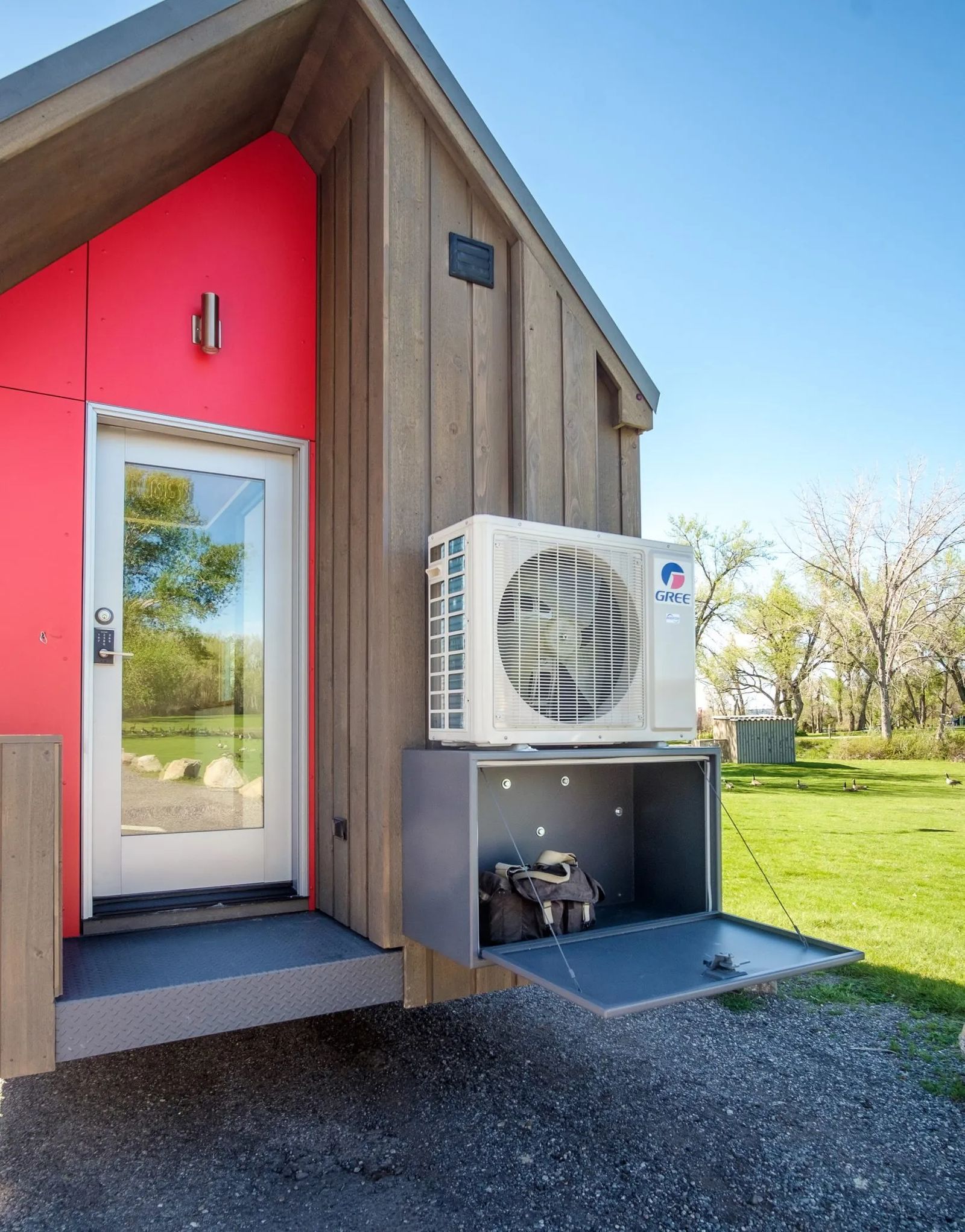 Sunlight bounces off white birch walls delivering a hearty indoor welcome. The floor plan, deftly executed in elegant style, showcases a sleek white kitchen highlighted with waxed raw steel backsplash, a full-size stainless steel fridge and a combo Bosch high-speed convection oven above the washer. Overhead glossy white cabinets sport soft-close glass doors while the stainless steel double sink looks smart with its brushed bronze Kohler faucet. The amenities are second to none, including a flip-up table.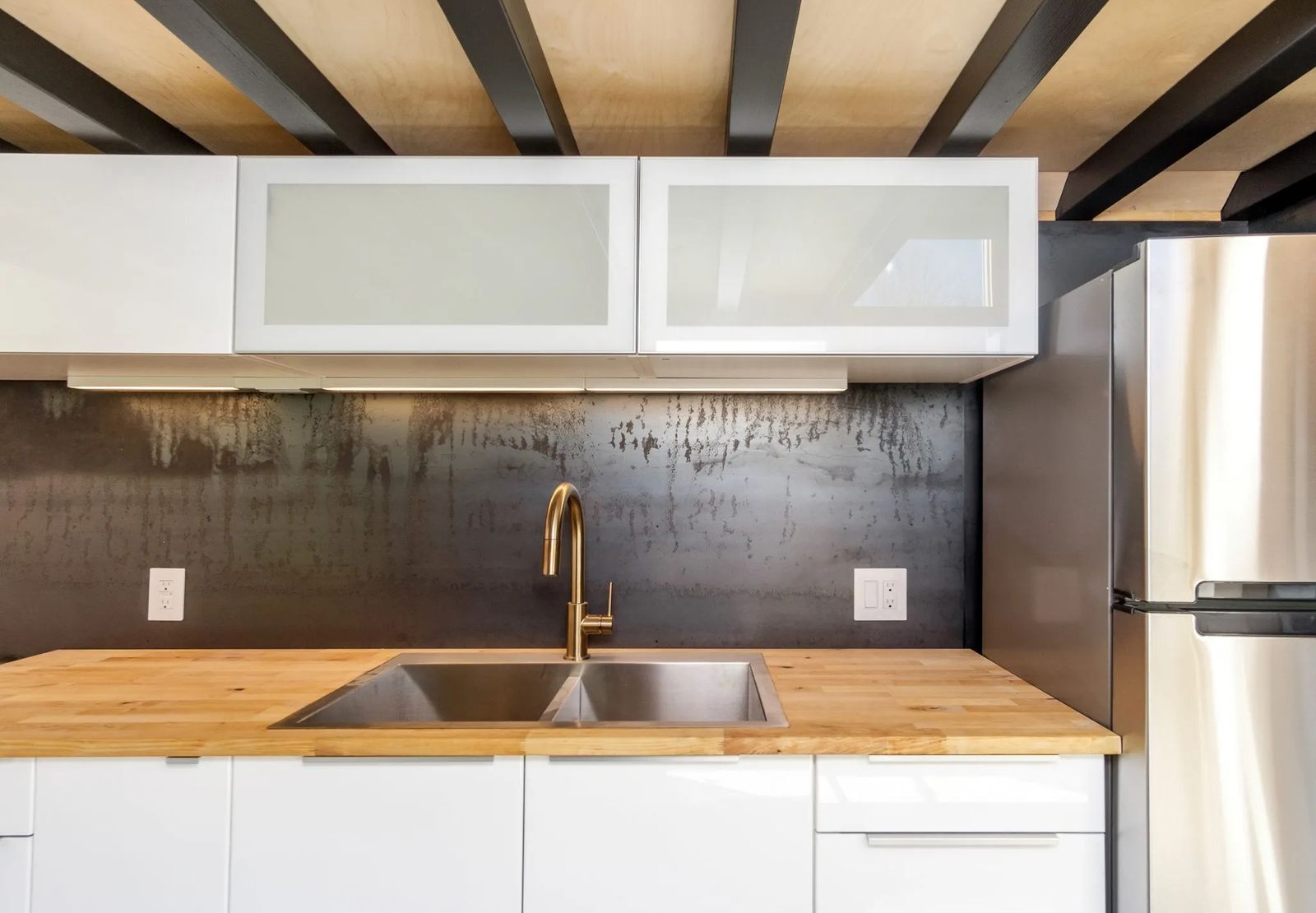 The platform at the front of the house serves as Sonia's office area. Her slide-out trundle bed stores handily beneath.
Even the bathroom in its small stature feels classy. The view through the ample window over the sink is priceless. The shower is roomy and bright. A beautifully designed custom sliding barn door provides Sonia with convenient access in and out of the bath. And, the toilet in this micro-living space is full size.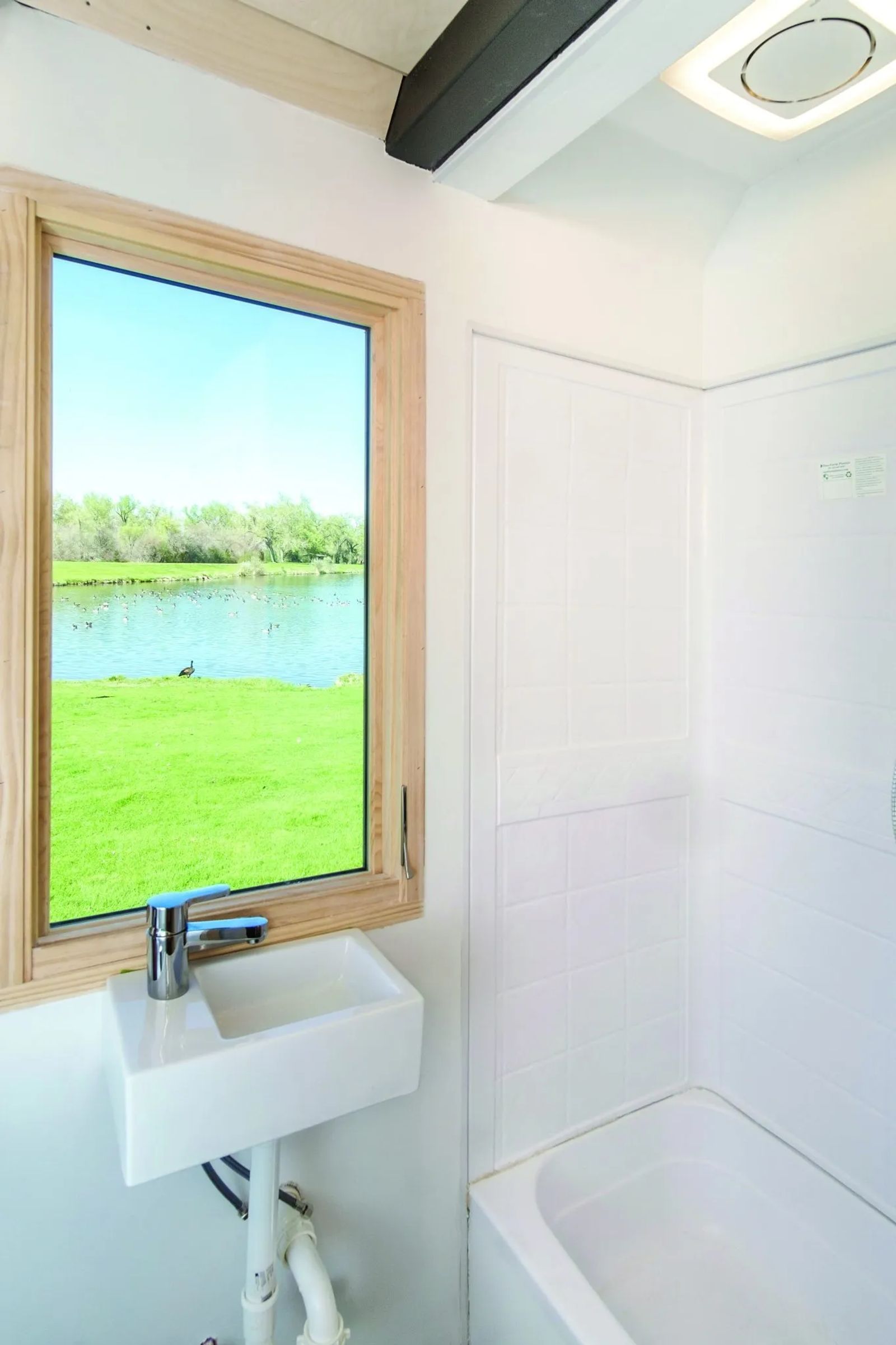 "It's a composting toilet and it's the biggest decision," grins Brian. "But, it's the way to go. It's up to the buyer as we give them options." With a composting toilet (nature's way of recycling organic waste), Brian explains that waste in the toilet is mostly liquid which is where odor derives. A continuous fan evaporates the liquid. The small amount of leftover solid material decomposes naturally.
"I was nervous about a composting toilet," admits Sonia, "but after researching it, I was willing to try it. We used a good brand."
Another concern of Sonia's was how well her place would be insulated, insisting she doesn't like being cold. The Nomad's ceiling is sprayed with closed cell polyurethane foam insulation giving it an R-30 Value. The 2"x4" constructed walls are about an R-21 Value just like a traditional home.
The strategic styling of this small dwelling on wheels promotes sustainable living with substantially reduced energy use. Sonia counts on sparse home maintenance and upkeep, as well.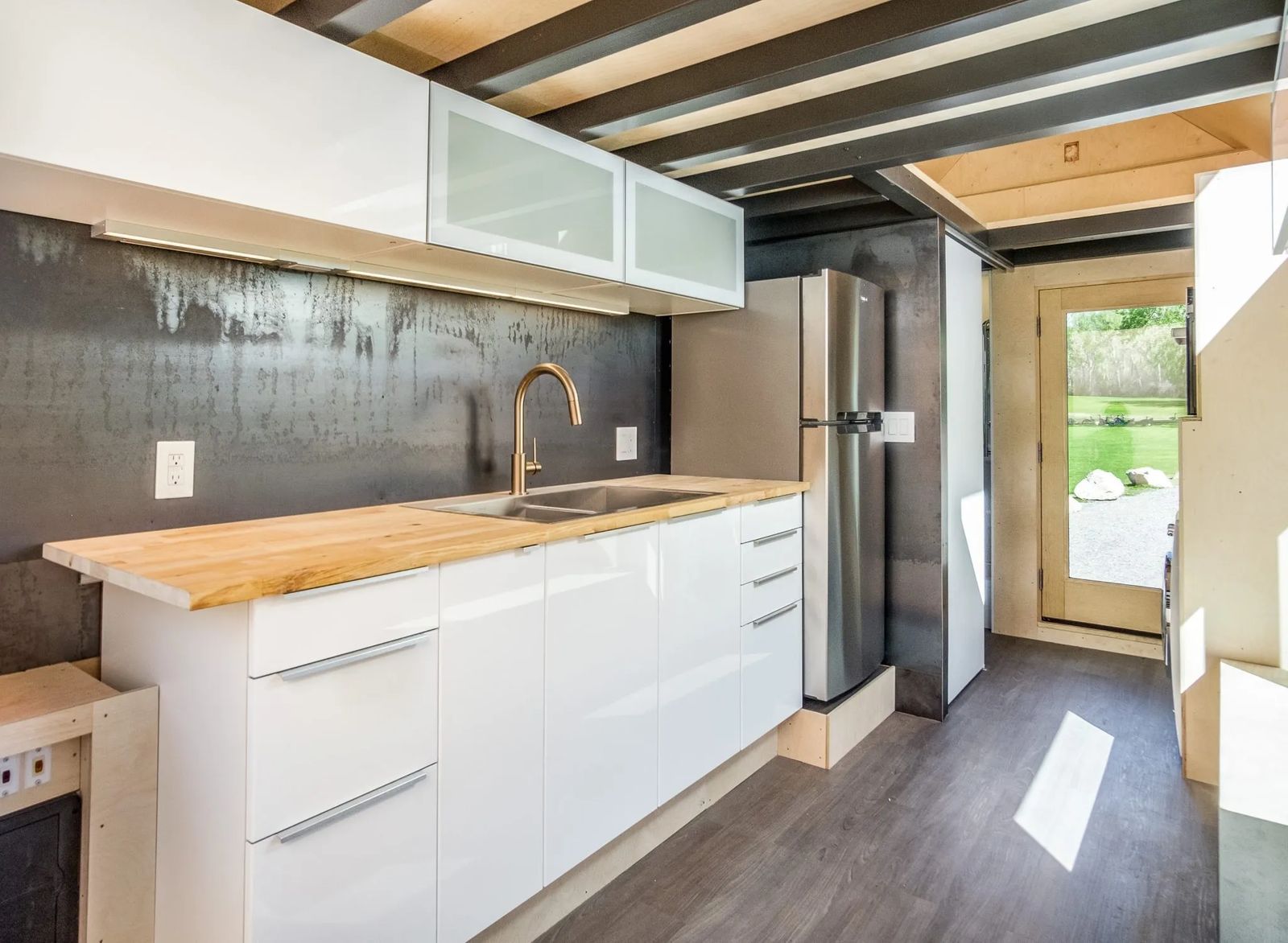 "Our homes come well equipped assures Brian. "We use a mini-split, a unit with heater and air conditioner. We also have an option for radiant heating and on-demand hot water powered by gas. The house runs on propane or electricity. We give options to using public sewer or we can include black water (like an RV system of containment and dumping of waste)." Should the homeowner decide on going with public sewer there are zoning laws to consider.
According to Brian, there exists no zoning in Billings for tiny houses at this time. "We need to find a way to develop tiny communities. Make sure you know where you'll put it before you buy," he cautions.
Sonia parks her mobile abode on a 40-acre site. "My tiny house is near the house where my daughter is living, she says. "I'm within driving distance of Bozeman in a pristine place."
Sonia's desire to live simply has become reality. She's downsized and is moving forward, acknowledging, "At this point in my life, I need a safe, little place."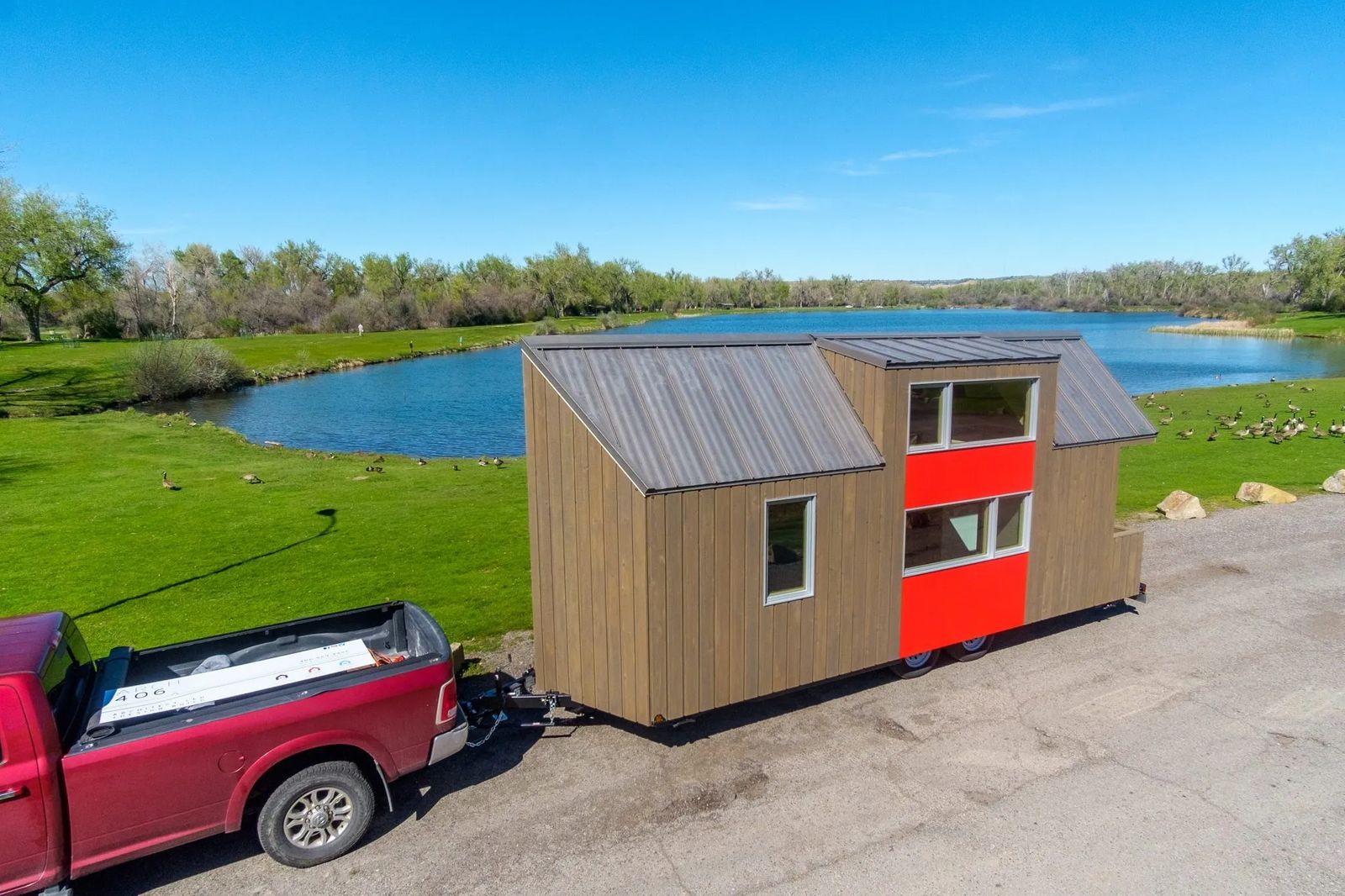 TINY TIDBITS
Why some are moving to the tiny house trend
 - Most Americans spend about one-third to one-half of their incomes on home mortgages while 68 percent of people owning a tiny house have no mortgage.
 - About two out of five tiny homeowners are over the age of 50.
- The average size home in America is about 2,600 square feet. Tiny houses are between 100 and 400 square feet.
For more information on Arch 406's tiny houses and to see designs and models, go to www.arch406mt.com
TINY HOMES IN THE LIMELIGHT

Arch 406 is seeking someone interested in purchasing one of their tiny homes that is willing to take part in a segment of HGTV's Tiny House, Big Living. Please call Brian Johnson at 406-248-3443. For more information on tiny living check out www.thetinylife.com