The Year that Sparked Christmas Shorts
And a dose of perfect giving
About 10 years ago, during a busy December, with a house full of people and a busy career to manage, I decided, on December 23rd, that everyone in our house needed new Christmas Pajamas for the holiday season. I hadn't had a lot of time for shopping, but I was sure pajamas would wrap my loved ones in the familial warmth that means Christmas in our home.
I set out with high spirits and boundless energy to find said pajamas, only to be greeted with empty hangers and shelves.  I did find a few pajamas that were rejected so often their seams formed little frowns and even with my soft heart, I could not buy them.  Visions of cuddly hot cider and board game moments had given me Christmas cheer and now giving this perfect gift was escaping me.
But — and this is where someone, anyone, should have stopped me — in a flash of inspiration, fueled by sugar plums and panic, I decided I could sew everyone pajama pants!
Gifted with flying fingers, I love to sew fast, and to live in a blizzard of clippings.  I hit the fabric store with a song in my heart and peppermint in my soul.   The cart was filled with fabrics, each chosen to match the recipient's taste, not the season, and the clerk marveled at my ambitious plans.  Baseballs for my Son-in-Law, Sudoku for my husband, Owls for my daughter. The selection was rapid but thought-filled, as I clicked off each person's name.
The day became night, the 23rd rolled into the 24th, and finally, I stood at the cutting table.  I prepared the patterns, laid out the fabric, twisted, turned, pulled, folded and adjusted the yardage, unsure why the pattern was not fitting the fabric.  Sweating, I even resorted to reading directions, a gift that if given to me, must have been returned.
We'd be gathering for dinner in a matter of hours and there I stood, completely flummoxed by the fact I purchased enough fabric for shorts, not pants.
So, always one to shine the silver-lining, we would have shorts!  Cut, sew, press and present.  That was my plan.
The presentation was going to be a problem, however.   Flashy pajama pants are not my husband's style, and shorts, well, even I am not a good enough salesperson to get that one across to him. I knew, however, that in the spirit of Christmas I could win most battles, especially if I employed a team spirit and a bit of peer pressure.
After dinner, everyone was sent to a private room, a room where their shorts were merrily displayed with a loving note and perhaps a threat that gifts would be canceled if they didn't don their festive garb.
Each person returned to the living room with not just their colorful Christmas Shorts, but hats and sweaters, long johns and socks that they felt completed the look.  They caught my spirit and, like snowflakes in a breeze, lifted my gift to cosmic heights of hilarity.
What do you do when you look like a troop of bumbling elves on Christmas Eve?  Well, you go to Wal-Mart.  At Wal-Mart, we quickly learned that if we were standing alone, people looked sideways and walked away. But if we were in a group, people smiled, took pictures and 'got' that it was a 'thing.' A high spirited, 'we're in this together' thing.  We weren't quite ready for Christmas Shorts in church that year, but have since worn Christmas Shorts to almost every venue in Billings from Billings Studio Theater for a showing of A Christmas Story to Zoo Lights and even an emergency room visit.
That year, Christmas shorts showed up for brunches, and movie nights, Friday night dinners, days spent sick in bed and even the Fourth Of July Fireworks. The shorts became a part of what makes our family, our family. Sideways glances became something we sought and reported to the group.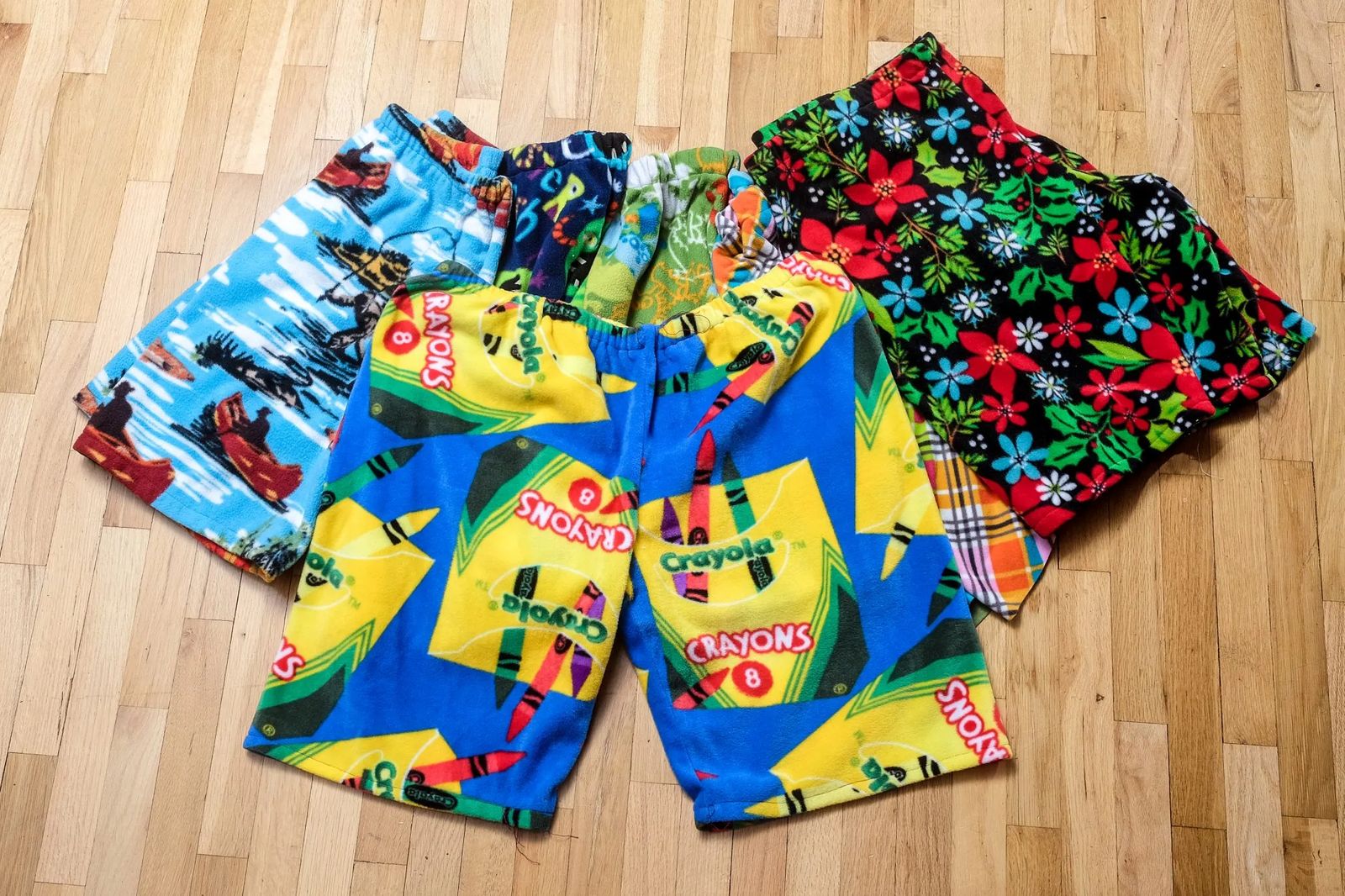 The following year everyone got a new pair of Christmas shorts.  Made of fleece, bright colors and holiday spirit. Our shorts were worn for caroling, shopping and in our ceramic studio.  My month-old grandson wore shorts made of the same fabric as his dad, and tears filled all our eyes. The legend of the shorts has grown, some people choosing not to visit during Christmas for fear they will find a pair waiting for them. They would! And, others coming just to be a part of the silly, loving, tradition.
I tell you this story for two reasons, one that if you see us during the holidays, doing airport runs, or hosting staff breakfasts, that you know we are okay, no one is dressed against their will — well, sometimes my husband — but never our friends.  And two, that it is these traditions, these silly moments that make a house a home, a family and family, and the holidays something to look forward to instead of dread.
This season I hope that you can find it in your heart to worry less about perfect wrapping, and more about perfect giving.  There can be so many duties, so much to do, so much to make perfect, but what really matters is not an expensive gift in the perfect wrap. What matters is you.
What you love. What you do, know and feel.
Giving the gift of you, with all of your faults, all of your love, and all of your spirit, well, that is all you need to be worried about giving this year.  Give "you" to the people you love.  And, if you happen to be wearing Christmas Shorts, well, that makes the gift just a little bit more festive, don't you think?