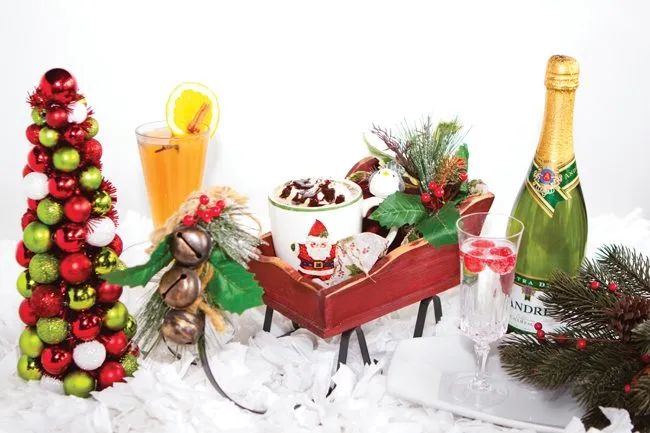 Toasting Holiday Cheer
Festive drinks to warm up any celebration
No more silent nights when you celebrate with festive holiday drinks.  Even Frosty the Snowman will warm up and jingle celebration bells when sipping hot chocolate, a bubbly cocktail or delicious holiday punch.  A drink becomes even more special when garnished with fruit, a sprig of mint, or a sprinkle of grated chocolate. A hot beverage sings holiday when finished with a dollop of whipped cream and a bit of peppermint bark. So cheers to you and yours for joy in all the world and peace on Earth this holiday season and always.
Bubbly Cocktails
Start with one of the following delicious concoctions below and then top with lemon/lime soda or ginger ale. For the more mature celebrator, try Prosecco or Champagne.
Frozen raspberries
A one-third glass full of cranberry juice and garnish with mint
Several splashes of pomegranate juice, a slice of lime and pomegranate seeds
Small scoop of lemon sorbet
Sliced fresh strawberries
Several green grapes and splashes of green grape juice
Half a glass of tangerine juice and ice cubes
A one-third glass full of cranberry juice and garnish with mint
BASIC HOT COCOA
Serves 4
1/3 c. unsweetened cocoa powder
1/3 c. sugar
1/3 c. boiling water
4 c. milk
½ c. heavy cream
½ t. vanilla extract
In a saucepan, combine cocoa and sugar. Whisk in boiling water and heat over medium heat to a simmer and until sugar is dissolved. Whisk in the milk and cook to a simmer. Stir in cream and vanilla. Pour into mugs and top with a festive topping of your choice.
Peppermint Hot Chocolate
Serves 4
3 c. half and half
¼ c. sugar
1/8 t. salt
6 ounces bittersweet chocolate, chopped
½ t. peppermint extract
In a saucepan, combine half and half, sugar and salt and heat over medium heat. When the mixture just simmers, add the chocolate and stir until melted. Stir in peppermint extract. Pour into mugs and top with a festive topping of your choice.
Festive Topping Suggestions:
Whipped cream and/or marshmallows
Shaved white and dark chocolate
A drizzle of butterscotch sauce
A few squeezes of chocolate sauce
Shavings of Mexican Chocolate and a sprinkle of chili powder
Crumbled peppermint candy or chocolate peppermint bark
Festive Additions for Adult Cheer:
Several splashes of espresso vodka and a splash of amaretto liqueur
1 ounce of coffee liqueur and 1 ounce hazelnut liqueur
½ T. maple syrup and 1 ounce bourbon
Many splashes of peppermint schnapps
1 ½ ounce dark crème de cacao and ½ ounce rum
1/3 ounce Bailey's Irish cream, 1/3 ounce butterscotch schnapps and a sprinkle of cinnamon
Mulled Cider
Serves 12
64 ounces apple cider
1 T. brown sugar
Zest from 1 medium orange
2 cinnamon sticks plus more for garnish
6 whole cloves
In a large pot, add cider and brown sugar. Heat over medium-high heat to a simmer.  Add zest, cinnamon sticks and cloves. Bring to a boil, reduce heat and simmer for 20 minutes. Pour cider through a strainer into a large punch bowl. Garnish mugs with cinnamon sticks and serve warm.
For adult cheer: Add a splash of rum to each mug.
Cranberry Punch
Serves 16
64 ounces cranberry juice cocktail
1 c. orange juice
2 c. club soda
1 medium orange, sliced
1 lime, sliced
In a large punch bowl, combine cranberry and orange juices. Gently pour in club soda and garnish with orange and lime slices.
For adult cheer:  Add a splash of Cointreau liqueur or some Grand Marnier after serving in glass or mug.
Spiced Chocolate Eggnog
Serves 16
8 c. eggnog
4 c. milk
3/4 c. chocolate syrup
1/8 t. allspice
Grated semi-sweet chocolate
In a large punch bowl, mix together eggnog, milk and chocolate syrup. Sprinkle allspice and grated chocolate on top.  Serve with a large bowl of whipped cream on the side!
For adult cheer: Add splashes of Amaretto or Kahlua or Chocolate liqueur – white or dark.