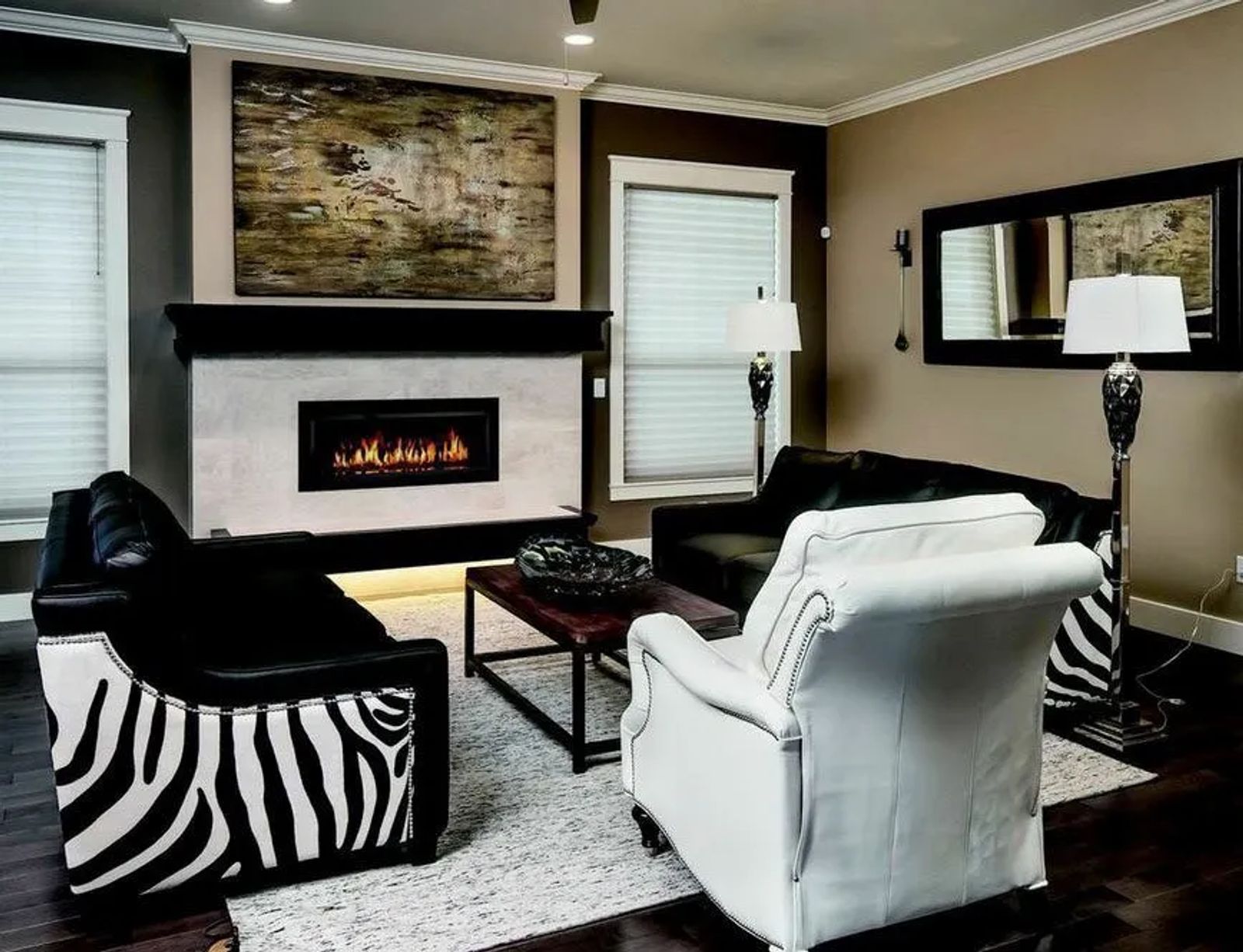 A Blank Canvas
Home Decor Brings More
When you look at a bare room, do you see a world of potential? Or, do you freeze up wondering how you are going to drape the windows, accessorize with color and properly place your furniture? Thanks to one talented designer, we took a top down look at how one home made a dramatic transformation from a blank canvas to a beautifully balanced and sleek family home.
Interior Designer Carrie Klein at Furniture Land USA is the expert at hand. She took blank walls and floors and turned this four bedroom, five bath home into a custom-fit 4,500-square-foot family dwelling built by Helgeson Homes. The furniture pieces are all customized to fit the family's lifestyle. The result is a stunning look that is truly timeless.
SOPHISTICATED LIVING
Carrie enjoyed having "free rein" to take this beautiful home from bare walls to a sophisticated, yet, cozy luxury. She knew by customizing two top-of-the-line black leather sofas with zebra-print side panels and silver nail studs this would give some exotic zip to the great room. The animal print kicks up a dash of drama to fashion a fabulous room.
"It's fun to be creative this way," admits Carrie. "You can use different prints and patterns."
With such a warm and muted color palette serving as a base to this living space, Carrie started with a rich, creamy area rug that adds depth to the main living area. "You want to layer a rug to accommodate the space," notes Carrie, "not to take away from the elements."
To offset the dark sofas, fireplace mantle and gorgeous wood flooring from Carpet One, Carrie added an ivory-color leather recliner. It softens the room with peaceful elegance. Now there's an easy flow around the furniture while the eye is directed toward the focal point, a linear gas fireplace.
Accessories complete this classy, yet, functional area. Tall silver floor lamps stand on either side of one of the sofas. Recessed ceiling lights open the space, however, lamps and a fireplace always enhance a relaxed or romantic mood.
A large abstract painting poised above the fireplace is delightfully balanced with a dark-framed mirror on the far wall. Placing a mirror in a room delivers that open feel to an area. Carrie positioned long tear-drop glass vases on either side of the mirror to extend the visual appeal along the wall.
A glass bowl infused with a splash of teal color sits as a piece of artwork on the open-design coffee table. "The client wanted a bit of teal color and teal is not an easy color," mentions Carrie. "This piece makes a statement by itself. It's heavy and it's really unique."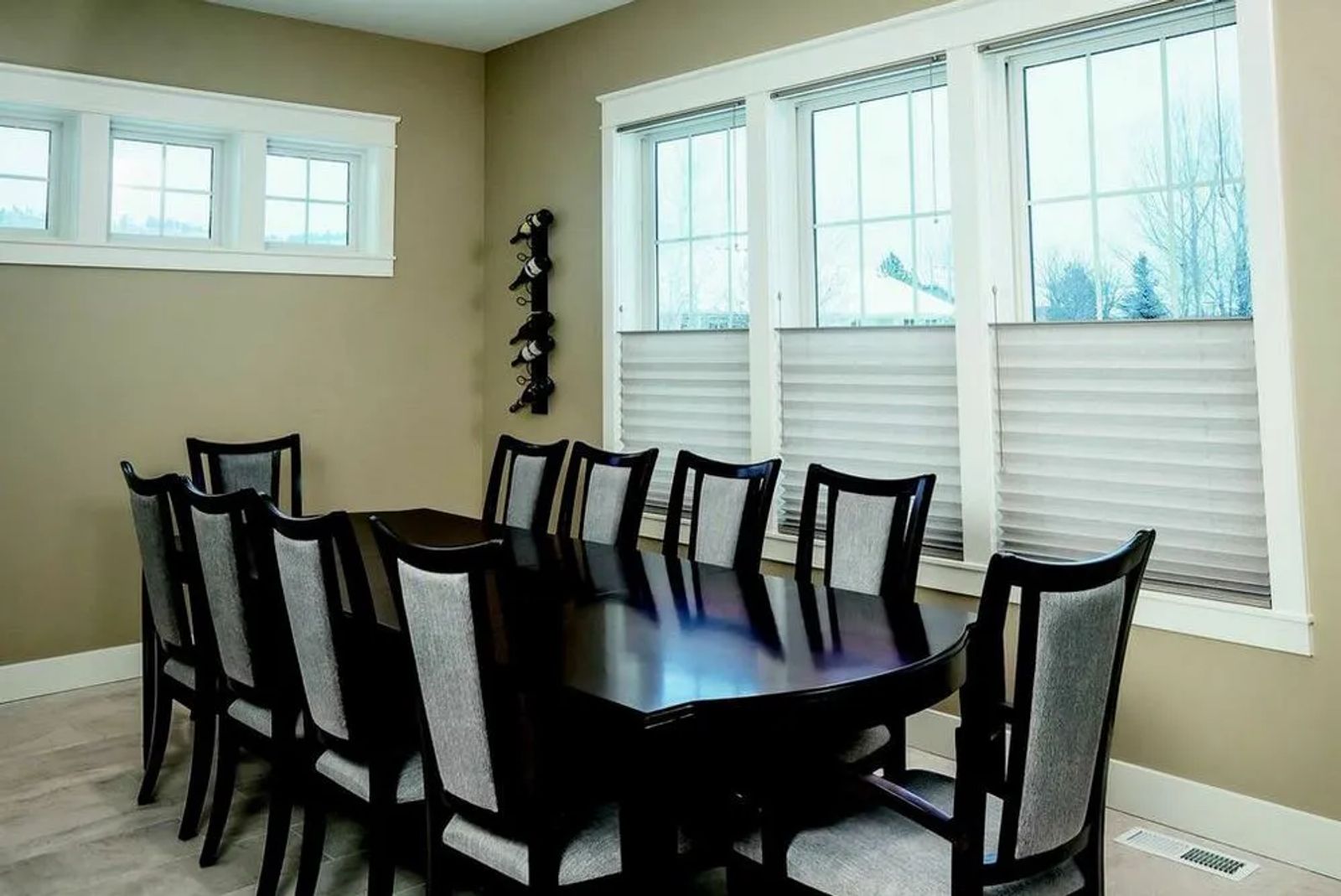 A PLACE TO DINE
With plenty of light in the room from a triple transom window and triple big windows, there's no need for extra fluff here in this fine dining space. A dark chestnut table with some slight curve involved encompasses the dining space that flows from the great room. Carrie started with this large table that seats ten since family gatherings are important to the homeowners. Herringbone upholstered chairs, including a captain's chair on each end, completes the classic look. To dress up the walls, a tower wine rack enhances the striking contrast of the light against the dark wood of the table.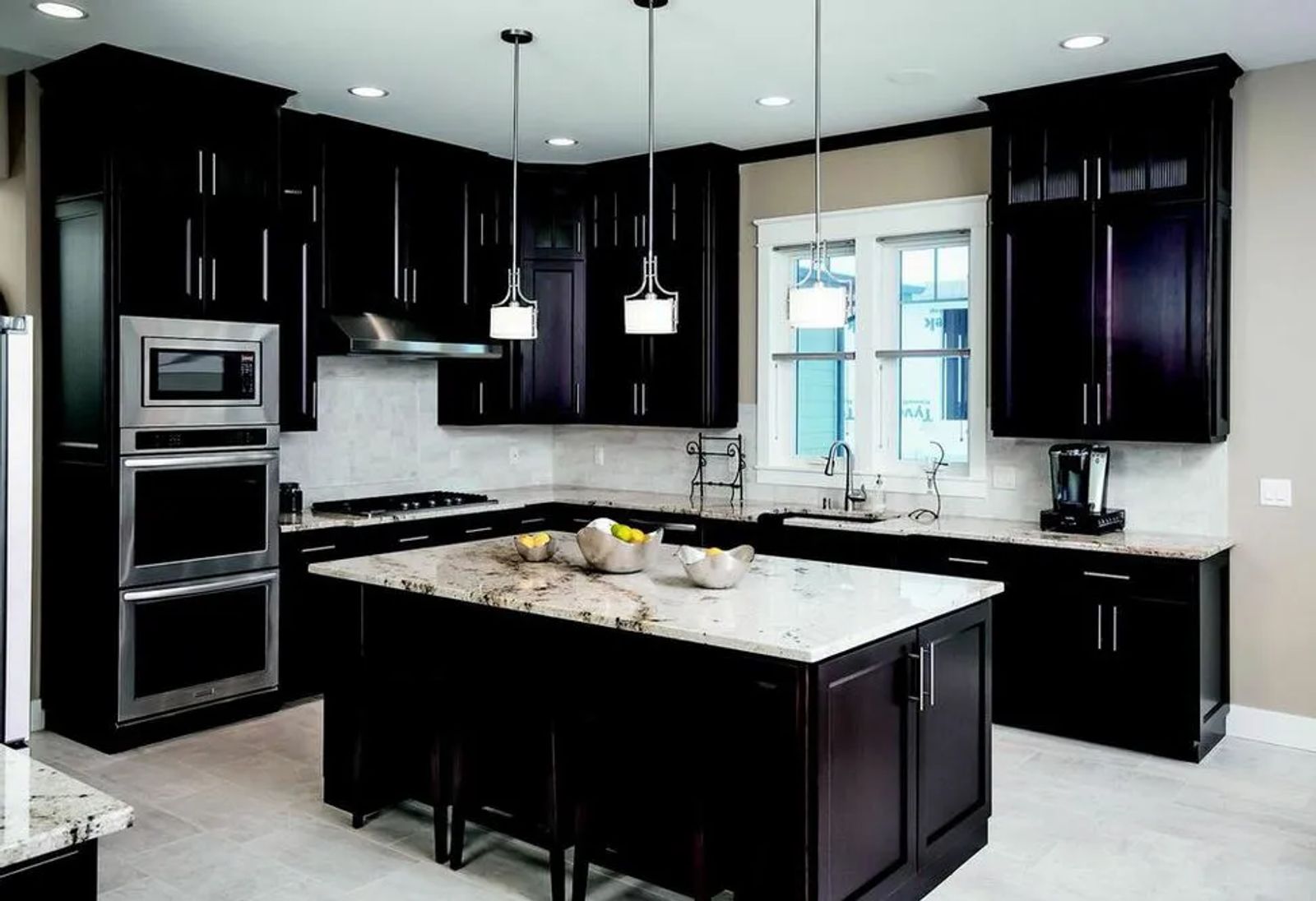 THE CENTER OF THE HOME 
Next to the dining space you'll find a large kitchen with rich, floor-to-ceiling, dark cabinetry from Ultimate Custom Cabinets. The center island with granite countertop provides additional storage and seating for three. Carrie opted for wood "saddle" seats to slide into this niche under the isle counter with style.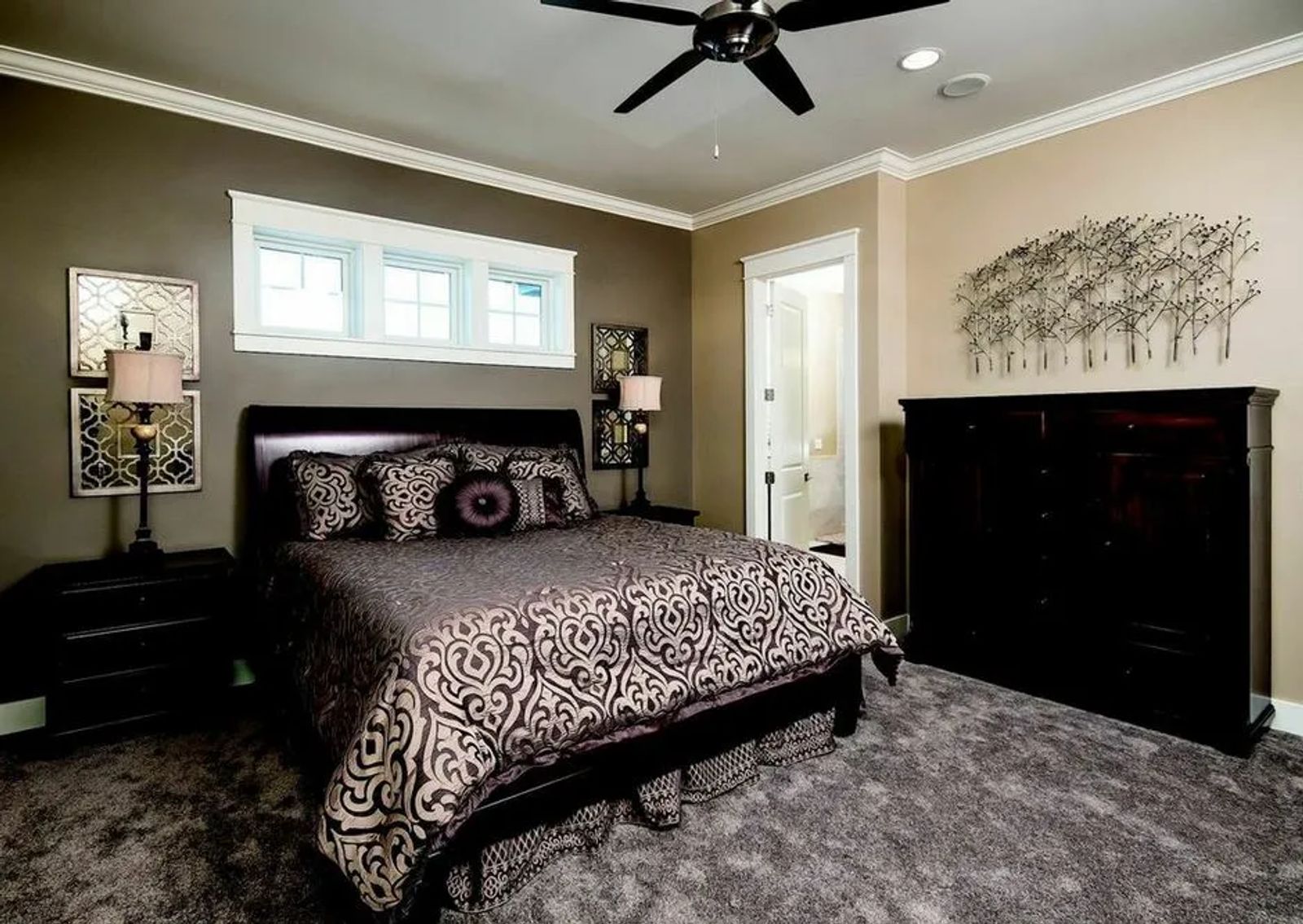 FOR THE MASTER OF THE HOUSE
In the master suite, Carrie rocked the room with dazzling glass-etched mirrors mounted on the wall over bedside tables. Two mid-height lamps enhance the pattern of the mirrors and play off the same design of the bed cover. Triple transom windows above the king-size bed cast light and lend an artistic touch to the room. Assortments of different shaped pillows in the same color tone add the feeling of five-star luxury.
This plush bedroom expresses masculinity and femininity at the same time. Carrie shows that a more neutral or masculine look is derived using an over-sized dresser. She also accommodated the feminine approach with a smaller dresser and stylish bed cover. Pillows also soften the look and add a pinch of color. This arrangement works well with most couples. "It's finding a happy medium," notes Carrie.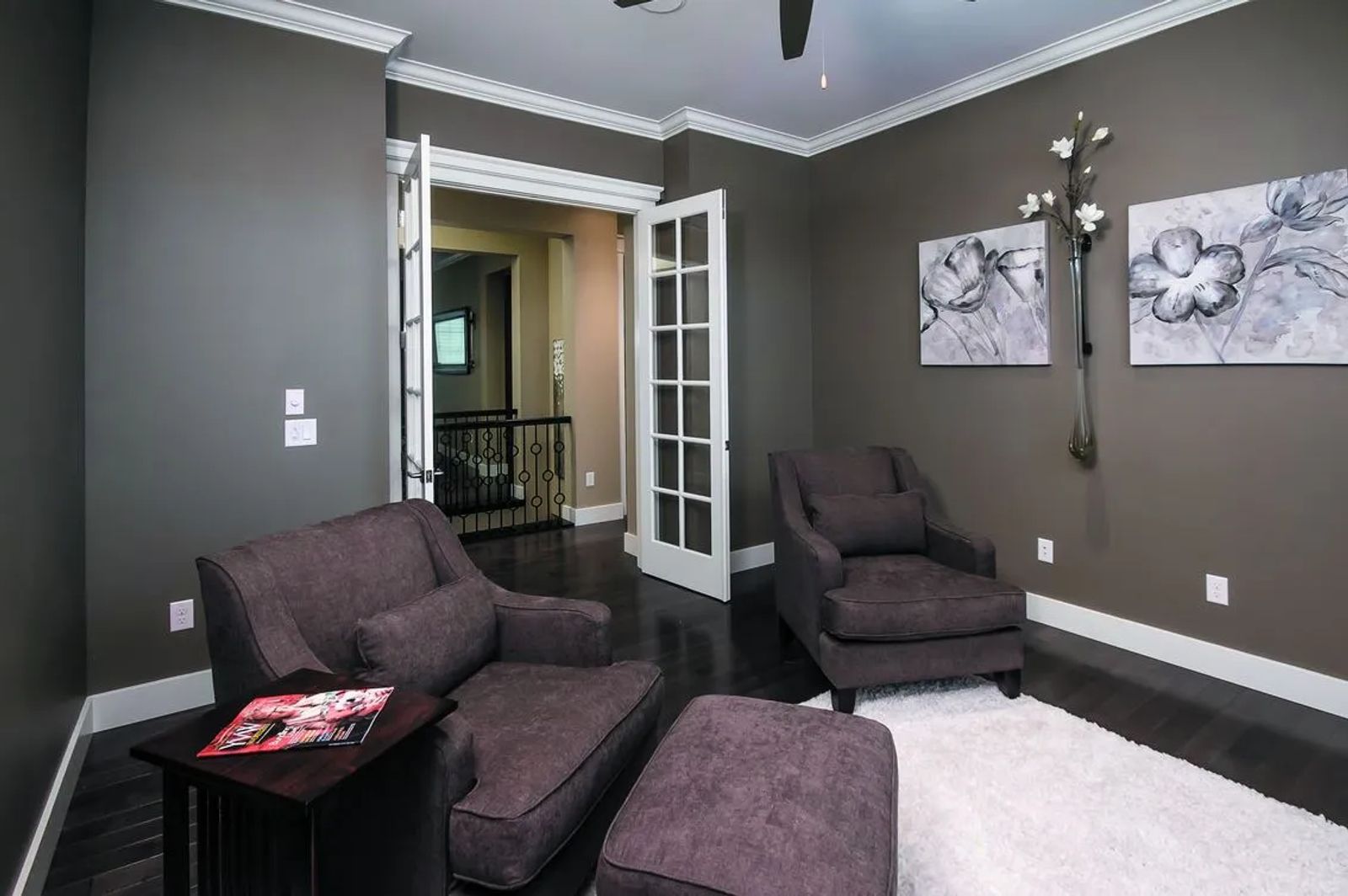 THE SITTING ROOM
Finding and accomplishing that "happy medium" also takes place in the sitting room at the front of the home. Carrie considers both the husband and wife by going with two matching chairs and ottomans. Two abstract floral pictures give definition to this quiet space while the long glass vase moderates the room. "This home is designed to relax in," says Carrie. "They wish to drink their coffee or tea in here."
MAKE AN ENTRANCE  
"It's important visually when you walk in the front door that what you see complements. It has to have flow." The two tall wall vases just inside the front foyer spring to life as soon as you step inside. These unique vases are placed in a few other rooms allowing for continuity and a reoccurring theme to the overall space.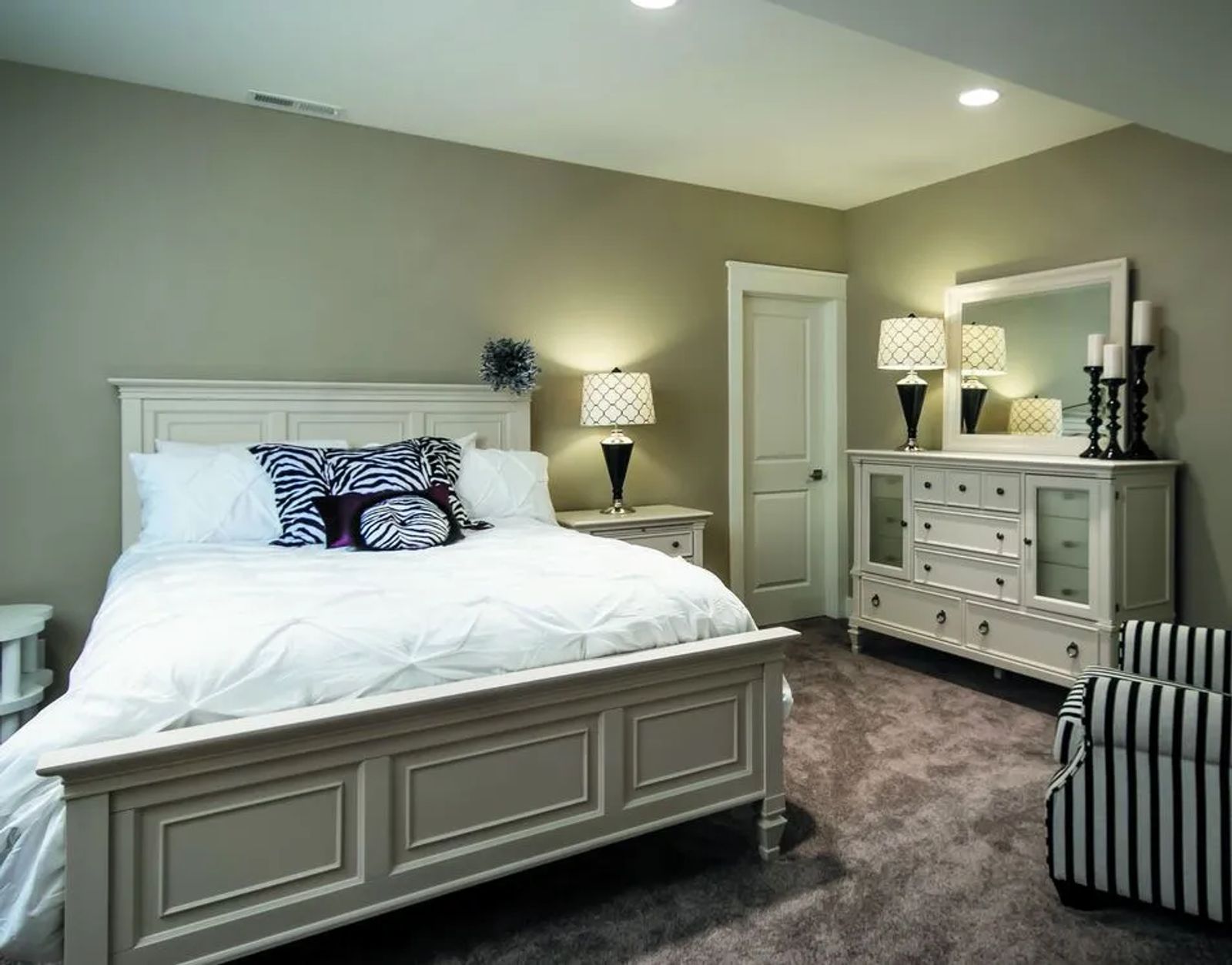 BE OUR GUEST
The guest suite is all about comfort. It's decorated with feminine overtones creating a spa-like atmosphere. A pinkish-rose covering highlights the custom linen bed. Patterned pillows tie the look together. "Texture isn't as important as pattern," explains Carrie. "Patterns complement each other, they don't fight with one another. Keep pillow shapes similar, let the bed dictate the size pillow you use and be sure to keep them in pairs!"
KEEPING IT IN LINE
"Lines are so important," stresses Carrie. Make sure side (end) tables are not higher than the bed. Also, as in the bedroom(s) featured, taller lamps are placed on the side tables, as they match the lines of the high headboard and the high ceiling.
THE LAYERS OF DESIGN
When looking at the design and decor of your own home, Carrie notes it's important that it is "done in steps." Carrie adds that it is all about "layering." Start with the color scheme you plan to use. "Wall color and floor color play a big part of it," says Carrie. For instance, choose your area rug (should you use one) and begin layering in the furniture pieces and accessories. Remember that lighting is an important factor as well. You'll need some bright lighting from some type of overhead light and you'll want your evening-type of light from floor or table lamps. This applies to every room in the house.
When you're faced with a 'blank canvas,' take advantage of it like Carrie has done. Try her design ideas and tips. Tackle one room at a time and remember to "layer." You'll turn your home into your own style sanctuary in no time!