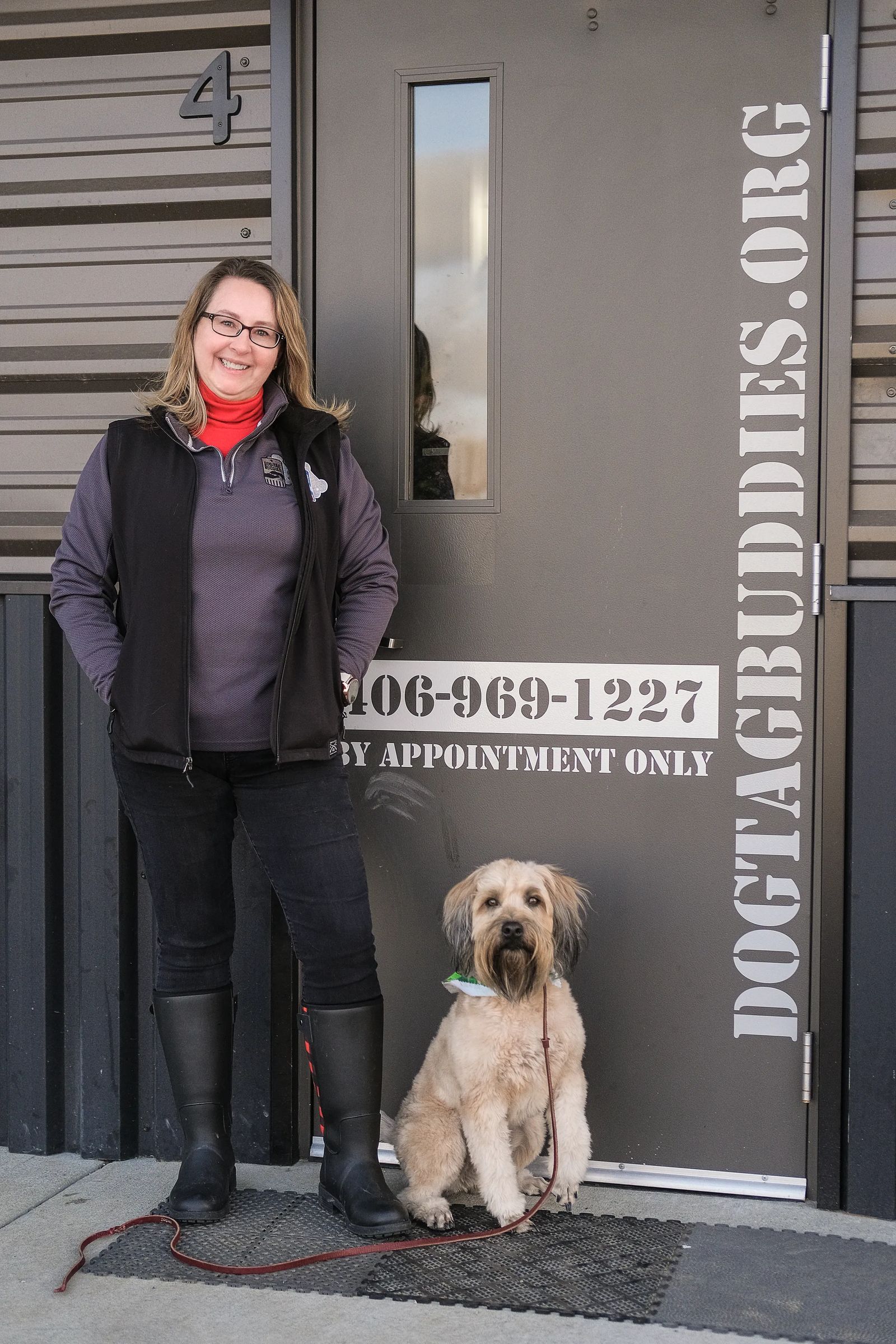 A Perfect Pair
Deede Baker changes lives pairing service dogs with veterans in need
U.S. Marine Corps veteran Austin Combs, 23, is direct and matter-of-fact when he describes his military service.
"I was deployed to Iraq and I blew up. That's the simplest way to say it," he says, looking down at the leather leash looped around his hands. At the other end of that lead is Chief, a German Shepherd pup, tongue out, smiling and waiting for Austin's next move.
"Life just got real dark after that," Austin adds, reaching for the dog's soft ear. Chief leans in for a scratch.
The explosion, and life events that followed, left Austin with debilitating post-traumatic stress disorder (PTSD). That darkness was a way of life until his therapist suggested Dog Tag Buddies, a Billings-based nonprofit that pairs veterans with service dogs.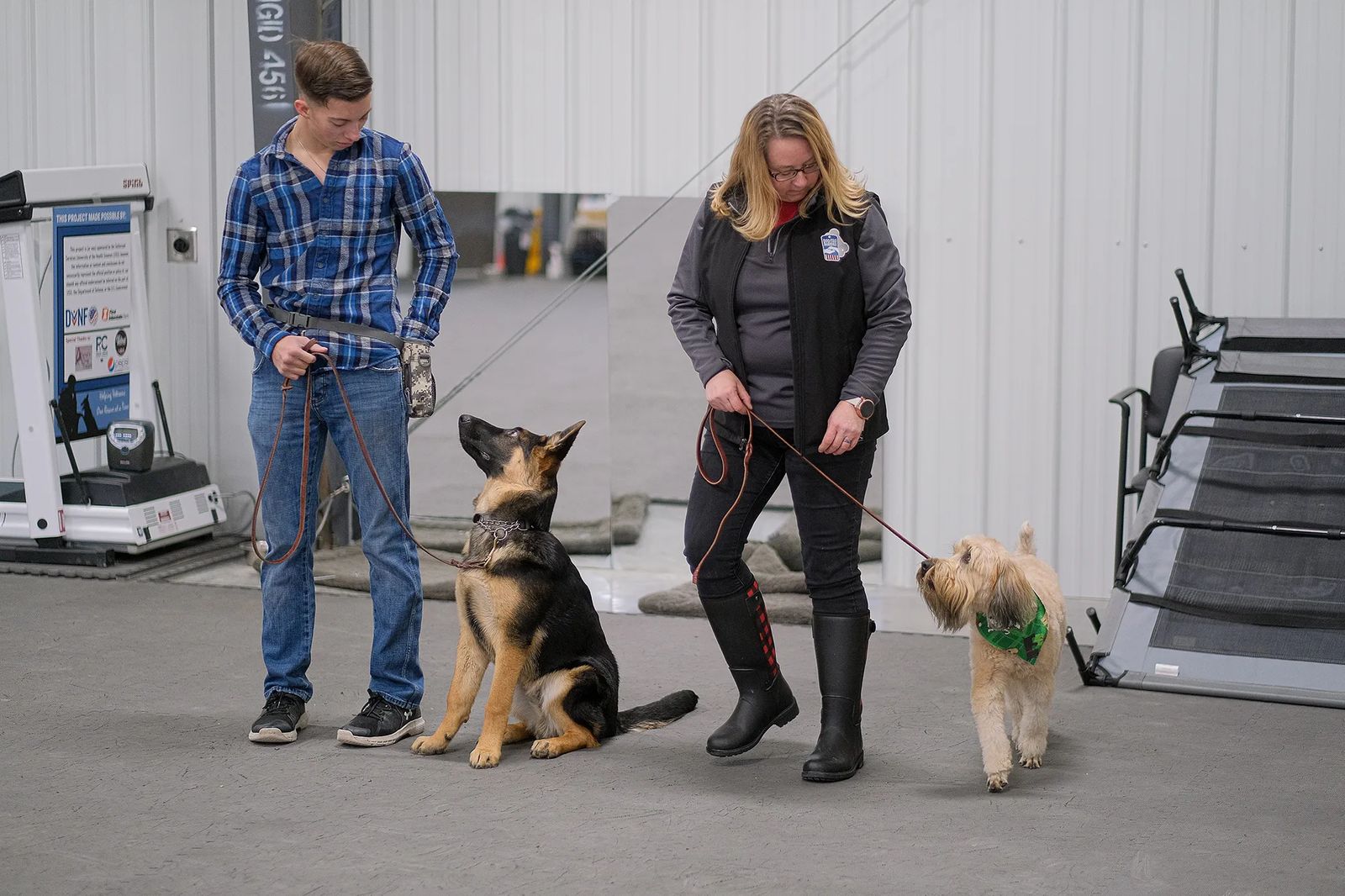 Austin and Chief have been a team since Aug. 24. Austin remembers the date because that was the day the darkness started to lift.
"This guy gives me a reason to get out of bed in the morning," he says. "I can honestly say he saved my life."
Austin and Chief are learning basic obedience at the Dog Tag Buddies training center, a warehouse space east of Billings on the way out of town. Flags for every branch of the military as well as POW-MIA and the American flag are draped across the walls. The expansive room looks like a gym for dogs.
"This is a dream I never knew I had," says DeeDe Baker, founder of Dog Tag Buddies.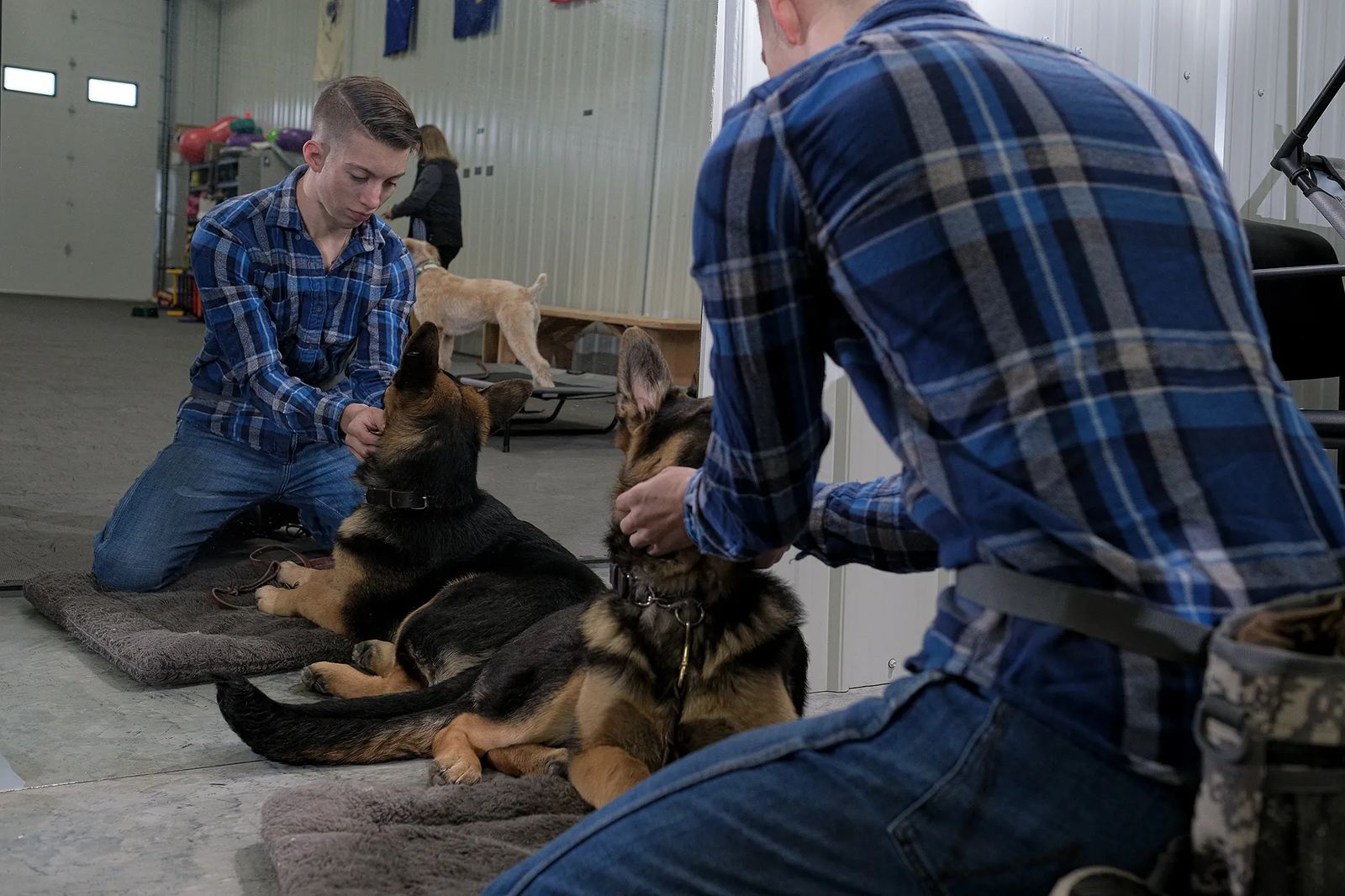 DeeDe started Dog Tag Buddies in 2015 to help veterans and shelter dogs. These days, she's saving both.
DeeDe has firsthand knowledge of how dogs can help heal the unseen wounds left behind after combat. Her husband lives with PTSD and a traumatic brain injury after an IED, or improvised explosive device, went off under an armored vehicle he was riding in, in Iraq. Although everyone "walked away" from the explosion, it still had its effects. That was more than 15 years ago.
"They talk about people changing," DeeDe says. "He definitely changed."
As the couple struggled to adapt to their new normal, DeeDe noticed that their dogs brought her husband comfort. At times, it was the only thing that helped. It got her thinking about other veterans living with PTSD and wondering if dogs could help them. too. There were no programs in Montana that connected veterans with service dogs, yet Montana has among the highest rates of military service per capita in the United States.
The need is real, DeeDe says, citing statistics that rank Montana among the top three states with the highest suicide rates, coupled with high suicide rates for veterans. Studies show that veterans with service dogs do better than those without them.
"We wanted to figure out a way to be a part of the solution, helping these veterans through their struggles with a dog," DeeDe says.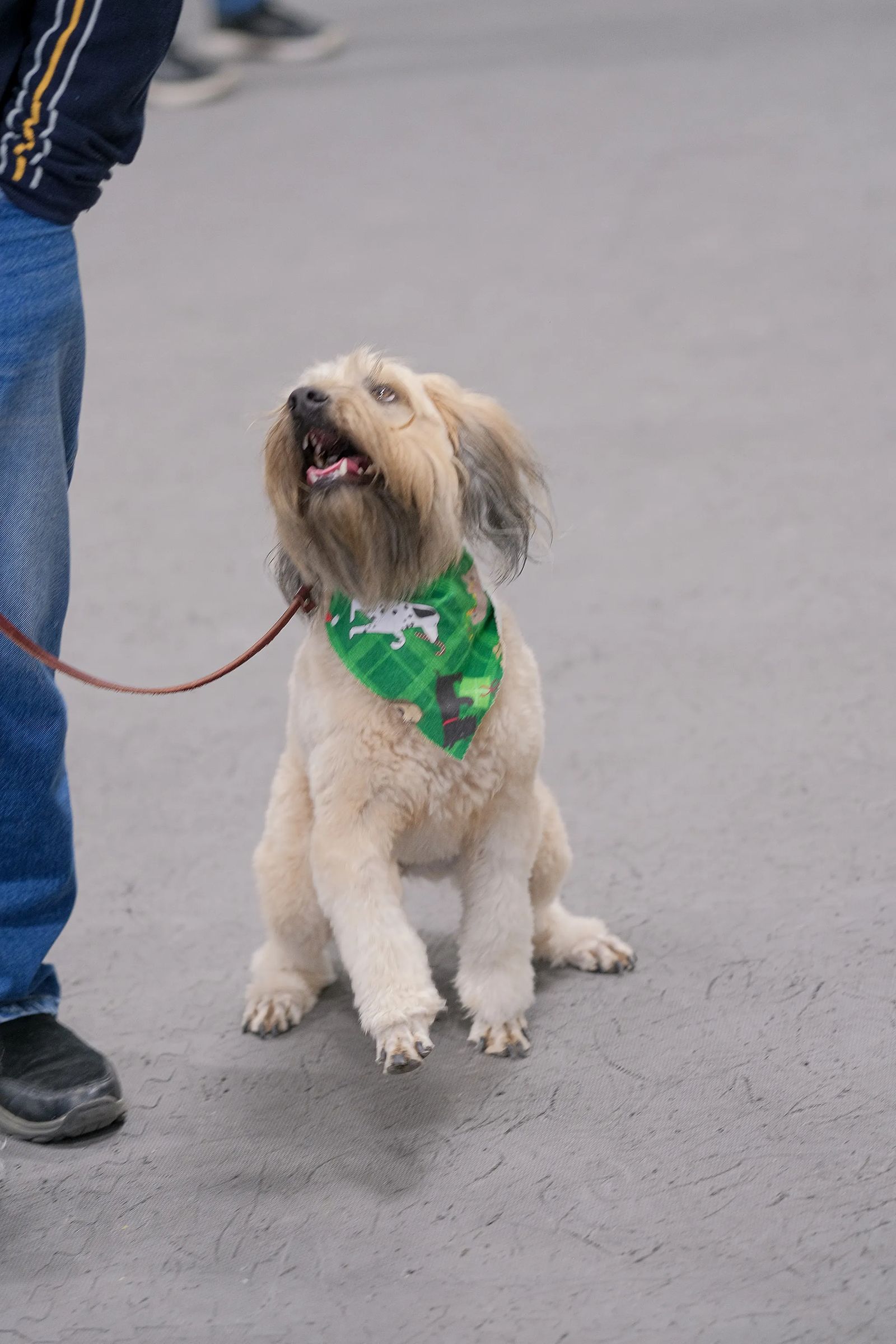 Since Dog Tag Buddies was founded five years ago, the organization has helped hundreds of veterans and has expanded to include trainers and facilities in Helena, Great Falls, Kalispell, Polson and Missoula. DeeDe's goal is to have a Dog Tag Buddies trainer within a two-hour drive of every town in Montana. Dog Tag Buddies trainers have a combined 100-plus years of experience and two are veterans who intimately understand the military experience.
Some veterans come to DeeDe through the Dog Tag Buddies website, but they're often referred to the program by mental health professionals. To qualify, veterans must have a diagnosis of PTSD or a traumatic brain injury and qualify for disability. What follows is a face-to face interview process and a waiting period as DeeDe and her team of trainers search for the perfect dog. Once they find a suitable dog, a meeting between the dog and the veteran is set up.
"We can tell if it's a match in about the first 30 seconds," DeeDe says, adding that she always holds her breath until she sees that "spark" where both dog and veteran connect.
Then, the veteran and his or her dog go through training together. While some veterans benefit from a companion dog, others benefit from a service dog. Service dogs are specially trained to support someone with a disability and assist them in the activities of daily living. Dog Tag Buddies provides training for both companion dogs and service dogs.
"Service dogs need to be able to perform anywhere, anytime and under any kind of distraction," DeeDe says. "It takes a lot of commitment to train a service dog."
DeeDe networks with shelters and rescue organizations across the state. She's developed an eye for choosing good service dogs. She's looking for a dog that's in tune to people, not aloof or nervous, eager to please and with a neutral personality. The dogs stay with DeeDe and the training staff for 30 to 60 days to determine if their temperament is right for service.
"I'm looking for a dog that really wants to connect with somebody," she says.
The real transformation happens when the veterans and their dogs start training together.
"Here they're going to connect with other veterans, and they are bonding over training a dog and they understand the day-to-day struggles and challenges they all face," DeeDe says.
Often veterans who come to Dog Tag Buddies are isolated because of PTSD. A service dog allows them to reconnect with family, develop trusting relationships and get out into the world. They're able to do things with a dog that would've been impossible before, and in many cases, service dogs improve the experience of an entire family.
"If veterans are living a better life then their families are living a better life," DeeDe says.
U.S. Air Force veteran Martina Gunter and her dog Willie went through service dog training with Dog Tag Buddies and the experience has been life-changing.
"As soon as I started training Willie it became apparent that there was nothing more that this dog wanted to do than to take care of his person," Martina says.
The training took about a year, and now Willie goes almost everywhere with Martina. She makes frequent trips to the West Coast, and having Willie with her alleviates all her anxiety about traveling alone. While it's not possible for everyone, Martina says she was able to discontinue her counseling sessions because of the security Willie provides.
"He's my sidekick," she says. "He's always there with me no matter where I go."
It's stories like Austin's and Martina's that feed DeeDe's passion, and seeing veterans empowered through a service dog is something she never tires of seeing. Dog Tag Buddies is her life's work, and a job she treasures.
Even now, five years after the start of Dog Tag Buddies, Deedee says, "I get more from them than I give."
DOG TAG BUDDIES is supported entirely by donations and grants. To learn more about the services or to donate, visit dogtagbuddies.org. If you or someone you know is a veteran living with PTSD and could benefit from a service dog, the application can be found on their website as well.