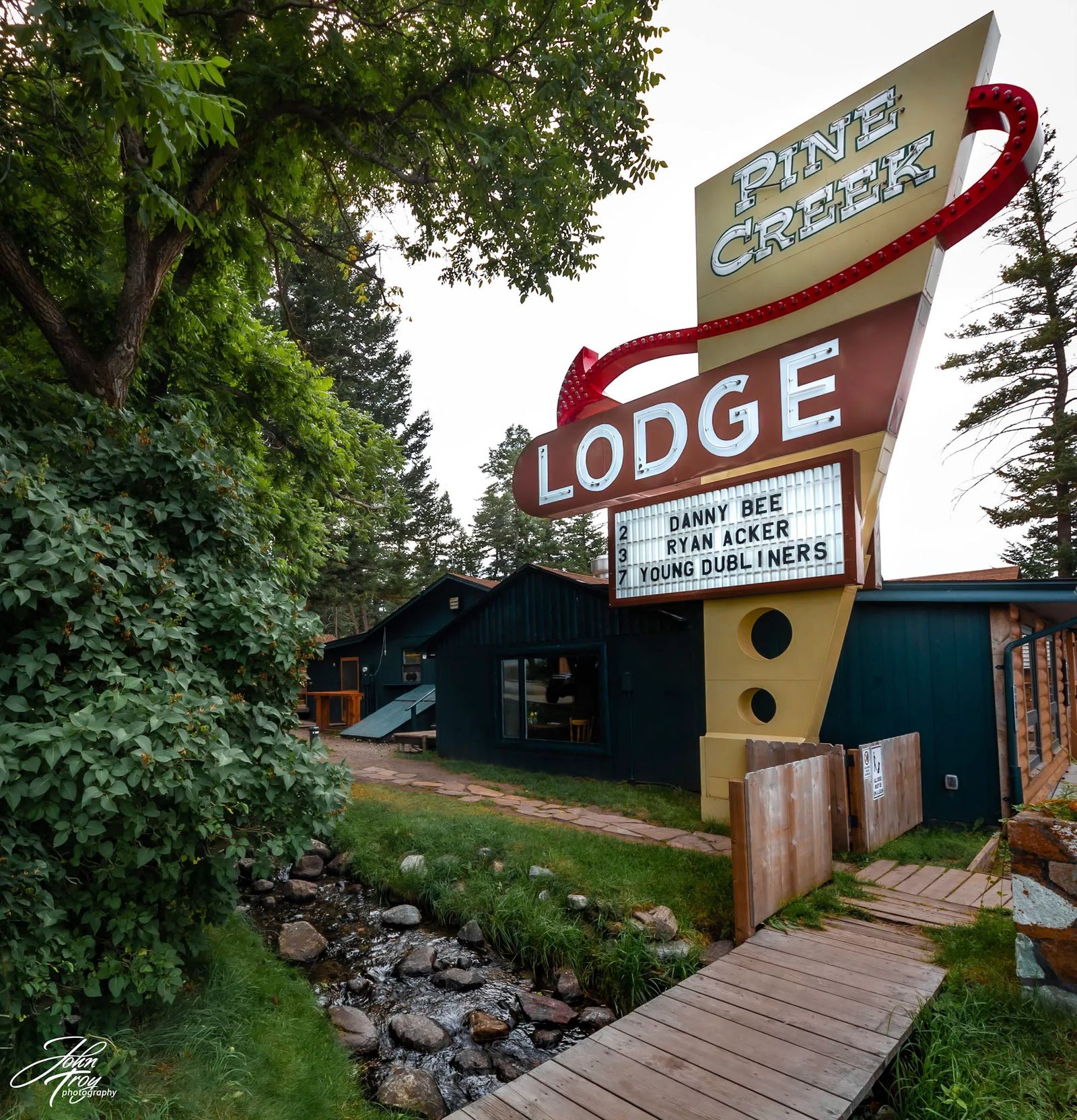 A Piece of Paradise
Our trip to Pine Creek Lodge
If you've had it, COVID fever that is, you know the symptoms – a reckless desire for normalcy marked by feelings of discontent, longing and restlessness, often accompanied by acute wanderlust. Stricken with a serious case, we set out, Mr. Wonderful and I, with Little One and the two dogs in tow, looking for a cure. Our destination, Pine Creek Lodge, was just the cure we needed.
Located about 10 miles south of Livingston just off US Hwy. 89, Pine Creek Lodge is a live music venue and restaurant with shipping containers cleverly converted into overnight accommodations. It's one of those enchanting "only in Montana" places that has so much personality it's a little hard to describe.
Perhaps Jenny Arr, co-owner, describes it best, albeit in a somewhat understated way, when she says, "It's a little gem, a little off the beaten path in Paradise Valley where just about anybody can drop in for a beer, a meal and maybe a great show under the stars."
Pine Creek Lodge is named, quite obviously, for Pine Creek which runs behind the stage and through the outdoor dining space. We were lucky to be able to reserve a cabin on short notice, and even better, there was a free show that night.
We piled out of our SUV, and while Wonderful and I unloaded our things, Little and the dogs explored the grounds, splashing into the creek first, then rock-hopping around the massive fire pit. We retreated to the deck outside our container-turned-cabin with a couple of beers and watched as the outpost came to life.
The six cabins may look alike, but each is uniquely decorated with a kitschy collection of one-of-a-kind thrift store finds. Designed mostly by Jenny, with help from a friend who is an interior designer, the esthetic is eclectic and fun without looking messy or thrown together. All the necessities were there including a comfortable bed, a mini fridge, table and chairs and a twin-sized window seat for Little.
We'd never heard of the Portland-based folk duo on the schedule for that night's show, but as it turned out, they're the kind of mellow singer-songwriter sound we like. Dead Lee's Brian Koch, current and founding member of Blitzen Trapper, and his partner Kara Harris rolled in behind us, followed by Ian Thomas, a local singer songwriter who also performs with his "Band of Drifters," a local favorite at Pine Creek. They leisurely began setting up their equipment under the timber-framed stage.
Jenny's partner, Chip Hurt, does all the booking for the artists, and he's managed to attract some well-known bands, including Young Dubliners, Lucero and the Old 97s.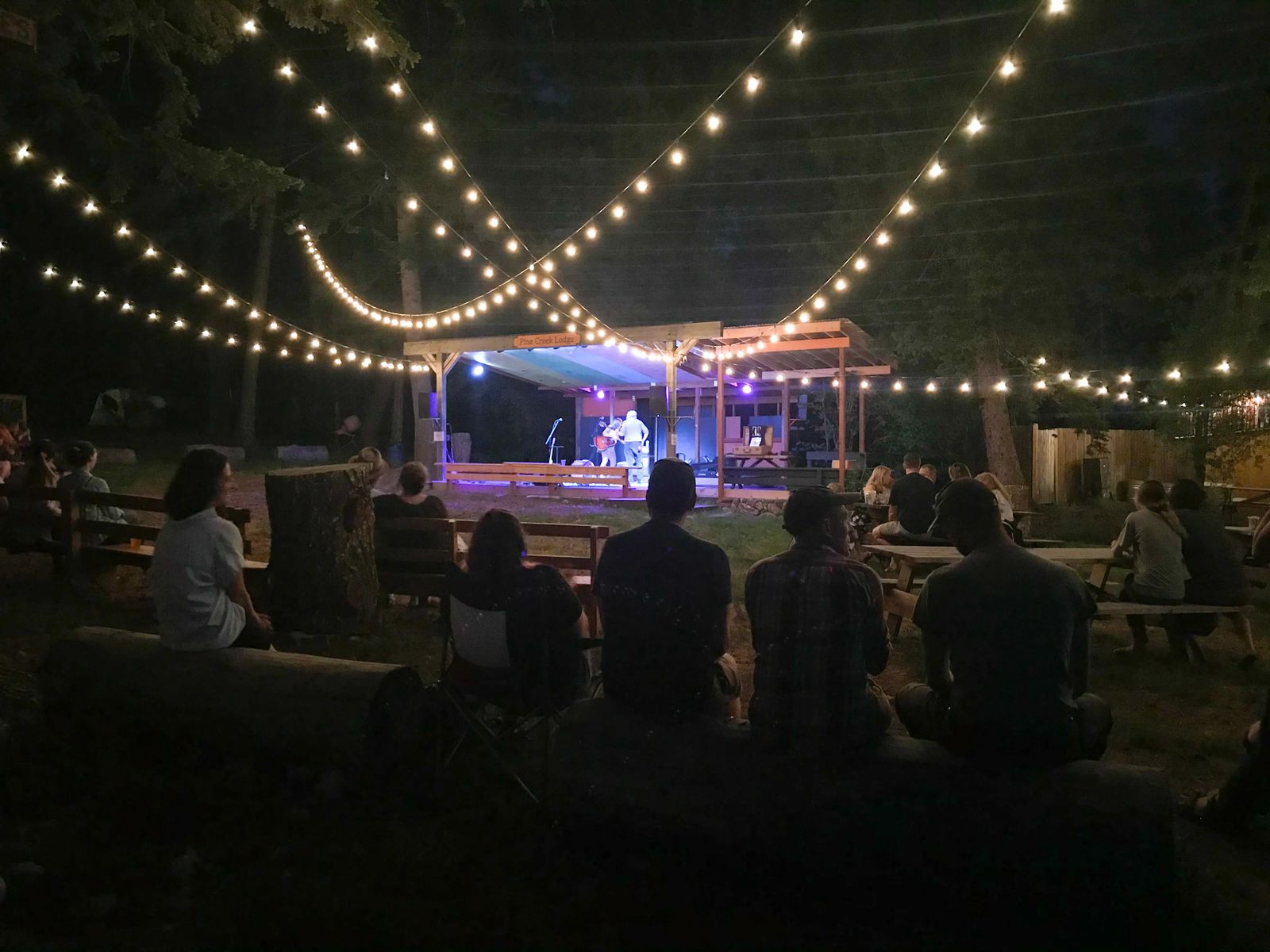 Band members who play on Pine Creek's stage leave their mark on the ceiling, and the towering pine trees hold signs listing the various acts that have played at Pine Creek. Thanks to Chip, Pine Creek's calendar includes shows, both free and ticketed, most Thursday, Friday and Saturday nights all summer long. On Sundays, local singer-songwriters play on the beer garden patio during brunch.
Chip and Jenny are passionate live-music fans, and when they bought Pine Creek Lodge in 2016, they had visions of a music venue in mind. What they have created is a retreat for music lovers, both those who play and those who partake. It's an intimate space, and while we were told it could hold 1,000, it was hard to imagine that kind of crowd gathered among the trees and rough-hewn benches and picnic tables.
On the night we were there the crowd was a perfect mix of music lovers from Livingston and Bozeman, a few tourists from a nearby guest ranch, travelers from area campgrounds, and a collection of visitors like us staying at in the cabins and tent sites.
Koch and Harris were masterful musicians. She started on the acoustic guitar and he on the electric guitar, and they traded instruments throughout the set. Some of their original songs were beautifully eerie as they wafted among the pines.
"Man, do you ever get tired of these views?" Koch asked the crowd, pointing with his guitar pick in hand toward an opening through the shaded pines, framing a glimpse of the Absaroka Mountains and the rolling foothills.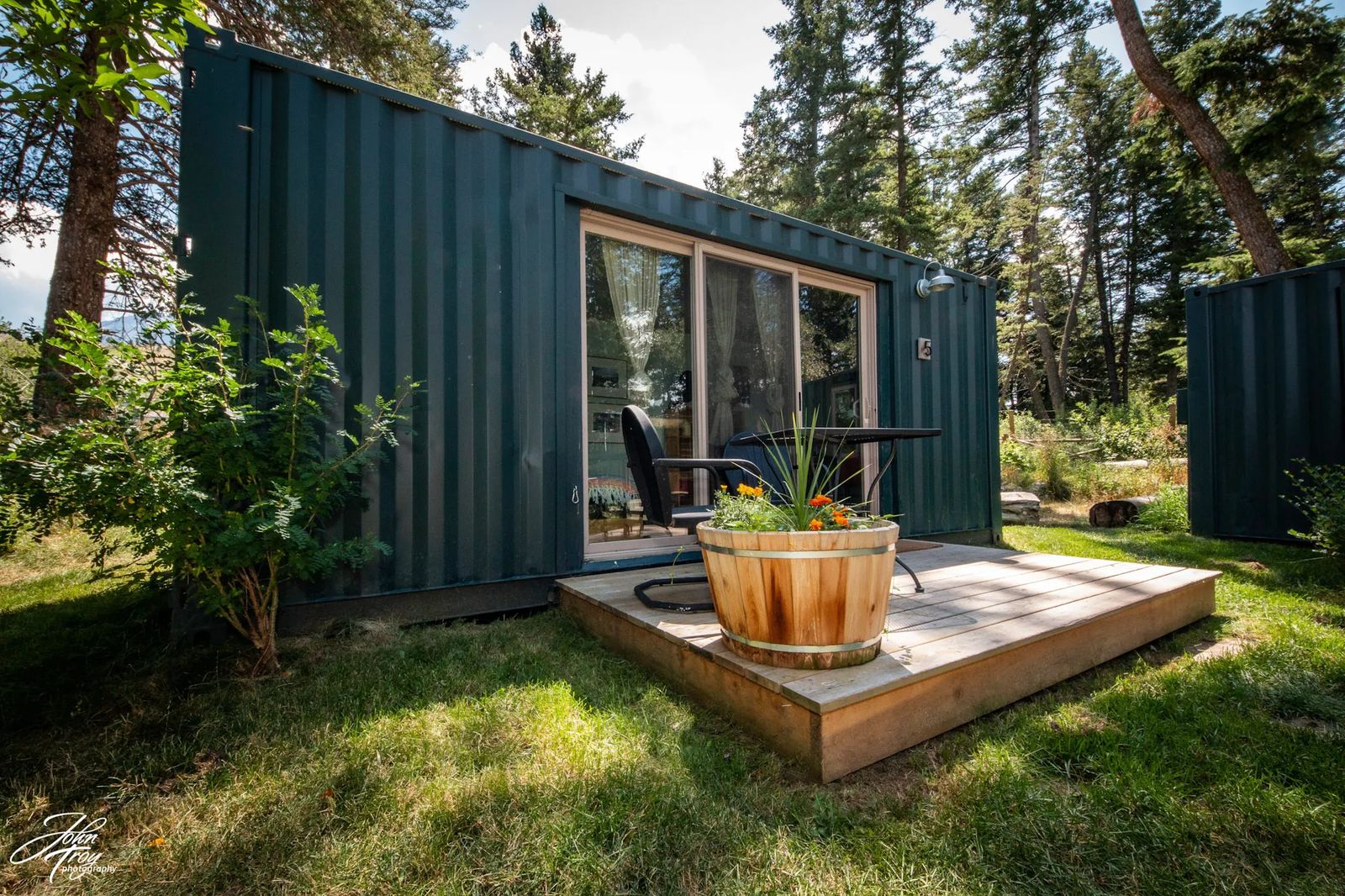 Pine Creek Lodge is decidedly dog friendly – so long as they stay on a leash — and there were plenty of them there that night, from a collection of little shih-tzus at a table of women celebrating a birthday, to our mastiff mix and everything between. Jenny and Chip's old lab Gary is always there, though he sleeps through most shows.
Pine Creek Lodge's restaurant is open nightly for dinner, and its fun roadside-café-inspired menu makes it a destination in itself, with lightly fried Wisconsin cheese curds for starters, as well as an authentic Chicago dog and BLT and steak sandwiches. For those with a heartier appetite they also serve a ribeye steak, and for variety, the menu holds such surprises as a trout filet and tikka masala. Dining is scattered throughout various rooms, each with its own rustic personality.
The restaurant's menu is available only for diners inside, but concertgoers aren't left out. They can grab a bite at the window at the back door of the kitchen. That night's offerings included a generous coconut curry or BBQ pork sandwiches. House-made chips were an awesome addition, with just enough salt to make a second (or third) beer a welcome necessity.
They offered a good selection of regional brews on tap, including a Pine Creek Pale Ale brewed by Neptune's Brewery in Livingston. Many more varieties could be found in cans and wine was available as well.
Little spotted a row of six colorful rubber duckies perched on the edge of the bar, and before she could ask, bartender Megan Hennekens said. "Sure. You can play in the creek."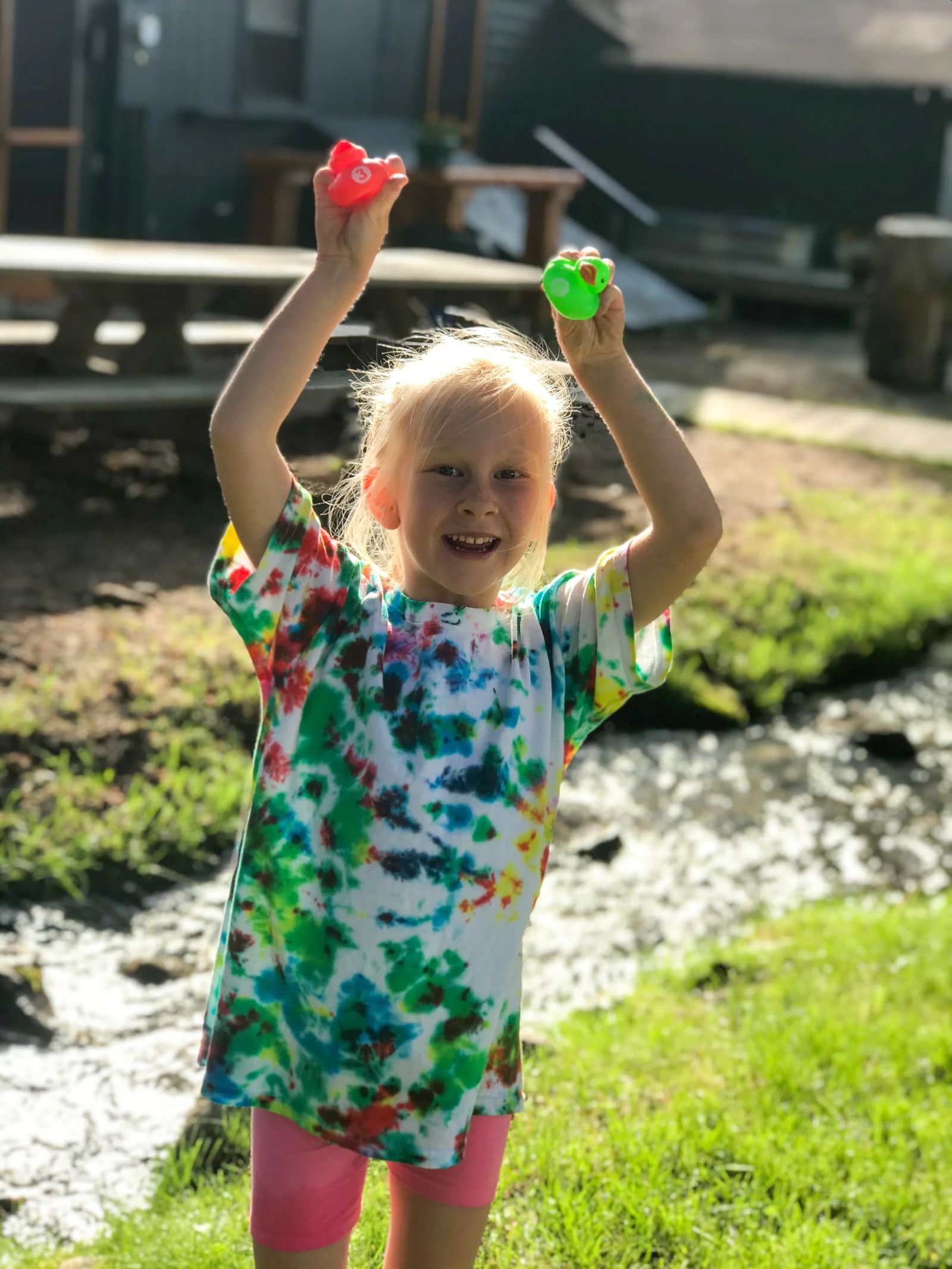 Little started with one, dropping it in upstream and running down the bank to catch it before it floated under the footbridge. Before long she was racing two ducks, then three, then four. Everyone at the tables along the creek cheered for their favorite duck, making bets on which one would win. Little covered miles of creek bank, running up and down, with the energy only a 5-year-old could muster.
As the night went on, we posted Little up in the cabin with her favorite Netflix selections and caught the end of the show from our deck. After the show, impromptu jam sessions broke out and carried on late into the night.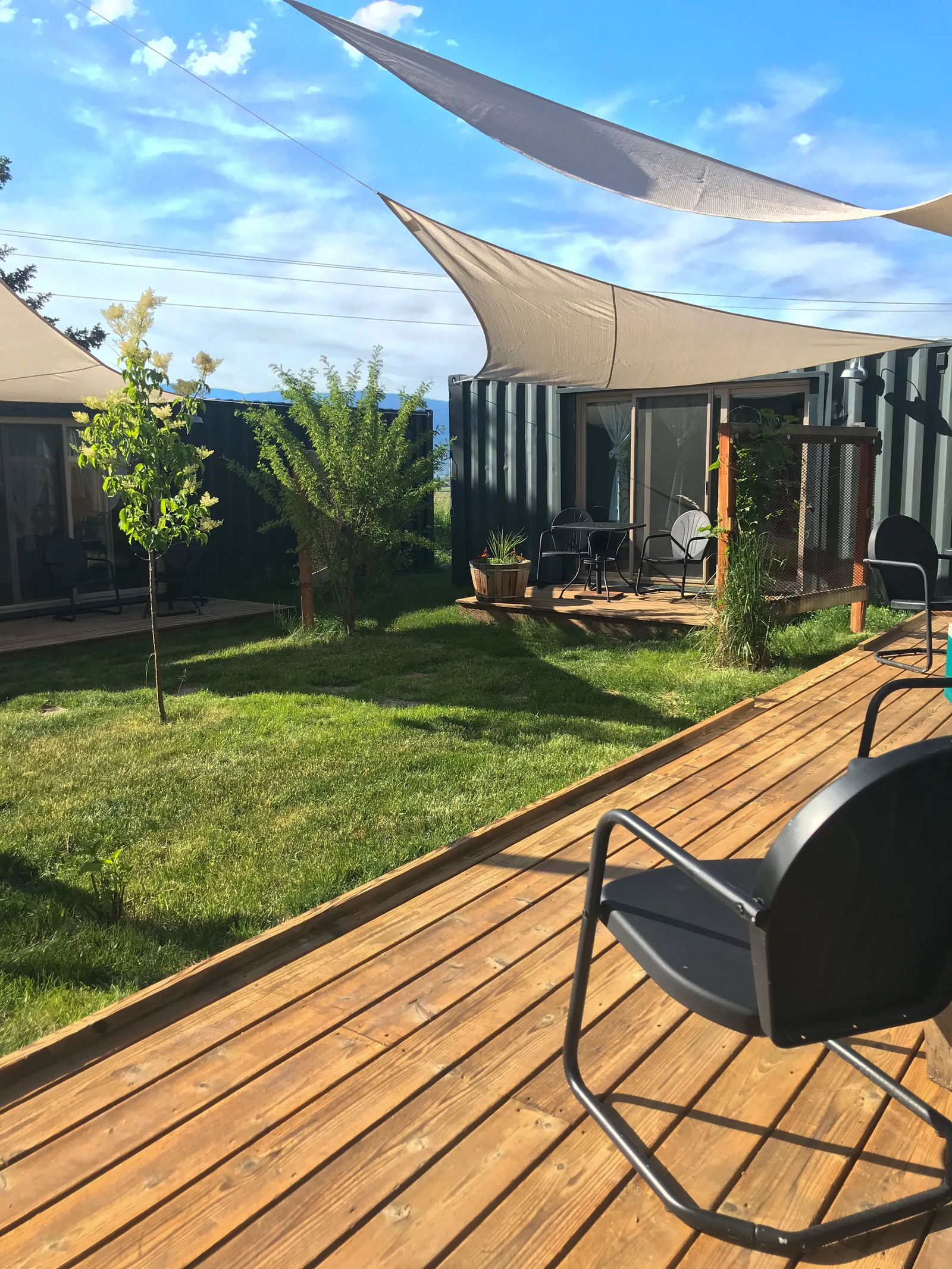 Despite the late (for us) night, we woke with the sun and brewed coffee on our backpacking stove on the deck. Looking out over the still, quiet grove of pines made the night before feel like a dream. Before anyone else stirred, Wonderful ran to Wildflour Bakery in Emigrant, just a few miles south on US Hwy. 89. He arrived just as they were pulling caramel rolls out of the oven and brought them back to tide us over until brunch.
Brunch at Pine Creek Lodge is every bit as delicious as dinner. In fact, the menus overlap a little with some popular items, including the PCL Burger and SXSW Sandwich, appearing on both. Brunch is served outside during the summer, and on Sundays there's always music on the small beer garden deck. Our trip included a performance by Bozeman singer songwriter Amanda Stewart.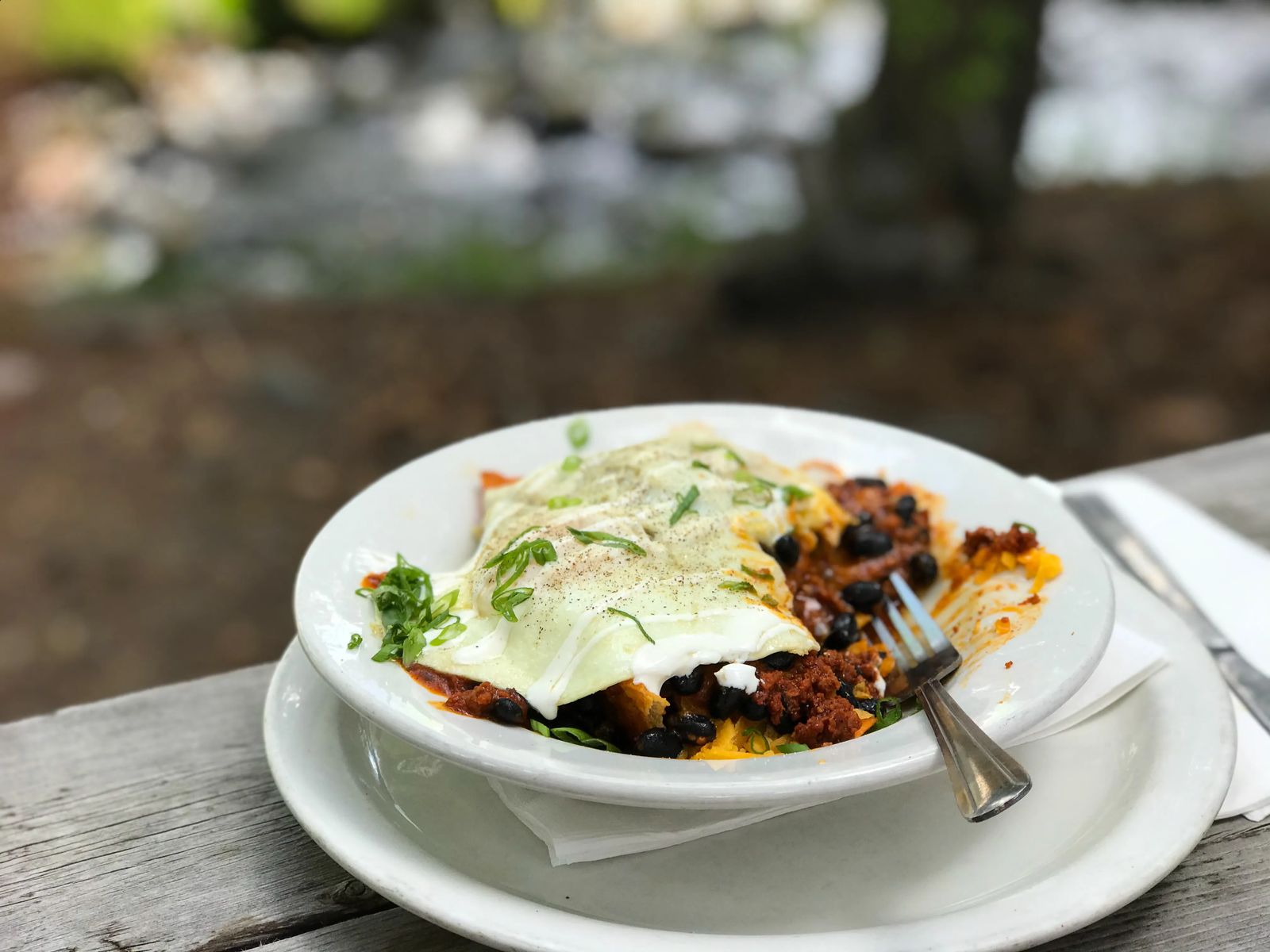 Megan was behind the bar again, with fresh racing ducks, serving up sake bloody Marys, red beers and mimosas. Little got the races started as a couple from Michigan sat down with their 13-year-old golden retriever, Bella. The old girl lay down in the creek, lapping at the water. She perked up when the ducks floated by, but with the wisdom and generosity of an old dog, she let them be. Bella's owners come to Pine Creek Lodge every time they travel through.
The server, with a soft spot for old dogs, came over to ruffle Bella's graying ears and share her own old-dog stories. The one who stole her heart was a black lab, who up until last year would come to work with her.
When brunch was over, there was no hurry to leave, but having taken in as much music, beer and good food as we had, we were running out of reasons to stay. Megan let Little choose a duck to take home, and as we piled into the car to go, Bella stood and barked a farewell.