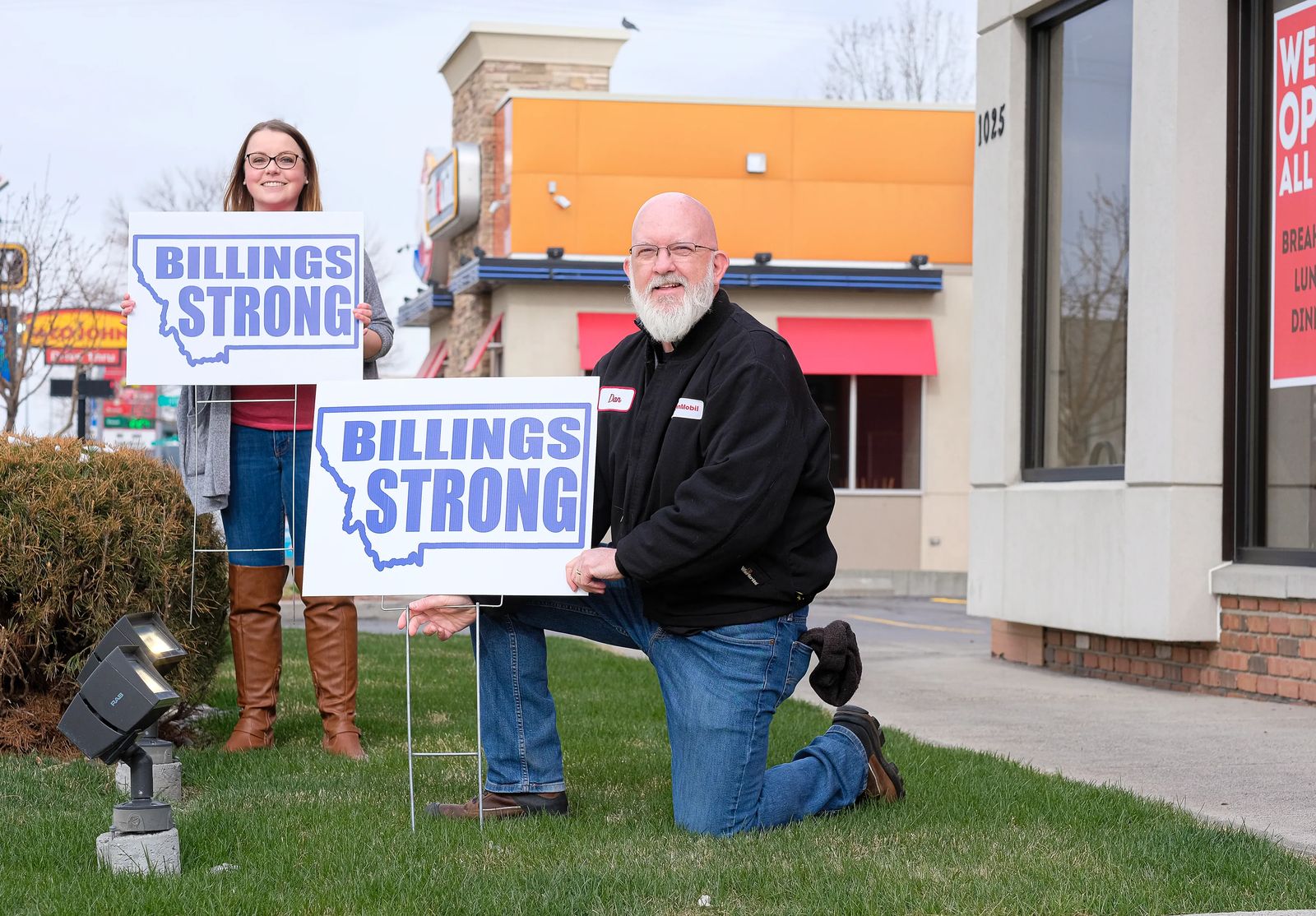 A Sign for the Times
Grassroots effort shares the Billings Strong message
Planted firmly in front of the Wendy's restaurant at 10th Street West and Grand Avenue sits a white sign showing the outline of Montana and the words "Billings Strong." The yard sign might be simple in design but its purpose is powerful, and at least a few Billings residents hope the message of "Billings Strong" pops up all over the city.
"I saw a picture of a sign in Butte that was being put up around the city," says Jonna Jones, one of the masterminds behind the campaign. She sent the photo to friend Dan Carter and from there, she says, "We both thought it was something we could easily make work in Billing to help build a sense of community pride and spirit."
The mission would be to spark a wave of community pride that could be used to give back to the city's most vulnerable.
"There are a lot of needs in the community and those needs will be exacerbated once the COVID-19 pandemic fades into our memories," Dan says. "We are both lucky to work for companies that are committed to making our community a better place, and we do what we can to get things done."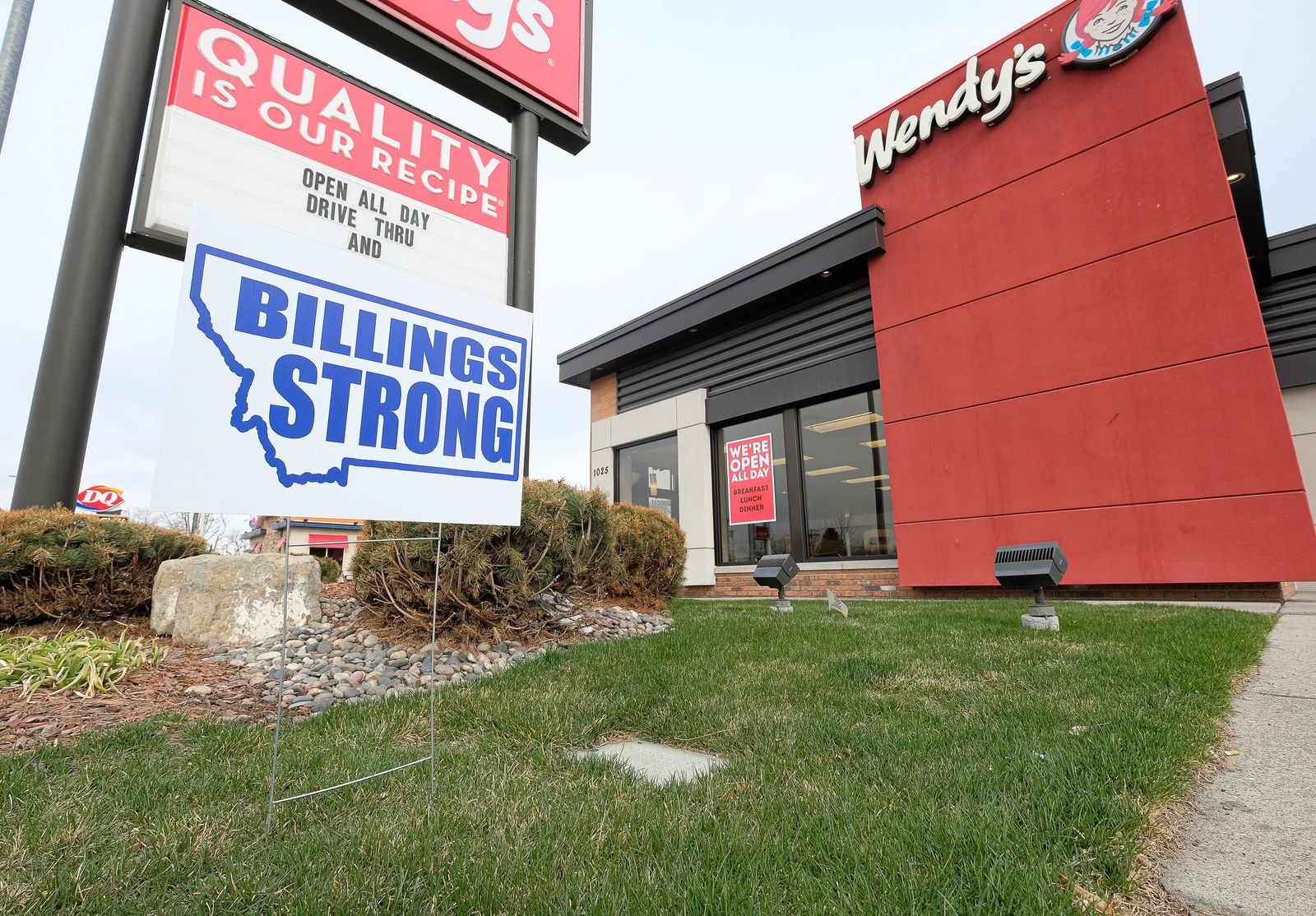 Jonna works as the director of marketing for Wentana, the company behind our local Wendy's restaurants. Dan works in the government and public affairs department at the ExxonMobil Billings Refinery. "We both have limited funding, but as a community, we believe a portion of funds from these signs will help nonprofits such as Tumbleweed, Big Brothers Big Sisters, NAMI and others who help populations at risk," Dan says.
As the idea blossomed, Ultra Graphics moved on in to help handle the printing of each sign. They also helped launch the website www.billingsstrong.com to help sell the signs. Leif Wellhaven, a Billings business consultant, jumped on board to help with the transaction piece of the campaign. Production will roll out in batches to keep the cost down and the proceeds as high as possible.
It's a grassroots effort that both Jonna and Dan hope resonates with people.
"I love Billings for a lot of reasons," Dan says. "I like the diversity of the economy, the can-do spirit of many people who have their roots in Eastern Montana and the high plains, and the resilience of all who have businesses here. We all know Billings is a good place to work, raise our families and have fun. Sometimes, we just have a hard time showing that we truly are Billings Strong."
The duo doesn't really have a fundraising goal. They'll be happy with any amount of money this campaign is able to raise, saying that during times like these, every little bit helps. They also hope the community pride continues to build, long after the coronavirus and its impact fade.
"Neighborhood by neighborhood, we hope this instills a long-term sense of community pride," Jonna says. "There are many people right now who are wondering when they can re-open their business or if their job will still be there once May and June rolls around. But if we can show solidarity and support to hang in there — no matter what —we will truly be Billings Strong."
TO LEARN MORE about this campaign or to order your Billings Strong sign, visit billingsstrong.com for more.