A Voice for Her
Sexual exploitation survivors join Her Campaign to deliver a message of hope
"We endured pretty traumatic sexual abuse. We were born into a cult."
That's how sisters Jessica Anderson and Catie Reay's story begins. During the 1990s in Billings, the girls' parents were members of Curly Thornton Ministries, reportedly a cult of roughly 100 people who believed Emmett "Curly" Thornton was training them to be a part of the "army of God."
Both had been abused from birth until about the age of 10.
Before a crowd in Casper, Wyoming, last April, the two shared their story of abuse, manipulation, coercion and betrayal at an anti-human-trafficking event. Known by friends as the "Power Sisters," they are using their voices to bring a strong message for sexual exploitation survivors.
"We want people to know that there is freedom. There is healing," Catie says. "There's wholeness and full restoration on the other side. Jessica and I are living testaments that joy and peace is absolutely possible."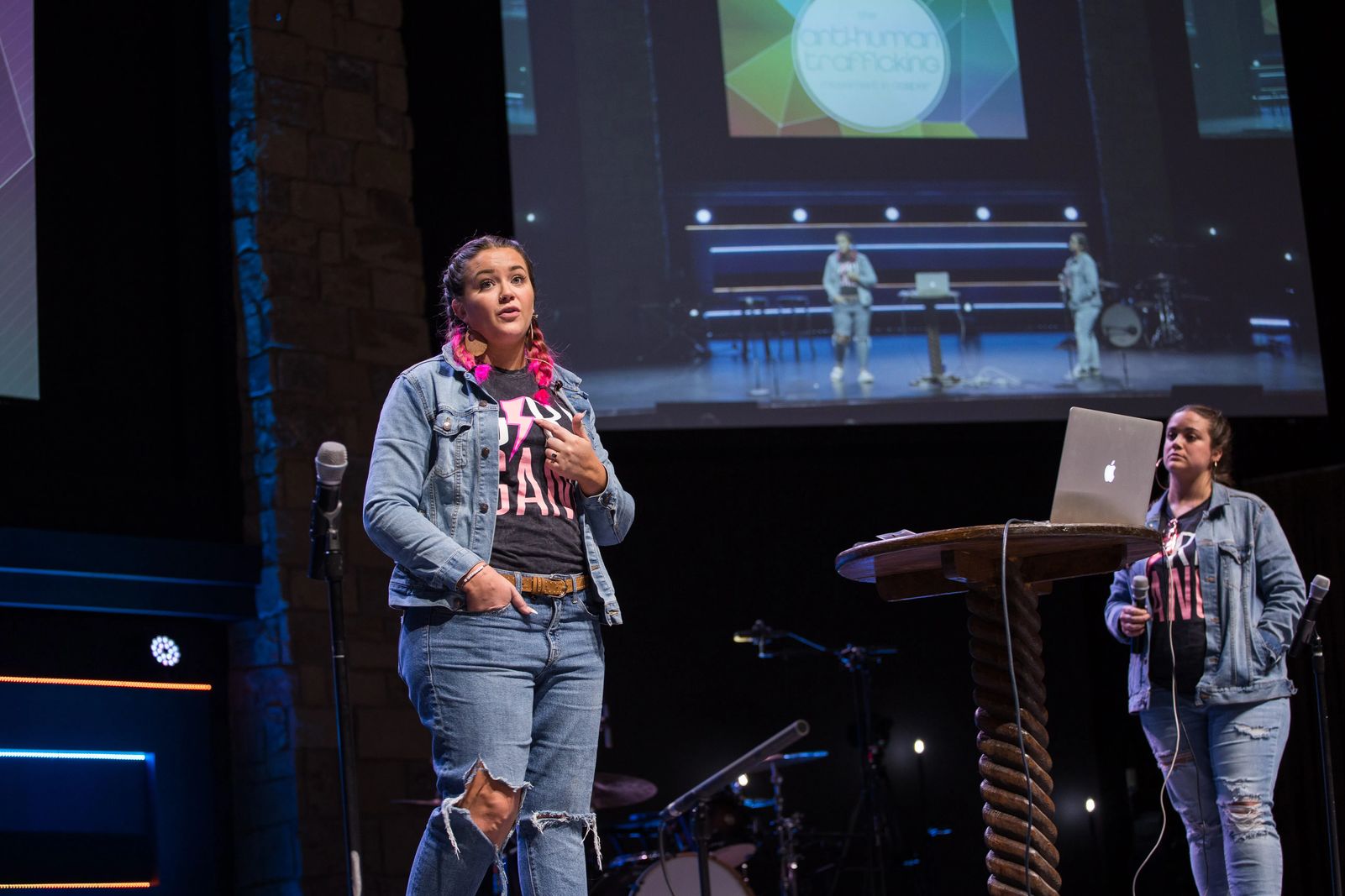 It took more than a decade for both sisters to get to this stage of healing. They've withstood years of therapy to peel back the layers of trauma.
"I don't remember a lot," Catie says. "What I do remember is a lot of people who I didn't know personally having very intimate places in our life," she says. "The rape, the writing of bad checks, the sexual exploitation happening inside the cult, it was brought home into our family unit. Long after we left the cult, that was still happening." Catie says a family member was her abuser. Her father was Jessica's.
After Jessica told her youth pastor's wife, she says law enforcement got involved and her abuser, her father, ended up serving time in the Montana State Prison on two counts of incest.
"We've both been able to forgive our abusers and we've been able to speak that same message to so many people who have been trapped in that same bondage of bitterness and unforgiveness," Catie says.
"Once you overcome what these girls have been through and you step on the other side of that, you carry something so powerful," says Britney Higgs of the Her Campaign, an anti-human-trafficking outreach that's pulled in these sisters to help serve survivors. "These survivors — they are the ones who are going to cut through the darkness of our world."
The two women shared their stories not only at an anti-human-trafficking event in Casper this past spring, they spoke at the Ecosystem of Survivor Care Conference last January in Bozeman.
"I felt like my whole body was on fire," Catie says of the healing experience.
The two launched what they call "A Voice for Her." It's a private Facebook group where survivors can virtually lean on each other. Catie says, "We offer our testimony and important pieces of the healing journey." Catie also created a 12-part series on TikTok, where she shared her story of sexual exploitation.
"A ton of my videos from my personal story went viral. From there, more survivors came to my page. I had a lot of sex workers that ended up on my page and a lot of strippers because of the particular content that I was creating." Now, she's reaching just shy of 280,000 followers on the social media platform. "I was sending a message of love and light and freedom to some of the people who needed to hear it the most," she says.
As the sisters' message gains momentum, Catie is hoping to connect with lawmakers to spark legislative change to the education system.
"I want to get legislation created that would mandate teachers to be trauma-informed care trained so fewer children like my siblings and I fall through the cracks," she says. During the time of her abuse, she went to Big Sky, Meadowlark and McKinley Elementary Schools in Billings. Not one teacher spotted a red flag in her behavior.
"There were so many people along the way who could have seen the behavior displayed from my siblings and I and immediately said we need to get these kids help," Catie says.
Today, both women are wives and mothers. They feel their purpose now is to help other women who have faced intense sexual trauma. While they don't know how that will play out in the future, they say they will go where they are called.
"I know that every time I share out loud and every time I say there is freedom. There is healing. There is full circle restoration, it becomes more solidified in me," Catie says. "The truth that the little girl inside me was never going to be abused again set me free."
YOU CAN FIND Catie Reay on TikTok under the handle catiereay. To keep tabs on anti-human-trafficking events they might be a part of, visit hercampaign.org and click on Events.