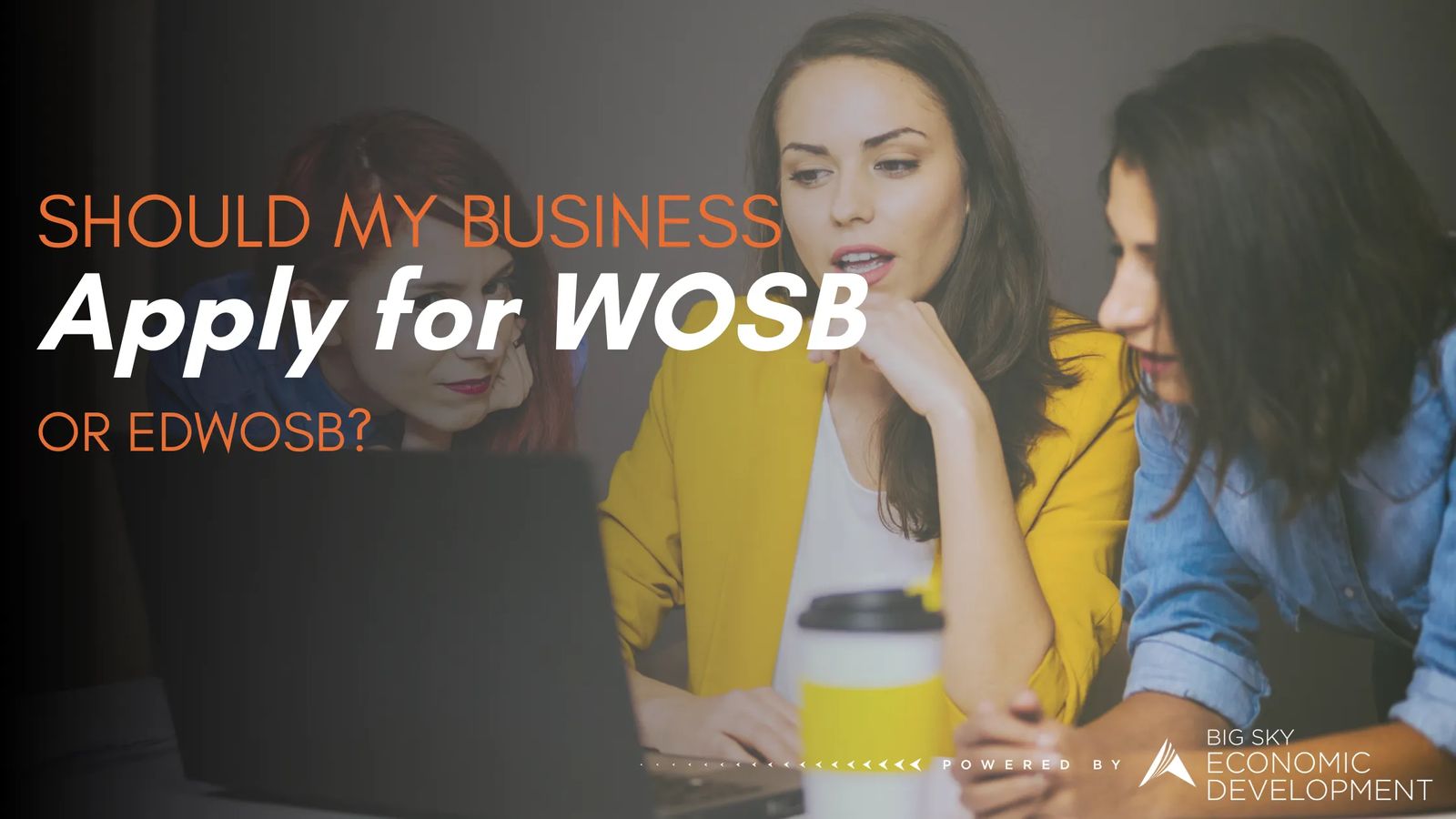 By: Rosalind Dix | Government Contracting Advisor
SHOULD MY BUSINESS APPLY FOR WOSB OR EDWOSB?
Now that the SBA has formally taken over the certification process for the Woman Owned Small Business and Economically Disadvantaged Woman Owned Small Business (WOSB/EDWOSB) program, many businesses are wondering which one to apply for.
The differences in the certifications have to deal with the NAICS codes that the business operates under and the personal net worth of the woman or women who have the majority ownership in the business.
WOSB/EDWOSB NAICS CODES EXPLAINED:
SBA has designated certain NAICS codes as underrepresented by women in specific industries. Some codes are eligible for EDWOSB set-asides and some are eligible for WOSB set-asides. This means that when the federal government sets aside an opportunity for WOSB or EDWOSB, they can only utilize the codes that the SBA has specifically designated. This list can be found by clicking HERE.
Per SBA, all EDWOSBs are also WOSBs but not the other way around. This means that if a woman owned business is certified as an EDWOSB and is pursuing an opportunity that is set aside for WOSB they are allowed to do so. However, if a WOSB is pursuing an opportunity that is set aside under a NAICS code designated for EDWOSB, they are not eligible to bid on that opportunity.
PERSONAL NET WORTH CRITERIA
WOSBs are not required to submit any financial information. EDWOSBs are required to meet all WOSB requirements plus the following:
Be owned and controlled by one or more women, each with a personal net worth less than $750,000
Be owned and controlled by one or more women, each with $350,000 or less in adjusted gross income averaged over the previous three years
Be owned and controlled by one or more women, each $6 million or less in personal assets
For a full list of eligibility requirements for both designations CLICK HERE.
WHAT TO CONSIDER WHEN DECIDING WHICH DESIGNATION TO APPLY FOR.
What NAICS codes does my business operate under? Are they designated as EDWOSB or WOSB?
If all of your NAICS codes fall under WOSB, it may be worth just to apply for WOSB and not worry about providing the extra financial information to SBA.
Do the majority owners that are women meet the personal net worth criteria stated above?
If your business meets the personal net worth criteria, but only operates under NAICS that fall under WOSB you could still apply for EDWOSB and be eligible for set-asides that are assigned a code for WOSBs. Remember: All EDWOSBs are also WOSBs but not the other way around!
BUT WHAT IF MY BUSINESS MEETS THE ELIGIBILITY CRITERIA FOR WOSB/EDWOSB BUT THE BUSINESS DOESN'T OPERATE UNDER ANY OF THE SET-ASIDE ELIGIBLE NAICS CODES?
Answer: You can still apply!!! Woman owned businesses that meet the eligibility for WOSB or EDWOSB can still get certified. Some woman owned businesses simply want the designation or perhaps they are working on projects outside of federal contracting where this certification is a requirement or helps those entities meet their own internal diversity goals.
When it comes to federal contracting, the WOSB/EDWOSB firm in this instance would not see any federal opportunities set-aside for WOSB or EDWOSB because the codes they operate under are not on the SBA's approved list.
If you are thinking about applying for WOSB or EDWOSB contact your nearest PTAC to help you! Find a list of PTAC Advisors that serve your area.