Artistic Expression Takes Flight
Pam Heine brings a new style with The White Feather Boutique
At the White Feather Boutique, Pam Heine helps individual expression take flight. At the intimate shop located along an industrial section of Moore Lane, she loves the one-on-one service, helping customers pick outfits to fit their own unique style, whether it's urban cowgirl, rustic, vintage or rocker. She's got it all.
When you step through the door, Pam says, she hopes "it brings a little spark to everyone who comes in to maybe step out of their comfort zone." She adds, "Everyone deserves to feel good, maybe even a little sassy in what they wear."
On this day, she stands in the 600-square-foot boutique space wearing black fishnet stockings and tall, black, laced boots. A ripped jean jacket drapes over a T-shirt dress emblazoned with the words "Wildest Troublemaker," while a rose gold wig styled in a long wedge covers her short black hair. Underneath it all, from the top of her left arm down the side of her left leg, a tattooed trellis of flowers cascades down towards her ankle.
At 52, even with countless accomplishments, she says still feels like "a late bloomer in getting comfortable with myself."
If you look to Pam's own style and spirit, it mirrors that of a graphic novel super heroine. Over the years, she's had her share of battles and victories that have strengthened her. On any given day, she might help people get their health on track at her gym, Plaza Fitness, located next door to the boutique. Other days, you might find her bringing strength and care to loved ones in failing health.
Growing up in Laurel, she found independence at an early age. With parents who worked full time, she admits to being rebellious, "pushing me to be my own person."
Art classes resonated with her in high school. "I am a visual learner. I am horrible with numbers," she says. "I like being expressive and creative." At that time, though, expressing herself came by way of alcohol and drugs.
After high school, a nanny job in Maryland provided a quick escape. After that short stint, she found herself at the mall one day approaching recruiters and joining the Air Force. She says her military experience was "delayed because I was so overweight." After getting in better shape, she was off to San Antonio, Texas, for basic training. Although the time was difficult, she managed to pass with one infraction, getting in trouble for wearing makeup.
Life ultimately led her back to Laurel. "I bar-tended up until I got pregnant," she says of working at the Palace Bar and Lanes. "I thought I never wanted kids until I felt the baby kick. It was instant love," she says, tearing up. "I was surprised of loving something so much." She eventually married her child's father, moved to Arizona and become pregnant again, giving a brother, Zach, to her eldest son, Connor.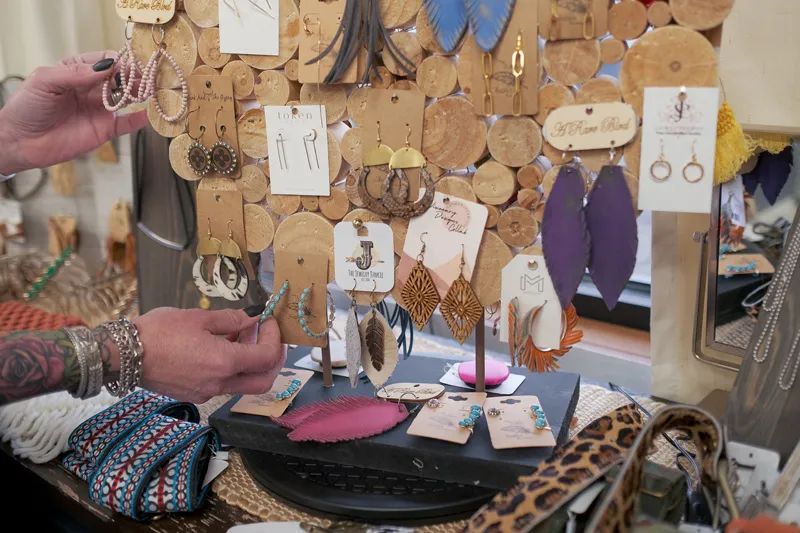 Her second pregnancy required bed rest for the last three months. "My mom is an amazing grandma. She dropped everything and took three months off from work and took care of Connor.
Eventually, the failed marriage brought her back to Laurel.
"As a single mom, I moved back to Laurel and got sober," she says. She says having her sons made her realize that she needed a fresh start. She went to cosmetology school for nails and worked here for several years before moving to Las Vegas and then Malta after marrying again. In Malta, she found change.
"I started caring about the way I looked. I cared about what I was putting into my body," she says. She quit her 16-year habit of smoking and started walking and lifting weights. She renewed her expired emergency medical technician certification she obtained before children and began caring for people.
Along the way, Pam became enamored with fashion. While working at a clothing store, the owner would take her along on trips to the market in Las Vegas. "I started to get into fashion when I was 32," she says. After "six winters" in Malta, she made the move back to Laurel with her sons' stepfather. After the marriage broke up, her attention turned to weight training. She eventually landed at Plaza Fitness in January 2007 to work out with personal trainer Sean McDaniel.
"She had a hard edge to her," Sean says. "You could tell she wasn't comfortable letting people inside her ethereal wall of protection."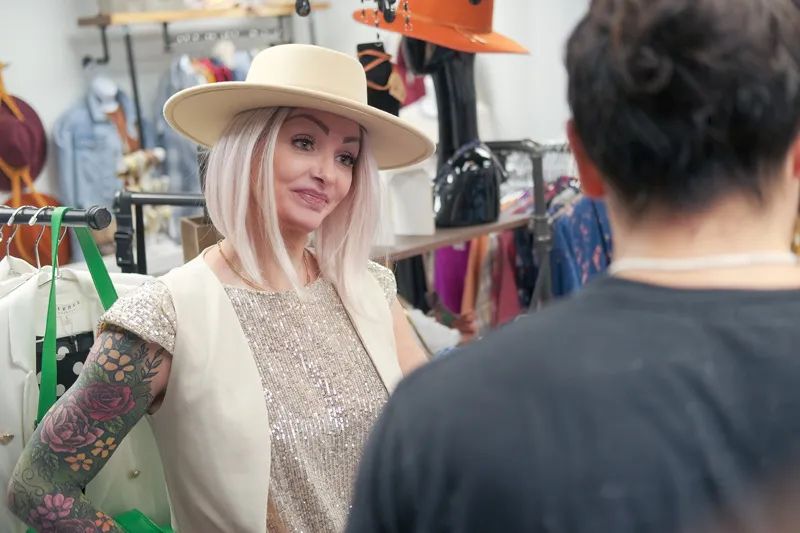 When training for her first body building competition, "I got roped into doing Mrs. Montana pageant. I was nominated for Mrs. Laurel so switched up my training," she says. Her hard work earned her runner-up status, and she won "Best in Swimsuit."
"This was when I started my love of being on stage. I can walk on stage and pretend to be whatever I wanted to be," she says, confessing to be introverted.
The surge in confidence would lead her to train for figure competitions in the natural bodybuilding circuit, where the use of performance enhancing drugs is prohibited. She ate clean and eventually won two events in 2011, which landed her in international competition. At the International Natural Bodybuilding Association and Figure Competition, she took first place in the Figure Masters category aimed at those over 40.
During that time, she married businessman Dave Heine, owner of Plaza Fitness and the surrounding complex. A few years later, he was diagnosed with adenocarcinoma cancer. For four years, the couple traveled to the Cancer Treatments Center of America in Arizona for chemotherapy. Eventually, when he could no longer make the trip, they stayed in Arizona and Pam became his caretaker.
"I always have been the type of person that in a situation will do whatever needs to be done and cry later," she says.
When he was sickest, she says, "I would lay in bed with him all day." They talked about death and heaven, and although he didn't believe in heaven, she asked him to be her guardian angel and he agreed.
After he died in the summer of 2016, while sitting in their home, a white feather dropped on the couch where Dave used to sit. On a night after she wrote a letter expressing her sorrow for his absence, she threw up the covers in her bed the next morning and says, "There was a white feather."
She'd find another on the sidewalk in front of the boutique before she officially opened her shop. "I knew Dave always kept his promises," she says. Naming her business the White Feather Boutique was only natural.
"Loving him was the best time in my life," she says. "I knew our time was limited. I memorized his arms and hands, everything about him. We should do this with everyone."
"Over the last 15 years, I have watched her spirit open up, even blossom," Sean says. "I have watched her soul grow. The quality of her character has deepened immeasurably. She became less about herself and more about caring for others — especially Dave. I watched her give him end-of-life love that could come from only the deepest of souls."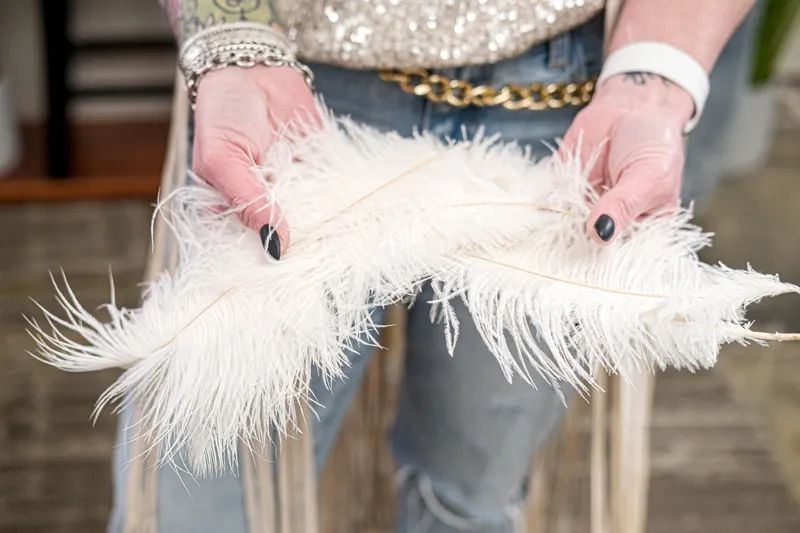 Recently she reconnected with her father, who had been absent much of her life. "Getting to know my dad has been the best gift," she says, and now, as he recovers from heart surgery, Pam is by his side.
Her compassion extends to two dogs, both rescue greyhounds named Bella and Edward. They go with her everywhere, and in the back of the store, she built them a large enclosure that she fondly calls their "apartment."
After her husband's death, members feared Plaza Fitness would close. "Half the battle is showing up," she says. Pam came back to resume her job overseeing the gym's operation. During the Covid shutdown, she refreshed the gym.
"I wanted to get away from Plaza being just a big steroid gym. I didn't want to be an exclusive gym. I want people to come in here to meet whatever health goals they have," she says.
As the gym works to build health, at the White Feather, Pam hopes to help build confidence.
"Here, you can create your own unique style," customer Trisha Kalfells says. "You don't find the T-shirt everyone else is wearing in town."
"I think we are all individuals and expressing yourself through your own style is important. It's easy to follow the crowd, here it's easy to blaze your own trail," Pam says.
These days, Pam finally admits to being comfortable in her skin.
"I love being older and realizing what's important in life — letting go of things that no longer serve me to make room for even more positivity in my life."
VISIT THE WHITE FEATURE BOUTIQUE at 131 Moore Lane Suite C, online at thewhitefeatherboutiquemt.com, or follow the shop on Facebook or TikTok.