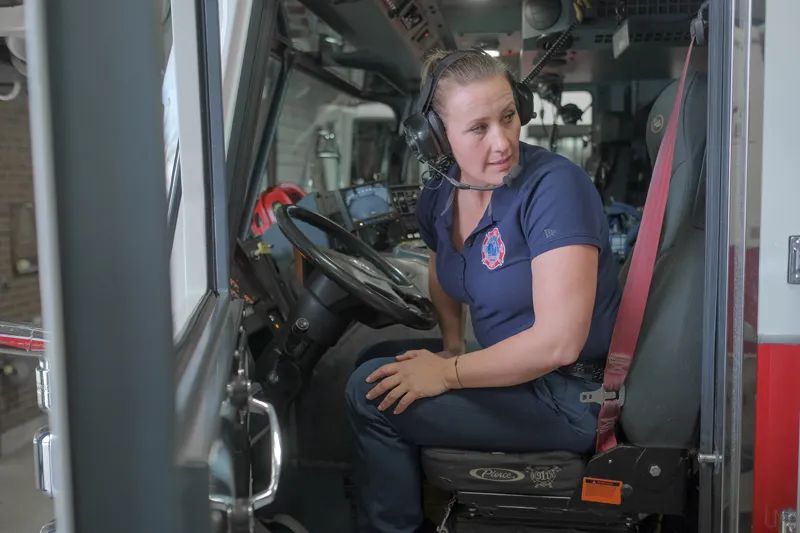 Assistant Training Chief Chelsea Thompson
Helping shape the next generation of firefighters
In high school, Chelsea Thompson had a passion for animals, and she thought her career path would lead her to become a veterinarian. Knowing how important it was to choose the right school, she joined the Netarts-Oceanside Volunteer Fire Department in her rural Oregon hometown. She hoped to use the experience to attract a little attention on college and scholarship applications.
Her focus changed, though, during a fire call in the middle of the night along the northwestern Oregon coastline. She was only 16 at the time.
"We had two people stuck on the rocks between the ocean and a cliff, one of them had a broken leg. It was too dark to launch the department's water rescue team, so the Coast Guard was called in to assist. They lit up the night sky with these amazingly colored flares that made it seem like daytime," Chelsea says, adding that as she stood waiting for orders to help with the rope rescue to haul the pair up the 150-foot cliff, "I knew right then this was my calling and what I was meant to do."
In her senior year of high school, Chelsea rerouted her education plans and started testing for fire departments. She ended up at Portland Community College's Fire Science Program. Fresh from school, a 21-year-old Chelsea was welcomed into the Billings Fire Department in 2004. She was the first female to join the department's ranks.
When asked if she was proud of that achievement, Chelsea says she didn't really have a chance to let that fact sink in.
"I literally came into the recruit academy my first day and they said, 'The media will be here at 3 o'clock,'" she says with a laugh. "I didn't know back then the impact that it was going to have and the responsibility I was going to carry."
Even today, after 19 years with the department, she admits she constantly feels the need to prove herself.
"Every time you move up, all eyes are on you to see if you can do it," she says.
It happened when she moved from firefighter to engineer and again when she moved from engineer to captain. Now, she's added "chief" to her title, serving as the department's assistant training chief.
"I've always tried to take and embrace where I am and show this is a career for females because it wasn't a huge thing when I first started," she says. Today, three other women work alongside her.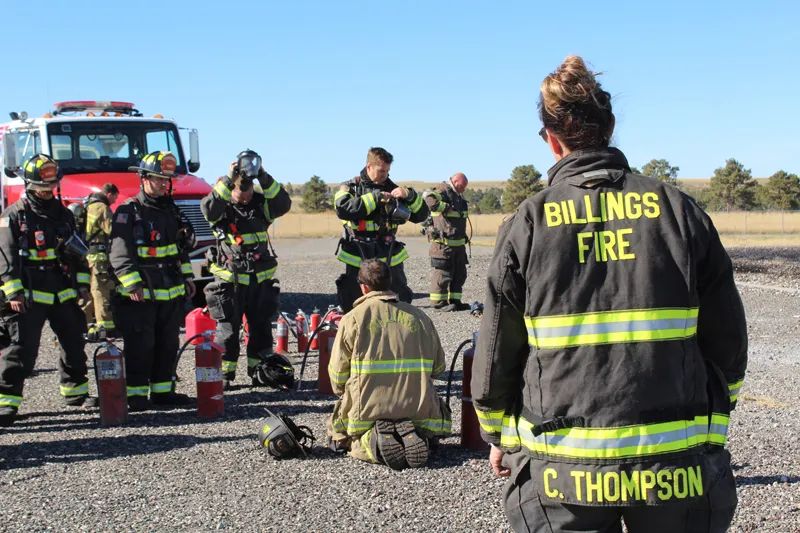 In her role in the training division, Chelsea does a lot more than pave the way for women; she's helping to shape the department's future. In charge of the department's fire academy, she, along with several others, helps to train every new hire. The academy typically runs at least once a year, sometimes twice, taking in up to 12 recruits for a 12- to 14-week training period.
Back when Chelsea was starting her career, fire was the department's biggest threat. Now, firefighters carry bulletproof vests. They know they could be on medical standby for high-risk police calls. Call volume seems to be always on the rise and now training covers topics that were once taboo among firefighters — mental health struggles, sleep deprivation and cancer risks.
"Police and fire have taken over the number one spot for suicides and suicide attempts," says Billings Fire Chief Pepper Valdez. "And, we're just realizing in the last decade, 'Hey, we have a problem here.'"
Chelsea explains that the stress of the job is evident when you consider that one minute your crew could be on the highway responding to a serious accident, and minutes later you might be grabbing a hose to douse a structure fire.
"Sometimes you don't even have the time to process things," Chelsea says. "It's a reality and a side that isn't necessarily talked about. We're portrayed as America's heroes and lifesavers. People don't necessarily see the aftermath and the toll it takes. It's not really on the job pamphlet when you apply."
About eight years ago, Chelsea was forced to process the things she'd seen over the course of her career.
"I just hit capacity overload," she says. She was on the scene of an accident in which a child was hit by a vehicle.
"I got off the fire engine," she says. "I did the job. The kid was shipped to the hospital in the ambulance and I went to walk back to the fire engine and I couldn't quit crying. I just lost it. The captain actually had to drive the fire engine home and I went off shift." Later she realized, "It was a buildup of all the things I'd seen during my career."
She realized rather quickly that the department was ill-equipped to deal with mental trauma. While there was a crisis team to help firefighters debrief after a rough call, firefighters subsequently were given only four counseling sessions through the city's Employee Assistance Program.
"That was a huge red flag to our administration," Chelsea says. "I used those sessions and then they said, 'We don't know what to do with you.'" Chelsea adds that some of her fellow firefighters responded by telling the department that Chelsea could use their allotment of counseling sessions.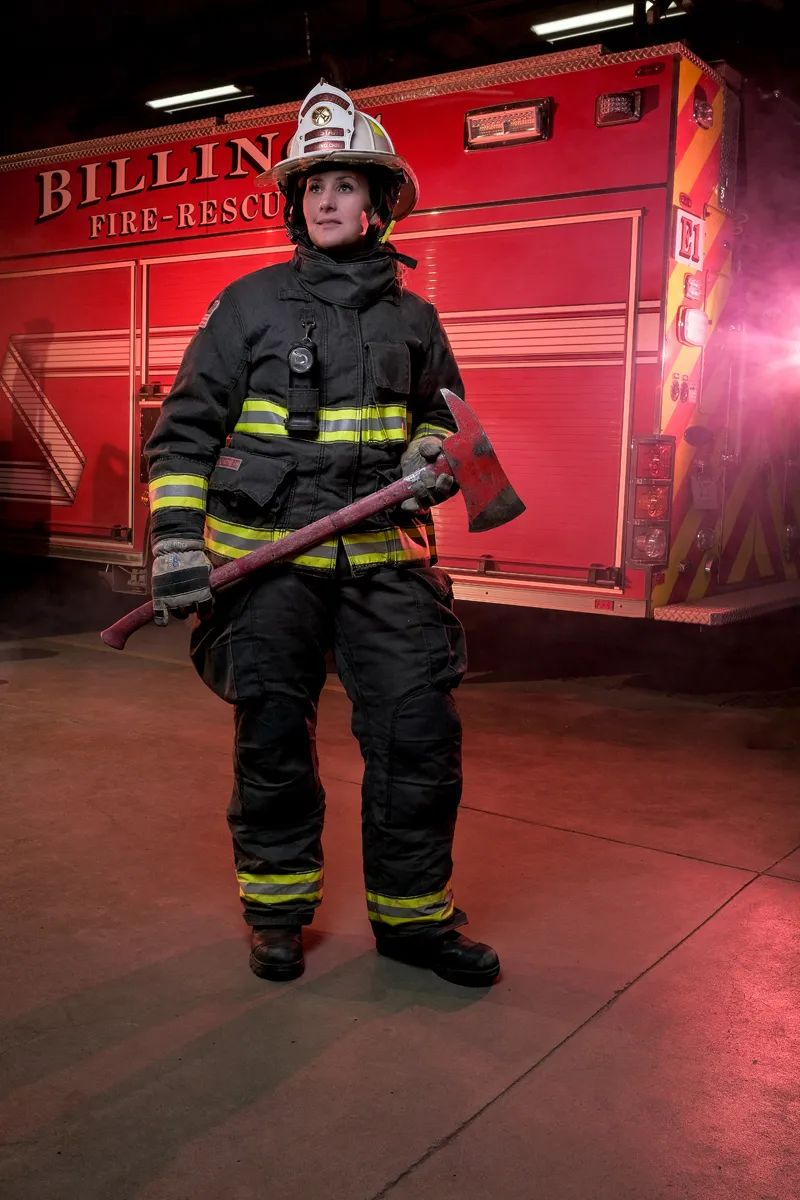 She admits she didn't fully heal for a few years. "It was a struggle," she says. "I was just in survival mode."
"Nobody wanted to shine a light into that corner of the fire service," says Training Chief Bryan Francis. "The interesting thing about Chelsea is that she is very assertive. She was going to seek help and I applaud her for that. It took a lot of courage to do that. It's very easy to turn to other things in life and kind of go off the rails."
"There's definitely been a culture shift within our organization," says Chief Valdez "Chelsea has been a huge part of that. From the moment Chelsea came on, she showed a lot of grit and determination. She's resilient. She's never wavered from those characteristics."
Over time, the city of Billings expanded the number of counseling sessions available to its employees. And in 2018, the Fire Department began a peer-to-peer support team. Close to two dozen firefighters have now been trained to help their brothers and sisters in the department cope after a critical incident.
"Every recruit class now, we take time to go over mental health and Chelsea has taken the lead on that training," Bryan says. "We didn't used to do that. We kind of threw you into the mix and it was either sink or swim."
It wasn't until the firefighters' union brought in an expert on sleep deprivation that things began to click for Chelsea personally. With the shift work firefighters perform, it's hard to regulate a sleep cycle.
"They said, you are never going to fix your mental health issues or your nutrition or any of these problems until you fix your sleep," she says. "Unless your body can repair itself, you can't work on the rest of it. That was like a light bulb moment for me."
It wasn't just mental health that rattled Chelsea. After about 10 years with the department, she started to notice that she was attending a lot of funerals.
"Some of the captains and battalion chiefs that were my leaders when I started were being diagnosed with cancer or passing away from different health issues," Chelsea says. "When I started in the fire service, I didn't realize the cancer risk to our profession."
Today, she knows that the risk is real. "The statistic is that one in every three firefighters will end up with cancer. That's due to the toxins that we are around all the time," she says. It was a startling statistic given the strong family history of cancer in Chelsea's family.
"Both of my parents were diagnosed with cancer. My dad was diagnosed when I was 10 and wasn't expected to survive. He went through radiation and multiple remissions. He's still alive today," Chelsea says.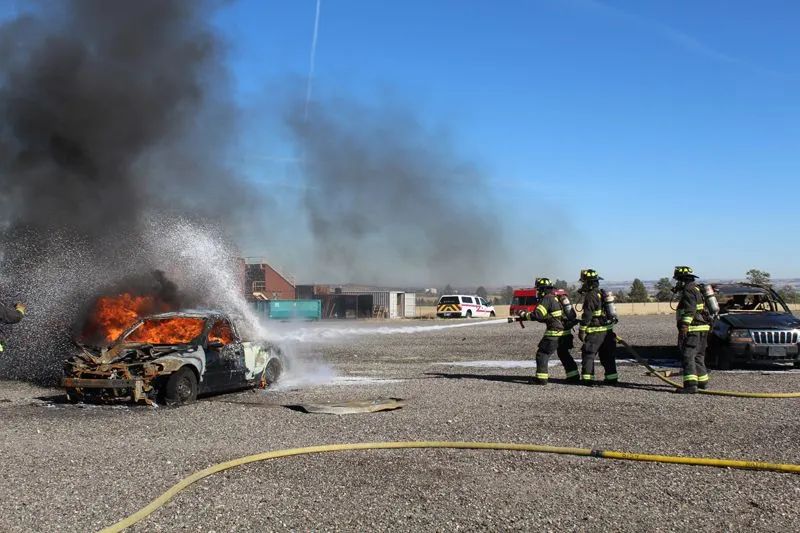 It turns out, the gear meant to safeguard firefighters was the cause.
"Our own turnouts that are meant to protect us to go in and save people — protect us from heat and shield water — contain chemicals that aren't healthy for us," Chelsea says. She explains the chemicals released from the protective coatings are toxic and can eventually be absorbed through a firefighter's skin.
"That's probably our number one risk – all these toxins – you are hot and sweaty now they are on your skin and when you cool off, your body takes all of that with it," Chelsea says.
These days, firefighters wipe down their exposed skin with special wipes and will often rinse off after a fire to prevent those toxins from being absorbed. But that's only one aspect of the threat.
"Fires tend to off-gas for hours," Chief Valdez says, "even after the fire has been put out. It's that off-gas that's been killing us and we didn't know that."
Since Chelsea entered the training division, Valdez says, "she's taken that job and rewritten the job description and set the bar high." She's developed an inventory system to oversee the department's millions of dollars' worth of equipment. He adds, "Because of that, we've seen a significant decrease in expenses." When the department needs new gear, she makes sure it's the best their budget can buy.
"Chelsea has been very aggressive on our personal protective equipment and how it is built and how it is made," Valdez says. "She's the type that really gets in there, rolls up her sleeves and wants to know."
The safety aspect has been a hot-button topic in the firefighting world as of late. Just a little more than a year ago, research was starting to show that chemicals known as PFAS — Polyfluoroalkyl Substances — which not only coated gear but were active in firefighting foam, were to blame for a rising number of kidney, pancreatic and testicular cancer cases in firefighters.
"That was a turning point for me," Chelsea says, adding that she's devoted hours upon hours researching just the right gear and staying up to date on information surrounding the topic. In mid-March, she's heading to the manufacturing plants for both Globe and TenCate Protective Fabrics to see firsthand how the department's gear is made. Last August, companies started to eliminate the use of PFAS when creating firefighting gear, but as Chelsea points out, research still needs to be done on the chemicals being used in their place.
"We're happy to have her advocating for not just Billings Fire but all of the firefighters across the country," Valdez says.
Toward the end of March, when the next fire academy begins, history will be made yet again. Of the class of 11 recruits, two are women.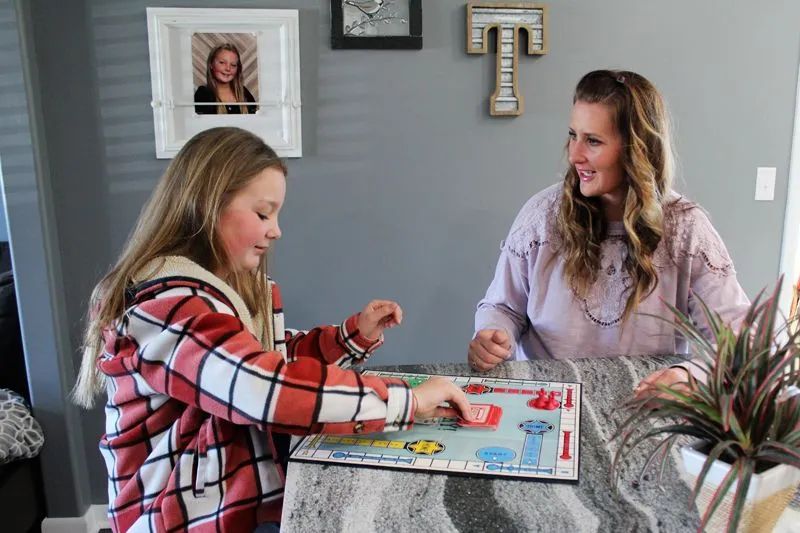 "This is the first time in my history of working with the Billings Fire Department that we will have two women in the academy," says Chelsea. Two women being taught, in part, by a woman. "It's quite exciting," she adds. "It brings me back to the days when I first started."
At the end of the day, however, there's one job that trumps any work she does within her career.
"Being a mom is my number one. I don't let a whole lot affect that," Chelsea says. Eleven-year-old Jillian Rose is her world. When asked if her daughter thinks she's a hero, Chelsea smiles and says, "She does. She's very proud. She likes to tell everyone that I was the first female firefighter in Billings and that she's the daughter of the first female firefighter."
When Chelsea got promoted, Jillian loved the fact that her mom got to upgrade from wearing a blue shirt to a white one. Through it all, Chelsea says she tries to make it clear to her daughter, "You can do whatever you want. Girls can do anything."
If being a mom and a firefighter isn't hard enough, for the past eight years Chelsea has done it all on her own, as a single mom. When she worked 24-hour shifts, close family friends took Jillian under their wings.
"They were a huge blessing handed to me by God," Chelsea says. "It was a family I could trust and I could do my job because I knew she was OK."
While Chelsea would love to be back on the fire engine taking calls, the job of assistant training chief was all about balance. There are no more 24-hour shifts. She works dayside and can be home every night with her daughter.
"The other thing I have now is the ability to make some change," she says. "When I came off the line to work in this division, it was to work to make things run more efficiently."
As she talks about the impact she's able to make, she points to a whiteboard that sits just across the wall from her desk.
"You show up to make the change and work toward change in the department — making it better than it was yesterday," she says. Emblazoned on the whiteboard are the words that Chelsea holds as her motto. It reads "Training today for safety and survival tomorrow." Chelsea pauses and says, "That's what we do."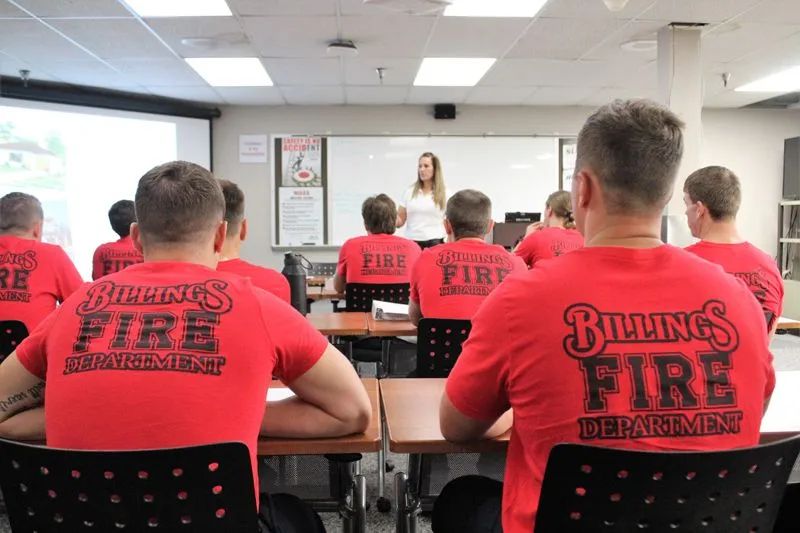 Did you know? According to the networking group Women in Fire, roughly 6,200 women currently work full-time as firefighters in the United States. About 150 hold the title of chief as district chiefs, battalion chiefs, division chiefs, or assistant chiefs. Upwards of 40,000 women across the nation serve with a volunteer fire department.