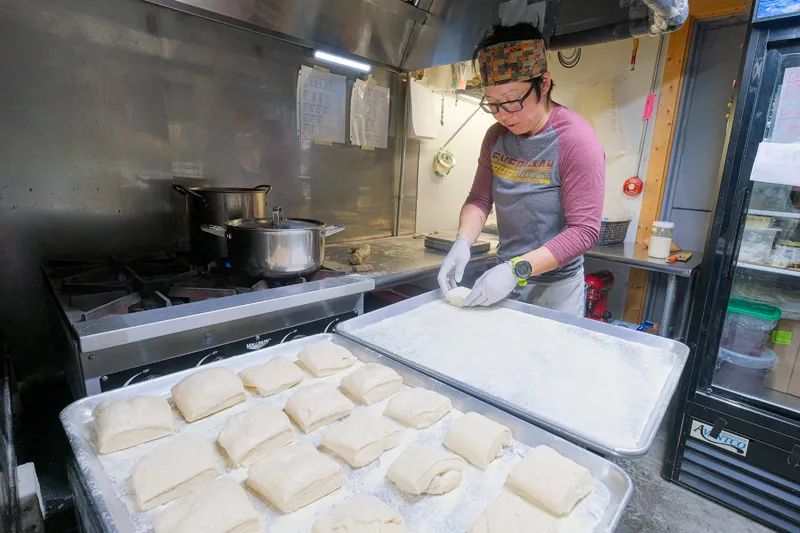 Big Risings in a Small Space
A look inside Samurai Sue's Everyday Foods
Asano Otsu, owner of Samurai Sue's Everyday Foods, plays comfortably with Mother Nature. In a 600-square-foot green cottage with yellow framed windows off the main drag in Red Lodge, she focuses on baking up sourdough breads and preparing grab-and-go burritos, sandwiches and bowls. Her business motto is: "We cook foods you want to eat, EVERY DAY. Handmade, fresh and wholesome," fitting her sensibilities for cooking and embracing the outdoors.
In Japanese, samurai means "warrior or knight." While an instructor for Outward Bound, a provider of outdoor education, Asano earned the nickname "Sue," shortened from her last name. "Around that time, I had a really old Toyota Forerunner that just left pieces everywhere," she says. "I drove it held together by duct tape, and we used to call that car 'Samurai.'" The name Samurai Sue's Everyday Foods is "just a homage to the good times I have had."
As the youngest child with an older brother and sister, Asano grew up in Kyoto, Japan, in the Ichijoji area. "I was allowed to do whatever I wanted," she says. "I was a tomboy and into different things than my female peers." She recalls hiking and skiing with her family in the nearby mountains, but Asano "always played outside" and participated in basketball in school. "My grandpa took me on golf trips," she says fondly. He was also an avid mountaineer, and now in the house she is remodeling with her husband, Paul, an ice ax once owned by her grandfather hangs over their staircase.
"I was always around a food culture and always knew what good food was," she says, noting that her mother was a caterer. "My mom and grandma cooked fusion food, French style food. My mom's signature dish was potato au gratin. She made it her own way, with bacon."
She inherited three sharp tools from her culinary inspirations: a vegetable chopper, a fish cutter and a sashimi knife. Aside from holding family history in her hands, she says, "The part I love is they are comfortable in my hand."
Asano's last name was Nishikawa at birth. Because her grandparents didn't have a son, their name wouldn't be carried on. "It would have been easiest for my mother to take on her parents' name," she says. As a teenager, she took on the Otsu name, acknowledging that "I am willing to get into things and then figure it out." When she married Paul 15 years ago, he took on her last name.
In the seventh grade, through friends of her father, Asano came to the United States to live with a family in Telluride, Colorado. There she was happy.
"I could be free and not dress up and didn't look weird," she says, with a smile. "I was super shy. I was really fortunate to be with good people who were inclusive. I was always invited."
Her ability to perform and not chatter characterizes her work in food. "The food culture values skills and ethics. It's not all about talk. It's about what you can do," she says.
The ability and desire to "do" yielded success in her outside pursuits. In rock and ice climbing, paddling on water, backpacking in the wilderness, and mountain biking off-road, challenges can arise from personal physical limitations or Mother Nature's moods. To endure and survive, she had to learn to work with the obstacles and maneuver to triumph.
Asano came to Red Lodge as the operations manager for Outward Bound. She worked at Sylvan Peak Enterprises as assistant manager while continuing to bring students into the Montana wilderness. Her talents were used in the Red Lodge Fire Rescue and Northern Rockies Incident Management Team. All the while she worked with her husband in his business at Headwaters Studio, at first directing regional athletic events and developing websites, online product and ticket sales and graphic design and screen printing.
In 2014, Asano became an American citizen. "The ceremony was definitely enlightening —a good finale to the accidental immigration I started in 1991 when I was just 13 years old," she says.
She changed careers in 2016 when she entered the food arena, managing Mas Taco. Two years later she started Samurai Sue's Everyday Foods. Asano credits much of her skill in making bread to Heidi Gilbertson, who owns Island Café and Bread Company on Washington Island in Wisconsin. Gilbertson once owned the bakery called the Bikery, attached to the Hellroaring Cycle and Ski shop in Red Lodge, where she taught herself to bake in a wood-fired oven.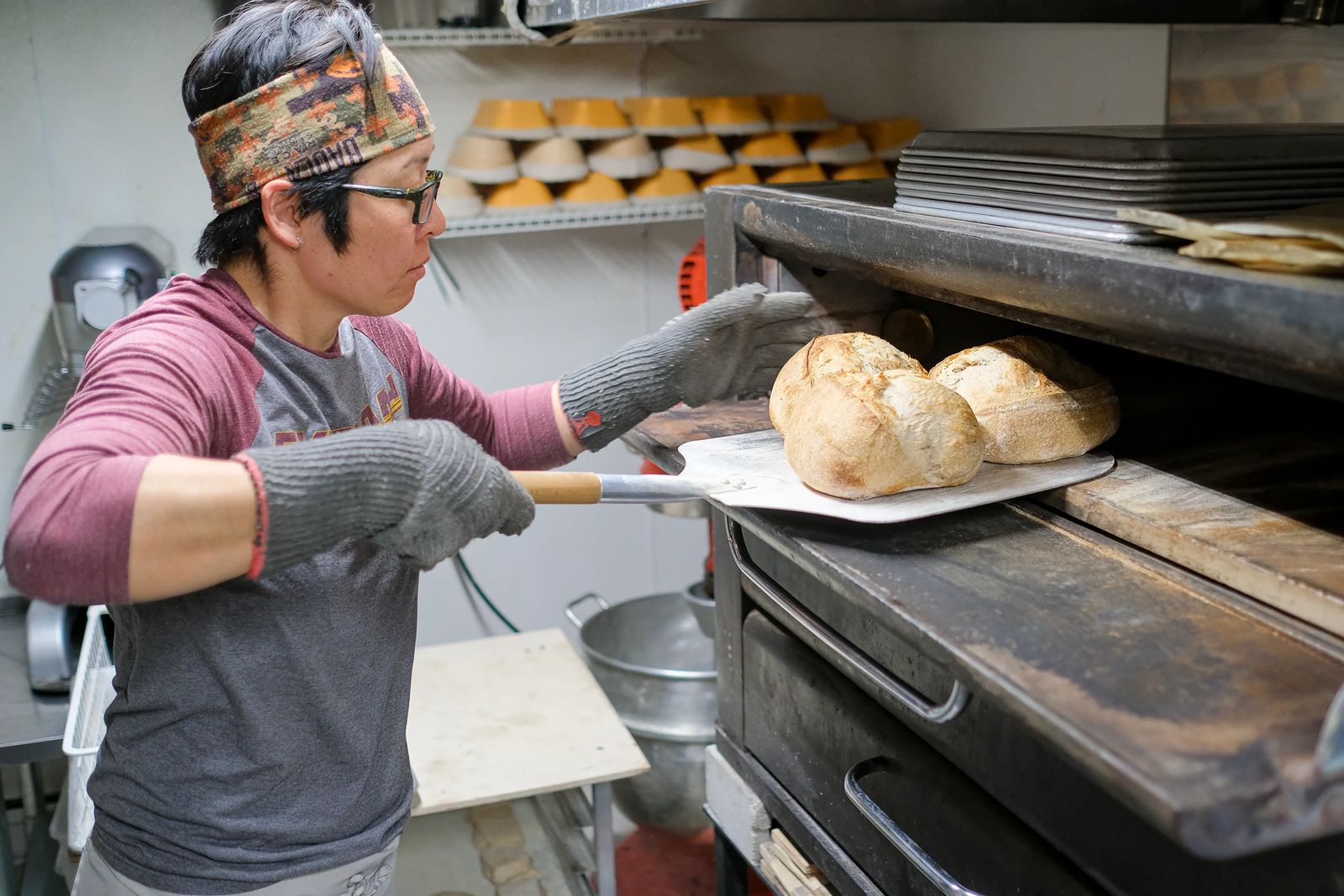 The starter Asano works with is a "combination of starters" made of fermented flour and water that utilizes naturally occurring yeasts and bacteria given to her by friends, and revitalized yeast from Moon Lake Market, which closed a couple of years ago. The Blodgett Oven is what she calls an "old school pizza oven" with stone and steam decks. The oven was purchased in Montana and refurbished by Martha Young, who was a partner in the Regis Café, about a mile from the bakery. She sold the oven to Gilbertson, who took it to Wisconsin. Years later Asano moved it into her bakery in Red Lodge.
The Hobart mixer she uses to mix her dough is from the 1960s and affectionately named "Big Red." "This is an antique, vintage mixer. They do not service it anymore," Asano says, and consequently she has learned to do her own repairs and maintenance.
Asano's Country Bread is made with whole wheat and rye flours, while her Ciabatta contains no rye, but receives some olive oil for a "crispy, lighter texture." Her Shokupan is made with milk, egg whites and butter and baked in a pullman loaf pan. Every week she shapes, stretches and bakes 20 loaves of Shokupan, 60 to 80 country loaves, and a little less ciabatta. While the Shokupan takes about three days to complete, the others take two.
"I like to go by the smell and texture. It should have a nice, sweet, yeasty smell," she says. "The starter is in a happy, acidic state for two to three hours when it is primed to be mixed.
During the winter she feeds her starter every eight to 12 hours, while in the summer she must renourish every four hours. Asano is working with Judy Cornell of Conservation Grains in Choteau, Montana, to develop a good flour combination for a bread with "more texture and depth."
Recently, Asano taught a Zoom class for the Absaroka Beartooth Wilderness Foundation using her sourdough pizza dough to create backcountry pizzas. With prebaked breads the size of a hand, she tops them with a sauce made from homegrown dehydrated tomatoes and kale. Her hints include: A can of sardines in oil makes great hors d'oeuvres while the oil can used in the sauce. With some grated zest from an orange that will be the next day's lunch, the fishy flavor of the oil can be minimized.
"We have a lot of things in front of us that we can control. We just have to look at it," she says of packing in real food for a backcountry experience.
Asano continues to focus closely on what she does. She has learned to respect and be patient with Mother Nature from her athletic pursuits to now cooking up real food and baking breads.
YOU CAN FIND Samurai Sue's Everyday Foods sourdough breads, burritos, sandwiches and bowls at Circle 17 Sinclair, Beartooth Market IGA and City Brew in Red Lodge as well as the Yellowstone Valley Food Hub and Town and Country