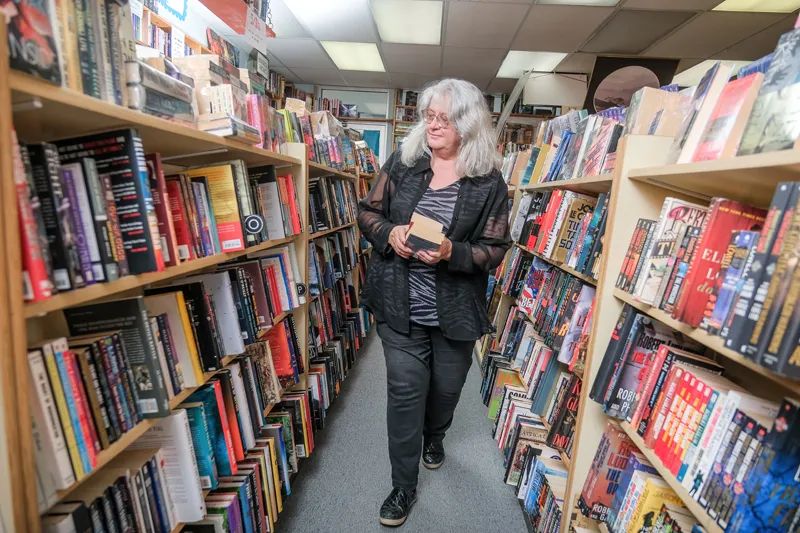 Books Without Batteries
Teresa Kozak-Kennedy bookmarks the decades
Teresa Kozak-Kennedy surrounds herself with mystery, romance and history of the ages. She tends watch over wars and taps into the cultures of people and countries. The works of Nicholas Sparks, Julia Quinn, C.S. Lewis, John Steinbeck, Shakespeare and a plethora of other notables keep her company.
Teresa owns The Book Cellar, a charming, extremely organized bookstore nestled in Alpine Village off Grand Avenue. Its worn wooden floors squeak a familiar cadence as you mosey through a 900-square-foot dominion of the written word. It is a worthy place to spend time forging new friendships and stirring old acquaintances. Here you will find books without batteries.
Gently used books in about every genre or category adorn the walls from floor-to-ceiling. It's like walking into your small-town library where you feel the aura of authors past and authors present. There are books devoted to folk lore, science fiction, sports and horror, along with a small sanctuary purposely designated for the classics.
"I couldn't live without books!" Teresa says. "When I was in fourth grade, we went to the library and it was the textured covers that appealed to me. I took home 'The Enormous Egg' by Oliver Butterworth. Even though I was a slow reader then, it was the idea I could have it and read it."
Teresa's love for books has never dwindled. She and her husband, Larry Kennedy, actually began collecting books decades ago when Teresa "decided on a whim to take a chance."
"I was working a job at the time," says Teresa, "and Larry was traveling for his work." Larry was tiring of being away from home, which helped fuel Teresa's book fancy. The couple began looking for a place to plant a bookstore.
"We opened on one side of this store," Teresa says. "A hair salon was on the other side." When the salon closed, "We pushed this way into the store front."
What started as a whim grew into a burgeoning business celebrating 35 years this November.
"In the middle of it all," Teresa says, "and while raising three children, we had a store downtown for years and then one in Hardin and one in Red Lodge where we'd have book signings with well-known authors like Terry C. Johnston."
International writer Paul Goble sauntered through the aisles of the Red Lodge store, as did local author Sandra West Prowell. "She would come in and peruse other author's books," Teresa says. "The bookstore changed the direction of our lives," adds Larry.
Over the years and as their children left the nest, the couple trimmed the bookstores back to this original store. Decades later, The Book Cellar continues enriching the community by providing a world in which gently read books are bought, traded and sold.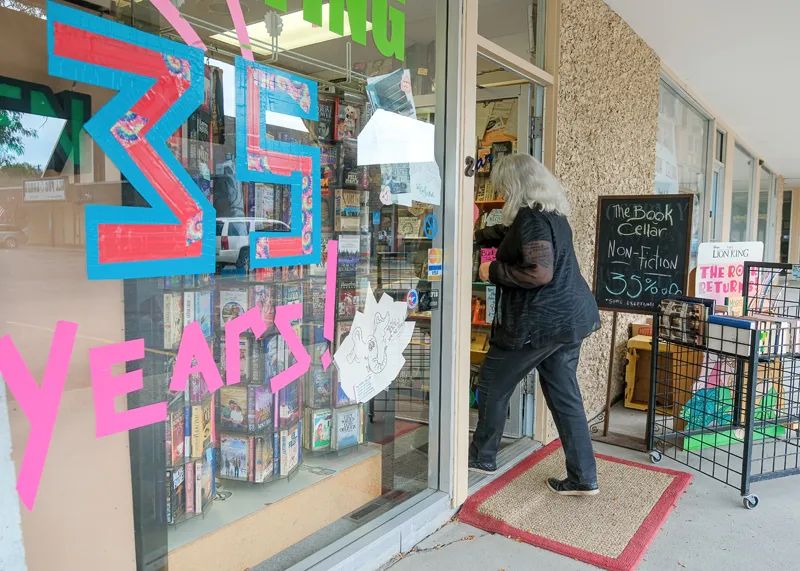 "People come in and smell the books," says Teresa, taking a deep breath. Shelves packed to the gills feature top sellers if you get in quick enough to grab one. Many tremendous series like John Jakes' "The Bastard" and Julia Quinn's "Bridgerton" are bundled and bound (heat-sealed) in near perfect condition.
"I like to read series, as do a lot of people," Teresa says. "So, when I can gather most or all the books, they are bound together."
The store offers a captivating and eclectic ambiance. Book club members stop by seeking specific books, as do grade-schoolers and parents needing certain books to fulfil summer reading lists. Veterans search for war history, whether on Vietnam, World War I, World War II or more recent conflicts.
Teresa takes satisfaction leading customers to the section or to the very book they're looking for. This is how well she categorizes and labels the books, as well as alphabetizing many of them. "Every book passes through my hands," Teresa says. "There's no need to seek and search."
Moments after Teresa makes that remark, a customer inquired about a specific book. Teresa dashes to its location bringing her the requested book. A moment or two later, a group of young people from Oregon gather at the counter holding a bookstore treasure.
One of the young men shares how his dad liked Tom Swift (the character of teen science fiction and adventure novels beginning in the early 1900s). After the group left, Teresa, her eyes dancing with delight, says, "So, now he is reading Tom Swift."
"Young people go for sci-fi, fantasy, horror, and now the classics," she says. "Jane Austen, Steinbeck, Tolstoy and Melville are big. I just had a kid in last week and Moby Dick was on his pile of books."
Spotting an increase in young readers, Teresa points out that teens and 20-somethings are not big on Westerns unless it's Louis L'Amour. "Everybody reads Louis L'Amour," she says. "But, anything fantasy the young people like."
"We do get in rare books you don't see very often, too," Teresa notes. "The rare books aren't here long, as there are still collectors looking for these books."
As for the adult readers, Teresa says mysteries are big and historical romance is a "big deal." "We see more women reading about war now since romance writers are writing about it. Also there's more writing from England that has been turned into TV series, like 'The Tudors.'"
Teresa quickly heads for the extensive Romance section where she pulls out one of many Bridgerton books by Julia Quinn. Holding the book in her hands, she comments, "Outlander by Diana Gabaldon is a big seller, too. Outlander is now big on TV. If people like an author they try to find the series."
Even though Teresa enjoys reading great series, her most recent favorite stories include "Water for Elephants," "The Art of Racing in the Rain," and "The Help." "I also like biographies, World War II, and historical fiction," she says. "The key is to don't stick to one genre. Don't limit yourself."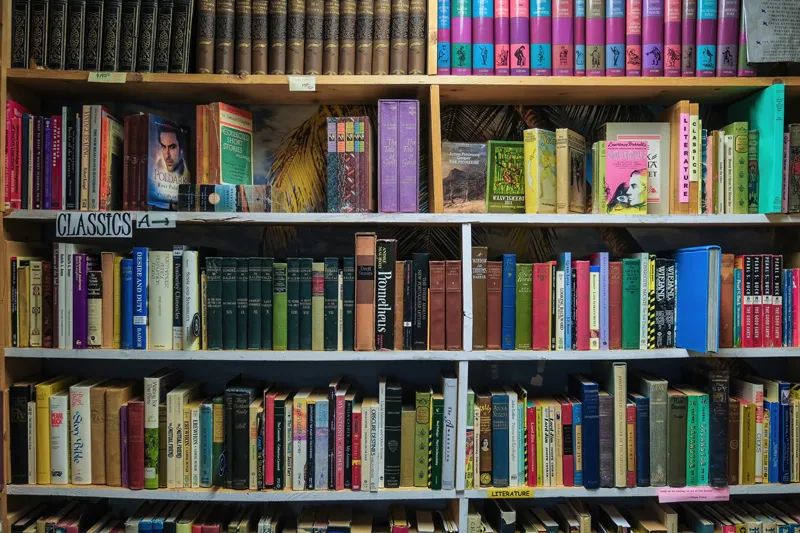 Consider this sage advice from a long-time reader who has three books going at any given time.
"Teresa is the avid reader," Larry says. "She can read twice as fast as me. Honestly, I was an average reader until we got the bookstore. It's increased my reading and my highlight is meeting like-minded people."
As a huge reader of Western Americana, Larry shares this advice: "To appreciate Montana history, every Montanan should read 'Tough Trip Through Paradise,' by Andrew Garcia."
His favorite read is "A River Runs Through It," by Norman Maclean.
Discussing the merits of these distinctive books, Teresa says she finds it interesting that "some people absorb the story differently." She surmises some read the words while others read it but see the story as if they are watching a movie.
Testing this hypothesis, Teresa and Larry are currently reading the same book, "The Far Empty," by J. Todd Scott. They plan to compare notes when finished.
The reservoir of books Teresa has soaked up during the years speaks volumes. She gains insight into her customer's preferences from a quick chat. Recently, she proposed the novel, "A Gentleman in Moscow," which this writer took home for $12.
The hardcover book is in mint condition. The story of Count Alexander Rostov promises a whirlwind adventure through tumultuous decades of Russian history when he was confined to a room in the attic of a hotel across from the Kremlin.
"I took my time reading this one," Teresa says. "I savored it."
And just like the thousands of titles stacked neatly in this small but mighty book shop, this too is a book without batteries.
YOU CAN VISIT The Book Cellar, located at 1120 16th St. W., Suite 2.