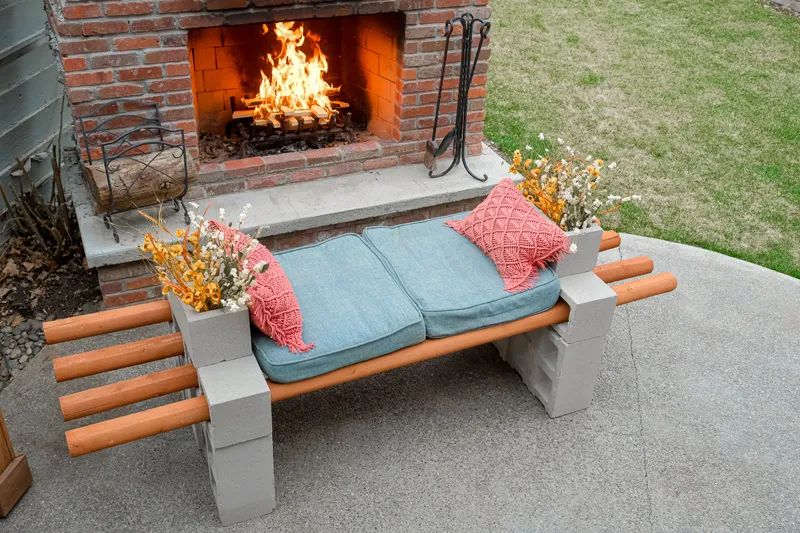 Budget Friendly Bench
A few blocks and timbers create extra seating in a jiffy
Summer's here and the time is right for perching yourself on your patio. We want to surround ourselves with friends and family but often we don't have the seating to accommodate everyone. If you're looking for a few extra seats that have a lot of bang for the buck, a cinder block bench does just that. These benches can be put together quickly and will hold up nicely to the summer elements.
WHAT YOU WILL NEED
● 14 cinder blocks
● 4 landscaping timbers
● Cushions for the bench
CREATING YOUR CINDER BLOCK BENCH
We picked up everything we needed at our local big box home improvement store. Instead of spending hundreds on a patio set, everything we needed added up to about $75. The hardest part of this project was unloading the cinder blocks. They are heavy! (As an aside, I did count this as my workout for the day.)
I started with one side of the bench, placing four cinder blocks on end vertically, making sure the sides were touching. I then took two cinder blocks and placed them horizontally with the ends touching on top of the previous vertical row. I placed the seventh cinder block horizontally with holes up on the top of the previous horizontal row.
Moving to the other side of the bench, I placed the second grouping of blocks following the same placement instructions, setting them about five feet across from the first side of the bench.
Now, slide your landscaping timbers into the second (horizontal) row of blocks leaving about a foot and half of your timbers hanging out on both sides. And voila, you have a bench!
To give my bench some charm, I planted some flowers in the top cinder block and tied on a bench cushion for comfort and color.
These benches are quick, easy, and fun to do. Whether you use these at a cabin or at your next outdoor event, there will be no worries about seating. No muss, no fuss, easy and sturdy even in strong winds.