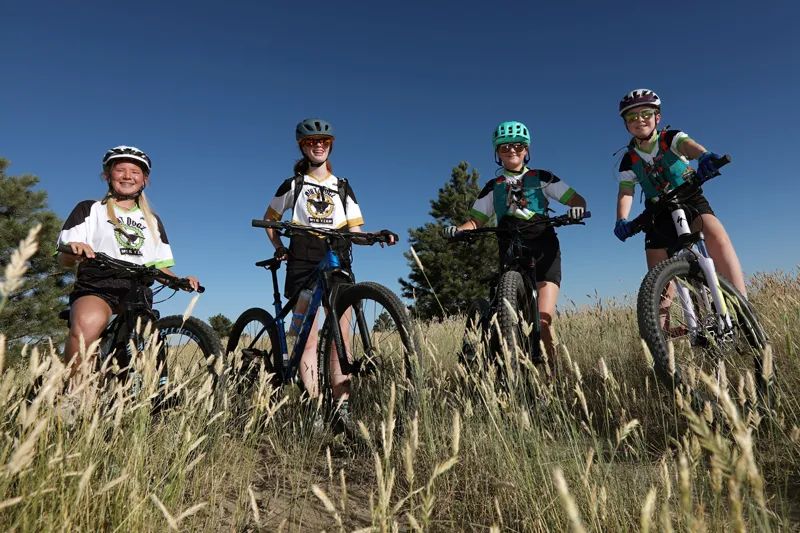 Building Grit in Girls
Mountain biking club gives riders skill & confidence
If you were to meet Annalise McCormick, 15, you would, at first, be struck by her polite, quiet demeanor. But beneath that pile of red curls is the calculated mind of a competitor. She races mountain bikes and her formula for winning is straightforward.
"I just go," she says. "I go and try not to stop."
Her coach, Brent Morvay, has been watching her develop over the past year and says she's just beginning to reach her potential. She's been riding mountain bikes for about three years. She tried racing for the first time last year.
"It's been amazing watching her grow," Morvay says. "You get her on a racecourse and she gets that determined face on, and she just goes."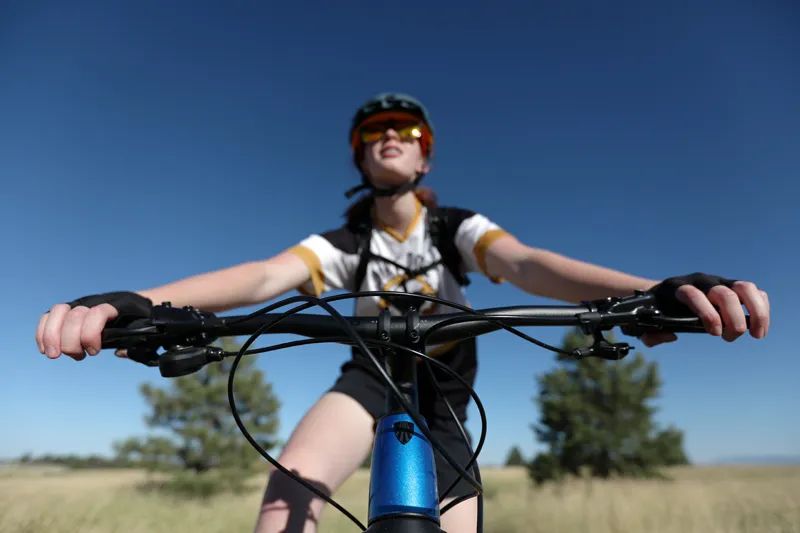 Annalise had her first brush with mountain bike racing by joining a group known as GRiT — Girls Riding Together, a program of the National Interscholastic Cycling Association (NICA). She and her teammates – there are eight girls between 6th and 12th grade – ride and polish their skills twice a week. Racing is optional. For many of the girls, the camaraderie is the best part.
"It's a great community and we all have fun," says Brooklyn Morvay, 12. "It's super inclusive, so even if you're not the best at it, you will feel welcome."
The Billings GRiT team started four years ago when the statewide Montana Interscholastic Cycling League formed. The sport of mountain biking has traditionally attracted boys and men, and recognizing that, NICA founded GRiT in hopes of getting more girls on bikes. NICA wants to see female involvement in mountain biking represent at least 33 percent of its membership. Right now, it's hovering at about 20 percent nationwide. The local boys' team, the Dirt Dogz, has roughly 50 riders. The sport is growing across the board for both boys and girls.
Mastering the skills needed to climb over boulders, hop over tree roots and ride through loose rock is empowering. It boosts self-confidence, which serves young people well no matter what they set out to do in life.
"The most fun for me is seeing their confidence grow as they realize what they can do," says Kathy Aragon, a GRiT coach. "It's fun to see the progress these young girls make."
Coach Aragon, 62, has been riding nearly her whole life and says she loves mountain biking because of all the beautiful places it's taken her. The girls and their coaches ride on the Rims at Zimmerman Park, the Back Nine at Indian Cliffs, Phipps Park and Clearview Park, which is located behind the Mormon Temple.
"Most of the time they just want to get out and have fun," Coach Morvay says. "It's super laid-back."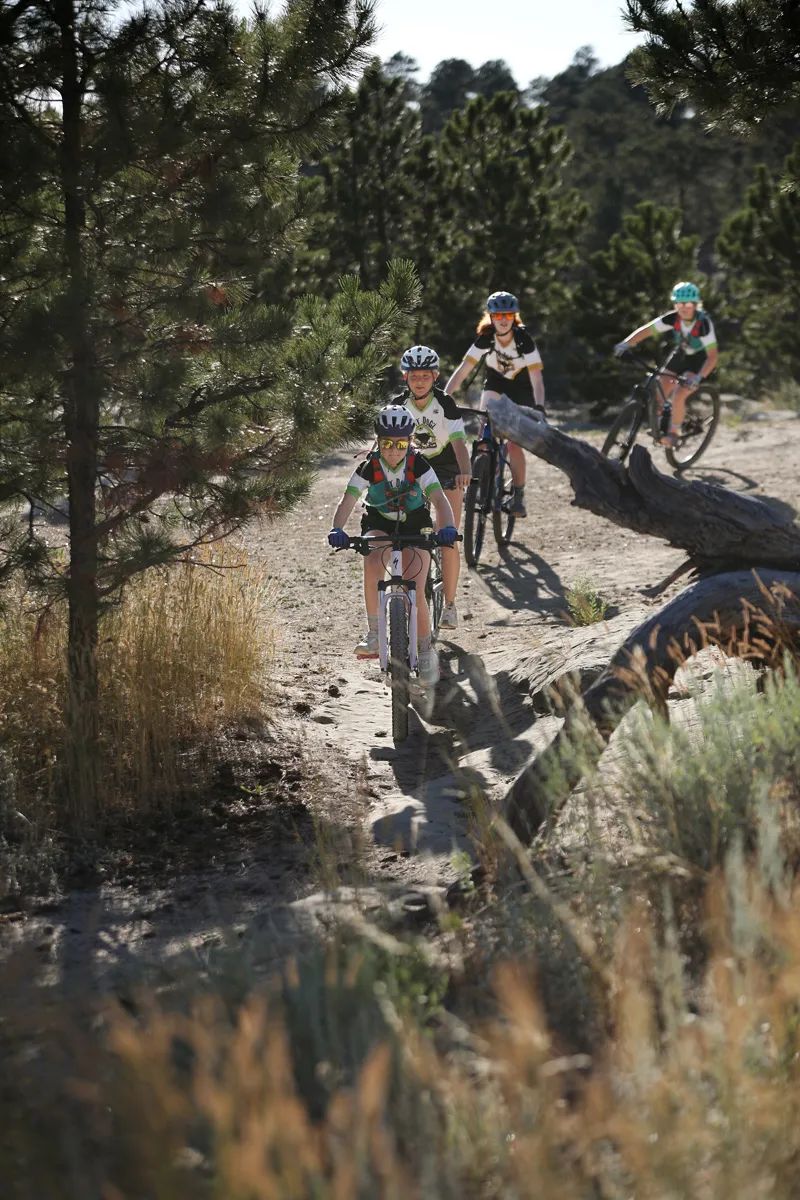 The race season in Montana starts in August and runs through October, and for the girls who choose to race, it's a wild ride. The races begin with a mass start with a dozen or more girls vying for a win. The courses almost always start with a steep uphill climb, followed by four miles of hills, turns and obstacles. Depending on their age, the girls will do two or three laps.
"The entire loop is pretty much a sprint the whole way," says 12-year-old Avery Chilton, who raced for the first time last year.
This year, she's hoping her training pays off with a win, and even if she's racing against her GRiT teammates, they'll all be cheering for one another.
"We push each other to be the best that we can," Avery says.
"It takes a lot of skill building, especially to take on some of these more complex courses," Coach Aragon says.
Right now, there are several mountain bike race courses in Montana, including one in Butte, another in Bozeman and two in the Flathead Valley. Although Billings has a robust program, building a course and hosting a race is a challenge, Coach Morvay says. Races attract 2,000-3,000 competitors and spectators. Billings organizers haven't found the right site yet, he says, but they're working on it.
All coaches are volunteers, and they invest in annual training to provide the best experience possible for the youth involved. There's an annual fee to join the team, but Head Coach James Easton says that coaches are working to develop a scholarship fund so that no young person will be turned away for lack of funds. He also says they're building up a stash of loaner bikes for kids to try mountain biking before they invest in a bike of their own.
"It's an all-volunteer community," Easton says. "We don't just need kids to join we need volunteers and parents to come out and ride and mentor these kids."
Morvay, who's been mountain biking for years, started coaching when his daughter got interested in the sport. Whether Brooklyn continues racing after GRiT is up to her, but her dad knows mountain biking is something she can the rest of her life.
"If you fall in love with biking you'll do it forever," Morvay says.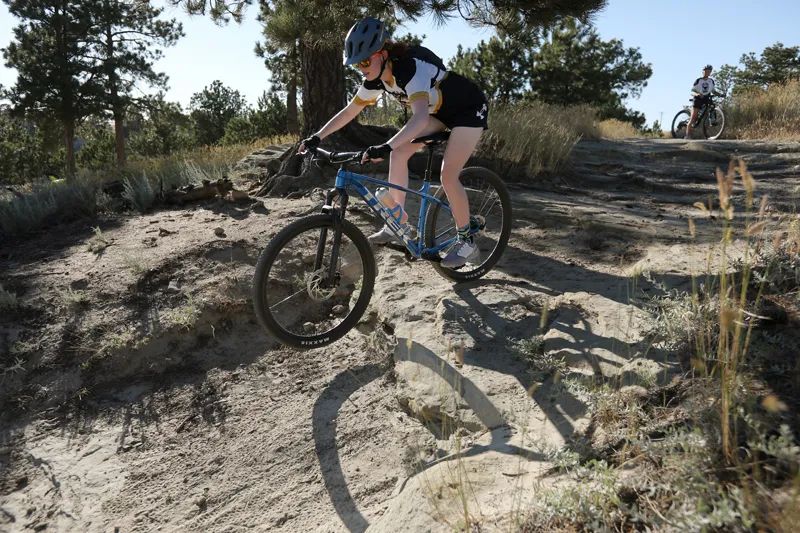 Riding with GRiT
Join the club to ride or compete
Do you know a girl between the 6th and 12th grades who would be interested in joining GRiT? No matter what their mountain bike riding experience, they're welcome to join the team for skill building, group rides and/or racing. For more information email dirtdogzcoach@gmail.com.