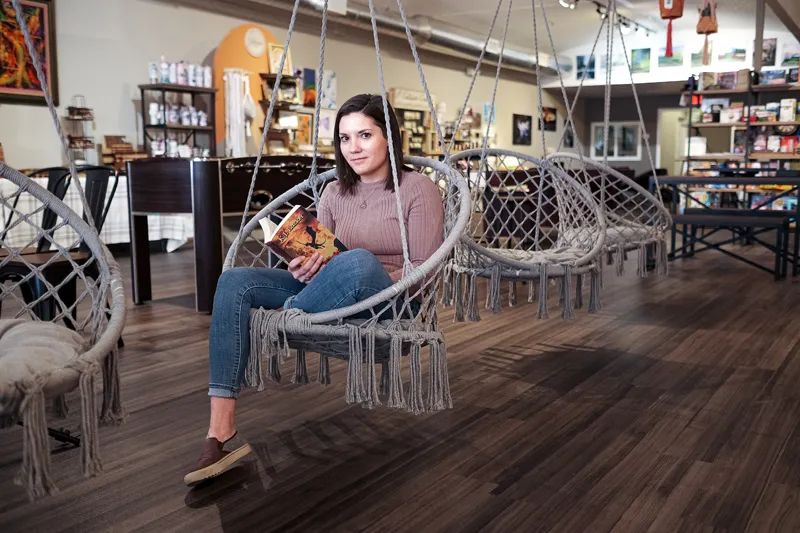 Casual Space
Billings' new hangout to make connections and support all things local
For Alana Sukut, the concept seemed a natural: offer a place for folks to hang out and limitless activities to spark connections among them. Then, add a shop filled with locally made products. With all that under one roof, Alana has checked off boxes for two of her passions.
Casual Space is essentially what its name suggests – an easy-going place where people can spend as much time as they want and not feel like they're overstaying their welcome.
"People try to overcomplicate it," Alana says, smiling.
Casual Space is a place for making connections — where people can challenge a stranger to a game of foosball, shop from displays of more than 40 vendors or pause a moment to fit a piece into the on-going puzzle. It's a place where those seeking group activities can join a book club, try their hand at a rousing game of bunco or sign up for a macrame class. It's also a place where friends can gather for a birthday party or mothers can bring their kids for a play group.
"I want this to be a bustling place where people come and go and not feel as if they're loitering," Alana says.
Located at 601 24th St. W., next door to the Yellowstone Olive Company and two doors down from the Banyan Tree, the Billings "social club" opened in December 2022. In the few months since, Casual Space has grown through word of mouth and social media.
When Shirley Bulluck discovered the social club, she jumped in with both feet, joining the book club, a chess club and the Bunco group. She's also used Casual Space for a girls' night out with her daughter and friends.
She likes the variety of people she meets there and the range of interests they bring to the table.
"With our book group, we've begun to share more about our personal lives, so we truly are getting to know each other," she says. As for the fast-paced Bunco games, there's little time for chatting, she says, because the game leaves them bursting out in laughter.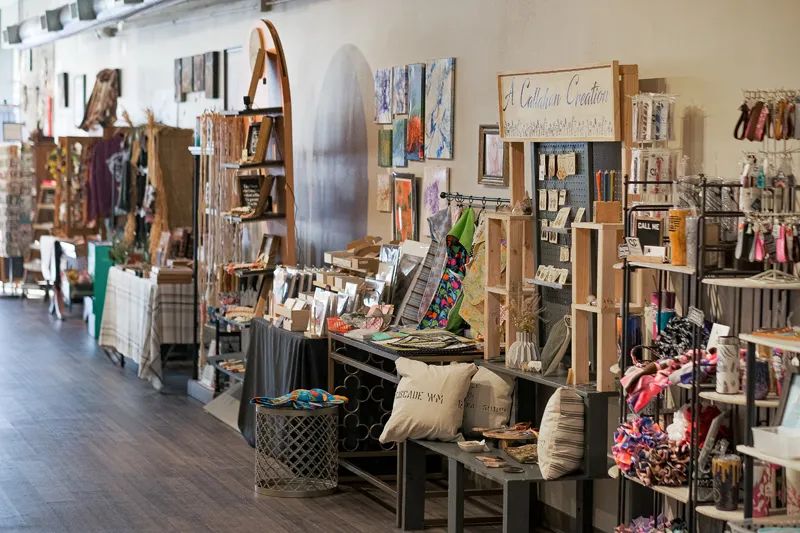 Victoria Contreraz, another member of what she describes as the "super fun" Bunco group, likes the fact that the people who come in seem open to meeting new friends and trying new things.
"It's been nice to break out of my normal social circles," she says.
The Bunco group has been especially popular, and Alana attributes that to the fact that it's a game of chance and a game where anyone can start right in. "You don't need to know anybody – you just move around," she says.
The book group, too, offers a common thread for breaking the ice. "When you talk about a book, you have something in common," Alana says. "So that takes away from any social anxiety."
So how did the idea of a social club come to Alana? She'd long dreamt of launching her own business. And supporting local was always part of the plan.
"When I was younger, I wanted to open a coffee shop and have everything made locally – even with coffee cups made by a local potter," she says.
When the time was right and Alana's dream seemed within reach, the niche concept of a social club seemed to fall into her lap.
"People were always asking, 'Where do you go to meet people?' It came up so often," she says.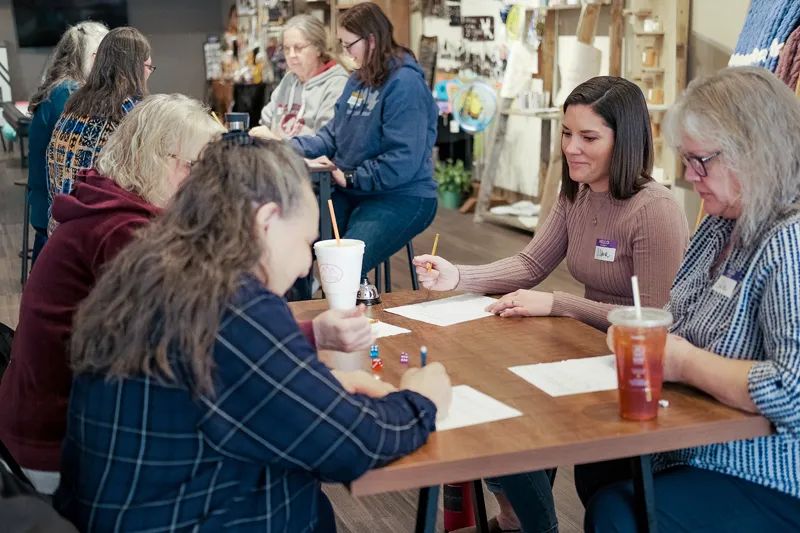 As a former health/wellness and life coach, Alana has never had a problem connecting with people of all ages and backgrounds. But she realizes that's not the case for everyone.
"I love to talk to people, to build friendships," she says. "It kind of broke my heart a bit that I can't be everybody's friend. Something just told me I needed to do this."
So, she decided to create a place for people to meet and make real life connections.
"What better way than through games?" she asks. Combining that concept with a shop for local artists to display and sell their items seemed a perfect fit. Unlike most venues that charge vendors a hefty commission, Alana rents out space for a flat monthly fee.
"I wanted to keep local affordable and available," she says.
Veronica Zimmermann has taken advantage of both the vendor space and the opportunity to schedule Casual Space for her candle-making class.
"It's been a major asset for the growth of my small business," she says. "It's one of my favorite venues to host my classes.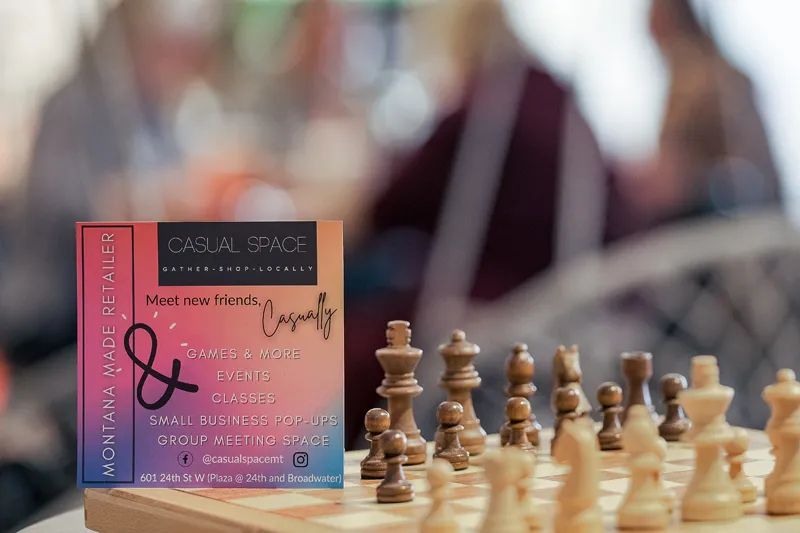 As it turns out, Alana's two goals have melded into one boost for her business. "People come in to shop and see that this is a really cool place to hang out," she says. "And people who come in to hang out see something they want to buy."
The space itself is roomy and open, with vendor displays — from beaded earrings to cozy, hand-knitted blankets to stunning, framed photo enlargements — up front and lining the walls. Colorful toys fill a children's corner and a circle of cozy chairs in the back seem to beckon a small group to gather. In between there are shelves stacked with games and activities: Legos, Jenga and coloring books for adults, to name a few. There is always an active puzzle table, a table for chess and empty tables for whatever. Classes, too, run the gamut – from cookie decorating to crafting. The sky's the limit. Back Yard Theatre has even booked a time for a performance there.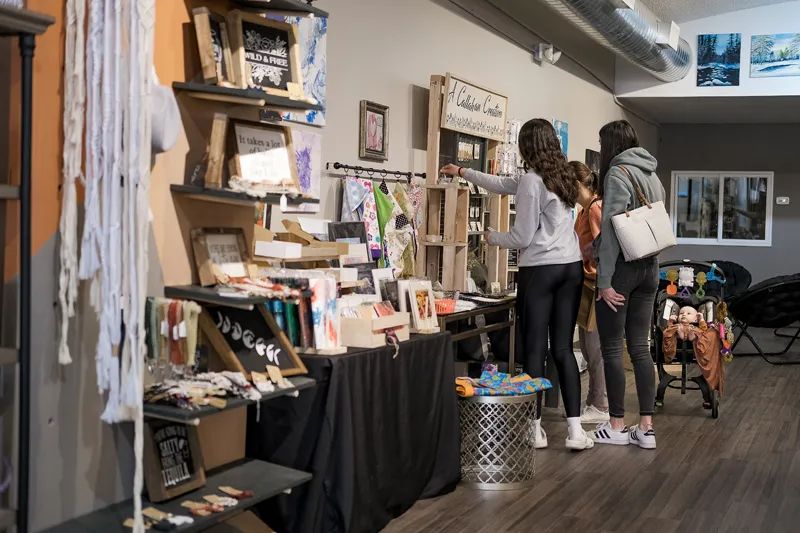 "I'm not anything but we're everything," Alana says. "Whatever anyone wants to come and teach, they can. If you think you can make it work, we'll make it work."
Alana has been overwhelmed by the people who have found their way to Casual Space.
"So far we've had some of the nicest people – welcoming, kind, approachable," she says. "That's what we hoped for."
TAKE A TRIP TO CASUAL SPACE
Folks from all walks of life are welcome at Casual Space, where memberships range from $5 for a day pass to a family rate of $34 per month. Though many of the activities are organized via Facebook, Alana invites non-Facebook followers to contact her for connections and suggestions via her email address casualspacemt@gmail.com. Visit the Casual Space website for a listing of all upcoming classes and events at casualspacemt.com.