Cheers to 25 Years
Kris Carpenter reflects on providing rejuvenation for more than two decades
When you walk into Sanctuary Spa and Salon, the scent of lavender lingers. It's here that owner Kris Carpenter holds one dream and one dream only for you — that you'll leave feeling far more refreshed than when you came. It's been a constant mission in all 25 of her years at the helm.
"I think the vision I've had the entire time has been creating a place to take care of women, giving them a place they could come for an hour or even a day to fill their bucket again," Kris says. Twenty-five years is a long time. But even still, Kris admits the milestone kind of snuck up on her. "I know the reality and statistics of business and to even hit that landmark is pretty exciting."
Over the years, Kris has traveled the nation looking for new types of services to offer in Billings. The desire to be different shows with not only Sanctuary's Chakra Balancing Massage but the rejuvenating Rosemary Mint Body Polish. Each of the services offered has been an evolution.
"When you have a business that has been around that long, it doesn't look like what it did in the beginning, nor should it," she says. "It's been having to shift and change and continually try to stay relevant."
If you ask those who have watched Kris in business, they'll tell you that one of the keys to her success goes far beyond her drive to grow her business: it's her business of growing people. She looks for employees who want to "serve from the heart." And, when she finds them, she not only empowers them to help make the day-to-day decisions, she also gives them an opportunity to shine.
"I've always known what it meant to walk the talk and set a good example, but I never knew what it was to be a team builder. That's something Kris has instilled in me," says Mariah Carpenter, Kris' daughter-in-law who has joined Kris in the management of not just Sanctuary but Kris' second business, The Joy of Living.
"She goes above and beyond no matter what the situation is," Mariah says. She explains by saying that there's never a birthday or work anniversary that goes unnoticed among the staff. Mariah adds that it's not uncommon for the management team to all read the same book for personal growth. They recently read the book "Unreasonable Hospitality: The Power of Giving People More Than They Expect," by Will Guidara, the owner of a five-star restaurant who loves to turn "ordinary transactions into extraordinary experiences."
Mariah says Kris does that for her salon guests, and she focuses on her employees in just the same way.
"One of our staff got a flat tire one day and she had her son, Rob, my husband, go and change her flat tire so at the end of the day that wasn't something she had to deal with," Mariah says.
About four years ago, Kris started something that she says has paid in spades. Instead of what many businesses call a "quarterly review," Kris began what she calls her "Hopes and Dreams Meetings" with employees. It's a scheduled time where she not only goes over that team member's business but asks them the simple question of, "What can I do for you?"
"It's great because I know my team on a different level," she says. "I know what matters to them and it's not necessarily what matters to me."
In 2012, she reached outside her salon walls to start a scholarship at MSU Billings. She gave a five-figure donation to the university's endowment to lend a hand to non-traditional students for decades to come.
"I felt like there are plenty of scholarships for the brightest and the smartest," she says. "I wanted this to reflect a person who is just trying to get going."
Over the summer, she's also been empowering her staff to develop a scholarship for those wanting to enter the salon industry. Kris explains that her employees are coming up with the criteria, and once the scholarship is set in motion, they'll help pick the recipient to help that person enter cosmetology or massage therapy school.
"That doesn't mean that the person who gets the scholarship will have to come work for us, there are no ties that way," Kris says. "It' more about broadening our belief in that it is an incredible industry to go into."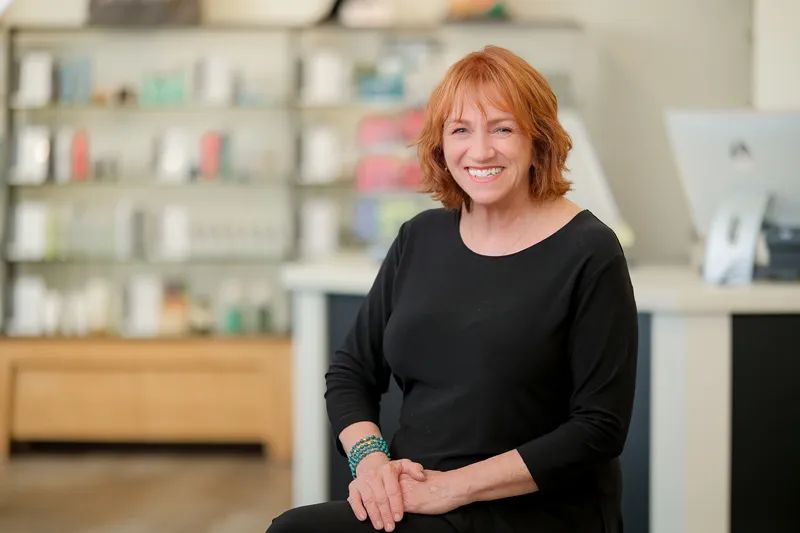 With the dawn of medical spas and massage being incorporated into chiropractic offices, Kris has felt the pinch. All of these businesses are vying for the same talent. That's where she hopes stepping forward and offering scholarships will help expand the pool of potential team members.
"We had to change how we ran our business and how we thought about business. That's been the beauty of being around that long – you either do or you die," Kris says.
When asked what advice she'd give a woman just starting her own enterprise, Kris doesn't hesitate to say never stop learning.
"I think it's being willing to work really, really hard and keep learning. There's no business that isn't hard work but learn and love it," she says. Kris spells that out by saying she has a business coach she works with monthly. She knows where to turn for legal help and she's teamed up with a great banker. "All those things have been super critical to our success," she says.
Those partnerships help her stay focused and do what she does best — taking care of her clients.
"Successful businesses are passion projects," she says. "That's the essence of Sanctuary for me. It's my passion. I'm really glad I took the leap. I'm thankful that there were people who taught me things. They taught me so much and now, to see it get to this point is pretty dang fun."