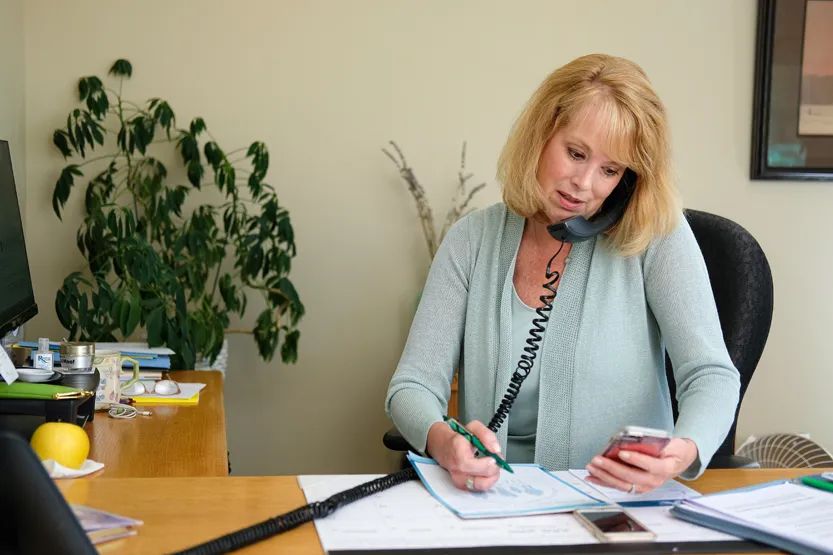 Communicating the Crisis
For Barbara Schneeman, informing about COVID-19 is a 24/7 job
Barbara Schneeman sits at the desk in her third-floor office at RiverStone Health, two cell phones, a land line, a desk-top computer and her laptop all within reach. When you are living at the epicenter of Yellowstone County's response to COVID-19, communication is always on your mind.
Schneeman, public information officer (PIO) for the Yellowstone County COVID-19 Command, sometimes will have more than one phone ringing at the same time.
"I think, 'OK, which one of these rang first?'" she says, laughing.
With the media scrambling to cover every aspect of the pandemic, Schneeman has talked with reporters from local, state and even national online publications.
"It's been really interesting to be able to meet a lot of different people over the phone," she says. "I've even had the opportunity to talk to a sports reporter I would normally never talk to."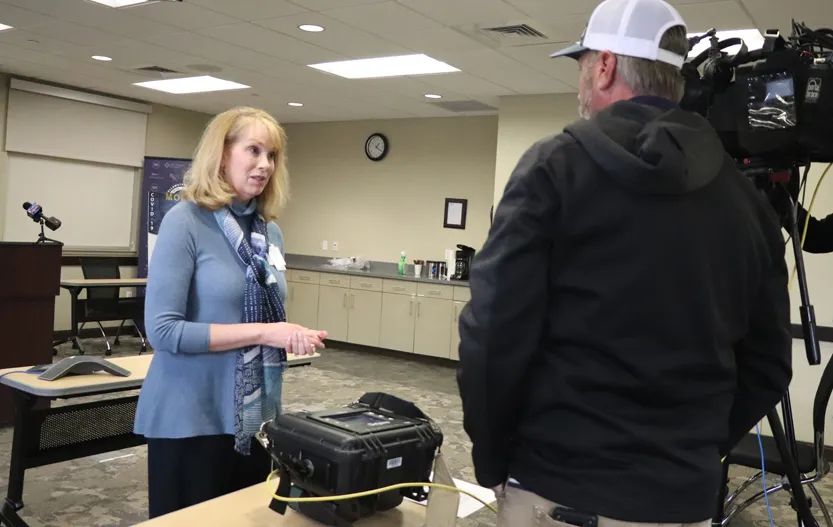 Sometimes that has meant a telephone call at 10 p.m. at home. Which is why Schneeman keeps her phones with her wherever she goes.
Schneeman has worked at RiverStone Health for 17 years as vice president of communications and public affairs and as its PIO. With that role has come extensive training in crisis and emergency risk communication through the U.S. Centers for Disease Control and Prevention in Atlanta and regionally.
That training has given her a good foundation to oversee communication in a crisis. But nothing can fully prepare a person for the first worldwide pandemic in 100 years. One challenge, Schneeman says, is the speed at which information travels on social media and the number of people who assume everything they read is true. Trying to keep up with false or misleading statements can be time-consuming.
The other thing training never mentioned is how politics can play a role in a medical crisis. Even when it comes to something as seemingly innocuous as wearing a face mask.
"The guidance that we give from a public health standpoint is to keep people safe and healthy," she says. "I didn't realize that people would take in information differently based on political ideology."
COVID-19 has been Schneeman's sole focus for the past few months. Pretty much everything else has shifted to the back burner for her and the rest of the staff at RiverStone Health. It has taught her flexibility. Schneeman meets with her team every morning to do a wrap-up from the day before and make plans for the day ahead.
"Fifteen minutes after the meeting, it could change and then we redirect our time and attention to something else," she says.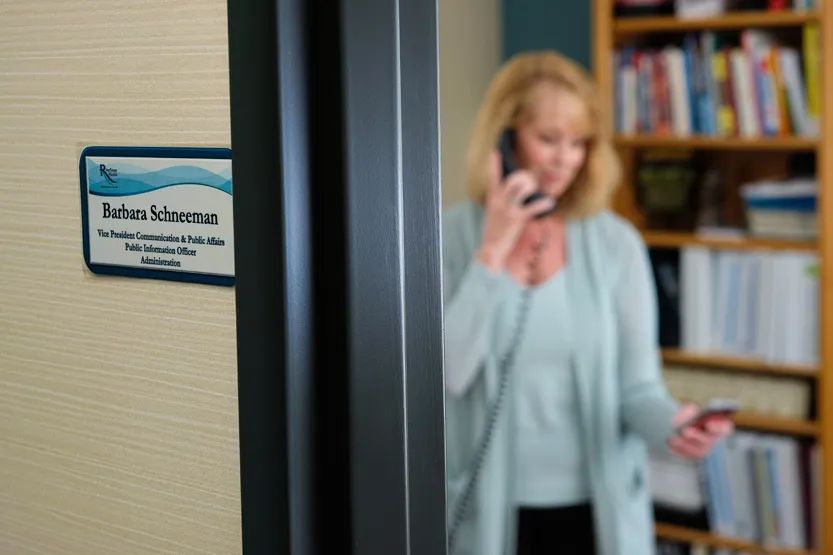 During the most intense weeks of the pandemic so far, Schneeman joined in multiple meetings throughout the day, often taking part in conference calls with other members of the Yellowstone County COVID-19 Command.
The group includes representatives of RiverStone, the two Billings hospitals, law enforcement agencies, emergency responders and city and county officials, among others.
Sitting in the conference room, six feet apart from other RiverStone staff members, she'd position her laptop in front of her, a mug of tea beside it, and work on the latest pressing issue. At 6 or 7 p.m., Schneeman would go home, eat dinner, then again turn her attention to work.
"I'd try to get back to emails that didn't get answered during the day or work on talking points or press releases or guidance materials," Schneeman says. "There was a constant need for information."
To unwind, she'd scroll through Facebook to check on friends, or email family living in other states, spend some time with her husband and two Bichon Frise pups. Then she'd fall into bed around 11 and drift off "because I was really worn out."
Her work weeks didn't end on Fridays. Weekends meant more meetings, more phone calls from reporters and attending to endless details of her job.
Schneeman is quick to say that many others in the public health sector dealt with similar pressures during that time. Keeping life in balance wasn't easy.
"Kind of through it all you try to remain healthy, you try to eat right, to exercise and get enough sleep," she says. "But the reality of how fast things were coming up and the need to respond, I didn't do as good a job as I should have."
She recounts how her husband, Dave Wanzenried, worried about the long hours and the stress she endured. There were times, Schneeman says, when she was home physically "but mentally I wasn't. That's hard on relationships."
With the pressure eased slightly, the couple enjoyed an extended Memorial Day weekend, catching up and enjoying time with their two dogs, 3-year-old Dewey and Emmie, a puppy the couple acquired in March.
The pair stays pretty close to home. When Schneeman makes trips to the grocery store, she generally goes early in the day and always wears a mask. It lets her practice what she preaches.
Schneeman knows the toll the pandemic has taken, from those who have suffered from COVID-19 to families supporting those who have had it or, worse yet, died from it, to seeing lives disrupted financially or even emotionally.
She and her husband postponed a family vacation to Hawaii at the end of March to celebrate her birthday. Instead, Wanzenried bought her a birthday pineapple to mark the day.
Her parents live in assisted living in Billings. When the day came in March that the state called for the lockdown of all similar facilities, she dropped everything to go see them. For Mother's Day, Schneeman brought her mother, who is battling Alzheimer's disease, baskets of flowers for her patio. Schneeman's dad and mom stepped outside to see her, while she maintained the proper social distance.
"My mom kept moving toward me, and I kept moving away from her," Schneeman says. "I had to say 'Mom, I can't touch you,' and it was heartbreaking."
Schneeman is grateful for the dedicated people she's working alongside in this pandemic. Even though COVID-19 seems to be ebbing, at least in Montana, no one knows what will happen as the state continues to open up, and with cold weather and a possible second wave of the virus on the distant horizon.
She will continue to get the word out, to encourage the community to take steps in the absence of a vaccine to stay healthy and COVID-free.
"How we all individually behave will collectively make a difference," Schneeman says.
It's the message she hopes people will hear for the sake of everyone around them.