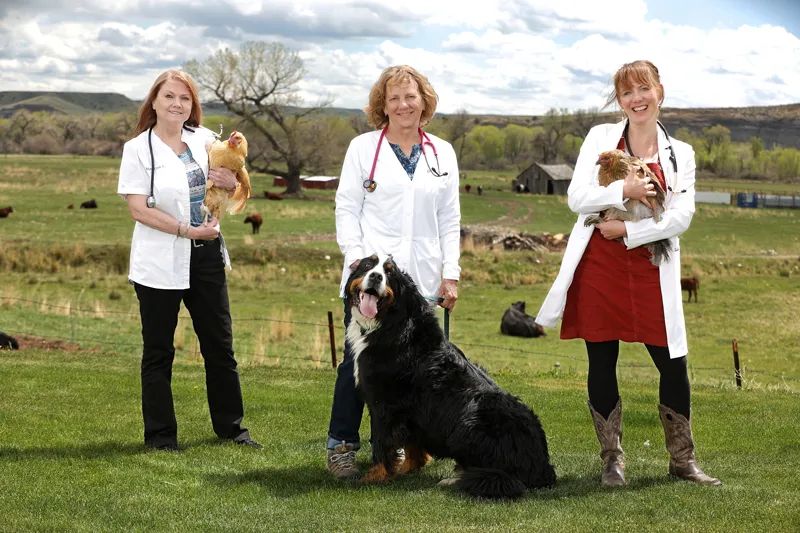 Community of Caring
Veterinarians lean on each other on the job & in life
Five area veterinarians have discovered they have a lot in common. The five, all women ranging in age from 36 to 60, knew from childhood they wanted to be vets, that they loved animals. Four out of five completed their training at the same university.
Most are wives and mothers. All own pets, ranging from dogs and cats to a pair of demanding chickens and a house pig. Some work full-time and others, part-time. All agree that while they find much satisfaction in their calling, they rely on one another for emotional support to cope with what can be, at times, a grueling job.
"It's nice finding other women who share your challenges and your philosophy of life and your goals," says Dr. Sharon Mohr, longtime veterinarian who recalls a time when that wasn't the case.
Back in 1994, not long into her career, Mohr was the lone female vet practicing in Laurel.
"There were no women to talk to and there were days I felt all alone, that I was questioning myself, that I was not smart enough," she says.
Now in her late 50s, in a field where female vets these days outnumber their male counterparts, she appreciates the support she didn't feel in those early days. "There's a lot of joy in knowing them."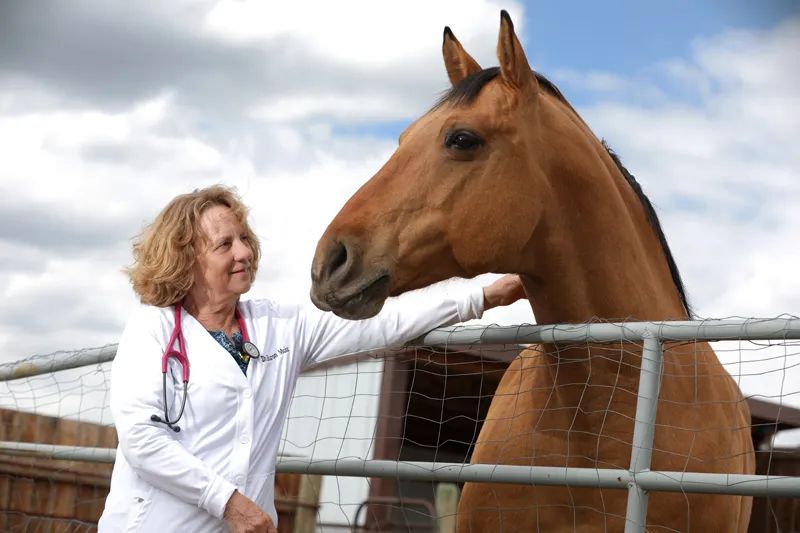 Mohr lives on a family ranch in Park City with her husband, Wayne Roller. The couple have three sons between them, as well as a small herd of cattle, a horse or two, a couple of sheep, chickens, cats and dogs. She fills in part-time at Billings vet clinics and finds camaraderie with these women, whether she knows them through a practice or personally.
That's especially true in a profession where multiple stresses — long hours, complicated cases, unhappy pet owners, crushing school debt and juggling roles — can overwhelm even the most dedicated veterinarian. A study published in 2019 found that suicide is 1.6 times more likely among vets than the general population.
Dr. Anneke Johnson, 36, the youngest of the five, values the wisdom she gleans from her more practiced colleagues.
"It's comforting to hear from experienced vets what they've seen and they're still there practicing and they can still love it," she says. "It's nice to encourage each other and remind each other why it's such a great profession – and some days you need that."
Johnson, the only one of the five who grew up outside the United States, was born and raised in Germany. She spent a year as an exchange student in Manhattan, Montana, and met her future husband through her host family.
The couple married in 2007 and settled in Montana. Johnson, who graduated from CSU in 2017, lives in Big Timber with husband Lyle and their son, 2, and daughter, 8 months. She also owns two horses, two dogs "and two very demanding chickens."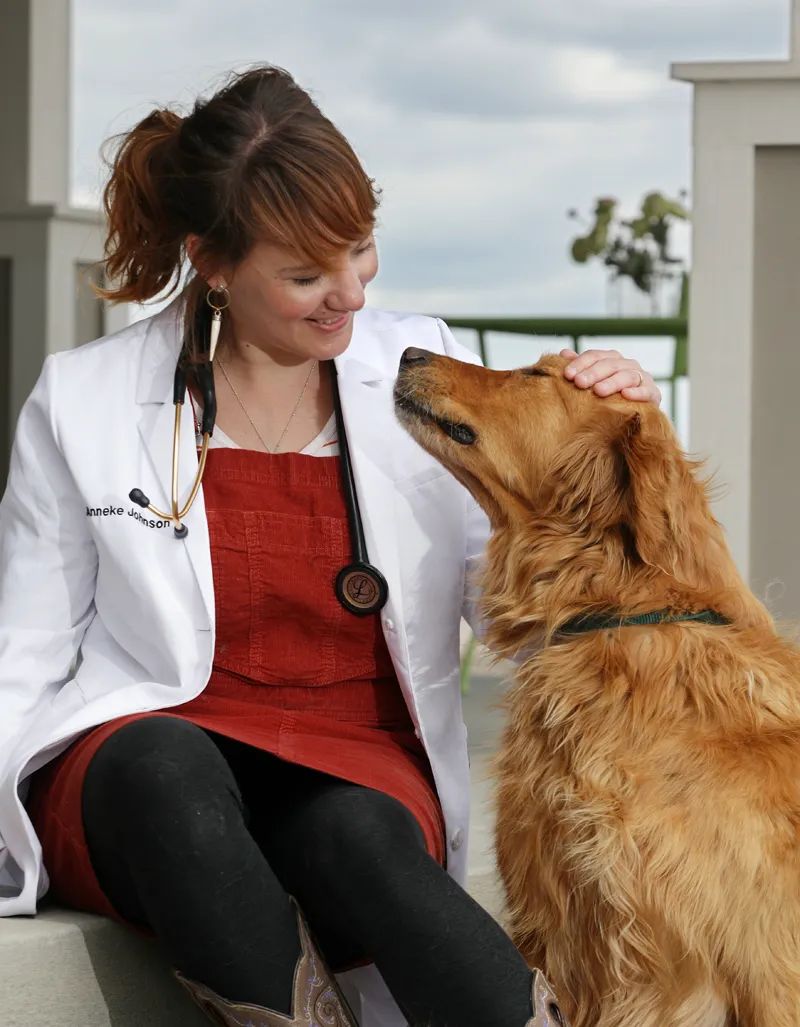 Johnson works 20 to 30 hours a week, occasionally at a vet practice in Big Timber, and as one of the vets at ZooMontana and at other clinics in Billings. One of her specialties is acupuncture, to stimulate the nervous system function and for chronic pain and mobility issues. When the treatment brings the animal relief, it's good news all around, she says.
"Those are the days we all live for, when the animal feels better and the owner is happy," she says. "Those are ideal."
Johnson spent her first year out of vet school working for Dr. Amy Lamm, owner of Vet-To-Go in Billings, and she continues to stay in touch with her mentor. She accompanied Lamm and Mohr to Loreto, Mexico, for what Lamm called a "spaycation," blending work with fun.
Johnson helped with the surgeries and used her undergraduate degree in Spanish, acting as the trio's interpreter, in what she called "a full circle" experience.
Lamm, 60, an Arizona native, graduated from CSU the same year as Mohr, and the two women have maintained a close friendship over the years. A fierce advocate of low-cost spay and neutering, Lamm organizes four such clinics in Billings each year and helps with another one on the Fort Peck Reservation.
"To me it's about giving back to the community that's given me a career and a life," she says.
Lamm, who is divorced, lives with three dogs and a cat. She works long hours in her office and then conducts spay/neuter clinics on weekends, so fatigue is a very real thing. She's learned to say no to nighttime emergency cases "and I don't do midnight calls anymore."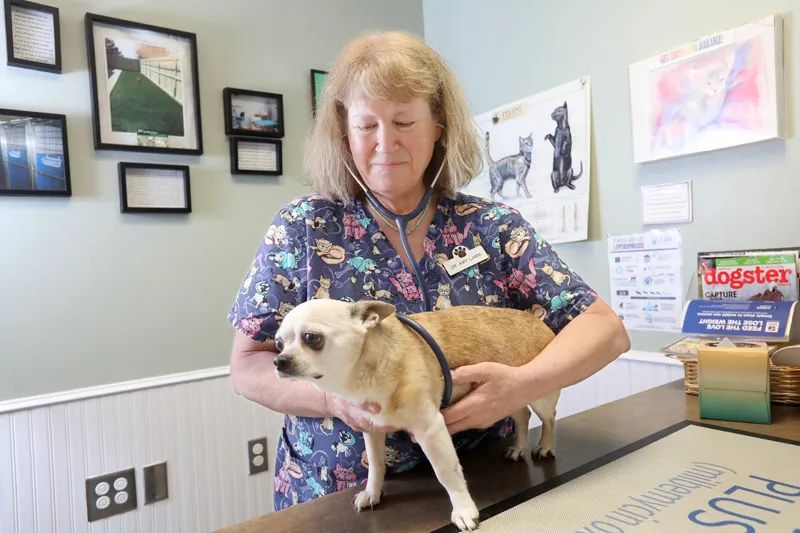 An empathetic person, Lamm says it can be hard to bear the brunt of anger from a pet owner unhappy with an outcome. Lamm loves heading outdoors when she can, riding her bike, camping and fishing. Or she'll pick up a book. To decompress, she enjoys an occasional beer with Mohr at Billings microbrewery owned by Mohr's brother.
"I know she's there for me and I'm there for her, if she needs me," Lamm says. "It's a comfort."
Like Lamm, Mohr owned her own practice, Friendship Veterinary Center in Laurel. She opened the business in 2003 and, after 13 years, "I was burning out, not finding help."
Mohr sold the business in 2016, then took a year off before she started relief work – also called locum tenons – substituting for other vets, temporarily filling in.
"It was not as stressful as when I had my own clinic," she says.
Mohr has enjoyed years' long relationships with her animal patients and their owners. "I've had lots of people greet me in the grocery store, tell me their appreciated my help," she says. "You get cards and letters, especially from kids."
Vets have to know how to treat all kinds of ailments and all types of animals. That means staying up to date on treatments and technology for all the different breeds.
"It's definitely challenging," Mohr says. "It's not a career for the faint of heart."
While doing relief work at Shiloh Veterinary Hospital, she met Dr. Marci Cook, the practice's managing veterinarian, and Dr. Carla Barker who, for a time, did relief work at Shiloh. Not only did Mohr and Cook work together. They live about 10 miles apart. Cook, in her 50s, and her husband, Rip, reside in the hills between Columbus and Park City. Both Mohr and Cook have sons about the same age, and like Mohr, Cook has dogs, cats and chickens.
All they have in common solidified a bond, says Cook, who graduated from CSU in 1995.
"She and I hit it off really well," Cook says. "We walk around, take the dogs here and there. It's kind of nice to have an outlet outside of work to do things together."
Cook, who grew up in Billings, has "always had a huge love of animals and I can't imagine living my life without them. What I love about being a vet is meeting people who love their animals as much as I love mine."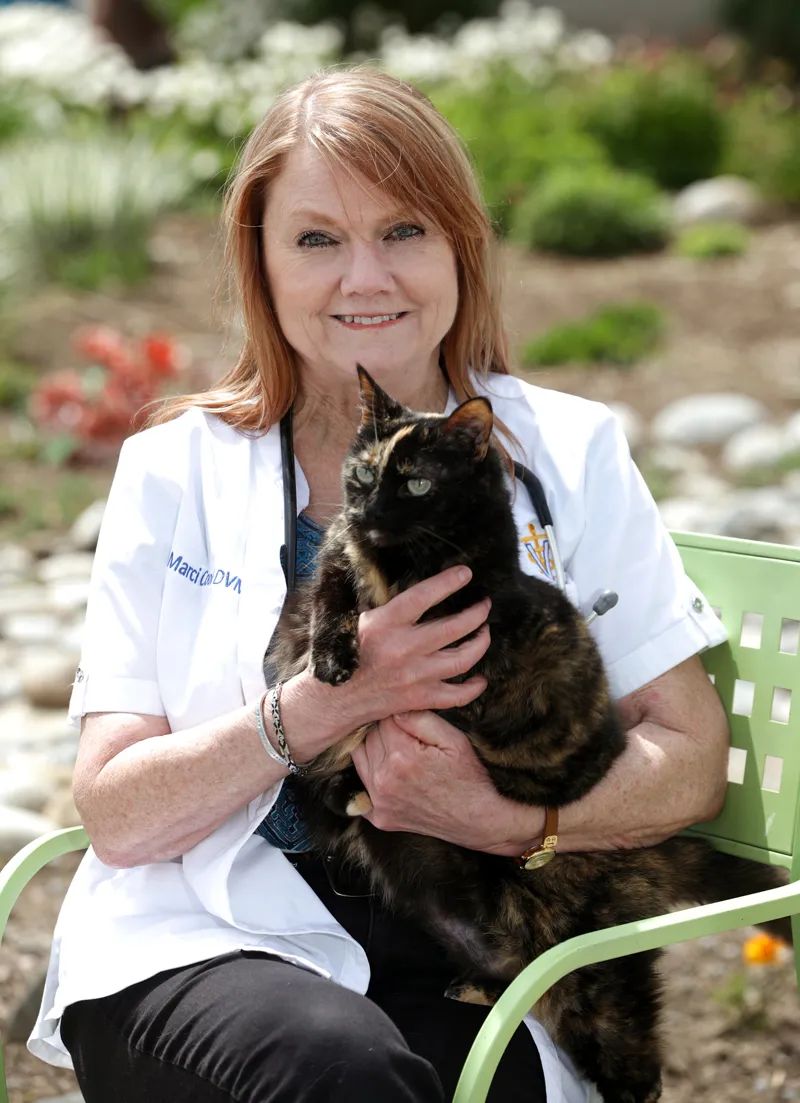 While in veterinary school, Cook wanted to find a niche to help her stand out. She thought that specialty might be birds, then llamas, but ultimately, she chose ultrasound.
"I'm not an expert, but I've been lucky to have a large caseload from day one," she says. "You get good at things you do a lot. Plus, I take classes and continuing education."
Like all vets, Cook has euthanized many animals in her 20-plus years at Shiloh. She calls it "one of the most important parts of my job, making it as easy as possible in a very difficult situation." But having to do it sometimes multiple times in a day can lead to compassion fatigue.
"They're all heart-wrenching and by the end of the day, there's nothing left for myself," she says.
She finds outlets, like showing her Rhodesian Ridgeback dogs, hiking, enjoying the family cabin. And she appreciates the encouragement of colleagues who face the same reality.
"It's certainly true that nobody knows what you're going through like someone who does what you do," she says.
Dr. Carla Barker has known Mohr for probably five years, when both were doing relief work at Shiloh. "And we just hit it off because she's got great medicine," Barker, 48, says. "She's no-nonsense, she's down to earth."
Barker calls Mohr, Cook and the other women "brilliant in so many ways. A lot of them have such deep compassion for the work they're doing."
Born in Oklahoma and raised in Illinois, Barker remembered as a girl, when her family couldn't afford veterinary care and her dog got hit by a car. "He sat on the porch and bled and there was nothing we could do," she remembers.
That experience helped spur her desire to help other animals. Barker graduated in 1999 from the University of Missouri College of Veterinary Medicine. In a sort of reverse of Johnson's experience, Barker moved to Germany with her husband, Brad, who was an active-duty U.S. Army Apache helicopter pilot.
Not long after the couple arrived in Germany, Barker was invited to open a vet clinic on base. After her husband retired seven years ago, the couple and their family moved to Jackson Hole, Wyoming. Eventually, they relocated to Luther, deciding Montana would be a good place to raise their two sons and two daughters, who range in age from 21 to 12.
In a time where more and more veterinary clinics are owned by corporations, Barker loves working at the locally owned Red Lodge Beartooth Animal Hospital, where she now works three days a week. The culture of the practice, she says, "is tied to community and compassion," and it's a mere 15 minutes away from her home.
For Barker, the key to her work is focusing on the people she is serving and valuing their pets.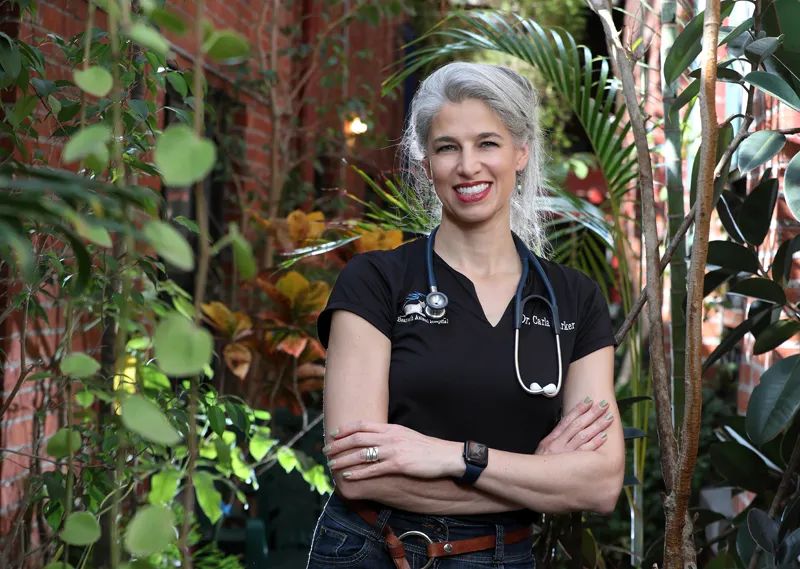 "Look at what animals do for our families and our lives," Barker says. "They enrich every part of our existence, and if I can help in those situations that is the delight of my life."
At home, she enjoys the companionship of her dog, Ringo and a house pig, Clementine, as well as her family.
Barker says she "lives a charmed life," believing that happiness is a choice. She also has "oodles of faith in God." But like the other vets, Barker is keenly aware of the toll stress takes on veterinarians who give so much of themselves to their work. She tells of an online organization, "Not One More Vet," that strives to lend emotional support to animal doctors and guide them away from taking their own lives.
In a Facebook post a year ago, she shared insights into the types of pressure that might push vets toward suicide, including this: "Medicine isn't magic, and animals die or have complications that require a keen sense and rapid decision making, and ALWAYS a giant heart full of compassion," she wrote. "But crappy things still happen. Really crappy. It adds up."
She appreciates the online group's efforts to reach out to struggling vets. Closer to home, Barker is glad for the women she has come to know who share a dedication to healing animals and supporting their owners, and each other.
"In the midst of those difficult client interactions that you wouldn't want to tell your pastor or someone else, you can bring those conversations to another veterinarian and they'll listen openly and bring that grounding to the conversation," she says. "That's really the beauty of doing this with so many women vets."