COOL AS A CUCUMIS SATIVUS
(That's a Cucumber!)
What do you know about Cucumis sativus?
The cucumber is one of America's top five garden vegetables, although botanically it is a fruit (it contains seeds). Another fun fact — it's a member of the same family as watermelon, pumpkin, muskmelon and squash.
A brief history of the cucumber, published by the University of Missouri, says it's native to India and has been grown as a food source for more than 3,000 years. Columbus is credited with bringing the cucumber to the New World.
Being 96 percent water, it's naturally low in calories, fat, carbohydrates and sodium. The cucumber a good source of phytonutrients such as flavonoids, lignans and triterpenes, which have antioxidant, anti-inflammatory and anti-cancer benefits. And before you grab that vegetable peeler, you should know It's the peel and seeds that are the most nutrient-dense part of the cuke.
While many slice them to throw into a salad, cucumbers can be a salad all on their own with the easy-peasy Quick Ranch Cucumber Salad. The refreshing recipe Cucumbers in Vinegar and Oil is also a nice break from a typical summer greens salad.
Whip up some Tzatziki Sauce as a star condiment for fish, especially grilled salmon. You can also use it to top and spice up a grilled burger. Cucumber Soup is a cool summer meal first course. And, with just a few ingredients, Refrigerator Pickles can become a sure-fire family favorite.
So, dig into that garden and pull out a whole new way to enjoy the cool Cucumis Sativus!
Enjoy!
CUCUMBER SOUP
2 medium cucumbers
1 qt buttermilk
1 T. chopped scallions
1 t. salt
¼ c. chopped Italian parsley
Peel cucumber, remove seeds and grate to make 1 to 1 ½ cups of grated cucumber. Place in a strainer and allow to drain for about 30 minutes. Combine the cucumber, buttermilk, scallions and salt in a bowl and mix well. Cover and refrigerate for an hour. Mix again before serving and garnish with chopped parsley.
NOTE: for added "pop," add a dash of hot sauce.
CUCUMBER IN VINEGAR AND OIL
1 cucumber, thinly sliced
1 small onion, thinly sliced
2 T. sugar
1/3 t. salt
Dash of freshly ground pepper
½ c. white vinegar
¼ c. canola oil
Salad greens
In a small bowl combine all the ingredients. Cover and refrigerate at least two hours Drain and serve on bed of salad greens.
NOTE: For attractive presentation, l peel away strips of the outer peel for a
"striped" look.
QUICK RANCH CUCUMBER SALAD
1 cucumber
1 t. salt
½ c. Ranch Dressing
Peel and thinly slice the cucumber, sprinkle with the salt and let drain in a strainer for 30 minutes. Put the drained cucumbers on some paper towels and pat dry. Combine the cucumber and ranch dressing and chill for about 30 minutes. Serve.
NOTE: for added crunch, you can add two sliced scallions, both white and green parts, or some thinly sliced red onion.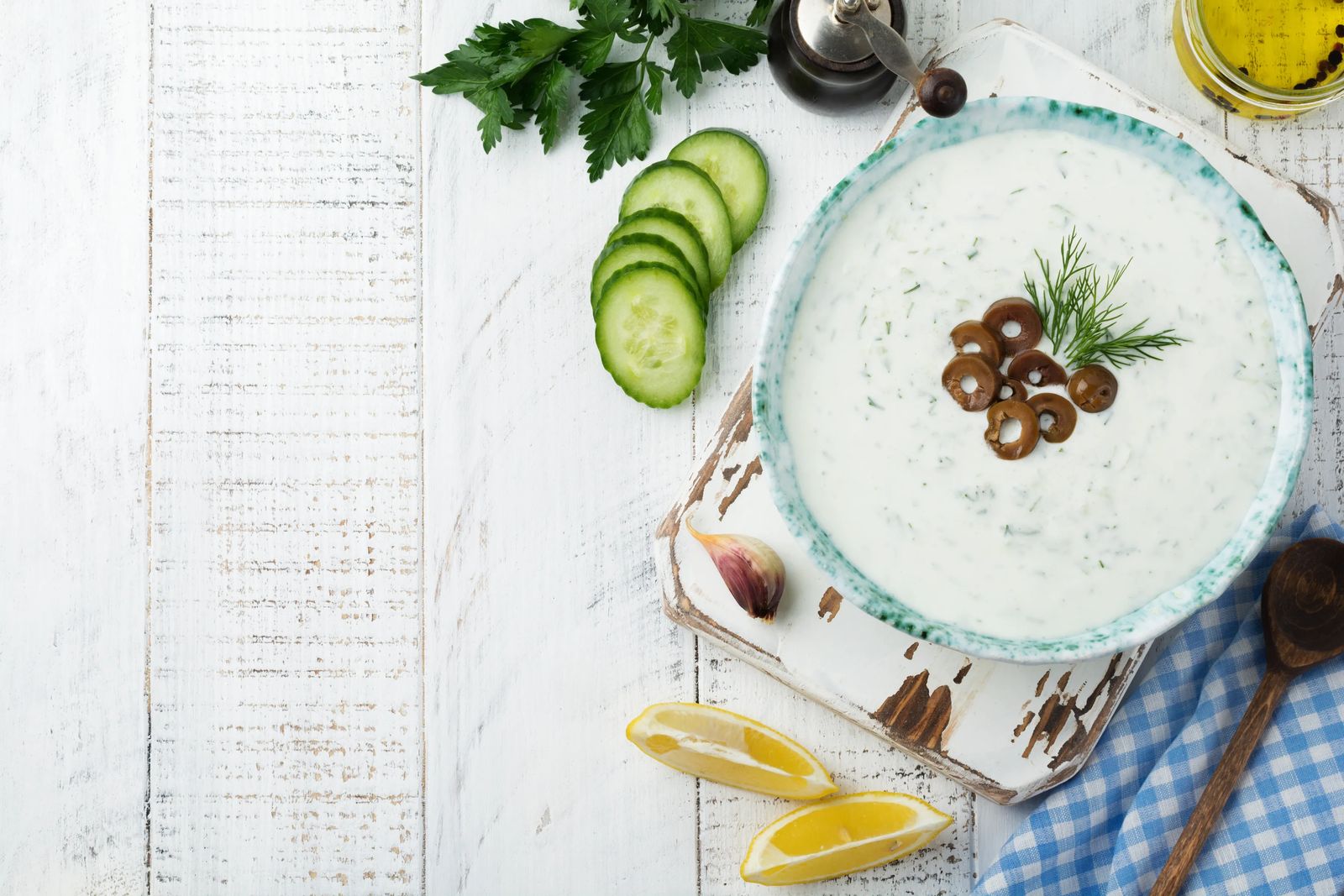 TZATZIKI SAUCE
½ c. finely grated cucumber
1 c. whole fat plain Greek yogurt
1 T. freshly squeezed lemon juice
½ T. extra virgin olive oil
1 garlic clove, grated
¼ t. sea salt
1 T. chopped fresh dill
1 T. chopped mint, optional
Place the grated cucumber in a dish towel or several layers of paper towel and squeeze out the excess water. In a medium bowl combine the cucumber, yogurt, lemon juice, olive oil, garlic, salt, dill and mint (if using). Chill until ready to serve.
REFRIGERATOR PICKLES
1½ c. white sugar
2 T. kosher salt
1 c. white vinegar
6 c. peeled and sliced cucumbers
3 peeled whole garlic cloves
Stir together the sugar, salt and vinegar together until the sugar is almost completely dissolved. Pour into a container with a lid that is large enough to hold everything. Add the cucumber and garlic cloves and stir to coat. Cover the container and refrigerate for at least two days, stirring occasionally.