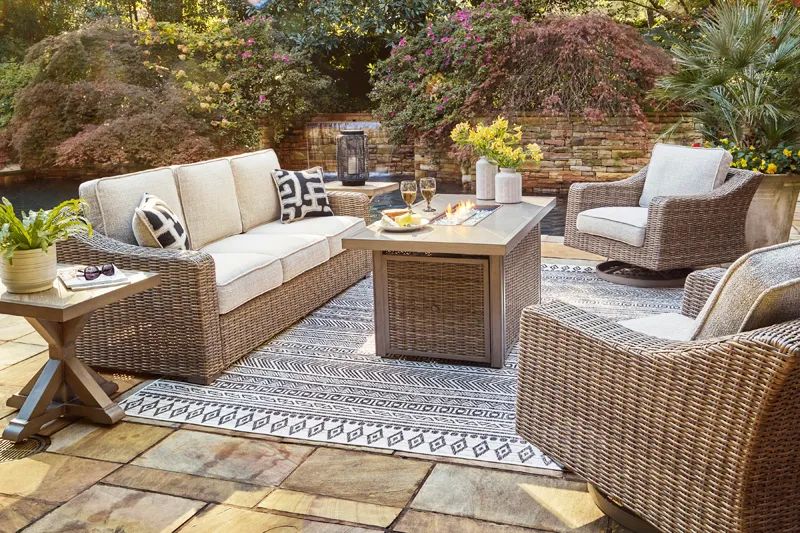 Create an Outdoor Oasis
Top 2023 trends to energize your outdoor living space
When it comes to hanging outside under the summer sun or putting your feet up under the stars, there's no question the patio or deck has become the home's extra "living room." That's why more and more homeowners are creating that relaxing outdoor getaway without ever having to leave home. What are the top trends? We talked to a few local experts to find out how Montanans are creating outdoor oases.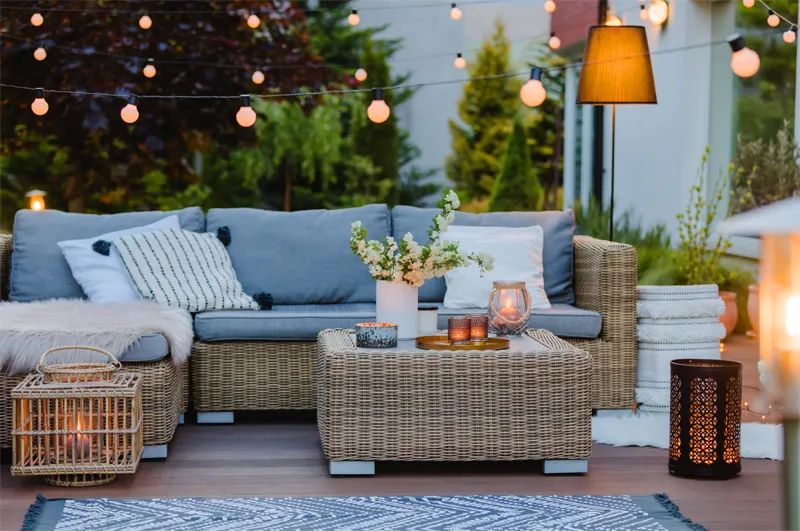 DINING AL FRESCO
Enjoying an outdoor meal with family is nothing new. But, over the past few years, the manner in which we're enjoying cuisine and conversation has gotten quite the lift.
"What was once some lawn chairs and a redwood picnic table in the backyard has now become up to a 3,000-square-foot addition to your home by making the outdoors so livable," says Jim Gainan of Gainan's Midtown.
Jim says many of his customers are opting for dining tables that seat up to 10, with an emphasis on entertaining. If you don't feel like you have the space for this size table, he suggests, opt for two smaller tables and put them together when you need a few extra seats.
"Another trend is to dress a table outside the way you would inside — going to some trouble to make it look extra pretty for your guests and more importantly for yourself," Jim says. Think outdoor table runners, melamine plates in pretty patterns or acrylic glasses that look like glass but won't break if dropped.
Instead of having to stain a redwood picnic table every few years, Jim says options like the Polywood line make maintaining outdoor furniture as easy as it is to wash your car. The furniture is made from upcycled plastic milk jugs that have been melted down and molded into a timber-like product.
"You just take soap, water, rinse and dry," Jim says. "Once a year, you can take Armor All and wipe it down for UV protection."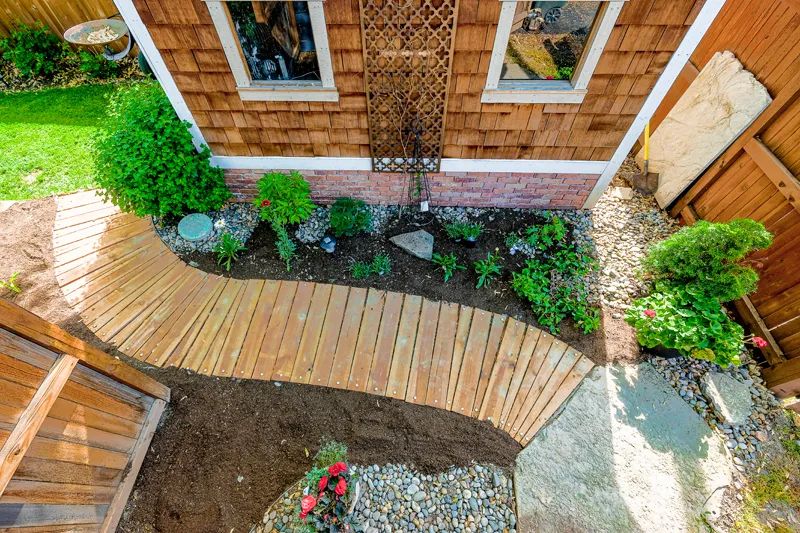 SERENITY NOW KIND OF SEATING
For the past few years, there's been a movement toward making outdoor living an expression of a person's indoor design style. That trend continues.
"It used to be that the outdoor fabrics had a distinct feel to them, but now the outdoor fabrics are a soft, supple fabric, almost what you'd see on interior furniture," says Ann Murphy, store designer for Timesquare Furniture. "Now you are seeing televisions out on patios next to outdoor kitchens. It's almost like the whole house set-up has moved outdoors."
Sectional seating has also gained in popularity, allowing homeowners to move bits and pieces to accommodate larger groups with a variety of interchangeable components. And, as Ann's fellow store designer Summer Montez says, "A lot of the furniture in the past has been super-lightweight. People want a bulkier furniture that's weather- and sun-resistant so you can get years out of it." And, she says, it gives people a set that won't blow away when the next big windstorm strikes.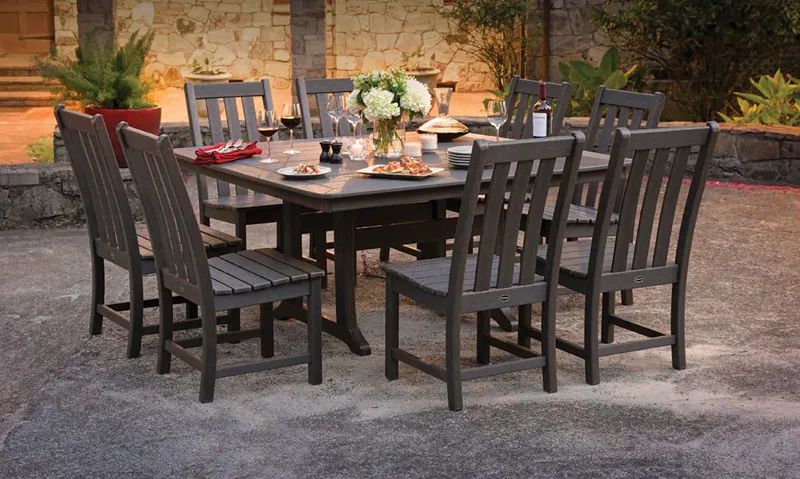 NATURAL PATHWAYS
Meandering paths have become a trend to add a bit of serenity with an emphasis on using natural products to create these walkways.
"People like grass, just not as much," Jim Gainan says, adding that the use of maintenance-free materials breaks up what was once a rectangular yard into a space with design interest. Folks are turning to not only wood but broken stones or even crushed limestone to add a bit of charm.
"Limestone, in its most crushed form, looks like a sand path in Hawaii and it works in Billings," Jim says. After you create your pathway, removing grass and exposing the dirt underneath, "You tamp the crushed limestone down and it creates a natural pathway." If you use what's called polymeric sand, which is often used as a joint sand between pavers, once you get it wet, it becomes as hard as rock.
"There's no maintenance to it," Jim says, "and it cuts down on the space to water."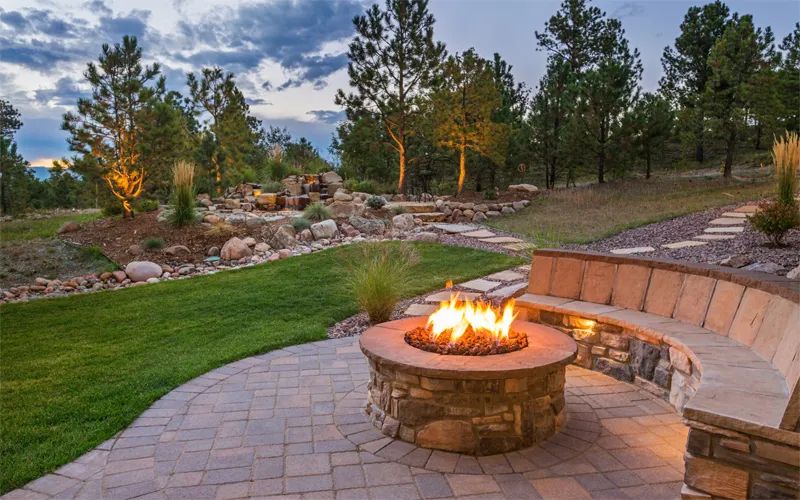 LET THERE BE LIGHT
With all the solar lighting options or the ever-popular string lights, pretty much every expert agreed that layered light on the patio can create just the right magic when the sun sets.
"It just creates a wonderful ambiance," Ann says. "I took a drum lampshade and covered it with some outdoor fabric and then I used a solar hanging light inside." It looks like an indoor hanging lamp, only powered outside by the sun, Ann says. She's also set a hurricane lamp with a citronella candle in the middle of a potted herb garden to create a useful centerpiece.
PERK UP WITH A SERENE POP OF COLOR
Gone are the all-gray outdoor schemes or bold bright colors. This year, outdoor living is all about creating a healthy dose of serenity and using color to do it. Browse the outdoor patio collections or pillows and you'll find more sophisticated patterns that are similar to what you might find in an indoor living collection. Colors that are trending this season? A serene green — think the color of succulents — and a complementary shade of orange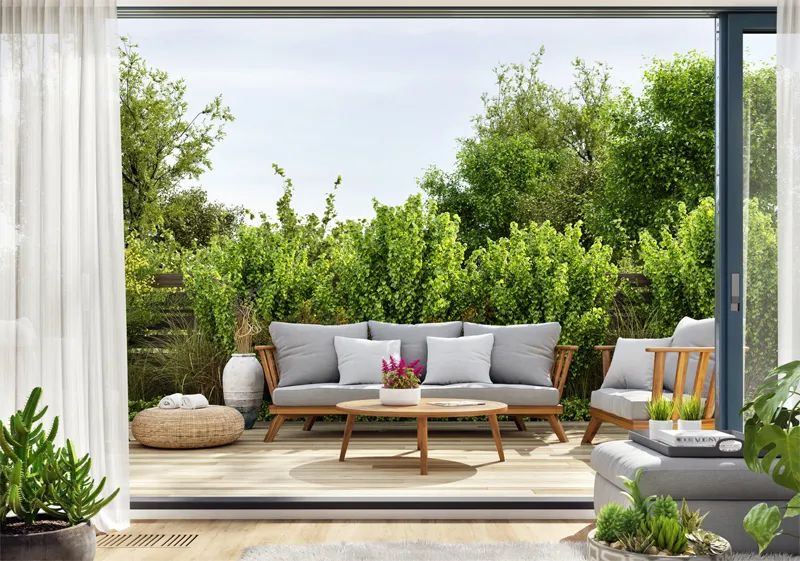 FREE FLOW
When it comes to creating a peaceful retreat, more and more homeowners are opting to blur the lines between indoor and outdoor spaces and it's happening with plenty of "wow" factor.
"We now have sliding doors where all three or four panels are operable," says Logan Eaton with Pella Windows and Doors. He says panels can be up to 5 feet wide and 10 feet tall with stacking technology to create extra large openings right off the back of your home. Other sliding doors are created just like a pocket door, allowing the homeowner to slide the door completely out of view.
"A lot of the older sliding doors are two panel doors and you have a 3-foot opening in them or sometimes even less than that. Now you are getting a 4-foot up to a 20-foot opening," Logan says. "It changes the whole atmosphere. Everyone knows what it is like to go out onto a really nice patio, and when you can bring that into your home, especially with entertaining, it changes the mood altogether."
With a little investment, he says, you can easily stretch interior square footage, letting your home take advantage of the fresh summer air along with plenty of natural light.
SPA-LIKE ENVIRONMENT
From water features to hot tubs and bubbling fountains to swimming pools, using water in a back yard is sure to up the relaxation factor. If you look at the statistics behind the trend, three out of 10 homeowners would love to add a hot tub in 2023 and 15 percent say a swim spa is on their wish list.
"I think popularity has to do not only because of space but because of people's desire to reconnect with family," says Kristene Bogle, owner of Big Sky Spas. "When we talk about hot tubs or swim spas, we talk about it being the new family dinner table. There are no distractions. There are no cell phones. It's a place to talk to each other."
And a swim spa is the only pool that Montanans can use all year round, not only for entertaining but exercise too.
"You can literally swim if it is 104 degrees, or you could swim if it is 20 degrees. It always works," Kristene says, adding that you don't have to winterize a swim spa.
These mini-pools, on average, are 8 feet wide by 17 feet long and easily allows upwards of a dozen people to enjoy the space at one time. When you consider the fact that the average pool will set you back $70,000, a swim spa as little as $25,000 is a year-round bargain.
"I liken it to going to the beach or to the river," Kristene says. "There's something about the sound and feel of water that naturally relaxes you."