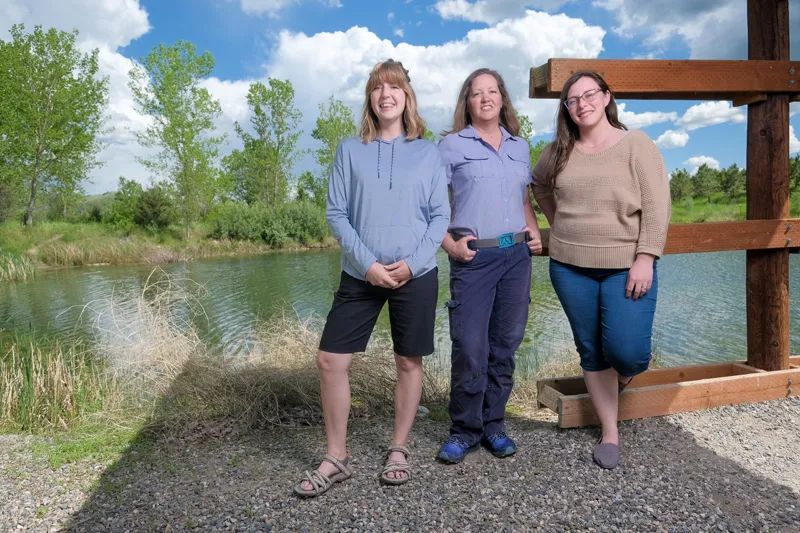 Creating a World of Wonder
The women of the Montana Audubon Center
On an overcast spring day earlier this year, the Montana Audubon Center was crawling with ANTS. These were not tiny crawling insects you expect (though there were plenty of them as well). They were fourth-grade students from Billings schools taking part in the Audubon Naturalist in the Schools (ANTS) program. Some were wearing bright orange life jackets and practicing oar strokes on the shore of a pond. Others scurried around carrying binoculars while their teachers trailed behind them, their gradebooks blissfully left behind.
"As adults we feel like we need to teach kids things, but really all we need to do is provide them with the opportunity to put all the pieces together," says Emily Chilcoat, Montana Audubon Center executive director.
The ANTS program provides every fourth-grader in Billings School District 2 with three field trips to the Montana Audubon Center – fall, winter and spring. In the fall they're apprehensive, unsure what to expect, and what's expected of them, but by the spring they are confident and know their way around. They're rewarded with an opportunity to take a canoe and pilot it around the pond.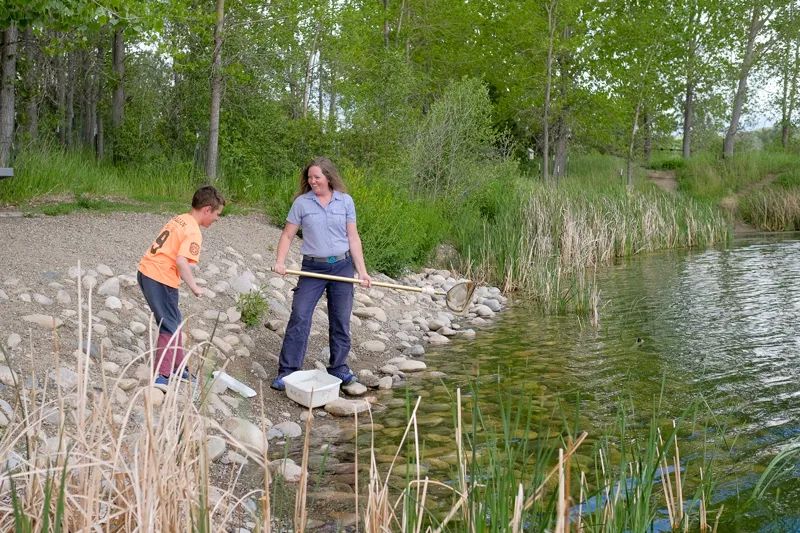 While some of the students might feel right at home outdoors, there are always more than a few that are unfamiliar with nature – the unpredictable weather and other hazards that serve as gentle reminders that nature will do what it wants.
"They're told, no sticks. No running. Don't do that. Don't jump in that puddle," says ANTS Program Director Taisha Haggard. "The kids look at me and say, 'What do I do out here?'"
The Montana Audubon Center, located near the Yellowstone River off South Billings Boulevard, is precisely the place to find out. It encompasses 54 acres, 23 of which belong to the Yellowstone River Parks Association (YRPA). The site is a reclaimed gravel pit. Over the past 25 years, volunteers have planted more than 75,000 trees and shrubs, all of which are native to the area. The once-barren gravel pit is now a thriving refuge for birds and wildlife.
"There's so much community history here," Emily says. "Just about everything on the site volunteers have been integral in making happen."
Norm Schoenthal was among those volunteers and, and the driving force behind the creation of the center. He believed that learning should happen outside, and he wanted the site to be used for education – and that it should be accessible to all. The learning center at the Audubon Center is named after him, and so is Norm's Island, which is adjacent to the YRPA property. Norm died in 2021, but not before realizing his dreams.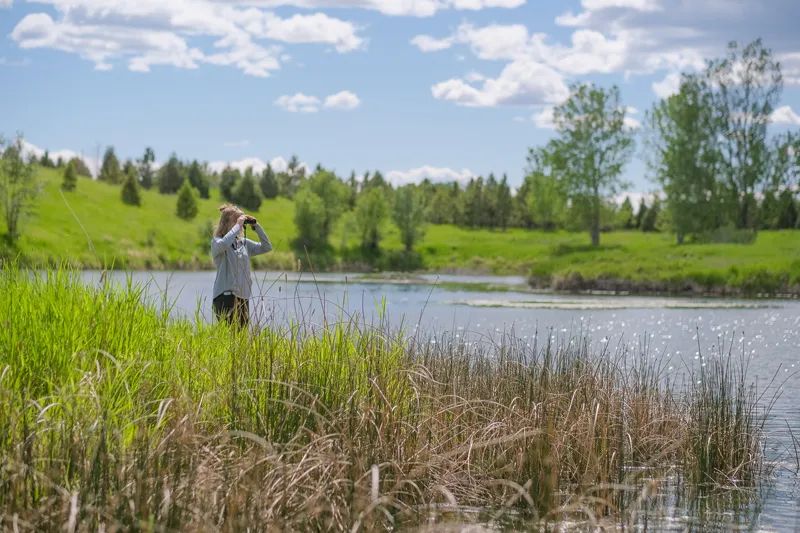 ANTS, which provides outdoor experiences for almost 6,000 kids a year, is just one of many programs offered at the Audubon Center. The center also operates Fledgling Preschool, and this year added kindergarten. They also host a weekly play opportunity for toddlers and their parents called Nature Nuts and offer nature-based learning to home school students. Kids with developmental disabilities also have a place at the center and on weekends the staff offers Weekend Wonders, a family adventure program. Adult programming abounds as well, including the popular Master Naturalist Program, taught by Heather Bilden.
"There's never not something going on out here," says Emily.
Additionally, the site is open to the public from dawn to dusk for exploration. There are three miles of established walking trails. To keep the site as wildlife friendly as possible, no dogs are allowed.
Sarah Chatwood is the center's preschool coordinator. She has a background in elementary education, but like most of the women on the staff, the outdoors called to her, and she left her career in a traditional classroom setting. Around her neck, she carries a "magic notebook." It's a small notebook setup on a lanyard with a binder clip and a pen where she writes down observations from her day. Now at the end of the school year, it's worn and almost full. The latest addition was a story about Max. He was lying on the ground in the play area when a barn swallow swooped down within a few inches from his face. He jumped up and said, "Did you see that!"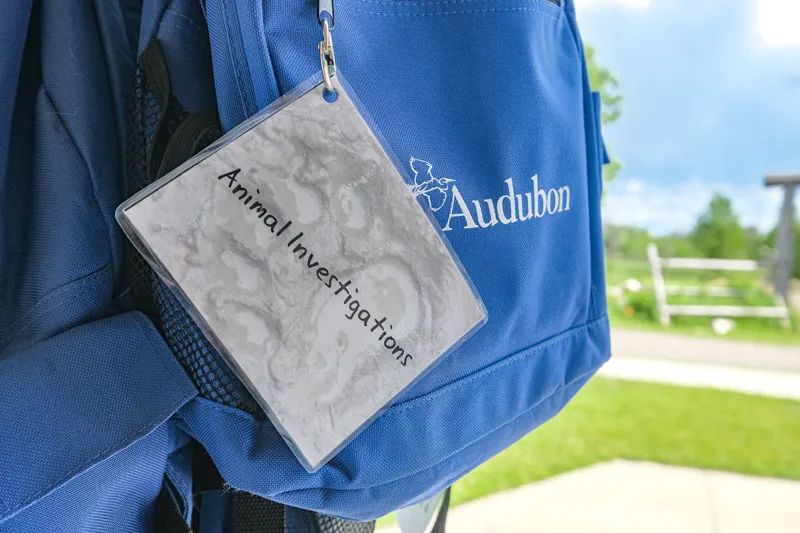 "That sense of wonder is priceless," Sarah says.
It's an experience Max wouldn't have had in a traditional preschool. At the Audubon Center the students spend about 80 percent of their day outside year-round. Sarah and her team focus on play and providing nature-based learning opportunities. If an opportunity presents itself to introduce academics, they seize it, otherwise they let the children experience their world at their own pace. In nature, they learn confidence, resiliency, communication, problem solving and teamwork. Risky play like climbing trees, playing with sticks and throwing rocks is allowed.
"There's so much confidence building that happens outside if it's accessible," Emily says.
Taisha Haggard, the ANTS program coordinator, is also a formal-turned-informal educator. She started out in the classroom, but quickly discovered that she didn't fit there. She was drawn to nature-based learning.
"All I knew was that I wanted to be outside to teach," Taisha says.
Conservation is a large part of nature-based learning. The idea is that if a child develops a connection to nature, they're more likely to protect it.
"They understand, because they are a part of this place," Taisha says.
Nature-based education seems to attract a mostly female workforce, and the Montana Audubon Center is no exception. There are 16 staff members at the center, including Big Sky Watershed Corps interns. The majority are women. Of the permanent, year-round staff, only one, Anthony Sammartano, the land stewardship coordinator, is male.
"There's a lot of women in conservation education right now," Emily says. "They wanted a little more freedom, and an informal nature-based learning environment was just right for them."
Emily has been the center's director since shortly after the start of the year, but she has been working at the center for six years. She started teaching the toddler program, then moved into the position of volunteer coordinator.
"My favorite part of my job is to meet with people in the community and introduce them to the center" Emily says.
In the past few years, interest in the outdoors and nature-based activities like hiking and birdwatching has increased, and it's been great for the center.
"Having these places where kids and their families can be safe and play and explore is so very important to the overall health of people, especially kids," Emily says.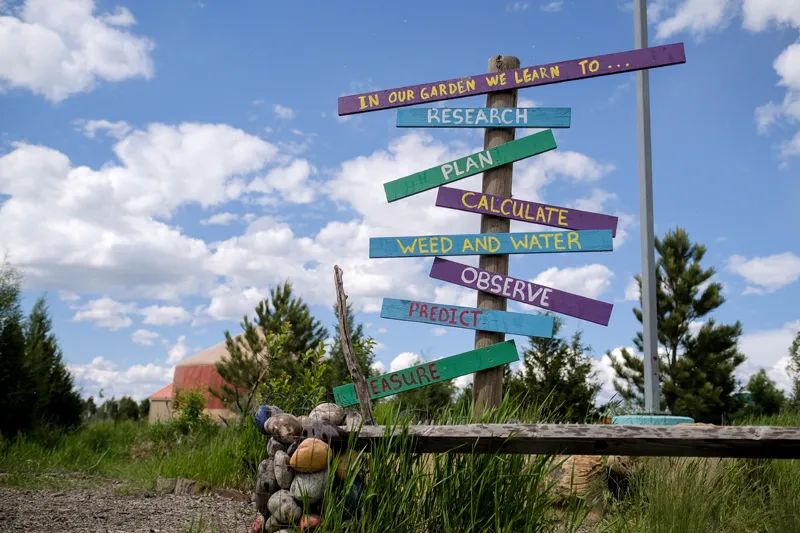 The team at the Montana Audubon Center realizes that spending time in nature creates a greater sense of place. Through that appreciation and ownership develops a desire for preservation, which benefits everyone not just those who spend time outdoors. For those who don't recreate outdoors, Emily has some advice:
"You just need to go outside," she says, "and see what's out there."
THE MONTANA AUDUBON CENTER lies in the heart of the 72,000-square-mile Yellowstone River Basin and within minutes of the urban center of Billings. The grounds are open from dawn to dusk and are located at 7026 S. Billings Blvd. For details on the center or upcoming events, visit mtaudubon.org/center