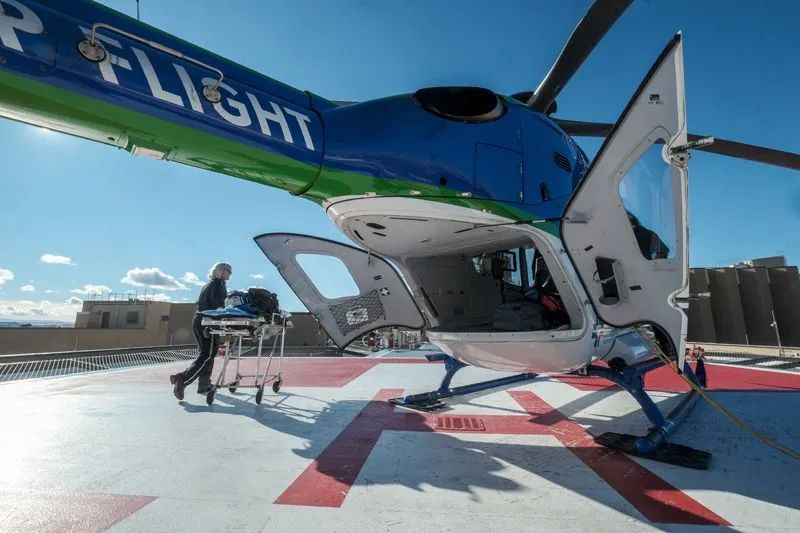 Critical Care in the Air
Women leading the charge with St. Vincent Healthcare's Help Flight Program
Sometimes it's the middle of the afternoon. Sometimes the pager and tones ring out in the middle of the night. When that moment hits, nurses Mara Ostler and Ruth Anderson, along with paramedic Stephanie Rickbeil, have no idea what emergency awaits, but they suit up, grab their gear and get ready to deliver critical care in the air.
"Once they officially call flight, you have 20 minutes to get there," says Mara Ostler, a former Emergency Department nurse who's been flying with St. Vincent Healthcare's HELP (Helicopter Emergency Lifesaving Program) Flight since 2006.
These women are a part of a program of 53 people, each with their own area of expertise from flight nurses, neonatal and maternal nurses, flight communication specialists, respiratory therapists, flight paramedics and pilots — all trained to play a pivotal part in this critical, emergency and transport care.
HELP Flight has been around for nearly 43 years. It was the second program of its kind in the state and one of the first 10 in the nation. With a Eurocopter EC 135 helicopter and two Beechcraft Super King Air fixed-wing planes, this air ambulance service operates 24 hours a day, seven days a week. Only dangerous weather grounds the program. While most have heard of HELP Flight, the ones who know it best are those who meet this team on perhaps one of the worst days of their lives.
"These guys go in and they are often the highest level of care getting to their patients," says Heather Stamey. She oversees St. Vincent's emergency services, flight and trauma teams. "HELP Flight picks up the pieces and gets them where they need to go."
Stephanie Rickbeil started her career as a ground paramedic. She laughs when she talks about how she landed in this profession.
"I took an EMT class in high school in Red Lodge," she says. "A friend took the class, so I decided to as well." That was 1993. Stephanie got the bug for emergency medical care and has been a flight paramedic with HELP Flight since 2003. In May of 2022, she was honored by Gov. Greg Gianforte as the Career EMS Provider of the Year.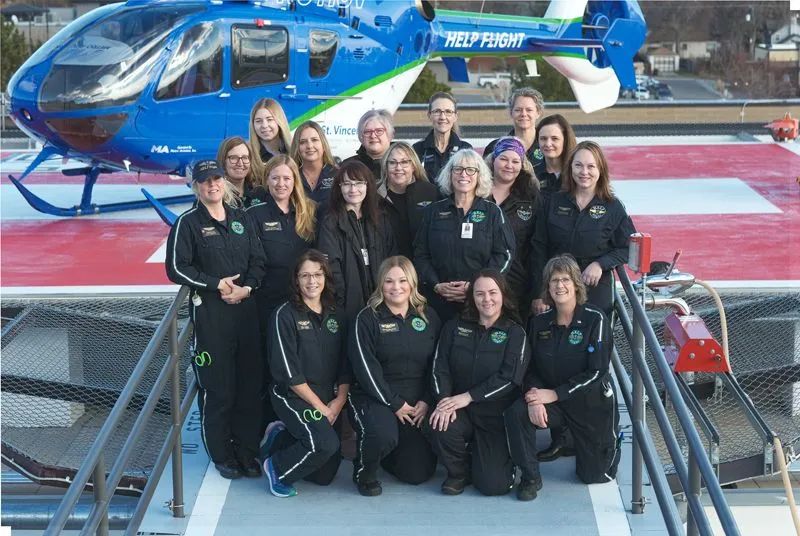 When she's not in the air, she provides outreach for EMS providers and law enforcement. Even with the long hours that are often taxing on the body, she's been called "the glue that holds the team together." It's an honor she's quick to brush off.
"What brings me to my work every day is my people," Stephanie says, adding that in this line of work, it's far from a one-person operation. "You can't not have a sense that your person has your back."
Mara Ostler is one of Stephanie's "people." And as she talks about the ins and outs of being a flight nurse, Mara says that oftentimes, it's what isn't talked about that matters most on the job, especially when the team is thousands of feet in the air with a critical patient in front of them.
"We often don't have to talk about what we are going to do," Mara says. "We know what the other person is thinking because we know each other so well. That's the beauty of being a small, high functioning team with a lot of morale. We can just look at each other."
Not every day is wrought with intense medical situations. When calm days come, Mara and Stephanie both say they love to check in on those patients they cared for in the sky.
"They could choose to sit downstairs (in their crew quarters) and not ever go and have that closure by saying, 'I met you yesterday and you were having a heart attack and I helped you through that.' They're so committed. They do it for all the right reasons. Not every flight program is like that," Heather says.
"One of my most favorite things is to go visit those patients," Mara says. "That is the most gratifying thing about this job."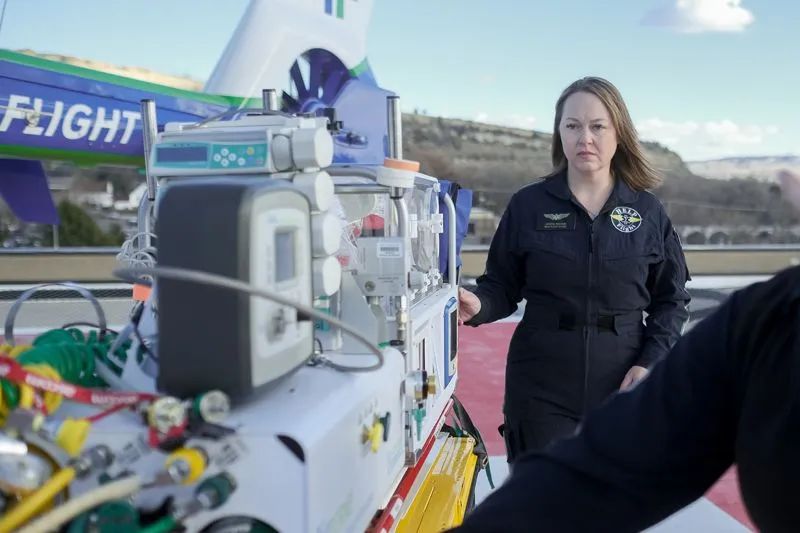 As the two women talk, Ruth Anderson, a flight nurse in the Neonatal Intensive Care Unit, gently nods. While her counterparts handle every emergency for patients 12 pounds and up. Ruth ministers her care to the tiniest of human beings, measured, at times, in grams instead of pounds.
As a single mom of two boys, Ruth relies on a strong support system. There have been many nights when her mom will meet her in the hospital parking lot to help shuffle her grandsons back home with her. Ruth does it because she knows it matters.
"I love the babies," Ruth says, "they are my passion."
As she talks about the long hours and emotionally demanding parts of the job, she shares one story that's etched on her heart. She was headed to a rural hospital in Wyoming to transport an infant to St. V's in the middle of the night.
When Ruth and the respiratory therapist arrived, they found an extremely premature baby clinging to life. While Ruth says those at the hospital did everything right before the HELP Flight team landed, "There was no way this baby could survive. We have a portable machine where we can run our own labs out in the field. My respiratory therapist looked up at me and her eyes filled with tears. She just looked at me and shook her head," Ruth says with emotion.
Instead of bundling the baby up in the incubator and transporting him north to Billings knowing he probably wouldn't survive the flight, "We got a rocking chair, wrapped the baby in a warm blanket and let the mom spend some time with him so she had those memories of her baby while he was still alive," Ruth says. "It was heartbreaking. We bawled our eyes out. You want to give everyone a happy ending."
While there are far more happy endings than sad ones, Ruth says, she never loses sight of the small part she plays in each of her patient's stories.
"The family will always remember how you made them feel in that brief moment," she says.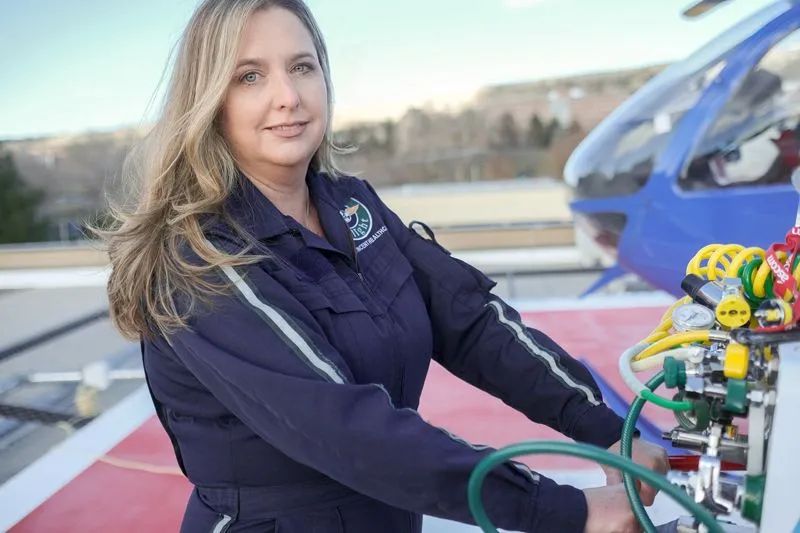 Ruth normally flies on one of the program's two fixed wing planes. Mara and Stephanie often slip inside the back of the HELP Flight helicopter. Both say this chopper, being able to get into tight situations that a vehicle often can't, can be a matter of life or death for a patient. It's landed on the highway to rush in after a bad vehicle wreck. And, it's landed on a mountainside after search and rescue dug out an avalanche victim.
"They will tell us, 'Here are your coordinates. You are flying out to the such-and-such ranch. You'll be two miles west of the ranch house in a gully. You're looking for a yellow side by side,'" Mara says. She adds after the crew of three — a pilot, and often a flight nurse and a paramedic — gets there, they rely on a communications specialist and those on the ground to help them find landmarks and a spot to land.
"It's sometimes like looking for a needle in a haystack," she says. "I've always wondered what it would be like to be on the ground and hear that helicopter coming."
It's been nearly five years since 47-year-old Wendy Broyle's family couldn't wait to hear the pulsing sound of the HELP Flight chopper. It was Feb. 4, 2018, Superbowl Sunday, to be exact. Just outside the family's Rapelje farm, the snow was coming down hard and the wind was blowing it to near zero visibility.
Wendy was in the throes of labor with her sixth son. Her midwife braved the roads from Columbus, making it to the Broyle's home in the nick of time.
"She was trying to get me comfortable, but the labor was pretty intense," Wendy says. "The baby's heart rate was dropping and she could tell he was in distress. She brought her vehicle up to the front door. She was going to take me to the emergency room."
The baby, however, wasn't waiting. After a few minutes, a very healthy Elijah Broyles was born and Wendy says, "the air was back in the room." As Wendy held her new baby boy, her midwife checked her blood pressure.
"She tapped it and said, 'This thing isn't working. Are you sure you are feeling OK?' I told her, 'Well, I am seeing stars.'" Wendy adds, "I was losing color and I didn't have a blood pressure that she could detect." Wendy was later told her heavy bleeding was most likely caused by a uterine rupture.
Wendy's midwife called 9-1-1 from her cell phone, which, up until that day was never able to get a signal from the remote property. Back in Billings, tough decisions were being made about whether the HELP Flight helicopter could even run the risk of sending a crew to Rapelje.
"At the end of the day, we want all our crew to go home to their families and all the patients to make it back to their families," Heather says. When a pilot makes a decision on whether or not to fly, she adds, he or she is never told the circumstances. They base their decision 100 percent on being able to navigate safely through weather.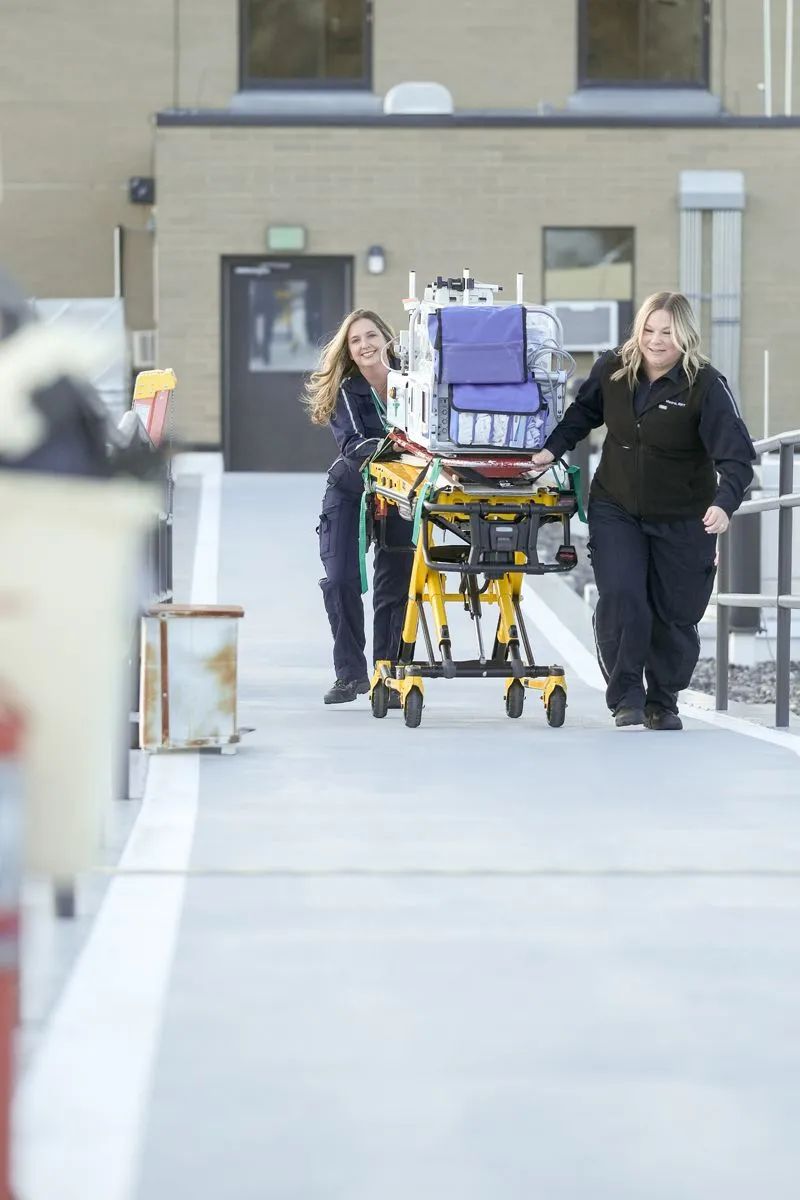 Stephanie says on that day, temperatures were below zero. The weather had triggered a "no fly day," but in what some call a miracle, it seemed to clear right as the call came in.
"The pilot told us, we'll try, but just so you know, we may have to turn around," Stephanie says. "Our pilot was telling us we had to leave right now, which added a whole other time component to the overall problem."
As Stephanie got ready to fly, grabbing units of blood and plasma, Wendy slipped in and out of consciousness.
"I started losing my vision, mostly of people's faces," Wendy says. "When I looked at people's faces, they were just glowing, a shimmery gold."
Wendy could hear the paramedics on the phone trying to arrange the flight's landing. "At one point, one of the paramedics said if they didn't come, I was going to die," Wendy says.
When the plane landed next to the home on the property, flight nurse Tim Hawkins knew every second counted and immediately began pumping Wendy with fluids and blood. Wendy later learned that during the emergency, she'd lost 125 percent of her body's blood volume.
"As much as they were putting in, I was bleeding back out," Wendy says. "There is no medical reason why I should have survived that. I've talked to nurses since then who have told me that happens to women in the hospital and they don't make it."
"We loaded her up, and I will never forget her looking at me," Stephanie says. "It was the first time that I had seen the thousand-yard stare. I thought, 'We are going to watch this woman die. I've met her family. I met all of her kids and she is going to die. I think she was seeing the light, to be honest with you."
As the chopper landed, "Every person who needed to be in the ER was there waiting for us. She was up in the operating room within 10 minutes," Stephanie says, adding that it was amazing how everything aligned despite the odds. "I went from thinking, 'I am going to watch this woman die in this helicopter,' to three days later learning she went home with her baby. It was one of those times that I felt what we did truly made a difference."
Today, nearly five years later, Wendy still gets emotional talking about that day.
"It changed me. It changed all of us," she says. "I know that they wouldn't ever call themselves heroes and that's what makes them heroic — the humility."
When asked why they do what they do, all three women answered by saying they feel they have the skills to do the job, being able to keep calm and make split-second decisions in any kind of medical emergency.
"Even if a flight doesn't go well, you still ultimately love your job," Mara says. "In a way, it's a calling."
"They chose a profession that can put them in danger, and they definitely did that day," Wendy says of her HELP Flight team. "Because they fulfilled their calling to do what they do and they did it with excellence, I get to fulfill my calling to be a mom and a wife."