Disease Detective
MyLinda Lovell is at the helm of a sea of scientific testing
MyLinda Lovell sees herself as a sort of medical detective.
As the clinical laboratory manager at St. John's United Diagnostic Laboratory in Billings, Lovell runs the lab that typically processes anywhere between 50 and 200 Covid-19 tests a day.
Covid testing isn't the only type of testing laboratory scientists like Lovell can do. They are trained in all aspects of human testing, from hematology and coagulation studies to blood matching, human chemistry studies, microbiology and now molecular studies.
"My boyfriend tells me I'm a lot like (Dr.) House working in a diagnostic lab," she says, referring to the TV doctor who diagnosed a myriad of strange diseases. "We find the root of it all."
A patient who is experiencing symptoms visits a doctor to get a diagnosis. The physician orders tests to nail down the problem, which is where someone like Lovell comes in, conducting lab tests to figure out the cause.
"You're able to help them find the answer and that's where the satisfaction comes in," she says. "You're giving the patients the why: 'Why is something wrong with me?'"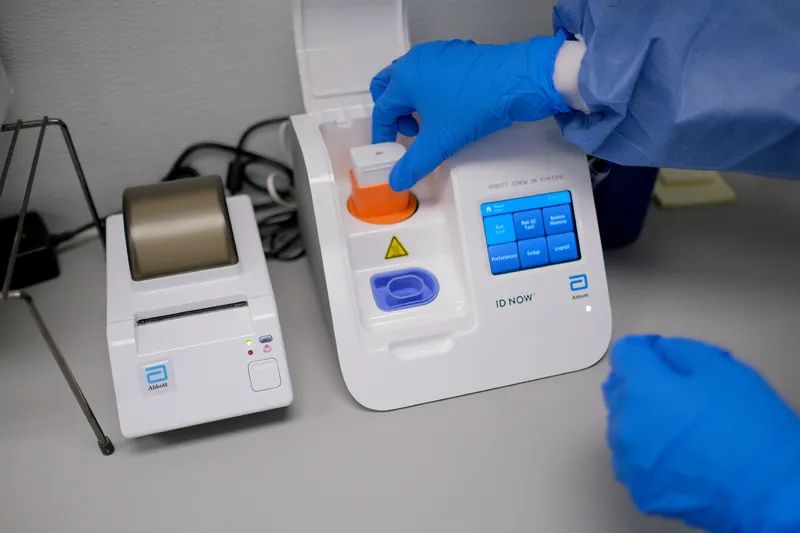 Lovell was hired a year ago September to organize and run the diagnostic lab, located at St. John's United Gainan's Commons downtown, which opened in December 2020. An inability to get tests results quickly is what spurred St. John's to create the in-house lab to process Covid-19 and influenza tests for residents who live at St. John's senior living communities.
"The state lab was overwhelmed with patient samples and to get results back turned into quite a wait," Lovell says. "Our solution was to provide a fast turnaround time on test results."
The lab would get the patient swabs in the morning "and we'd be able to give results by the evening," she says. Two months after the lab opened it contracted with Billings Public Schools to provide rapid antigen tests to staff, and eventually broadened testing to students, their families and also the general public.
The lab initially did about 200 tests a month. But after opening testing to BPS and the public, and with the surge due to the Delta variant that sent numbers soaring in August, the monthly average grew to 1,000. The lab offers both rapid antigen and PCR tests. The appointment books are full a few days out, but the lab tries to squeeze people in when it can, especially if a person is symptomatic.
"We are very busy all day long," Lovell adds. "We swab people, we do the testing, we report out to patients and then we also report to the state of Montana."
In additional to Lovell, the lab employs another part-time lab scientist and a full-time LPN, both women, as well as an EMT, who doubles as a security person and testing swabber, among his other duties working for St. John's United.
That both of the St. John's laboratory scientists are women is no surprise, Lovell says, in a field that tends to be dominated by women. She earned a bachelor's degree in biology from Montana State University Billings in 2016 and then completed lab science training through Montana State University Bozeman.
Lovell is licensed through the American Society for Clinical Pathology and is a member of the American Society for Clinical Laboratory Science. The need for lab scientists is expanding, Lovell says.
"And we're experiencing a shortage because the bulk of lab scientists that are retiring, there is nobody to replace those jobs," she says. "A lot of people hear about nursing shortages, but nobody is really aware of lab scientist shortages."
Where Lovell's current assignment differs from other lab scientists is her contact with the public. The bulk of testing done by most lab scientists is performed in hospitals and clinics, where work is completed in labs isolated from the public. At St. John's, Lovell comes in contact with individuals seeking tests and provides them with their test results.
"I really like knowing that in my profession I'm able to help people directly, even though it's not really a traditional part of a lab science job to go out and test," she says. "Usually, we're in our own universe."
Lovell likes when she can give a person good news in the form of a negative test result, and "the relief that you're not going to pass it to your kids or your elderly parents."
Dealing with the public comes with its ups and downs, Lovell acknowledges. As manager of the lab, she's assigned herself the job of listening to voicemails, which can include angry messages from people irritated that they can't get in that day for a test or that an employer is requiring a test in the first place.
The lab also provides vaccinations, and Lovell gets her share of people wanting to argue about the validity of the Covid-19 vaccine or the reality of the disease.
"We get a lot of feedback from people who don't think it's real," she says. As she looks at the volume of tests that run through her lab, she often reflects on the personal toll it's taken on her as well.
"For me personally that's hard to hear because I've had family members who passed away from Covid, so for me it's very real."