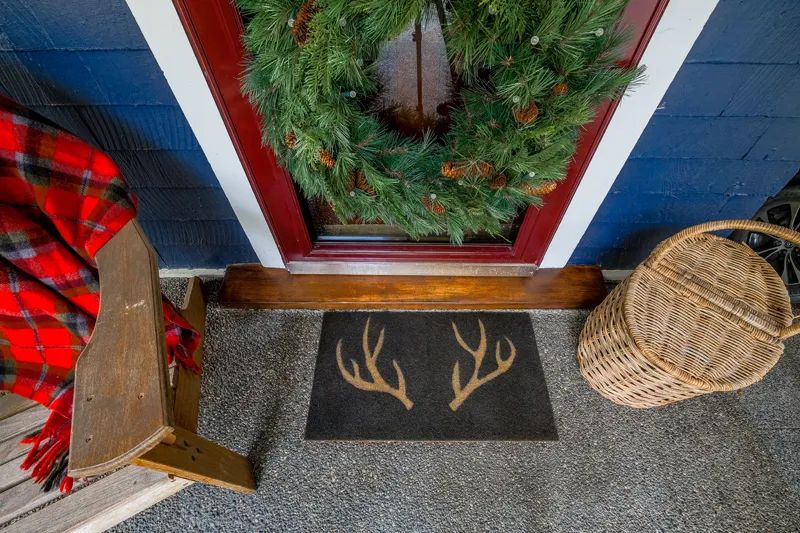 DIY at your Doorstep
Welcome guests & share a little holiday cheer
The holidays are here, and with all the fun decorations starting to bring a little extra sparkle to our homes, why not bring a bit of festive charm to your front entry? We've jazzed up the traditional doormat so you can share some holiday cheer with anyone who arrives at your doorstep. This is a simple project and should only take an afternoon to complete. We used a coir mat, which is made of natural coconut fibers. It's not only attractive but durable and naturally traps dirt and moisture. That's a winning combination!
WHAT YOU WILL NEED
Ruler
Coir doormat
Strong hold masking tape
Razor knife
Pencil
Spray paint
Sharpie (color should match your spray paint color)
INSTRUCTIONS
For my design, I decided to create the silhouette of reindeer antlers. To begin, start by measuring the mat to find the center and then mark with a pencil, drawing a straight line from the top to the bottom. You might need to make several passes so that the lead is visible on the mat. Next, draw a half circle at the base of the line to represent the deer head. This will help us to find the antler placement. Where you think the antlers should appear, draw two smaller half circles, about an inch in diameter.
In drawing antlers, my goal was not perfection but realistic curves and nice points of each horn. I did look up several tutorials on drawing antlers, practiced on a scrap sheet of paper and after a few bits of practice, I just went for it to the best of my limited drawing ability.
Once the horns are penciled in, we can clean up any extra or redo lines. I just used a washcloth with warm soapy water and wiped it clean. Now we need to mask off the horns. To begin I tore small pieces of masking tape and placed inside the antlers along the pencil lines. Press firmly. It's a little difficult for tape to adhere to coir. Have patience. When the antlers are totally covered with small pieces of tape, stretch large pieces of tape to cover again. After one side is done, you can take your razor knife, follow the outline of the tape underneath and carefully trim it to smooth out any line. Repeat this process on the other side.
When you are trimming the larger tape with the knife, remember these few things: This is how you refine your lines. We want sharp points and smooth curves. Plus, everywhere there is tape, you've masked it from paint. So, be meticulous in removing all corners and rough edges. Make sure everything you want covered is covered.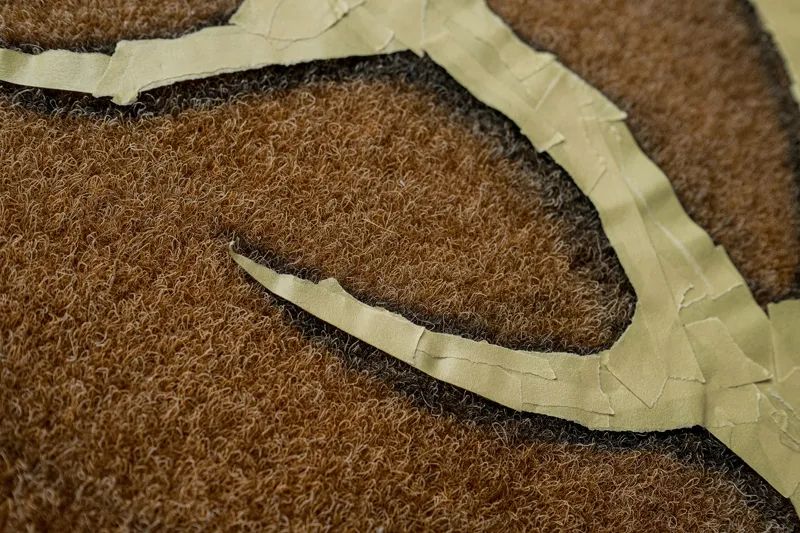 As you finish trimming, be sure to keep the mat flat since the tape might want to pop up if you bend the mat in any fashion. To paint the mat, make sure all tape is firmly pressed down and begin spray painting straight down over the edges of the tape. Continue doing this until the entire mat is covered. Once finished, remove the tape and allow your mat to dry for about 24 hours. Once the tape is removed and paint is dry, you will see pencil lines and wonky edges. Remove the pencil lines as we did before with a warm soapy washcloth. You can smooth out any wonky edges with the sharpie by carefully going over them.
With a few easy steps and an afternoon, we gave a boring door mat and entryway a festive look without spending a ton of cash and providing a warm welcome to friends and family for the holidays.