Education, Empathy & Empowerment
Dr. Tanya Riddle exudes all three
Earlier this spring, a new sign was installed inside Billings Dermatology and Aesthetics. The silver sign, set against a purple wall, may have seemed like a small change in the busy clinic, but when Dr. Tanya Riddle first saw it, it stopped her in her tracks. She put her hand over her mouth and tears welled in her eyes.
"I need to take a minute," she said, leaning back on her heels, her eyes poring over the sign.
After three years owning the practice and building the business, it hit her. This is real. It's not a dream.
Tanya took over the busy dermatology clinic and medical spa in 2021, after its founder, Dr. Philip Tallman, retired. She is fellowship-trained and certified in dermatology, dermatopathology and micrographic dermatologic surgery, also known as Mohs surgery. She works alongside a staff of 23 professionals in both the dermatology side and aesthetics side of the business. Many of her team members have been with the practice for 10 years or more.
"One of my strongest strengths is this staff," she says.
Each one brings her own talents to the table, and everyone works together to provide a sincere and meaningful experience for all patients and clients.
"As hokey as it sounds, we like to say we put the care in skin care," Tanya says.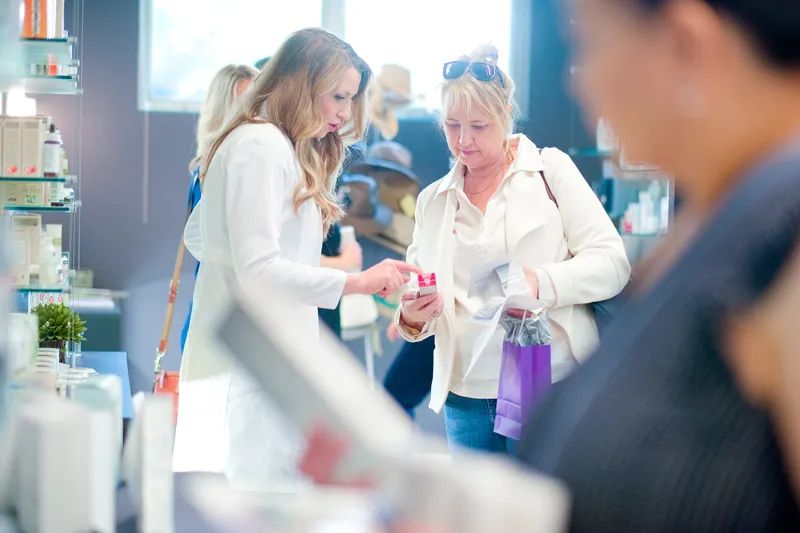 It's clear that she sets the tone for the entire staff. She starts her day with her first appointments at 7 a.m., and she's as big-hearted, positive and full of energy then as she is at the end of the day. Her patients range in age from teens to seniors, and she loves them all.
"While I'm not a primary care physician, I still value the relationships I have with people while I'm with them," she says.
Tanya values face-to-face interaction, and there are no computers in her treatment rooms. Her patients come to her with their concerns and are met with empathy, empowerment and education.
One of the changes Tanya made when she took over the practice was to integrate the dermatology clinic with the aesthetics clinic. Patients and clients can find the same quality of care no matter what services they need.
On the aesthetics side, customers can receive facials of all kinds, laser treatments to remove brown spots, red spots, hair, fine lines and wrinkles, microblading, semi-permanent tattooing and much more. There's also a variety of skin care products and sunscreens available for sale.
"My philosophy is different than others," she says. "You can find something wrong with everyone's skin – but you don't have to."
While some aesthetics providers target their advertising to vulnerable segments of the population, Tanya and her staff take a less-is-more approach and focus on being a resource, educating people and providing them with what they know will work for their skin.
The business of aesthetics has been impacted by online trends, and she has met with people of all ages who want the "look" they see online. Often the videos and photos they are seeing have been altered, and the models' skin is photoshopped or filtered.
"People have been so influenced by what they see online," Tanya says. "Teens have it the hardest. They don't know what normal is anymore."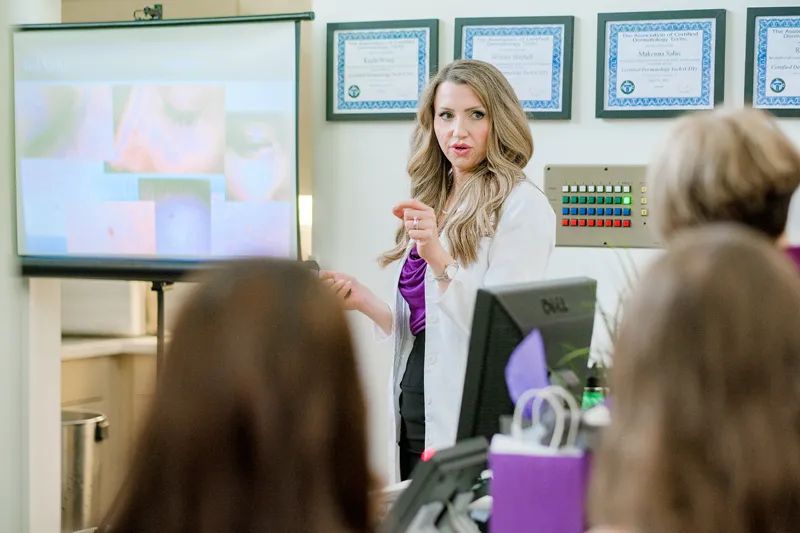 As a doctor,she's passionate about education, especially for teens. She frequently gives talks in high school health classes, encouraging the use of sunscreens and helping young people find affordable products that will deliver on their promises. Each session ends with an opportunity to ask questions, and Tanya reminds them that perfection is never an attainable goal.
In addition to education in a group setting, Tanya loves having young women job shadow her at the clinic. She's had girls as young as 10 all the way up through college shadow her on the job. While most are interested in medicine, several were just interested in the opportunity to follow a successful business owner. She also works with physicians in the Riverstone Family Medical Residency Program. Every couple of months a resident will shadow her for a few days to learn the basics of dermatology.
She has another shadow in the office: Her playful labradoodle, Penny. The pup puts people at ease and provides a distraction from a somewhat stressful office visit.
When Tanya was young, a career in medicine seemed to come without question. She excelled in the sciences and liked helping people, and her personality seemed to put everyone at ease no matter the circumstances.
"I was attracted to the Sherlock Holmes part. I wanted to be the problem solver," she says.
Tanya admitted that she's moved 27 times in her 37 years. Almost all of those moves were to advance her career through educational opportunities, fellowships, residencies and internships. When the time finally came for her and her husband to put down roots, Montana seemed like the perfect place.
"When we realized we wanted a forever home we decided mountains and family were our only requirements," she says.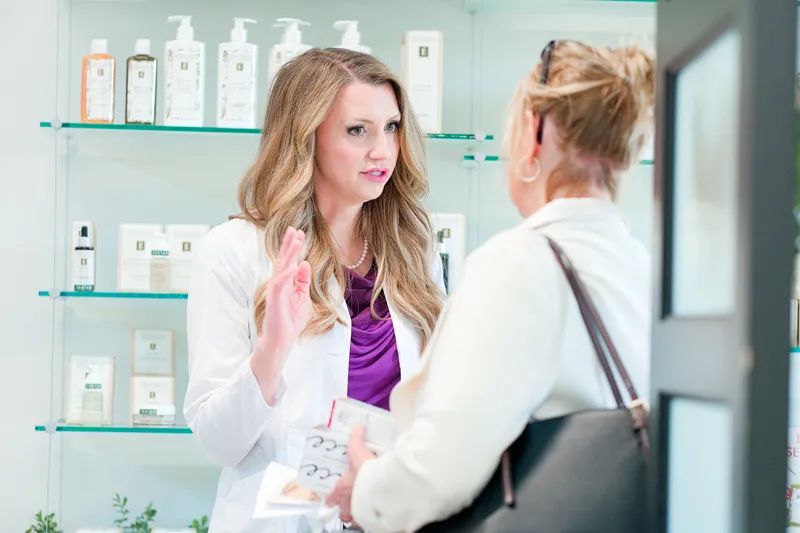 Billings made sense because of the nearby Absaroka-Beartooth Wilderness. Tanya and her husband are into hiking and ultra-light backpacking. And her husband's parents live in Bozeman.
When she first came to Billings, she joined ENCORE, a women's networking group sponsored by the Billings Chamber of Commerce. The women in the group taught her the ins and outs of business ownership, and because she's stayed involved in the group, she's gone on to help other business owners.
One of the least expected and most satisfying parts of business ownership has been building and nurturing a team, Tanya says, adding that her goal is to maintain the highest standard for workplace culture. Almost every day they gather to share their "peaches" (those things that went well) and their "pits" (things that didn't go so well.) And they have a summer tradition of a family camping trip, and holiday parties to look forward to in the winter.
"I honestly go home every day feeling very grateful," she says.
Tanya's business philosophy boils down to one word: Perseverance. There will always be obstacles, but she's learned from experience that if you don't give up, you will eventually overcome them. She's grateful for all that she's learning and all that she has learned.
"We stand on the shoulders of the women who came before us, who didn't have this opportunity," she says, "so we need to pass it on and keep it going."