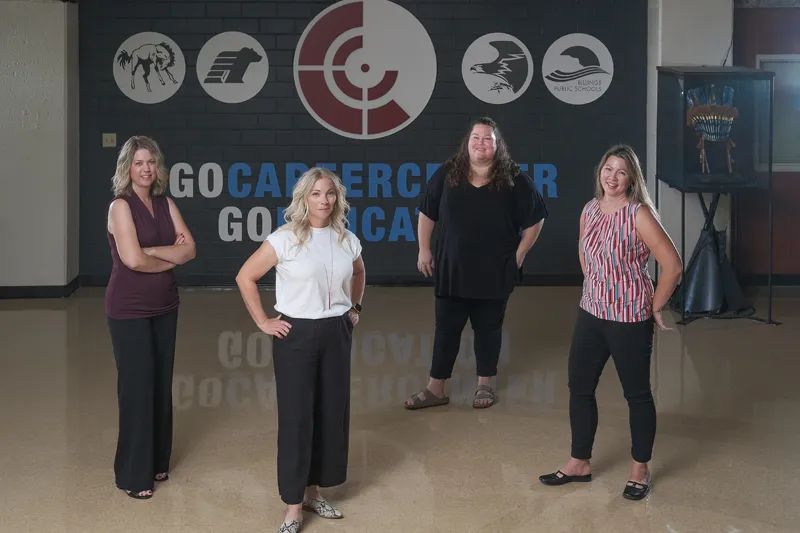 Encouraging the Job Force of Tomorrow
Four women vow to help students find their career path in life
Educator Bailee Vaughn remembers almost every student she works with, but one young man stands out. Bailee is a career coach for Billings School District 2 and she works with students to help them figure out what they'd like to do after graduation. She helps them make connections with potential employers or programs that can help them reach their goals.
In his senior year, this student was struggling and at risk of dropping out of school. At Bailee's urging, he started working two class periods a day at a coffee shop and enrolled in a leadership program. She was betting that with some encouragement and meaningful work outside school he would thrive. It worked.
After the young man received his diploma, he came up to Bailee, gave her a big hug and told her he probably wouldn't have made it to graduation without her support.
"That's why I got into this job," Bailee says. "It is kids like him."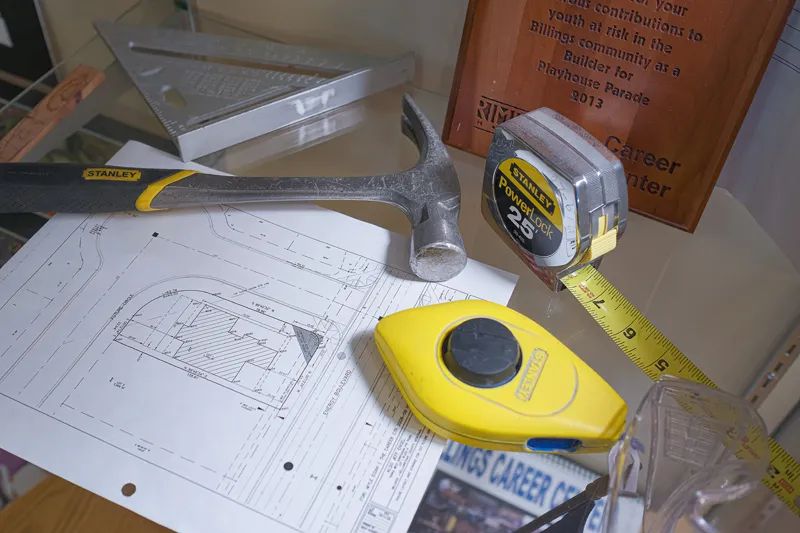 Bailee is one of four career coaches in SD2 who work at each of the high schools and Career Center. The Career Outreach Program is in its fourth year and was funded by a $970,000 levy approved by voters in 2019. Those in the District realized it was an opportunity not just for students, but for businesses who needed a skilled workforce. Collectively, these counselors have offered up 879 individual coaching sessions with students and hosted 204 classroom presentations. They've got connections within the construction industry, healthcare, business, education, information technology, marketing, engineering and finance.
Get these women together, and they have many success stories to tell.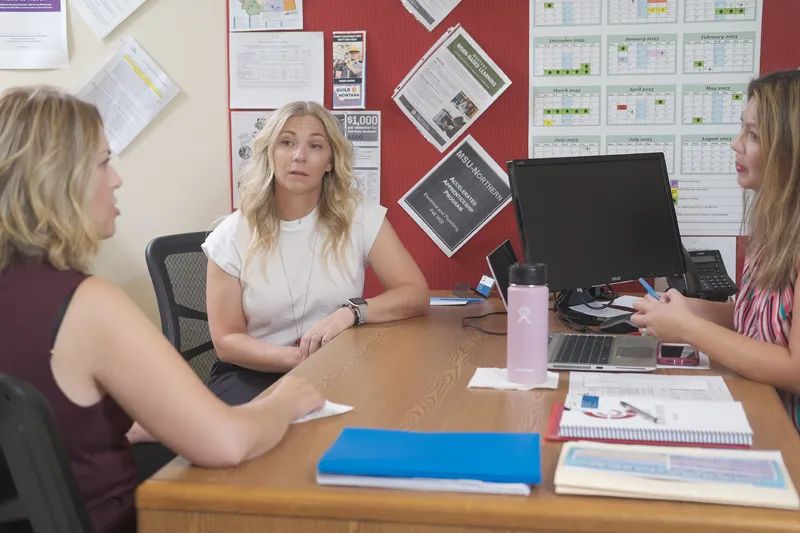 Jenny Randall, who works at West High, recalls a teen who found her at a baseball game early this summer. It was the first week after school let out and he was beaming with pride when he showed her his official electrician's apprentice card. It was Jenny who helped him make connections to get started on that career path.
For college-bound students, career coaches help students decide what classes to take to optimize their high school experience. In some cases, dual credit classes or advanced placement classes offered through the high school can give a student a leg up with college credits before they even finish high school. And for students who don't know what they want to do after graduation, there are assessment tools to help them explore their interests.
"A lot of people when they think of high school they think of math, English, and maybe something along the lines of academics, but our students have the opportunity to be exposed to so many more careers," says Tammi Watson, a career coach at Skyview.
Career coaches have a variety of tools in their toolboxes. Besides doing one-on-one coaching, they also set up job shadow opportunities, workplace experience internships, employer presentations, meet-ups with local professionals and job fairs.
"It's all to give kids an idea of what's out there," Jenny says.
When a student comes to them with an interest, the coaches can help them fill out job applications, college applications, and post-secondary training and certificate program applications. They offer help writing cover letters and resumes. They even help students find appropriate work clothes and interview attire.
"There's so much to explore. Parents and students don't quite grasp what's all out there for them," says Vicky Cavanaugh, the career coach at the Career Center.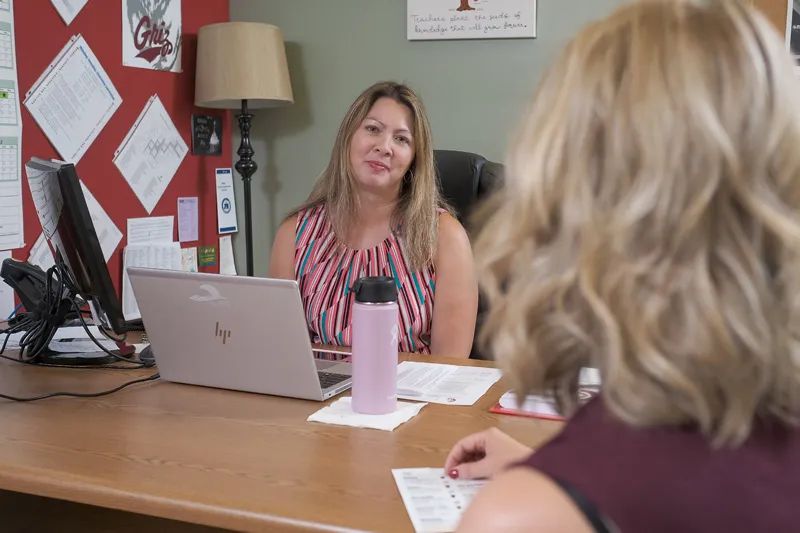 In many cases, career coaches facilitate a connection between an existing program and students who are interested in that field. One such program is the Build Montana program, a partnership between Montana Contractors Association and the Montana Equipment Dealers Association. Through the program, one young man gained experience operating heavy equipment, and after graduation went right to work for Knife River, a local contractor.
"It changed his life," Jenny says, "He wasn't sure what he was going to do or even what he wanted to do, and this helped him figure it out."
He was one of 10 local kids in the program, and all of them had the skills necessary to be hired in the construction industry right out of high school – with significant earning potential.
Another student enrolled in the Career Center's certified nursing assistant (CNA) program, earned her certificate and is now working at St. John's United and is in their Nursing Apprenticeship Fellowship. She has her sights set on becoming a registered nurse and starts her studies this fall. She plans to work as a CNA while she is in college.
"We ask, what do you want and how can we help you get there?" Tammi says. "We help them figure out the best path to get to the career they're interested in."
Bo Bruinsma, the SD2 career outreach director, says business and industry has wholeheartedly embraced the program, and even in the short time the program has been up and running almost every industry is represented.
"No matter what a student is interested in, we can usually find a connection in the community," he says.
Career coaches work alongside high school counselors, who are busy with other tasks such as standardized testing and day-to-day interventions for students in need of academic and emotional support. Counselors still offer students advice on college and post-secondary training opportunities, but now they share those duties with career coaches.
"It could be any student," Jenny says. "We have kids who come to us who have an idea, and kids who have no idea. We want to reach them all."
Sometimes students think they're interested in a particular field, but through career coaching and job shadowing or an internship, they find out that it's not for them. That's OK too. It's all about exploration.
"Career coaching is for students who really want to get to know themselves better and figure out what they want to do," Tammi says.
The career coaches partner with Job Service to maintain a job board for students looking for part-time work or summer jobs. It links local employers with potential employees. Bailee, Jenny, Vicky and Tammi all keep notes on their students' interests, so when an opportunity becomes available, they can let them know.
"It's all about who you know, and our goal is to be the people they need to know to find these opportunities," Bailee says.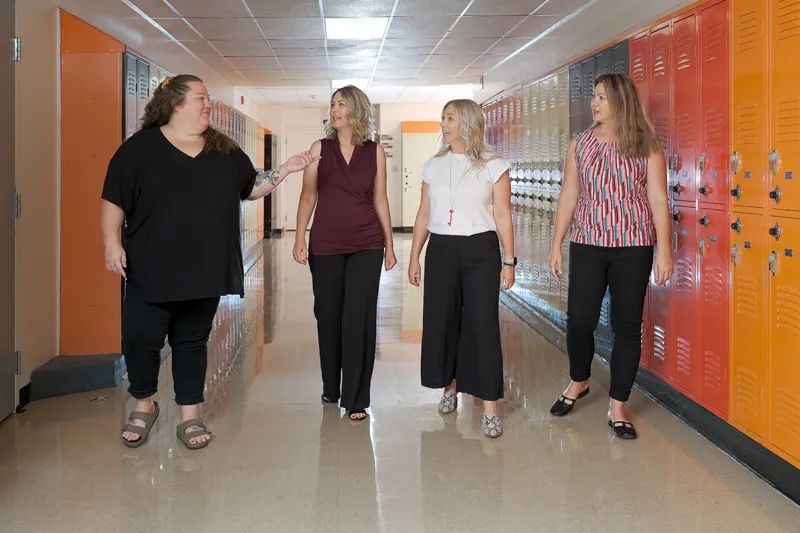 ARE YOU AN EMPLOYER PARENT OR STUDENT?
For more information on the SD2 Career Outreach Program, call Bo Bruinsma at 406-281-5075 or email him at bruinsmab@billingsschools.org.