Energy Efficient Powerhouse
Braving the elements with these savvy tips
Our climate remains faithful to the old saying, "If you don't like the weather just wait five minutes." Temperatures can drop 30 or more degrees faster than you can walk around the block. The sun seems to warm it up sometimes just as quickly. With these kinds of climatic conditions, our homes need to keep us well insulated from the elements.
Whether you're feeling cold drafts swirling around your ankles or beads of sweat breaking out on your brow, it's time to delve into some ways to promote a more comfortable atmosphere while improving energy efficiency.
Let's see what our local experts say about energy-saving measures. We checked in to see how we can reduce energy waste, save money and give a boost to our property values.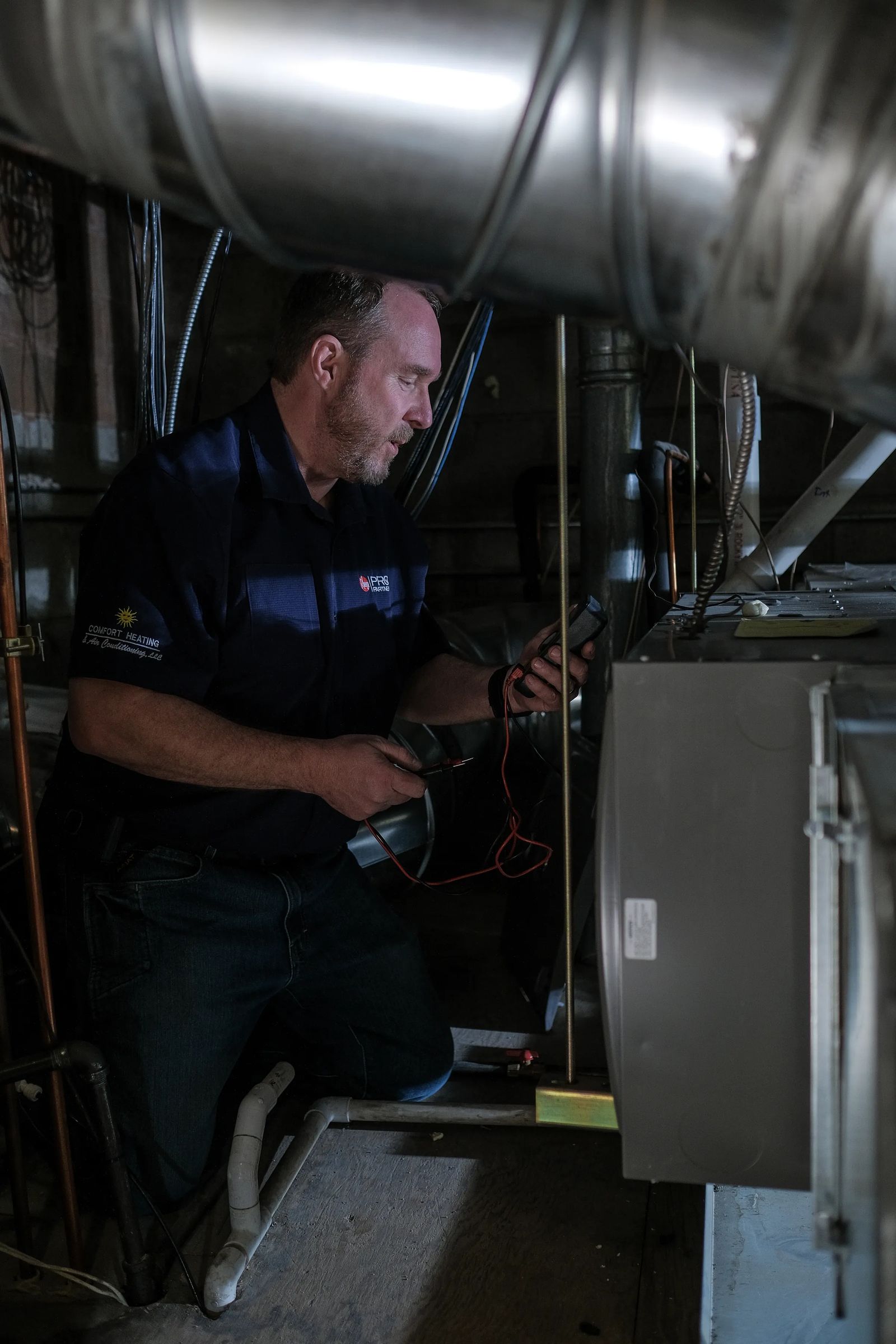 CHECK THE FURNACE
Most of us depend on the furnace to run year-round. It provides heat in the winter and, with the help of an air conditioner, cool air in the summer. This heat source, however, requires a wee bit of TLC.
Replacing the furnace filter every three months is a big factor in keeping your furnace running efficiently, according to Jeff Scherr, owner of Comfort Heating & Air Conditioning. A clogged or dirty filter forces the furnace to work overtime. A clean filter protects the motorized components, as well as the air ducts from accumulating dust.
"A good filter is one that's not too tight," says Jeff. "Sizes of filters come in MERV ratings. The higher the MERV, the smaller the particles are that are grabbed."
In many homes, the filter does double duty, serving the air conditioner as well. "The furnace filter is critical," he adds. "Your air conditioner uses the furnace blower to move air around in the house." That means the filter is working non-stop.
Jeff also recommends that the outdoor area around the unit be kept free of debris. "You don't want your air-conditioner obstructed by brush, grass, or trees," he says, adding that the cotton produced by cottonwood trees is a major offender and easily clogs up the condenser unit.
If you have a furnace that just doesn't seem to be keeping up, there's a good way to test whether it might be time to replace it. "How you know you may need a newer model," Jeff says, "is if it's very old or the cost of repair is very high. New furnaces run 97 to 98 percent, so you gain that higher efficiency. Air conditioners may last longer since we use them for about three months each year."
So, to keep it in tip-top shape, "Change that filter regularly and get the furnace maintained each year," Jeff says.
FURNACE TIP: a programmable thermostat is a great way to reduce heating and cooling costs. Some of these thermostats provide indicators that let you know when to replace the filter or when there may be an issue with the system. Wi-Fi thermostats are much more common and affordable and allow you to monitor and adjust your heating and cooling from your smart device.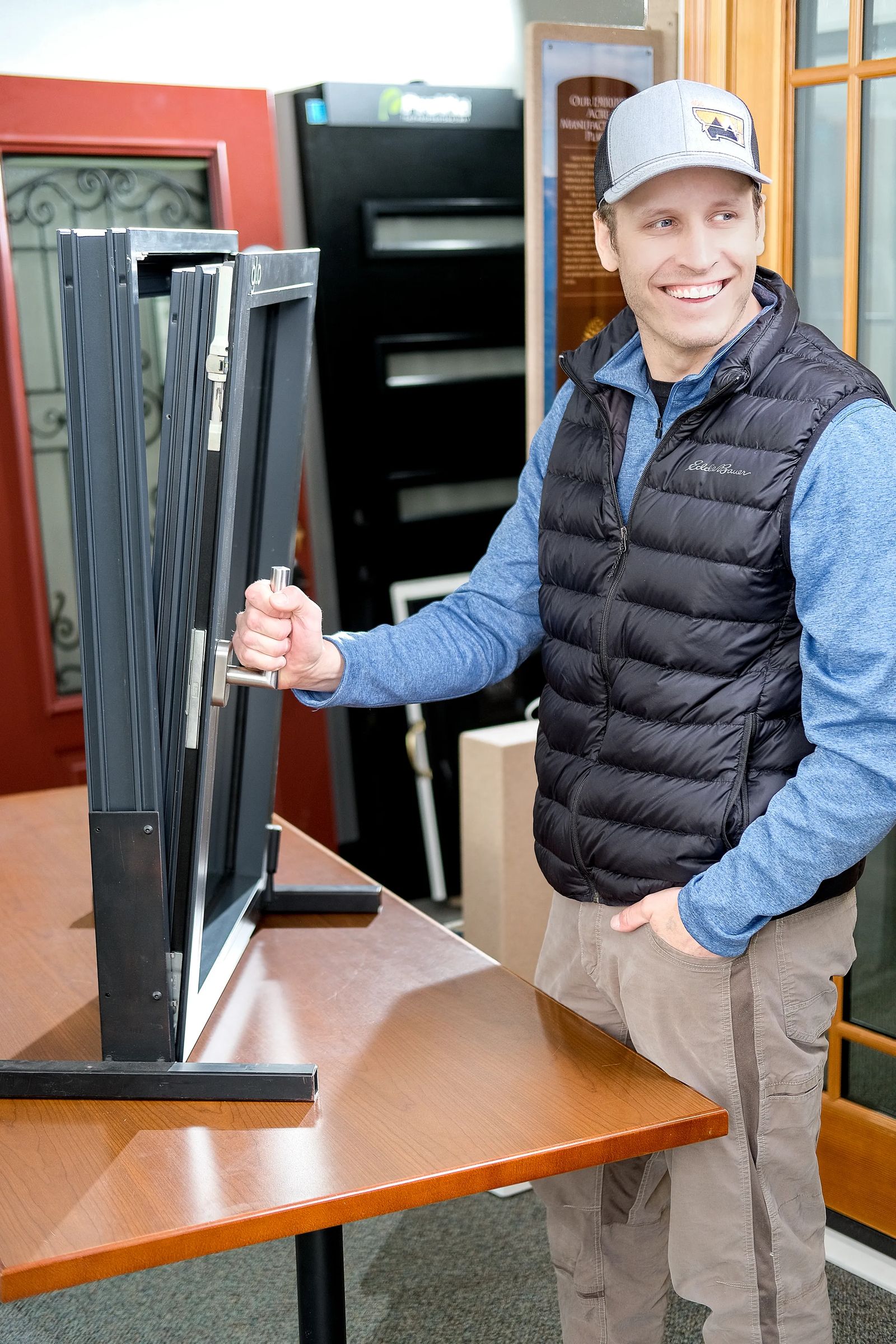 CRANK THE WINDOW
"Windows are a great tool to heat or cool your home," says Aaron Reay, Passive House-certified consultant at 406 Windows. "In the cold winter months, you can collect free heat through the glass. In the warmer months, open them up to cool off and create a healthier living space."
Windows are much less insulating than your walls. This makes design and placement very important. These light-givers either help keep a space toasty warm or contribute to freezing you out.
"The most important factor is not necessarily the products put into the window," Aaron says. "It's how the window is designed. If the functionality is not working and you're not feeling comfortable, it may be time to replace it."
Older windows aren't a match for today's technological advances. "We tune the glass to let in more sun or less sun if it's facing the west by using a Low-E compound," he says. "This film that's put on the glass reflects heat back into the home. Low-E provides better insulation, controls solar heat gain, which makes the window look like it is tinted."
Aaron maintains the best performing window is the swing variety or tilt-and-turn (a "crank" window). Compared to a sliding window, the swing style window seals up tighter, because it compresses when closed. "It's 10 times more airtight, plus it's quiet," Aaron says.
Back in the day, most windows were single pane. Then along came double pane. Triple pane (also known as triple-glazed) windows are the current standard.
"Windows are designed to create ventilation, which helps with comfort, as we need fresh air," Aaron says. "It's all about comfort and health. There's only three-fourths of an inch of insulation in windows, so to increase efficiency and meet Billings energy code, we use argon gas to fill the window."
WINDOW TIP: Check for cold air coming in around your windows. 406 Windows uses argon and krypton gases between the panes. The gases are odorless, colorless and non-toxic. These gases insulate the space between the panes of glass promoting a more comfortable atmosphere inside your home while saving you money.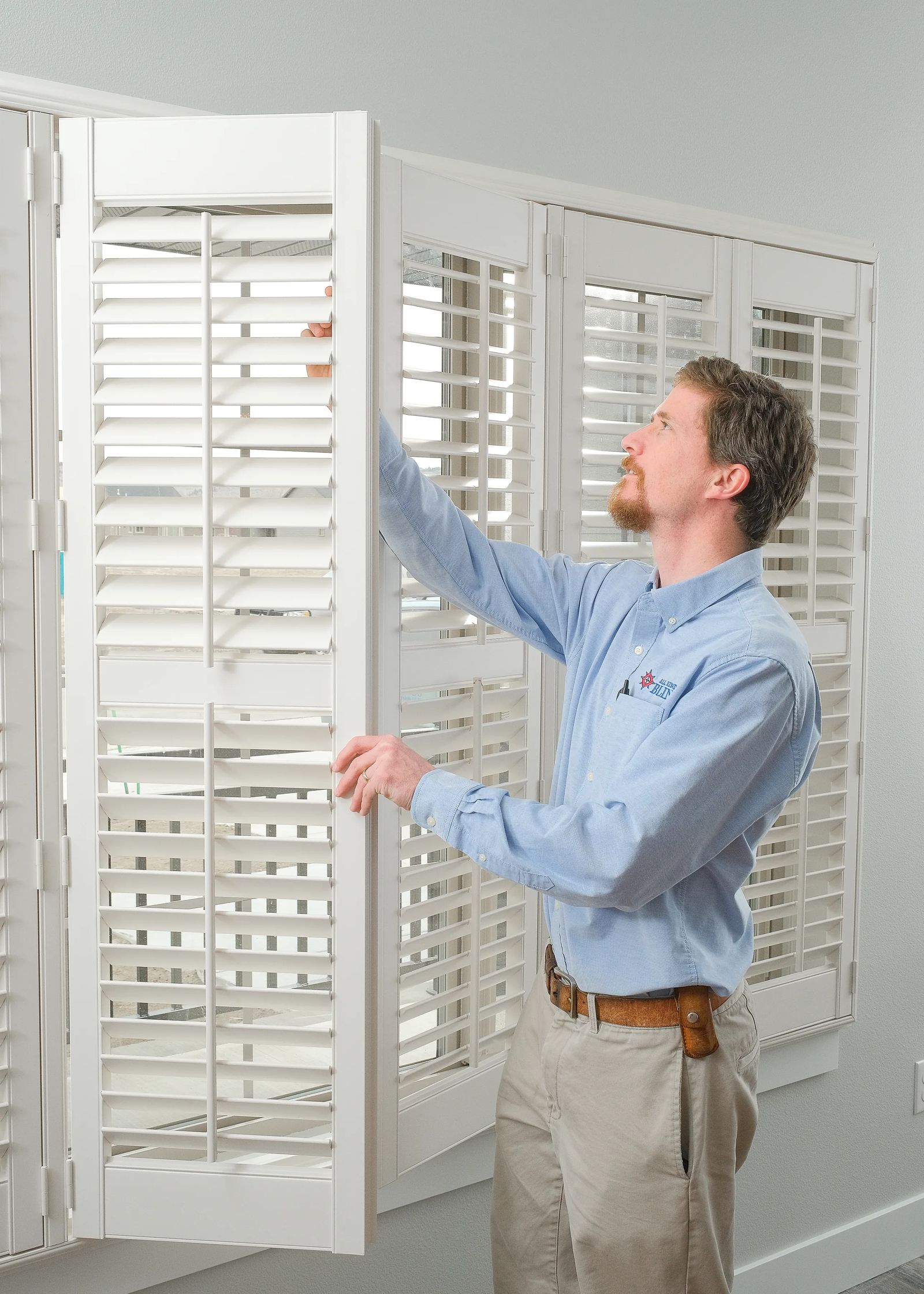 DRESS THE WINDOW
Window treatments afford privacy while aiding in protecting us against a cold winter's night or a sunny day. Consumer demand for lower energy costs, as well as the desire to keep warm or remain cool, comes into play when talking window dressing.
"The most energy-efficient window coverings are plantation shutters followed by honeycomb shades," says Bobby Gray, owner of All Kinds of Blinds. "Honeycomb shades insulate the windows to keep it warmer in winter, cooler in summer. Plantation shutters are especially effective at keeping the outside air out and the inside air in, year round.
"Shutters can be manufactured in virtually any color and in a wide range of stains, including custom paint and stains to match a home's trim," he says.
"We've even installed shutters that were stained to match one customer's furniture and another's business logo," Bobby continues. "Composite plantation shutters are available in many neutral colors. Honeycomb shades come in light-filtering or room-darkening fabrics in dozens of colors to match most any decorating scheme."
He says All Kinds of Blinds also carries a 3M window film that "blocks up to 82 percent of glare and up to 99.8 percent of UV, causing as much as a 42 percent energy savings."
Outdoor areas become additional living spaces with exterior zipper shades. "These patio shades help to lower heat transfer in the summer by creating a shaded area in front of exterior windows," says Bobby. "They add beauty and block light wind."
Another energy saver and safety booster is a motorized shade. "It can be equipped with an anemometer system to automatically raise shades when the wind gets too high."
WINDOW DRESSING TIP: Window coverings are the finishing touch on every home's design. They can transform a room from drab to "wow" while also lowering heating and cooling bills and saving fuel.
EXTRA ENERGY SAVINGS
Top Tips from Yellowstone Valley Electric Cooperative
· Upgrade a wood-burning fireplace with an EPA-certified model or a more efficient insert to conserve energy. Check into tax credits.
· Install weather stripping and proper insulation where winter chill seeps in under doors, around windows and even through electrical outlets.
· Switch your ceiling fan's blade rotation by reversing the blades to a clockwise rotation. This pushes the warm air back down.
· Use exhaust fans sparingly in the winter. Bathroom fans and oven hood fans are often-overlooked sources of heat loss. Turn them off when not in use.