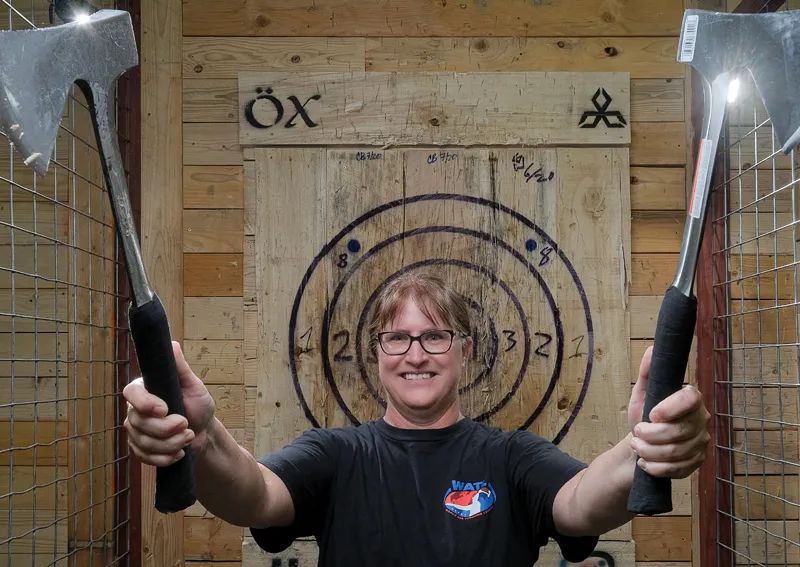 Eye on the Target
Becky Richardson defines the vision behind a successful ax throwing enterprise
Energizing music pulses through the open building. Groups of people laugh as they tease and encourage each other. Visitors range from guys with their girlfriends to groups of women to families. Near the front entrance, a young boy and his mother listen attentively to the safety instructions as they anxiously await their turn.
"This is what it's all about!" Becky Richardson says with a smile. "That little guy will remember this forever."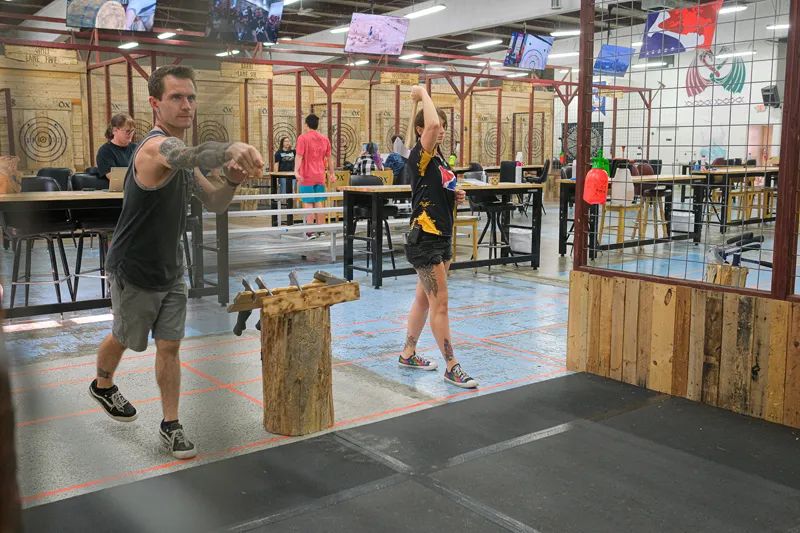 Standing inside her family's business, Ox Indoor Axe Throwing, Becky shares a little bit about how this unique business became a reality.
"It's really about chasing your dream," she says. "The only way to predict the future is to come up with a vision and start working toward it."
An energetic woman, Becky has spent her lifetime going against the grain. As you listen to her history, you see how an axe throwing business isn't really out of character for Becky.
As a 17-year-old, she convinced her father to sign papers allowing her to enroll in the Army Reserve to train as a medic. She was the youngest in her class and one of only a handful of women.
"I thought I wanted to be in the medical field," Becky says. "The Army Reserve was a good fit for me. It challenged me athletically and academically."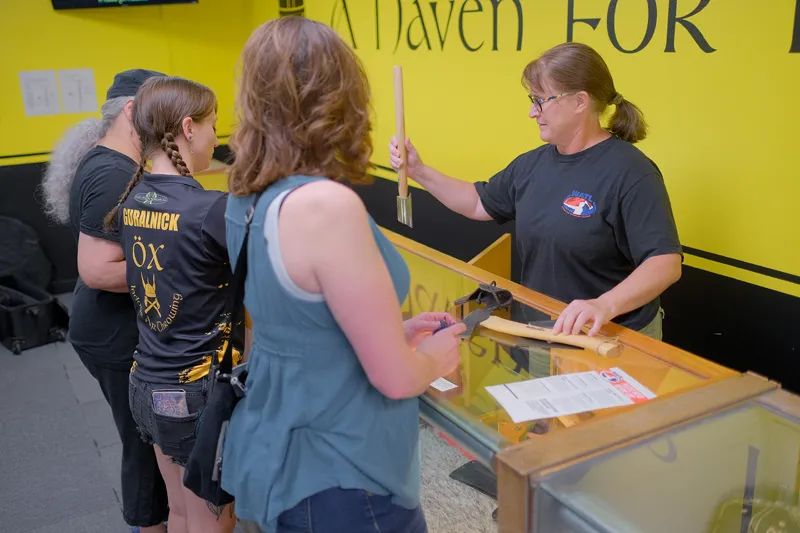 Becky pursued an elementary education degree at Montana State University and felt she'd found her niche. Even so, the summer of her freshman year had another crazy adventure in her life.
"I worked in the Rocky Mountain National Park hacking for peregrine falcons," she said. Further explanation revealed that Becky spent the summer near Estes Park, Colorado, where she would hike into a remote area five miles from the trailhead and camp out in a tent while she tended baby falcons. She was in charge of six of them.
"All of my falcons survived," she says proudly. "It was an interesting summer. I learned to enjoy my solitude. That was back in the day when there were no cell phones, I didn't have a firearm for protection, and I slept in a tent. But I never felt afraid, ever. It deepened my love for the outdoors."
Over the next several years, Becky finished her education, married, moved to Billings and began her family. It was a time when it was difficult to get a teaching job with School District 2, and a position failed to open up. Needing work, Becky turned to her other gift, computer technology.
"My dad was a college professor and also built computers for a living," she says, "So my sister and I both learned the technical side of computers from the best teacher very early in our lives."
Becky began a career in information technology and worked for a number of local businesses. She even taught computer science at MSU Billings as a system network adviser and instructor. Eleven years ago, she settled in at First Interstate Bank, where she's a support manager in the IT department. It's there she met her husband, Mark Coxwell.
"Mark came into my life at a difficult time and was an incredible friend," she says. "We have enjoyed so much together. He's the most non-judgmental, compassionate person I have ever met."
It was on one of their adventures to Denver that the couple was first introduced to axe throwing.
"My twin sister travels a lot and a few years ago she started frequenting axe-throwing bars. She kept telling me that I needed to visit one. Even before Mark and I checked it out, I was thinking it might be a good business to have in Billings. We visited a couple of them in Denver and I was hooked from the first time. Mark loved it too."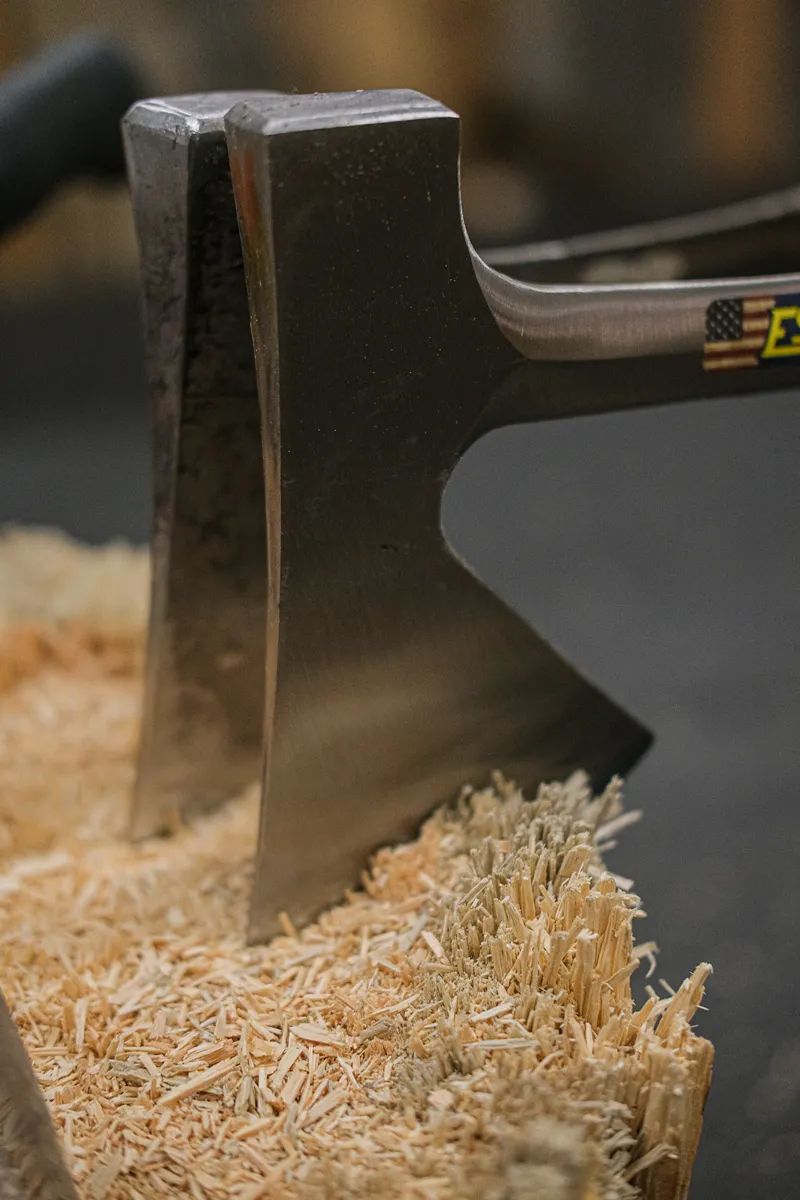 After she completed training, Becky returned to her hometown of Coralville, Iowa, and took a job riding along as an assistant with an ambulance service. She is a petite woman, and when two people died in a car accident, she was the only one on the crew small enough to climb into the crushed car to rescue the two surviving children.
"It was a catalyst for me," she says. "I had only been with them for two weeks when the accident happened. It stayed with me for a long time. I decided quickly that the medical field was not for me." She left Iowa on a soul-searching adventure. It was 1987 and she was barely 18 when she packed her '72 Datsun and headed west.
"Dad hugged me and told me to check the oil. Always check the oil," she says with a laugh.
Becky's pilgrimage brought her to Yellowstone National Park and the beginning of her life in Montana.
"I drove through the northeast corner of the park and loved it," she says. "I had no plans, but when I came to Gardiner, there was a sign for employment at the park headquarters." Becky signed on for the season as a security guard at Old Faithful.
"My experience in the Army Reserves cinched that one for me," she says. "When I wasn't patrolling the stores looking for shoplifters or keeping people away from the wildlife, I was hiking, canoeing, exploring and falling in love with the outdoors."
When the fall rolled around, she ventured off to Big Sky, where she spent the winter working at the ski hill, followed by a summer working at the golf course.
"After being a ski bum and working on the golf course, it was time to get serious about my future," she says. "I needed to get my education."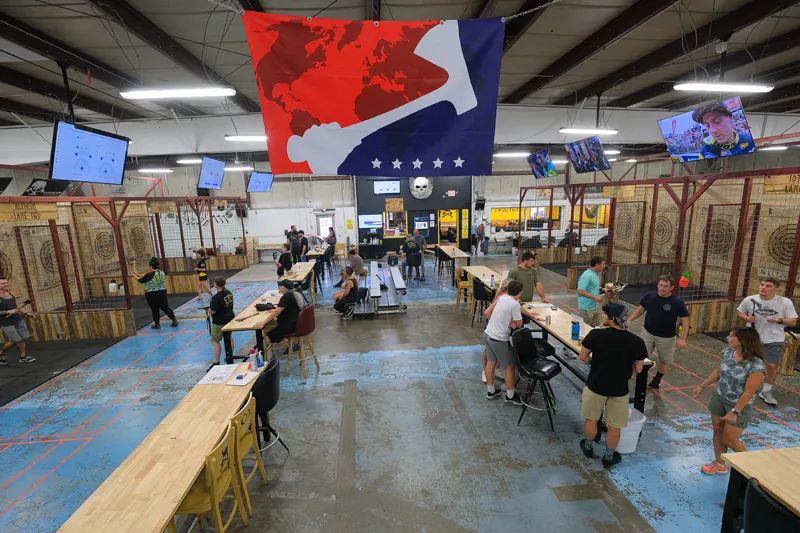 She started planning immediately. Mark and son, Nick Richardson, both caught her vision, and soon the three of them, along with Nick's fiancé, Sara Guralnick, were off and running. Today they own the first and only indoor axe throwing venue in Billings.
When they opened in July of 2019, they were located at 1711 Sixth Ave. N. The success was immediate.
"There's something therapeutic about axe throwing," Becky says. "Once you get the hang of it, it really builds your confidence to throw the axe at the target and have it stick."
But just as the business started rolling, Covid hit, which stopped it in its tracks.
"It was hard," Becky says. "We weren't sure we would weather it or not. On top of that, our landlord changed the terms of our lease, so we needed to start looking somewhere else."
The timing actually proved to be good for Becky and her team. They found the perfect location inside the former Billings Gymnastics building at 119 Rhea Lane. The shutdown gave them time to build out their new location.
"We're all about reusing materials if we can," Becky says. "We took all the lanes out of our old location and rebuilt them here and added twice as many."
Becky credits Nick for the design and building of the lanes. Using refurbished pallets as the lower wall, each lane is attractively lined with the planks. Above the planked wall sits heavy wire meshed panels. They cover roughly two thirds of the wall that separates each set of lanes but still allow throwers and spectators to watch the action. Tables throughout encourage patrons to bring their own food and beverages.
"We've created an environment where people are happy," Becky says. "It's a stress releaser and a real positive place to be."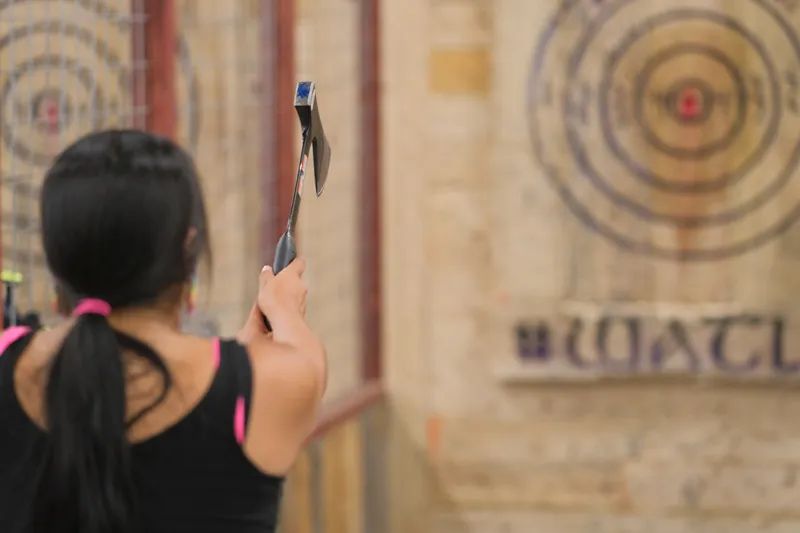 On any given night, you might catch the competition behind an axe throwing league. A business might bring in its employees for a team-building event. Or, a family might stop by to have fun and bond.
"Axe throwing is an equalizer," Becky says and adds, it's fun to see women do as well as or better than the guys."
With just as many women as men involved in the business, Becky has dubbed the gals that work at the business the Ladies of Ox. They'll help with the safety talks and demonstrate the art of throwing to newcomers.
"We can all throw just as well as the guys," Becky says with a laugh. "It's truly a fun sport for any age."
Plans for the future include more tournaments, league nights and eventually knife throwing.
"Everything I've done in my life has contributed to character building," Becky says. "And this is the path my life has taken."
TRY YOUR HAND AT AXE THROWING, learn the sport, see who has the best aim, let go of a little stress. To learn more about Ox Indoor Axe Throwing, visit oxthrowingsports.com to reserve a lane or check their hours.