Female Powered Development
Women team up to change the west-end scene
If you drive by the corner of South 24th Street West and Gabel Road, you'll find a hot spot marked with vibrant culture. If you look a little closer, you'll meet a handful of women who joined forces to make their mark on this colorful little section of the city.
Carverss Brazilian Steakhouse danced onto the food scene with a menu unlike any under the Big Sky. Central Wellness & Aesthetic Spa stepped up the tempo with a bold beauty and wellness move to meet the needs and desires of a growing city.
Each business had a strong woman behind it with big dreams on what they wanted to bring to Billings. Both turned to the same architect to help make their vision a reality.
Rebecca (pronounced Hebecca) Singer carved a niche in the fine dining world with the opening of Carverss Brazilian Steakhouse. It's her first bite of business ownership.
Janine Griffin put her stamp on the medical spa industry with the opening of the all-new Central Wellness & Aesthetic Spa, growing her already-thriving business.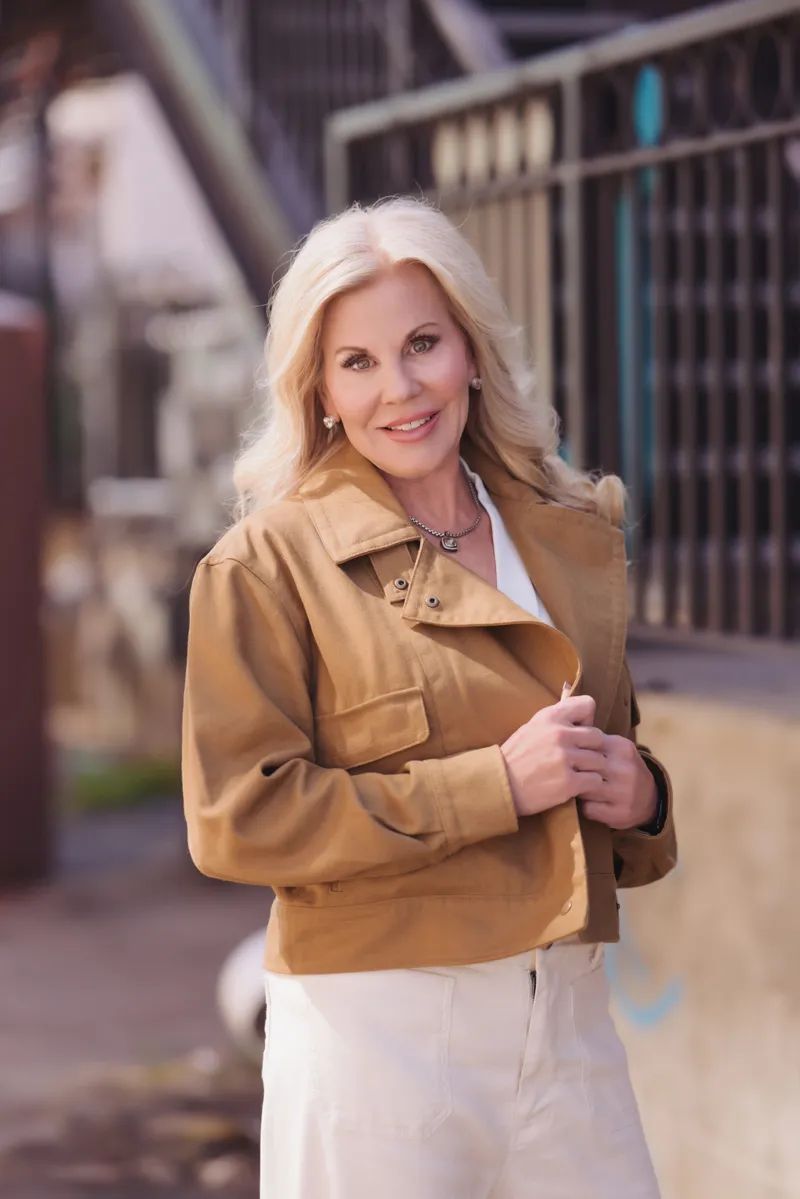 A HOLISTIC APPROACH
"What you see is my design," says Janine. "In my previous life, I'd draw and build homes. I'm still designing home plans for our new subdivision (Griffin Development) and I drew the plans for my daughter Ali's new home."
"Janine knew what she wanted," says Architect Sherril Burke of HGFArchitects, who helped bring Janine and Rebecca's building plans to life. "She knew what quality and what size of spaces she wanted. We've worked on and off together for years since her first building."
For a decade, Janine and her daughter owned and operated Central Wellness on Central Avenue. "We were never meant to stay on Central," Janine says, "so I've been working on a new business plan for some time."
Janine's new structure, located just beyond Carverss, spans over 7,000 square feet. It's a holistic med spa blossoming with purpose.
"I decided to do something for moms," Janine says. "We work hard, we take care of the kids, and then we wake up at age 49 and ask ourselves, 'What happened?' I want to help other women take time for self."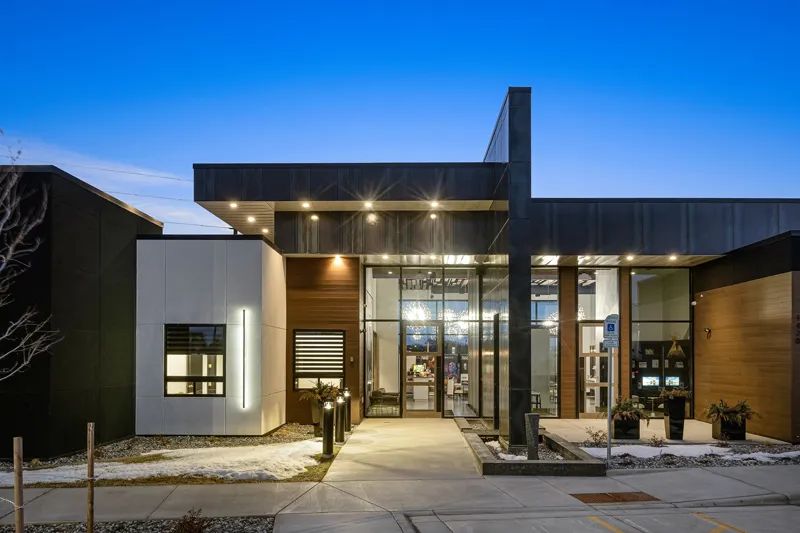 Pulling together what she calls a "look book," a compilation of photos and drawings, Janine laid out the floor plan. "This is what I always do so I get the outcome I want," she says.
The plan is punctuated with detail, showing the specific type of exterior overhangs and landscape Janine wanted, right down to interior feature wall and sphere chandeliers. She then sends a digital version to HGFA. "They bring the plan to life, and I finish it," she says.
The finished structure highlights an exterior that defines contemporary classiness. Unruffled peacefulness infuses the atmosphere within.
Shane Ridley, owner of TW Ridley Construction and general contractor for the building, says, "I started working with Janine on this project in January 2021 with a basic floor plan and Janine's mind full of ideas. We worked diligently together from that time until the completion. The result reflects Janine's thoughts and ideas. We were lucky enough to bring it to reality."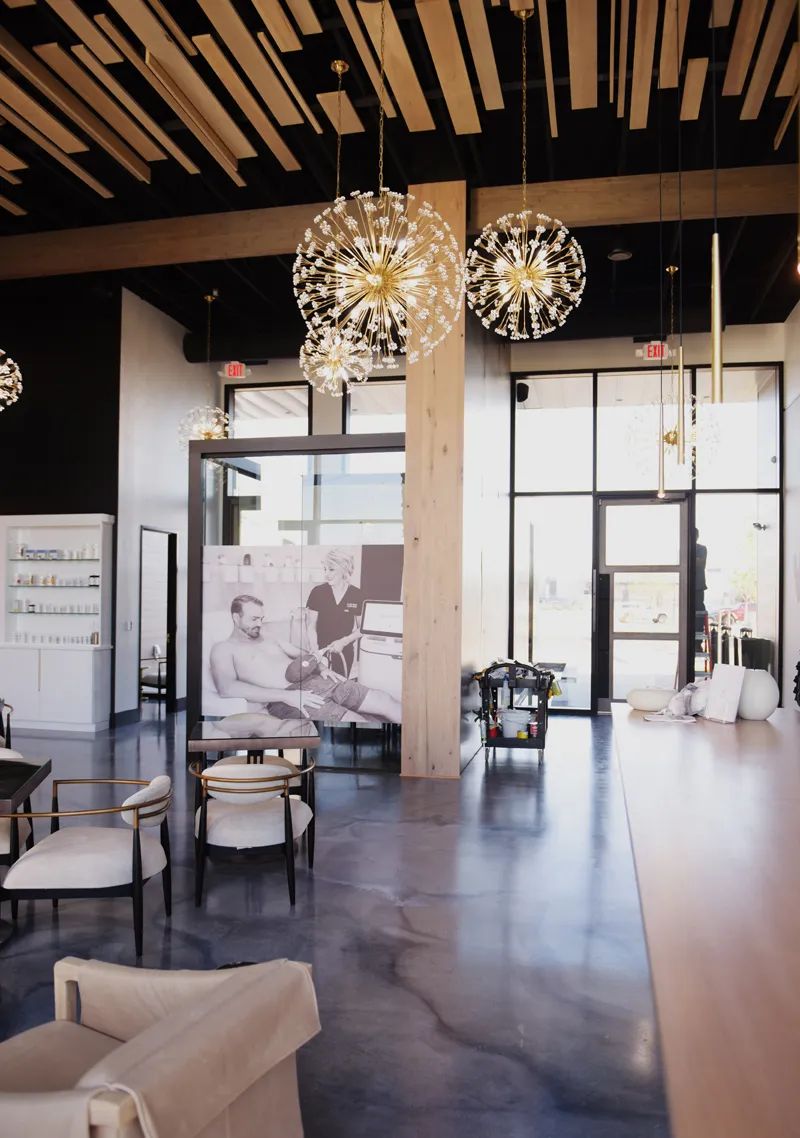 A beautiful feature wall inside the massive glass front door welcomes guests into the foyer before giving way to the glamorous greeting space. Soft grey and black wall colors intermix as they rise to greet the 18-foot ceiling. Wood slats accent this high ceiling, instilling gentle warmth to the sophisticated environment.
Large windows by the spa's product display bar summons in natural light while presenting a view to the back patio area. "We have room to do everything," Janine notes. "The fire pit out here is perfect for Botox parties."
Stained concrete flooring paves the way to private aesthetic rooms. Stylish barn doors close off the world, extending privacy for eight medical professionals attending their clients.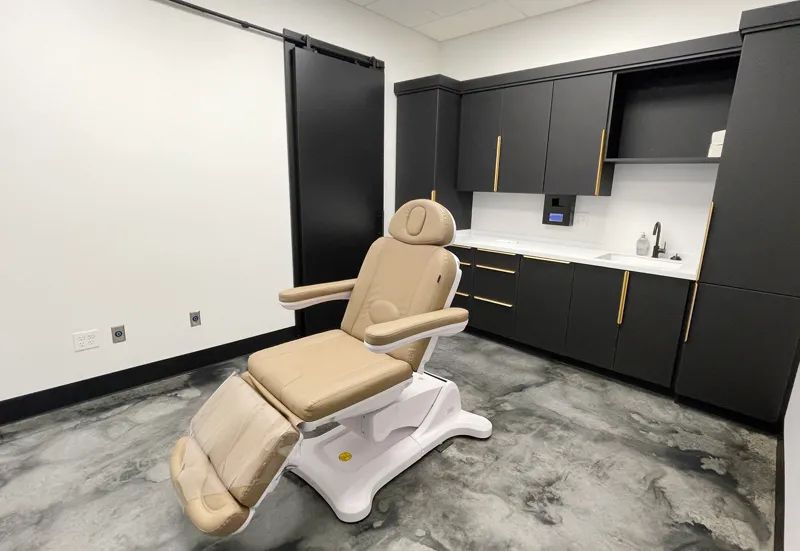 "I designed the CoolSculpting room with pocket doors so the supply room on the other side is always available," Janine says. This affords easy access to supplies so "there's no running back and forth."
Aesthetics and wellness rooms occupy one side of the building, as well as a lab for blood work. A large laundry room, private bathrooms and locker rooms coalesce with these spaces. Marble walls in the women's shower area further distinguish Janine's meticulous style.
The opposite wing houses a full kitchen, conference room, accounting and marketing offices, and Janine's office.
"I care about the business I'm driving," Janine says. "Our clients choose to come here. It's about being efficient and a place for them to relax. We make a positive difference in each client's life one experience at a time."
Janine developed and grew her business one layer at a time. "It takes the right team and staff to grow," she says. "It took 10 years, but we did it."
A BRAZILIAN OUTLOOK
The American dream came true for Rebecca Singer when Carverss Brazilian Steakhouse opened its doors this past October. The sumptuous cuisine and enchanting vibe ushered in success for this savvy entrepreneur.
Rebecca arrived in Billings on a cold December day two decades ago with the man she'd met and married in her native Brazil. She recalls encountering more than the state's frigid temperatures.
"It was a cultural shock," says this now 40-year-old mom of two young teens. "It was Christmas and nobody was walking. It was too cold."
Despite the shock, Rebecca captured a vision from this wintry scene. Indelibly etched upon her heart was the desire to combine her love of family and cooking with a touch of Brazil.
"When seeing the culture here in Montana," Rebecca says, "people are big meat-eaters!" Discovering this nugget of truth, her motivation to bring the family dynamics of Brazilian cuisine to Billings popped into overdrive.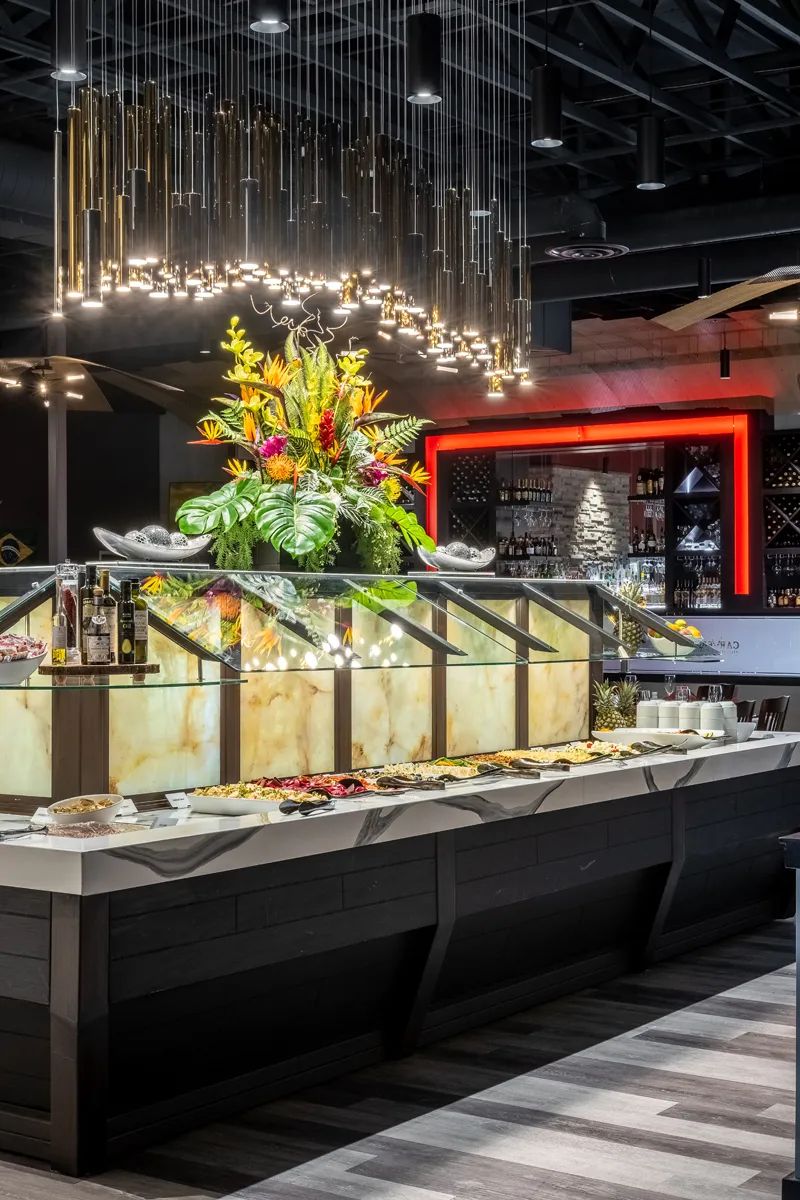 Working with her husband, Matt Singer, in his Billings landscaping business, Rebecca learned to speak English while adjusting to the ethos of her new home. Her spirited drive to bring a taste of Brazilian fare to this city never wavered.
"My cousin, Bruno (Scalco), in Miami, worked in a Brazilian Steakhouse before," shares Rebecca. "I wanted to open one here. It took some convincing of my husband."
With Matt on board, along with extensive phone conferencing with Bruno, the hunt was on for the restaurant's location.
"I remember the day Matt Singer walked across the road from his office to ours and stated he wanted to build a restaurant," says Shane of TW Ridley Construction. "That was the start of a great adventure."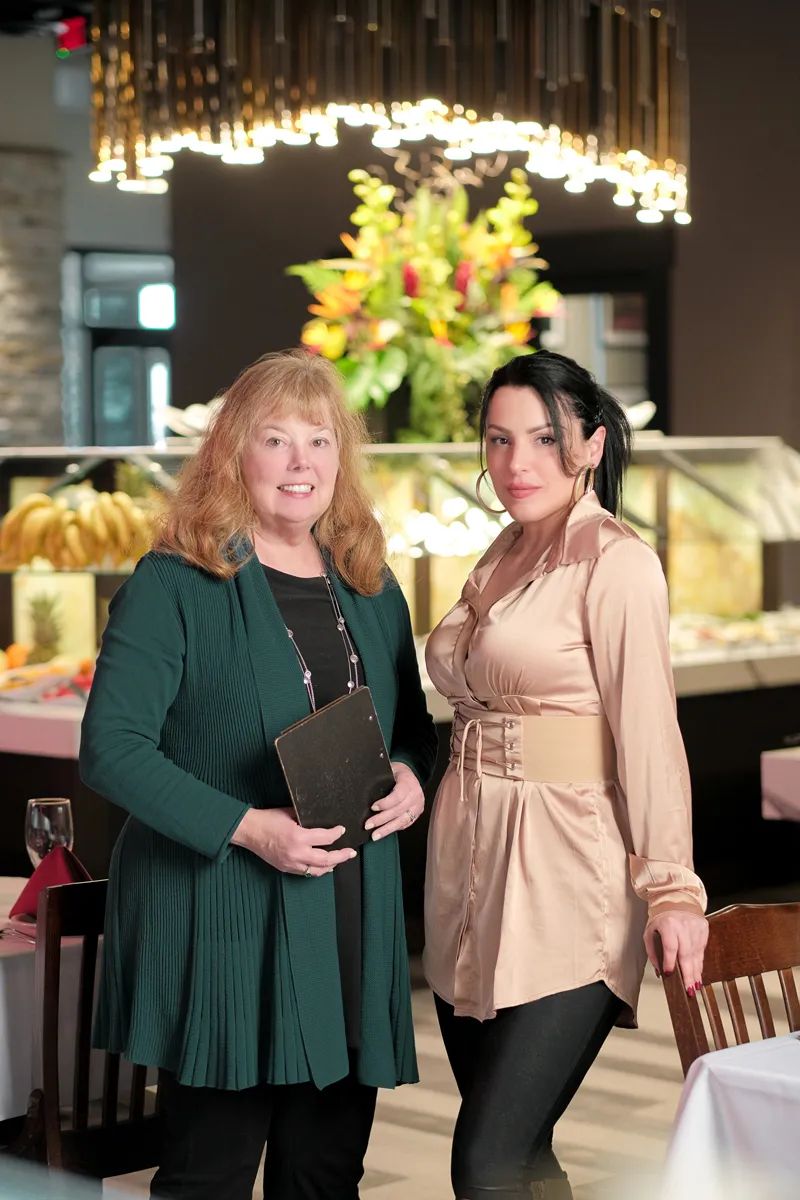 Shane introduced Matt and Rebecca to Griffin Development and HGFArchitects for the design of the building. "It then became a true collaboration of working through design and budgeting," Shane says.
"We designed and did drawings during the pandemic and started building at the end of it," says Sherril, co-founder and principal of HGFA. "Rebecca had specific design ideas and brought in pictures of what she wanted."
"I wanted modern and elegant," Rebecca says, "but different, with a touch of Brazil. The first thing was a tall ceiling like in Brazil."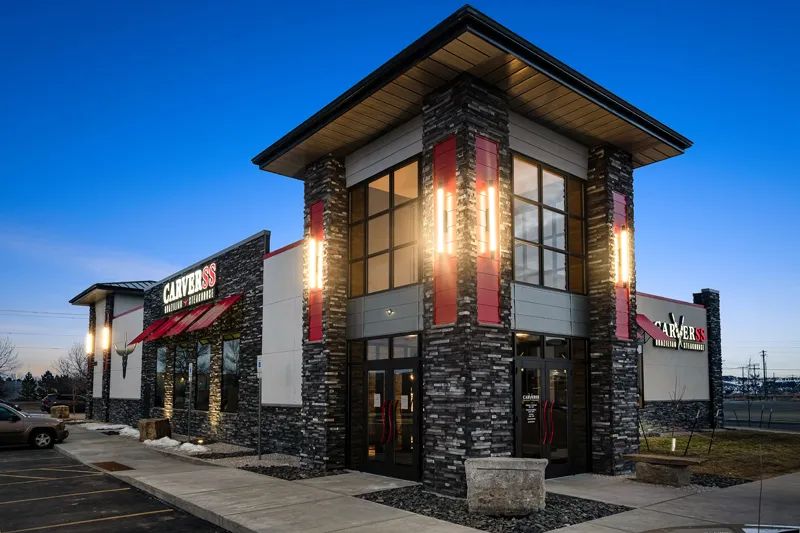 The nearly 7,200-square-foot building stands tall on the corner of 24th and Gabel. Its exterior features soft grayish stone with varied heights of stacked stone and is graced with a plethora of sizable windows and bright red accents. Subtle linear sconces enhance the suave look.
"I wanted a big front entrance," Rebecca declares.
The completed entry introduces double glass doors sporting elongated red door pulls. The curvy pulls form the "SS," in Carverss, the "signature" mark for owners Singer and Scalco. "We brought the 'SS' into the design," says Rebecca. "It's a big touch."
It's also a great lead-in to the impressive lobby where a colorful water feature known as the bubble wall intensifies the festive mood. Red accent walls in the main dining area interlace with white and tan-color stacked stone, as well as with gray painted walls. The color and texture add charisma. "The red looks elegant," Rebecca says.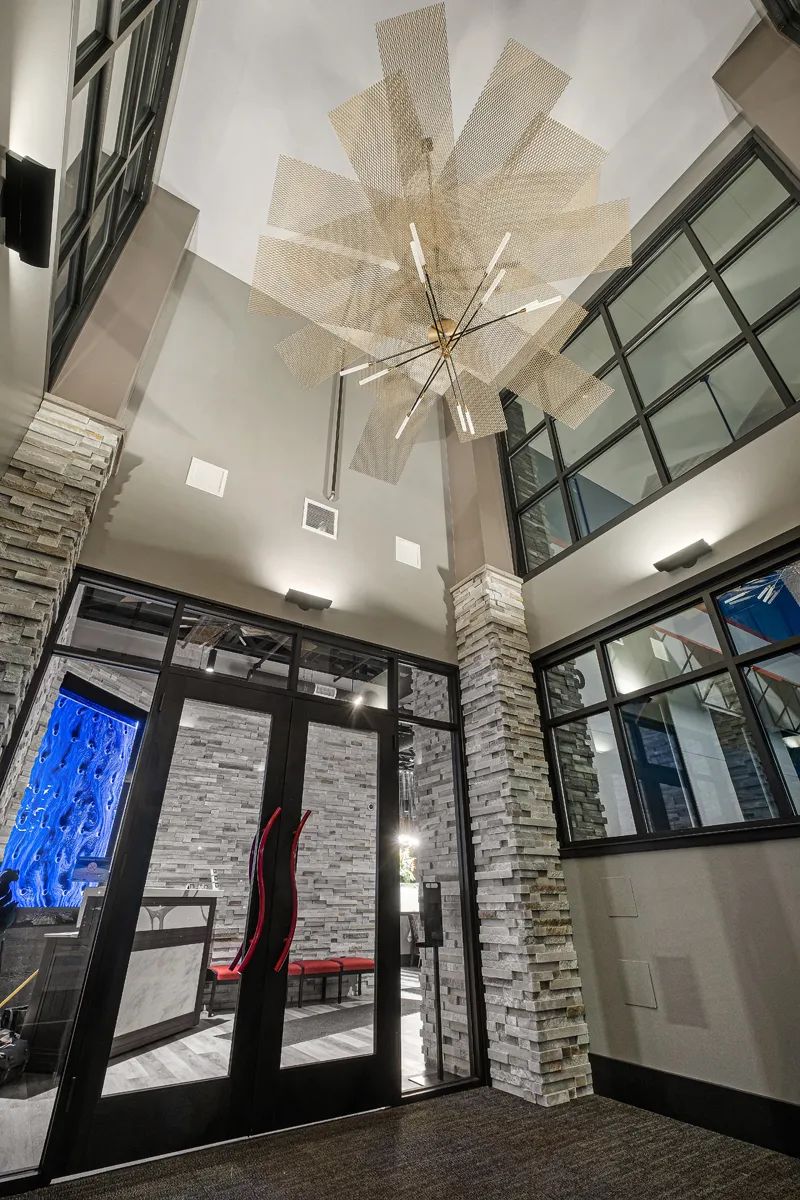 Dramatic lighting casts a stellar vibe with metal-covered chandeliers hovering overhead. A stunning multi-colored chandelier hangs over the expansive salad bar. Combining three LED fixtures gives Rebecca the flair she sought for the heart of this restaurant.
Low-rise glass partitions each etched with Carverss Brazilian Steakhouse detail the dining space. The partitioning allows for intimate table seating and is spot-on for "selfies," says Rebecca. Etched partitions run the length of the full-service bar, subtly separating this busy space from the dining area.
"The Brazilian drinks at the bar, you won't find anywhere in Billings," Rebecca says.
The imported golden and gray-colored bar top Rebecca selected glows with the artistic nuance expressed throughout. A red-lit back bar salutes the flow of color thoughtfully placed throughout the building.
"There's a lot of movement and action here," Sherril says. "Rebecca cares a lot and put a lot of time and thought into this." She adds, "We also put in a lot of glass in this building."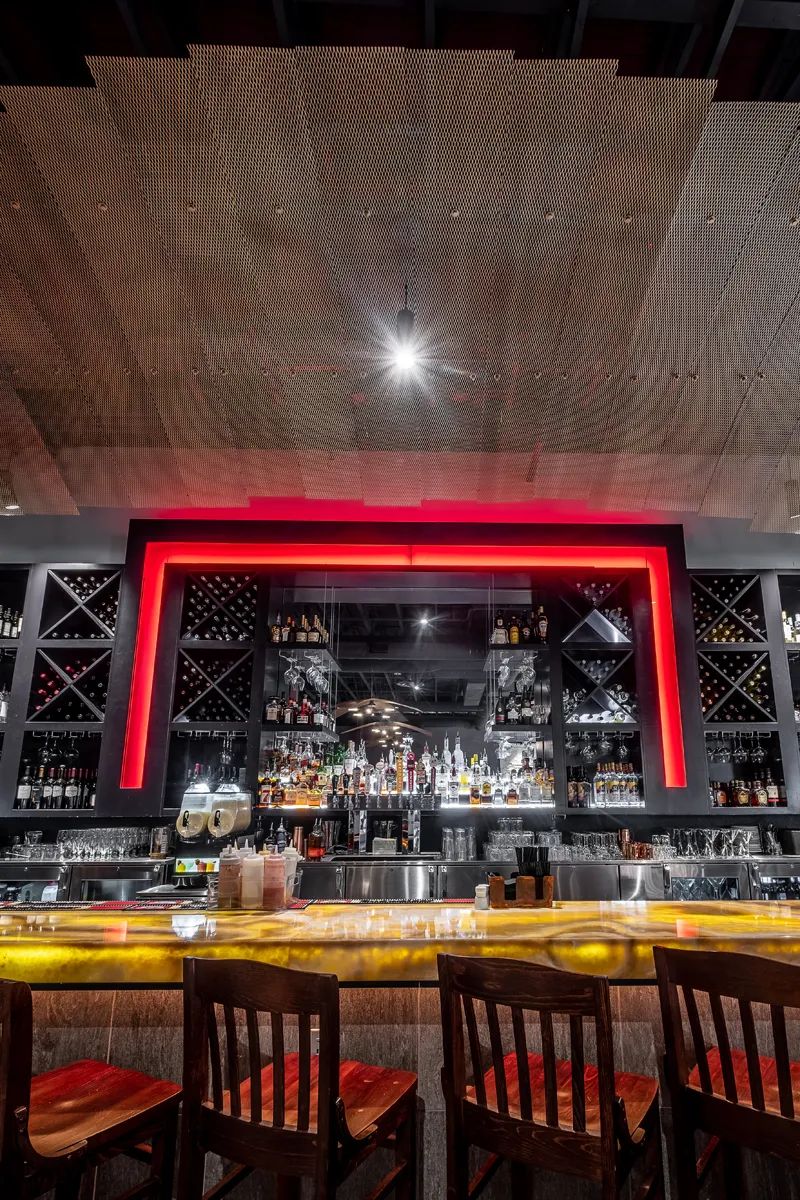 Like the glass-lined façade of the building, huge glass panes allow guests to see into the kitchen where specialty meats are cooked on racks before being served.
"Bruno wanted to see into the kitchen," says Rebecca. "Our family worked together especially with the kitchen as we had to know where every machine would go."
The family also pulled their recipes together to offer authentic Brazilian cuisine
on the menu.
"My cousin, Aline Santana, is head chef in the kitchen," Rebecca says.. "She's an amazing cook. Her husband, Daniel, is kitchen manager on the meat side. Bruno and his wife, Emi, are managers."
Rebecca's love for family, food, and her Brazilian heritage has come together deliciously. "We had lots of ideas," she says.
"It's a great restaurant aesthetically and the quality of food and service," Shane adds. "We're thankful to have been a part of this project."
Both projects grew from the extraordinary visions of forward-thinking women making it happen. They've challenged and changed the status-quo. They've definitively put their marks on the West End of Billings.
FOR MORE INFORMATION, on Carverss Brazilian Steakhouse, visit carverss.com. For more on Central Wellness & Aesthetic Spa, visit centralwellness.com