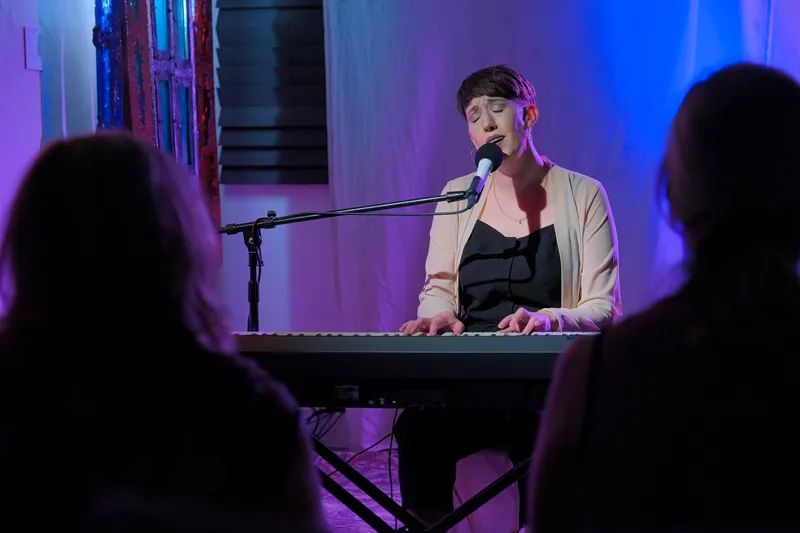 Finding Her Voice
Boston Marathon bombing survivor used music to heal
For Callie Benjamin, performing and writing music is like breathing. If she hears a song, it's not long before she's dissecting it, listening to the beat, the melody, and then the lyrics. In earlier days, she was on a successful path toward a long-time career in songwriting on Nashville's Music Row. But that all came to a halt when one tragic event took her musical breath away.
"Life took a pretty hard turn," Callie says today.
April 15, 2013. Boston Marathon Monday. Callie was more than 2,000 miles from home attending Berklee College of Music and had just one year left. To make ends meet, she waited tables at the Forum in downtown Boston. The restaurant's patio sat on the course just a block from the marathon finish line.
As she was getting ready to start her shift that day, she got a nagging feeling that she shouldn't go.
"I just had this drop in my gut," she says. "I just heard, 'Something bad is going to happen today.'" She adds, "I dismissed it as quickly as it came on."
She remembers being busy that day, waiting on the VIP tables on the restaurant's second floor and then, in the afternoon, picking up some of the patio tables left by a server who was being cut loose for the day.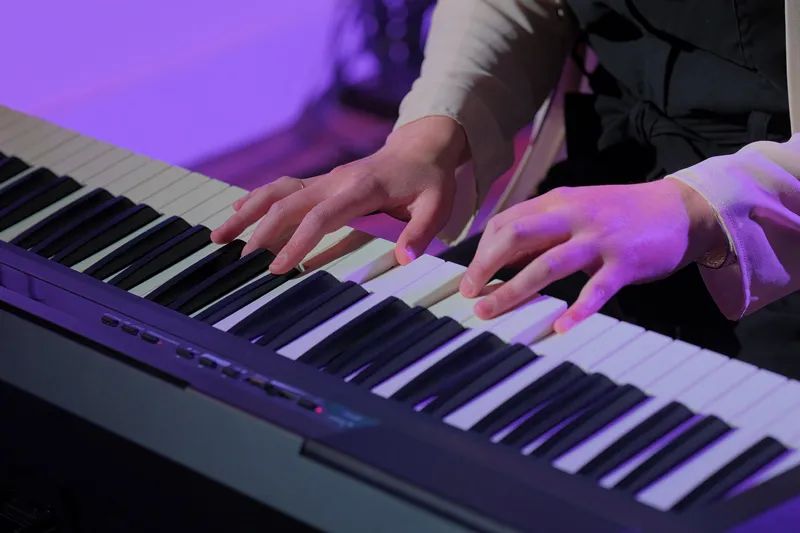 At about 2:45, after busing some patio tables, she was making her way back up to the kitchen to drop off dirty dishes when a bomb detonated about a block away.
"It was so quiet afterward, you could hear a pin drop," she says.
Fourteen seconds later, a second bomb, placed right in front of the Forum's patio, exploded, sending debris, glass and bystanders in all directions. The bombing would be deemed a domestic terrorist attack by two brothers, Dzhokhar and Tamerlan Tsarnaev. The two crafted a pair of pressure cooker bombs that killed three people and wounded nearly 300.
One of the fatalities was an 8-year-old boy named Martin Richard, who was standing on the edge of the restaurant's patio just feet from where the bomb, hidden in a backpack, exploded.
"I know I was being watched out for that day with how things happened," Callie says, adding that if she hadn't gone back upstairs in the restaurant when she did, her story might have been very different. "It really was a matter of minutes for me."
As she reflects on the experience sharing stories of how she raced to help tend to the injured, ushering people to safety and using restaurant tablecloths as tourniquets, she says she learned something about herself that day.
"It's just part of the human experience to question what you'd do in that situation. Knowing that I would take action is, in a strange way, reassuring," Callie says.
Flash back to Callie's childhood and you'll find a vibrant child who almost learned to sing before she talked.
"She's been doing it since she was 2 years old. She just sang, sang, sang," says her mother, Patrice O'Loughlin. "She knows every verse of every Disney song. She learned to sing just listening to those songs."
Both of her grandmothers saw her talent early on. Her dad's mom had an upright piano and started by teaching Callie a little five note scale. "Once I started fiddling around on the piano and developing my voice, my other grandmother, my mom's mom, got me set up with voice lessons."
Anita Rawlinson was Callie's first voice teacher. She's been retired for 10 years now but says she won't forget the little girl she called a fast learner. "I remember she was a natural, that she had very good pitch," Anita says. "Some kids have it and she was one of those memorable ones."
"As long as I can remember, I had a passion for it," Callie says.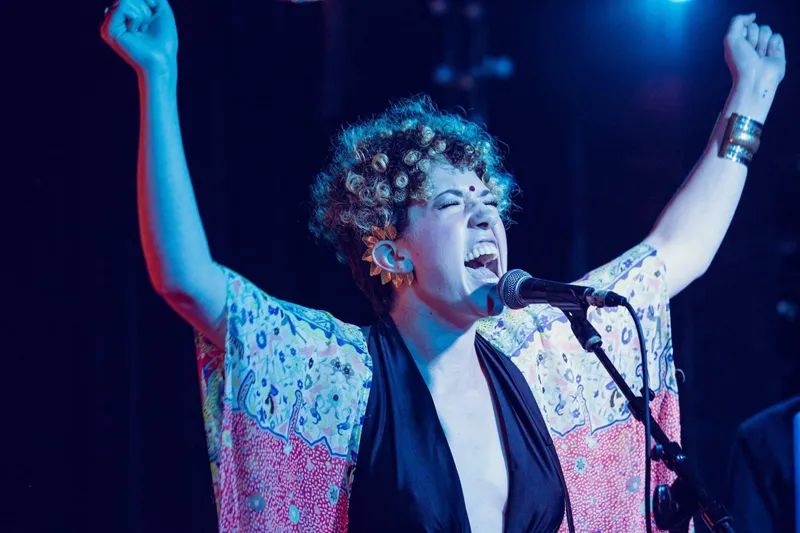 Eventually, she started writing songs. She kept them to herself until 2006, when a fellow student at Billings Central Catholic High died in a ski accident. Just days after the tragedy, Callie put notes to words, writing a song about saying goodbye.
"It was a calling in that moment. I wrote to the experience and tried to find a source of comfort in it," she says. She remembers asking the boy's mother if she could perform it at the service held at the school. While the experience is a bit of a blur, she says of the family's response, "All I can remember is gratitude."
The song sparked a journey. She felt the power of expressing emotions through song.
"This beautiful thing came about from this awful, awful experience," Callie says.
It wasn't long before attending Berklee College of Music became her dream. She knew it would be expensive and she even went to Montana State University for a year before breaking down and applying to the prestigious music school. Berklee is home to about 4,000 students with a 10 percent acceptance rate. She applied in December of 2010 and was accepted the following February.
She studied professional music with an emphasis in songwriting. The summer after the bombing and before her senior year, thanks to a nudge from one of her professors, she landed an internship on Music Row.
"I think that summer was a glimmer of how things could be," she says. It was a chance, she says, to get out of Boston and realign with her love of making music. "Even though I was questioning myself, I was getting confirmation from big decision makers that I had what it took," she says. "It was a once-in-a-lifetime opportunity."
The internship helped her get her foot in the door after graduation. She landed a job as a creative assistant with Diamond Eye Music and gave feedback on songs that would later be pitched to artists or their record labels.
"Music Row is a magical place but just like anywhere else, there is a bottom line," she says, adding with a laugh that she grew a little tired of assessing music revolving around "beer, girls and trucks."
Songwriting wasn't her only focus. A year into her career she hit the road performing.
"In 2015, I did a co-tour with an act called NONIE. She's from Australia. We were both signed with the same manager," she says. They hit all kinds of venues all over the northeast, and the gigs uncovered a piece of her she wasn't aware existed. "A really big part of what has shown up with my PTSD is a need for a home base and consistency," she says. "Touring doesn't work that way."
It was just the first of many revelations.
"Even with the very invigorating experiences I had, I was being called to something more," she says. "I've always had that calling to work with people and serve people, but it was exacerbated after the bombing."
So, she walked away from a publishing company that had served up songs to A-listers like Garth Brooks and Brooks and Dunn. One of the last songs she worked on was "A Little Dive Bar in Dahlonega," recorded by Ashley McBryde. "There are tiny moments that I will hear that song and I'll have that one little thought, 'Oh my gosh, I helped on this song.'"
For the next few years, she was on a mission to find herself. She spent two years as the director of arts for a Nashville nonprofit that helped provide entrepreneurial skills to low-income communities. Her "classroom" became the community room in a handful of Nashville's housing projects.
Then, in 2018 came another passion project.
"My roommate had started a nonprofit called Girls Write Nashville, and I was a founding mentor in that," Callie says. "Essentially girls ages 6 to 18 were assigned with a working songwriter for a semester and at the very end of the semester, they got to record their song in a state-of-the-art studio and perform it at a showcase. It was amazing."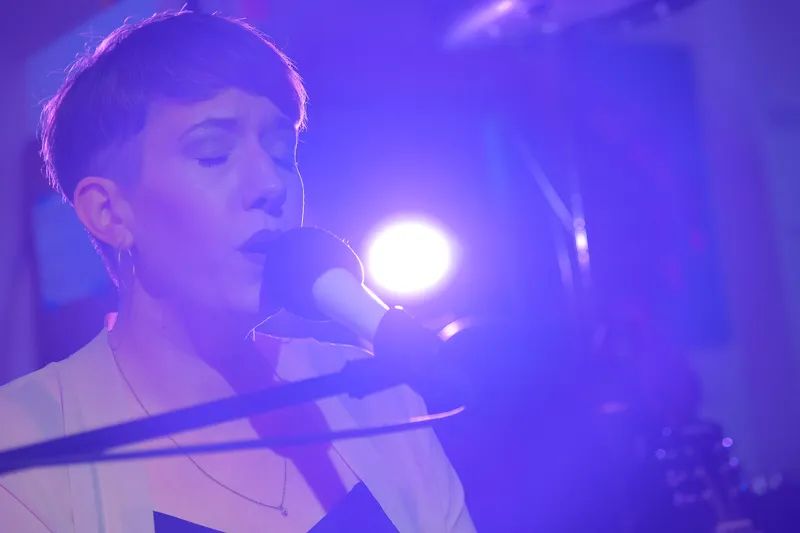 The summer of 2018, Callie says, "I decided to come home, get a break and hopefully set the reset button." By the time she got to Colorado on the trek from Nashville to Billings, she says, "I got this overwhelming feeling. It just said, 'You need to be here. You need to be in the West.'"
She stayed and since then has dabbled in a handful of different jobs, trying to find her way. Today she's the development director at Saint Vincent de Paul, a nonprofit that serves the poorest of the poor in our community. She's led music groups among those they serve, focusing on how to use songwriting as an outlet. "So many of the people that we work with have so many talents or abilities that they never had an opportunity to explore," she says.
And, slowly but surely, she started to realize that the traumatic experience she endured in 2013 was still wreaking havoc on her songwriting.
"I'm finally starting to break through a little bit, which I think is a cathartic experience on its own," Callie says. "It's being able to finally be a little more in touch with the outlet I always felt I had."
In 2019, a friend from high school called her and mentioned he had a gig at Kirks' Grocery downtown. He wanted her to join him. That impromptu jam session started to soften the spaces left hardened by tragedy.
"It felt good," she says. "I think there was a freedom there, knowing there weren't any expectations. Even years after the marathon bombing, I couldn't tap into my music." That was starting to change.
In 2021, she joined the Billings Symphony Chorale. Last fall, she joined the High Plains Chamber Singers. She loves the music and blending her voice with others.
Meantime, her mom and her aunt, Denise Smith, who are two of her biggest cheerleaders, watch the woman they once knew reawaken.
"It's been hard to see her talent stifled for the last 10 years, but to see it coming back out and to see her embracing what she's capable of and embracing the beauty of her voice and talent is a miracle to me," Denise says. "I can't wait to see what she does next."
Recently at Kirks' Grocery, Callie sat down at her keyboard and belted out some of her original music. Her strong, smoky voice captivated her listeners. With every note, it was clear she was getting back that musical breath.
"It takes over," she says of performing. "There can't be anything else in the room if there's music." She adds with a determined look, "Music will always be a part of my essence."