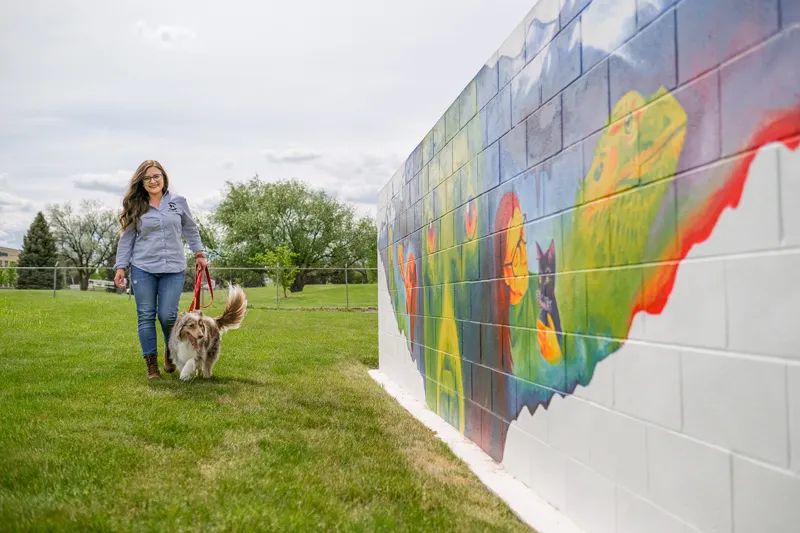 Fostering Positivity, Adopting Change
New director builds community trust at Yellowstone Valley Animal Shelter
Painted in vibrant colors, the steady, soulful gaze of a larger-than-life dog dominates a mural outside the Yellowstone Valley Animal Shelter. The portrait sends the welcoming message that Triniti Halverson has worked hard to convey.
In her three years as executive director at YVAS, Triniti made it her mission to wash away any negative stigma and replace it with something positive.
"People think our work is sad. But it's not sad," she says. "We're on the healing side. That's not sad, that's amazing."
Radiating "amazing," Triniti is more hands-on than a sit-at-her-desk type leader. That might explain how she's spearheaded great strides in short order. She led the charge to abruptly quit using euthanasia as a means of population control. And she's launched an ever-growing list of programs to help pet owners where they need it most.
"There was public outcry for change at the shelter," Triniti says. "We are sustainable now because our community believes in us."
Steve Durrett, a YVAS board member for more than a decade, calls Triniti's enthusiasm "truly inspirational" — even through tough times.
"I also believe she is genuinely concerned about the welfare of her staff," he says. "I think they recognize it and their performance is exceptional because of it."
Under her direction, he adds, he sees a bright future for the shelter.
"I believe YVAS will thrive and grow to meet the needs of the community," he says.
Today's shelter is a welcoming place. Visitors are met with friendly faces, the scent of clean kennels and the raucous sound of happy dogs. The shelter's successes reflect its mission of strengthening the human-animal bond. During just one week in May, the team at YVAS reunited 19 lost pets with their owners, found foster homes for seven animals and adopted out 54 more.
As a child growing up in Billings, Triniti never had a dog or cat. And later, as a young adult, she studied public health, not veterinary science. As it happened, her non-traditional background has proven especially fitting.
"We use tons of public health practices every day to make sure the health and wellness of our shelter is on track," she says.
In her first job out of college, she promoted student health at Montana State University Billings. Her next job found her working for the Billings Parks and Recreation Department in a program aimed at helping senior citizens maintain their independence.
"It was still public health," she says, "but a very different concept."
When a co-worker suggested she apply for the director's position at YVAS, she did so on a whim. "It was just happenstance," she says. "But by far it's been my favorite job. For someone not connected to animals ahead of time, it's been an interesting fit."
When Triniti came on board, she had two key objectives: to erase the shelter's negative stigma and to invest in her staff. The stigma was closely associated with the shelter's euthanasia practices, which at one time accounted for 70 percent of the animals they took in. That figure had dropped considerably by the time Triniti arrived, but she wanted to eliminate euthanasia entirely.
As for her staff, many were worn down from "compassion fatigue" and she was determined to rally morale. Almost immediately, she was confronted with a decision that would impact both objectives. She was out of town, attending a conference, when she got a call from the office. Staff members were seeking her advice on which animals to euthanize and Triniti knew how heavily that decision weighed on them.
"Population management was just a fancy term for picking who's on the list and they don't make it that day," Triniti says. "I just said 'No.' I told them to call me back in a few hours with ideas."
By brainstorming solutions and looking for guidance from other programs, the shelter ended the practice cold turkey.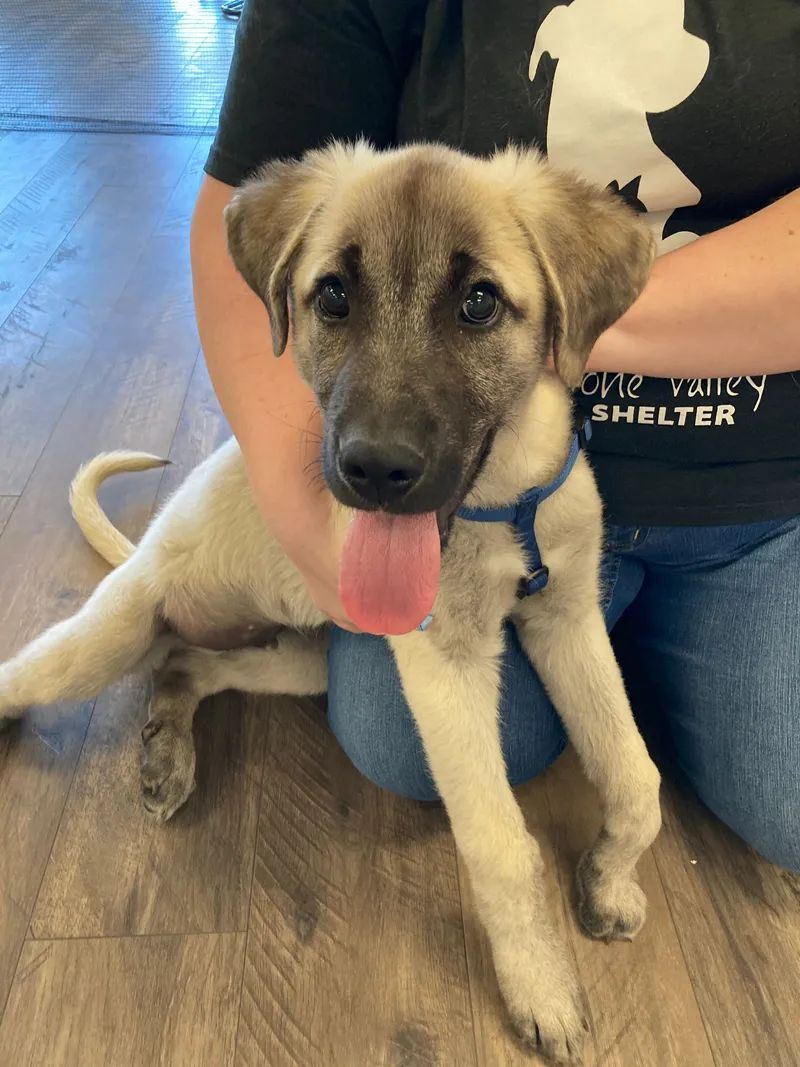 "We just stopped doing it," she says. Period. "We looked at other places to see what they were doing right."
Today, 96 percent of the animals taken in are released to new homes. The only animals that don't make it are either injured or suffering from health issues. To make that leap, the shelter increased adoption promotions and broadened its social media presence. What had even more impact was that Triniti and her staff embraced several "counter-intuitive" measures that other shelters had found to be successful.
For one, they opened portals between two kennels, thus doubling the space allowed for each animal. But that also meant reducing the number of kennels by 50 percent.
"The data showed that the animals (in larger spaces) were healthier and happier and more easily adopted," she says. "It worked."
The shelter also significantly reduced adoption fees. "We were not doing great financially, so it took some convincing of the board to accept that," Triniti says.
But lower fees also equated to faster adoptions. Cats, which had typically averaged 28 days in the shelter, were now staying less than half that. The average stay for dogs dropped from roughly 14 days to four.
"If they're going out the door faster, you're saving money," she says.
The "Working Cat" program offered another avenue for eliminating euthanasia. Feral cats, which had traditionally been put down, are now adopted out, free of charge, to "work" as barn cats.
But Triniti didn't stop there. Donning a hazmat suit, she launched a ringworm treatment program for infected cats, a population that had also been targeted for euthanasia. Ringworm is not uncommon in felines and it's not nearly fatal, Triniti says, but the treatment is expensive and time-intensive and the parasite is transmissible to humans. Brushing aside those concerns, she was determined to take that on that challenge – despite her staff's reluctance.
"My staff were terrified of the ringworm program," she says.
To prove her point, Triniti took a ringworm-infested cat home to treat. Her approach garnered the trust of her employees. In the process, she also gained a cat.
"I took him home not with the intention of adopting him but the intention of launching the program," she says. "He never left."
Last year the shelter treated 60 cats for ringworm – 60 cats that would otherwise have been euthanized.
Once the shelter surmounted those challenges, Triniti broadened YVAS' reach. They added the Learning Center on Grand Avenue, where they offer everything from "kitten yoga" to Critter Camps to low-cost vaccination and micro-chipping clinics. There are classes demonstrating how best to clip a dog's nails and classes on how to release pets caught in a trap. And, of course, there are classes for parents of new puppies.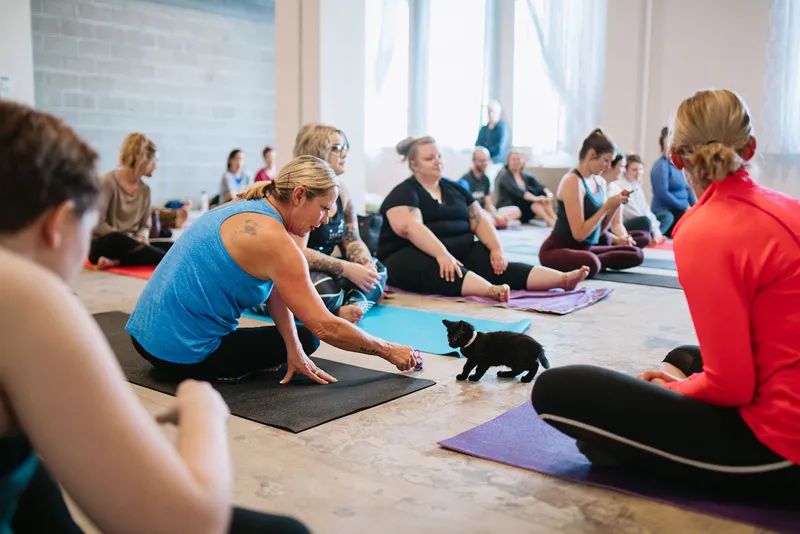 "If your puppy is eating the couch, we want to help train it how not to eat the couch," Triniti says, smiling. "So that it's not another puppy being dropped off at the shelter."
Triniti and shelter employees are constantly seeking solutions for pet owners caught in tough situations. On a personal level, Triniti has faced her own challenges. During college, when she was finally in a situation to adopt a cat, circumstances changed and she had to give it up. On the flip side, she later adopted a bunny that had been abandoned in the dorms. The two experiences taught her a fundamental lesson: that anyone who relinquishes a pet should not be judged.
"You never know what the reason is," she says. "This needs to be a judgement-free zone."
Instead, she strives to make the public more aware of the resources available. In partnership with the YWCA, the shelter runs one such program that will provide temporary shelter for pets of victims of domestic abuse.
"People are sometimes afraid to leave (bad situations) for fear of losing their pets," she says. "It helps house animals while they get back on their feet."
Similarly, the shelter offers resources to help pet owners keep their pets in spite of financial pressures. "Many pet owners are good pet owners, even though they may not have the financial means," Triniti says. "If medical care is a barrier to pet ownership, we want to meet them where they're at."
YVAS also mirrored the national "Home to Home" program for pet-owners who have made the decision to re-home their pet. "If you just put an animal on Facebook it can be pretty dicey," Triniti says. "This gives owners resources to interview potential owners and discounted care to new adoptees."
Not only has the shelter made great strides, but Triniti has learned that YVAS must remain nimble. She was only one year into her tenure as director when Covid hit. Although her employees weren't deemed "essential workers," the animals needed their care to survive. She directed her staff to keep doing what they had been doing – with some modifications. Relying on her strong background in public health, she split them into two teams, hoping that there would always be one healthy team to maintain operations.
"It was a really hard time," Triniti says. To lift morale, the teams came up with activities for one another. One team organized a scavenger hunt around the shelter. Another scheduled a paint-your-pet night.
"At that time we were only hanging out with the people we worked with," she says. "And I knew that if you take care of your staff, they will take care of the animals."
When the pandemic first hit, they anticipated a large influx of animals.
"People started to surrender animals because there was a fear of transmission," Triniti says.
Then, when it became apparent that that risk was unfounded, shelter staff attempted to prepare for other scenarios. Would they see lots of animals orphaned by Covid? And how could they keep pet owners and pets united when some pet owners lost jobs and struggled to make ends meet?
Brainstorming again, YVAS came up with the idea of weekly pet food bags. To keep spirits up, staff inserted hand-written notes for the owners and treats for their pets. Ultimately, the reality was played out quite differently from the worst-case scenario for which YVAS had prepared. So many homebound people were seeking companionship that animals were adopted at rates never witnessed before.
"We had so few animals," Triniti says. "And for the first time ever, we emptied out the kennel for Christmas – even if that meant a few went into foster homes for a few days."
The YVAS offers refuge for an ever-changing variety of animals – from boa constrictors to sugar gliders to turtles and the more ubiquitous kittens and dogs. Yet Triniti doesn't gage the shelter's capacity by the number of kennels available. Rather, she speaks of the shelter's "capacity for care."
"Just because you have kennels doesn't mean you have care," she says. "The question is, how do we make sure we provide the care the animals deserve?"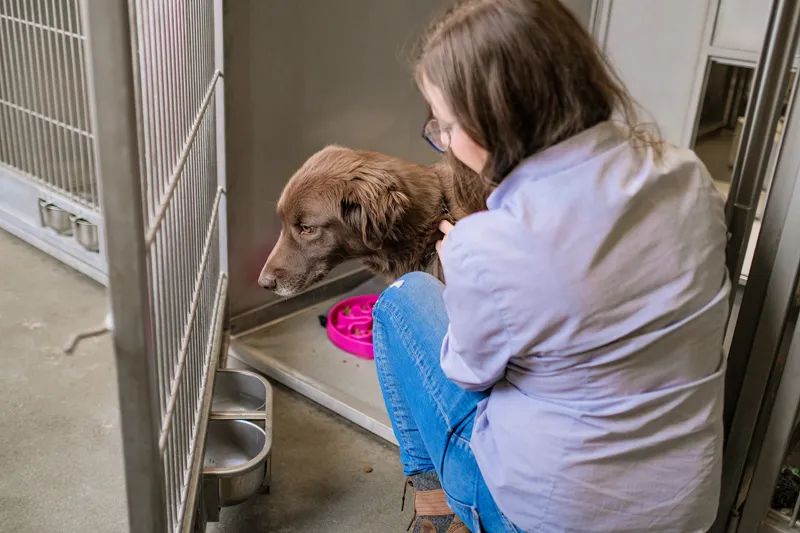 That capacity for care can stretch resources on a moment's notice. Several years ago, YVAS's cat population doubled overnight when they took in 48 cats from a hoarding case. More recently, the shelter made room for 19 dogs from a similar situation.
"That was our first dog hoarding case and it was a whirlwind," Triniti says. "We knew they were coming in and they were going to be big dogs. Space was a big issue, not only for holding but for exercising."
Staff quickly cleared kennels and made it work. Luckily for the dogs and the shelter, the case was resolved in short order. But that's not always the situation – sometimes it takes months or years.
"Every cruelty case, unless the owner signs off, we have to hold the animals through the entirety of the court case," Triniti says.
As YVAS deals with ever-changing needs, Triniti's army of employees and volunteers step up to the plate.
"We do a lot with passion and duct tape," she says, smiling. "Our staff are the most innovative and creative people."
THE YELLOWSTONE VALLEY ANIMAL SHELTER is a nonprofit organization run by a volunteer board. It is separate from the city of Billings but contracts with the city to house and unite lost dogs. Relying on donations, business partnerships and fundraisers, the shelter takes in more than 5,000 animals a year. It is by far the busiest shelter in the state and yet operates with fewer employees than shelters in Montana's other major cities. To learn more about the shelter or view some of the adoptable animals, visit yvas.org.