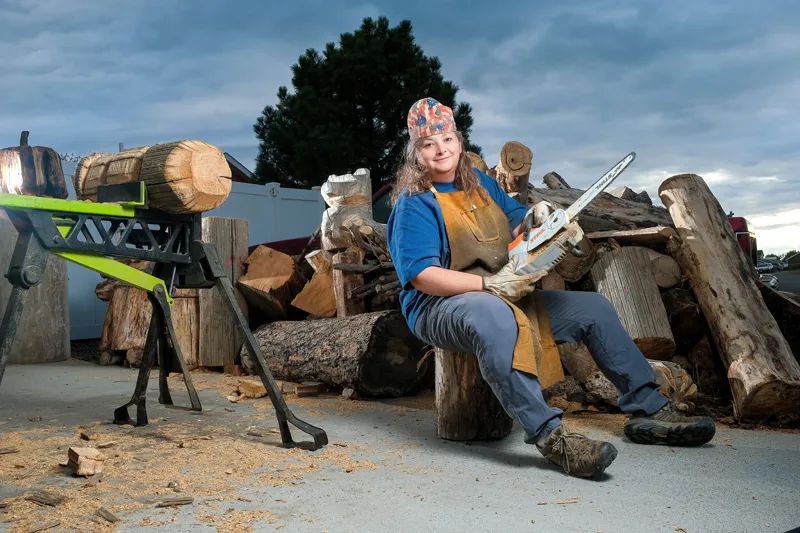 Giving Life to Logs
Blow torches & Chain Saws are Sandy Schrumpf's artistic tools
In a sleepy neighborhood off Elysian Road, Sandy Schrumpf glides a die grinder over a rough log. The whine of the grinder reverberates out her open garage door as she smooths out the details on her latest chainsaw carving. It's a pig in a barrel, carved from a single log. The pig's ears are big and expressive, and maybe it's just a knot in the log or a little nick from the grinder, but it looks like the dusty little dude is wearing a mischievous smirk. The pig started out as a 4-foot-tall hunk of pine, but in Sandy's hands it has come to life.
"Sometimes I can see something in a log," Sandy says, adding that when she does, it doesn't take a lot of effort to have the design come out right.
Sandy has multiple projects in various stages of the carving process piled throughout the garage, and her driveway is stacked with sturdy logs all standing on end waiting for her inspired touch. Over the past two years, she's carved everything from the classic porch-sitting bears and a myriad of other animals to more unusual designs, including cowboy boots, gnomes, Christmas trees and snowmen. She's got a locomotive in the works, and whenever anyone retires from the post office where she works, she makes them a chainsaw-carved mail collection box.
Sandy pops a small turtle the size of a basketball onto her steel workbench. Its neck and head are carved from a branch that naturally stuck out of the log. It's a work in progress but is already taking on some personality.
"The log told me, turtle," she says, giving its shell a pat with her hand.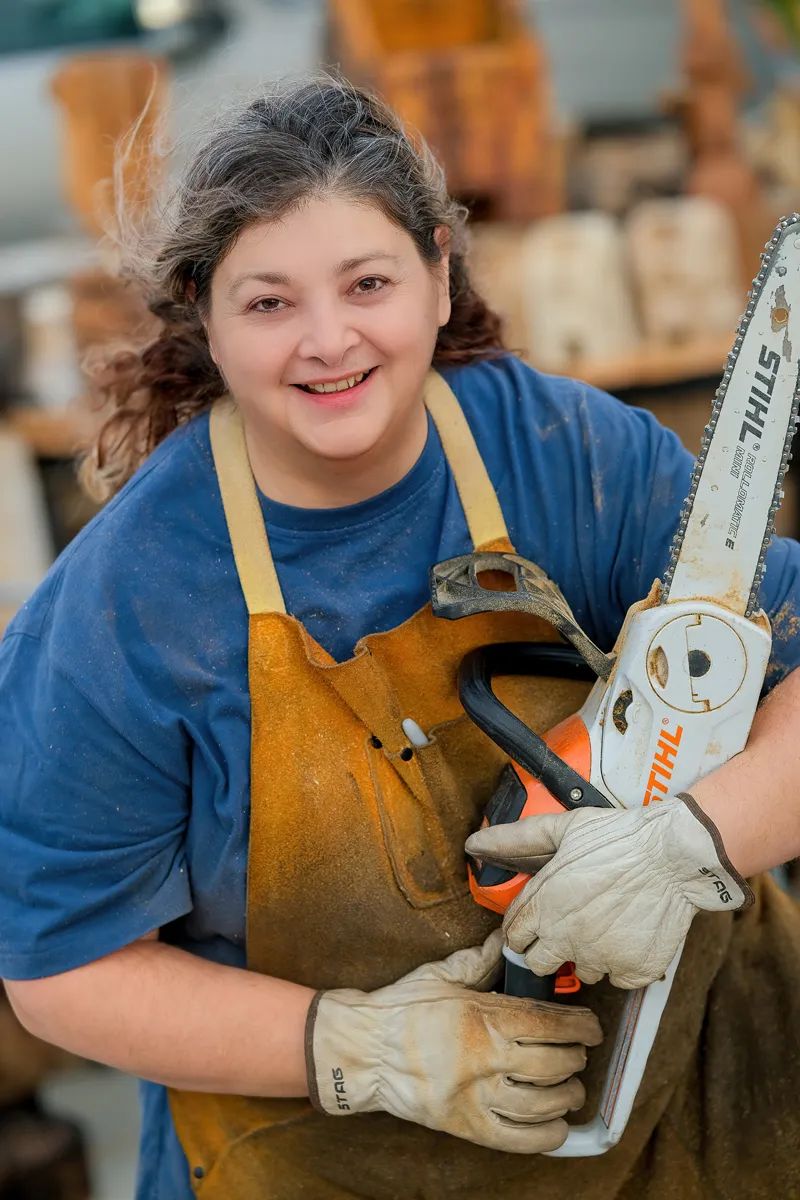 Behind her sits another log with a heavy branch almost as thick as the trunk. Sandy envisions a realistic owl or maybe a hawk carved from the branch, so it looks like it's perched in the tree.
"It's just sitting until I figure it out," she says.
When she's carving, Sandy wears a leather apron, steel-toed boots and leather gloves. With her hearing protection on, the whole world and all its cares fade away as she focuses on one thing: bringing logs to life.
"I needed something for stress, and this is the best stress reliever I've found," Sandy says.
Sandy's first experiences with a chainsaw were gathering firewood for the family's backyard fire pit.
"I always loved it and thought it was the funnest thing ever, but I never imagined being able to do this," Sandy says with her arms spread wide. "I love it!"
She carves most every day, and that old chainsaw she used for firewood has been replaced with a smaller, lighter, quieter Stihl electric chainsaw. She learned to carve by watching videos online, and her first project was a pumpkin, which still sits on her porch. After a few months of carving in her spare time, Sandy worked her way up to carving a bear. It sits on her porch too.
"I was just happy it looked like a bear," she says.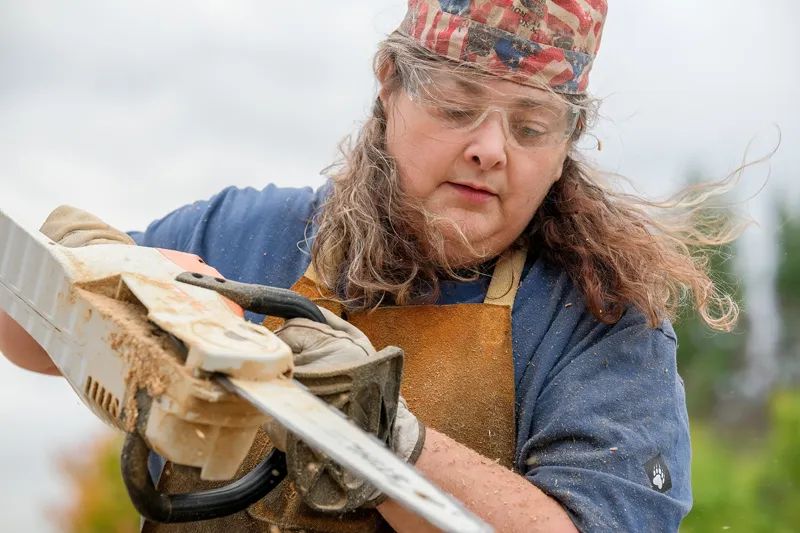 If practice makes perfect, Sandy is well on her way to perfection.
"You learn more as you go," Sandy says. "Everything that you do prepares you for what's next."
Sandy has connected with a few tree cutters who supply her with wood of all kinds. In her time carving, she's figured out what works best and has learned by experience how wood will react as it dries. Lots of times it will crack.
"I prefer pine," she says. "I love the smell of it."
The larger logs can be a challenge, but one Sandy is willing to accept. Her husband, David, built a system that allows her to clamp big logs to her hydraulic work bench, which she can raise and lower with ease.
"I try to keep them so I can manage them myself," she says.
Her neighbors are supportive too, and don't mind the sound of her tools or the occasional dusting of sawdust. Retirement is a little way off for Sandy, but when she does retire, she already has a plan: more chainsaw carving and perhaps a dedicated space where she can work year-round.
"For now, I'm trying to keep a balance with everything else in my life," Sandy says.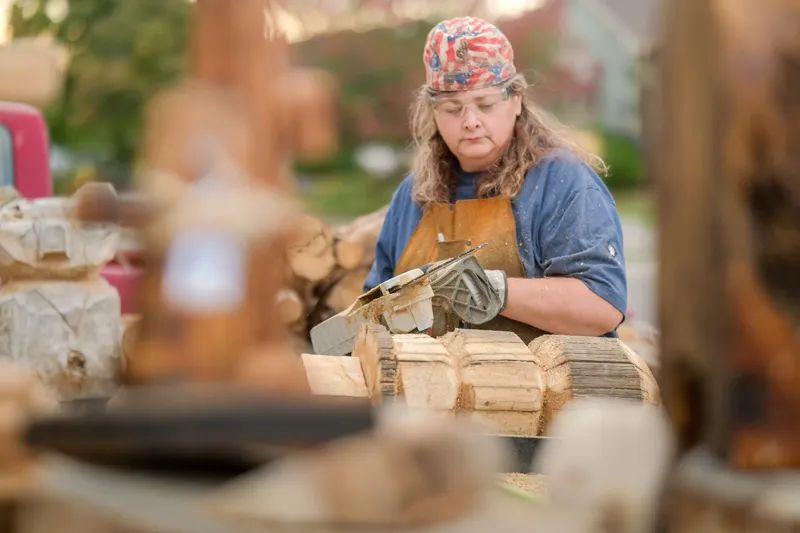 Last year, she started selling her pieces at vendor shows in Huntley and Laurel and has several more shows planned for this holiday season. Sandy's work can also be found on Facebook at Sandy's Chainsaw Carvings, and her work is also for sale at The Maker's Market.
"I do it because I love it, and any money I make is just a bonus," Sandy says.
YOU CAN FIND SANDY on Facebook at Sandy's Chainsaw Carvings. Her work is for sale at The Maker's Market, located in the old State Avenue IGA at 4220 State Ave. in Billings.