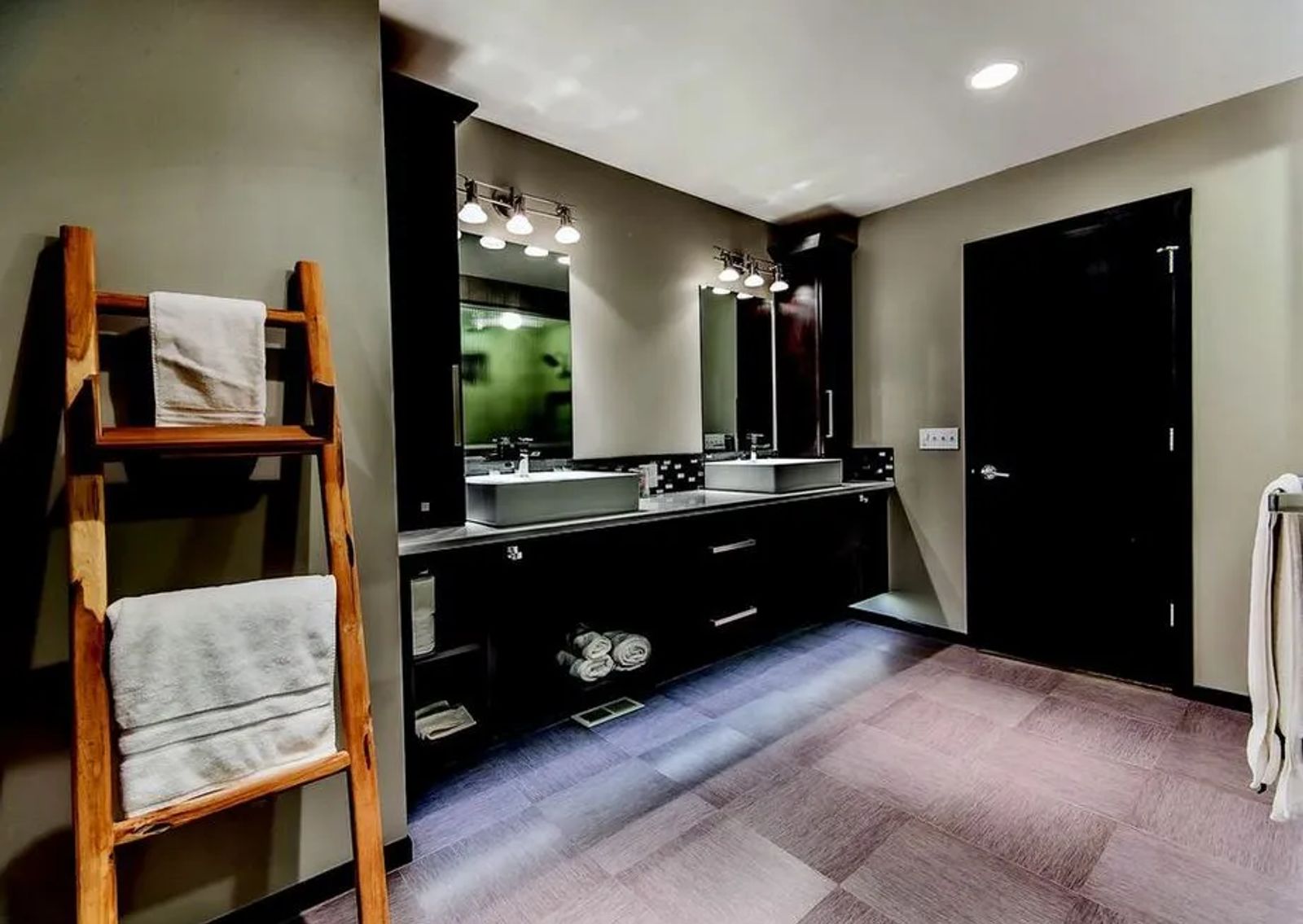 Going Through a Phase
Creating a 'New and Cool' home
Cindy decided that the best way to get the "new and cool" house she wanted was to remodel the one she had bought on the west end of town fifteen years ago. "I'm one person," she says, "and without buying a gigantic house now days you can't get the new and cool." This philosophy inspired her to redo her four-level home in stages.
Phase one took place several years back. She worked with Freyenhagen Construction to take the unfinished downstairs and turn it into a private sanctuary.
One incredulous steam room provides deluxe spa features. Glass encloses the tiled steam shower area in which a pool drain, extending the length of the shower, cleverly functions. "I've covered the drain with river rock and when the water is on it sounds like a creek flowing," explains Cindy.
Uniquely-patterned bamboo flooring adds beauty and functionality to the space while a pedestal sink puts on the Ritz. "I found the sink," notes Cindy, "and this room came together around it." It's the final touch with a bedazzling granite base that sparkles beneath soft lights.
Just off this bit of tranquility sits a stylish bedroom. The convenience of a laundry room rounds out the lower level. The washer/dryer were originally up one floor, however, when the second phase occurred, the old laundry space became a contemporary mudroom with floor-to-ceiling custom cabinetry.
Next to the open-nook mudroom sits a bathroom that was transformed from something old and outdated to a very new and cool guest bath. "It was during this stage of remodel," explains Cindy, "that Jeremy Freyenhagen (owner of Freyenhagen Construction) put a bug in my ear. There was some wasted space on the top level and since he doesn't like wasted space, Jeremy said, 'You know, we could make a master suite upstairs.'"
The suggestion led to the most recent remodel – phase three. Cindy's 3,100 square-foot home offers plenty of space for her and her two canine pals but she liked Jeremy's idea. The creative wheels began spinning. Cindy once again found herself at the Freyenhagen Re-Design Studio going over plans with Selections Coordinator Candi Freyenhagen and Estimator and Computer Specialist Scott Lueck. "Cindy is very detailed," shares Candi, "and details are huge. She wanted a different look. Working with her was so much fun!"
Gone is the home's "tiny" master bath. A spacious retreat now greets this content homeowner each morning. Cindy relishes the 'Espresso' color of alder cabinets from Woodland Cabinetry. Dark wood trim and doors, as well as, polished-nickel hardware pump up the contemporary flavor of the room. A light-colored quartz countertop attempts to temper it.
A floating cabinet with under-counter lighting delivers distinctively tasteful ambiance. Two ceramic vessel sinks from Ferguson Bath Kitchen & Lighting Gallery perch perfectly atop this linear delight. A single tall cabinet sits on either side of the vanity. Chrome faucets duplicate these clean straight lines, as do sleek light fixtures from Rimrock Lighting.
A random linear backsplash of black and white slate, complemented with stainless steel, intensifies the beauty of the entire space. The vanity Cindy enjoyed designing provides an "open look" with abundant storage.
Across from the chic vanity sits an inviting shower. It's long and lean defined by vertical porcelain wall tiles from Murray Floor and Window Coverings. The wall tile is called, 'Thatch.' The shower floor boasts an Adura luxury vinyl covering in a neutral color aptly named, 'Graphite.'
The openness of the shower is revealed through a no-door entry and a large beveled glass window. Ample natural light flows in from a transom window encased in the tile. The space seems large and in charge to Cindy. "It's huge," she says with a big smile. "It's so big it sometimes freaks me out!"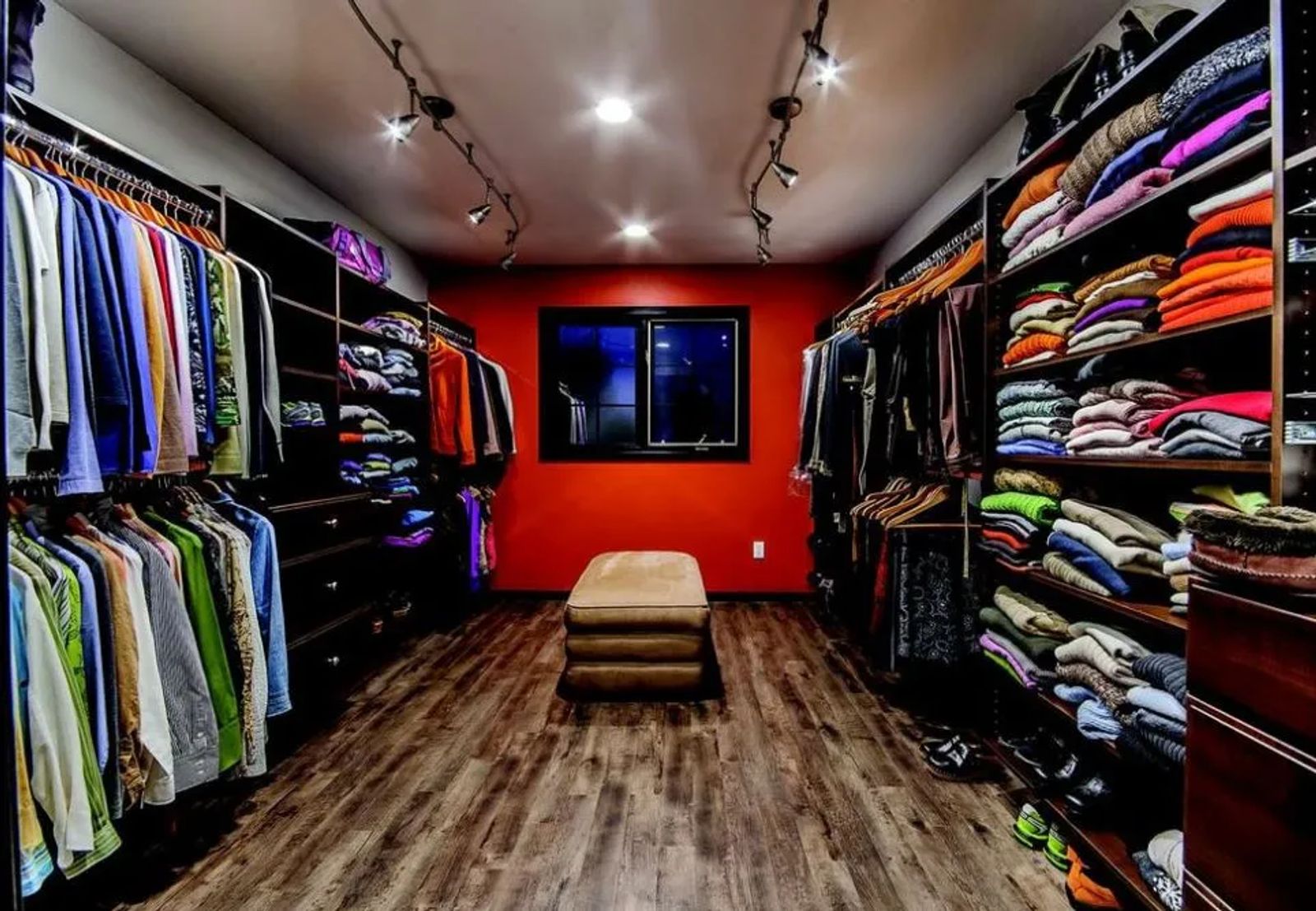 She loves everything about the transformation of her home including this indulgent master bath. Jeremy saw where wasted space presented an opportunity for an upscale en suite. He also managed to remove the master's itty bitty closet and give Cindy a closet beyond her dreams.
Jeremy and his team dissolved the useless space by bumping out a wall and revamping the layout. The bath expanded exponentially and a new closet, bigger and better than ever, arrived on the scene; actually, on the other side of the room.
The master suite flows brilliantly from the bedroom where new windows and dark trim breathe new life, through the magnificent bath into the dream closet. A wide pocket door efficiently accesses this space.
"I love it," states Cindy. "I hang out in here!"
It's a bright and cheery area granting a good deal of light. Track lighting runs above each side of the room while natural light streams in through a window on the far side. Wood closet organizers with built-in components and metal bins line both side walls. Cindy is through with running armloads of seasonal clothing up and down the stairs. Those days went out with the old closet.
An accent wall painted with Sherwin Williams', Jalapeño, expresses this savvy homeowner's personality with its energetic hues of orange and red. "It's definitely her color," remarks Candi, as we note several of her clothing items that match this lively shade. A luxury vinyl floor in a 'Saddle' color lends extra warmth to the room as much as it completes the classiness to a closet any woman would appreciate.
"You couldn't just do part of it," exclaims Cindy. Since the master bath needed a lift, the rest of the space had to be done at the same time. This project made a tremendous difference, as did the guest bathroom redo.
An "awesome" vessel sink with an open-storage vanity in this smaller bathroom makes as bold as statement as in the master suite. The shower shares the master's slate-looking porcelain tile, but, in a slightly different color. The flooring is also luxury vinyl in a darker 'Cocoa' color.
The room sings contemporary tunes especially with the visual texture of faux-painted walls. They look like concrete. "I wanted texture on the walls," says Cindy. "It had to be something that wouldn't rub off so I went with a concrete look."
A wax coating is applied over the faux-paint, according to Candi. "A lot of people think you can't put this type of wall affect in a bathroom but you can when using the coating."   
Creating a new and cool home takes planning and good re-design from the get-go. Cindy's thrilled with remodeling her home in stages, plus, she's thankful she chose to stay in the neighborhood she likes. She's already thinking about and strategizing phase four.
"The next phase will get rid of all the oak. The oak bannister will be gone," announces Cindy, as we gaze around the main floor area. "My kitchen needs redone, too!"
Transforming her home one phase at a time works the best for Cindy. She knows what she wants and is perfectly happy to go through phases. This way she secures what she personally desires in a new and cool place to call home.