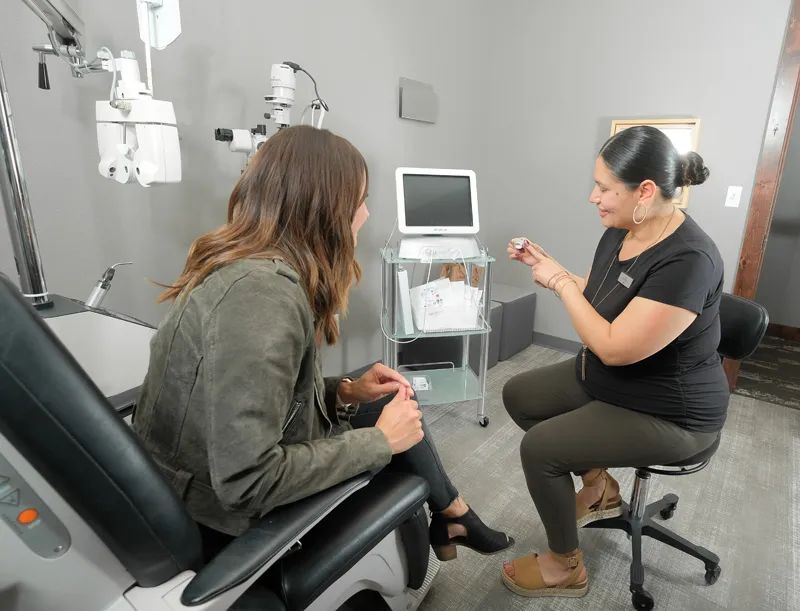 Goodbye Dry Eye
New therapy helps bring back moisture and comfort
Lona Warrenburg suffered from dry eyes for "maybe the last 20 years," she says.At the least, her eyes felt tired and gritty. Over time, the problem grew so severe that if the 54-year-old Billings woman didn't dab ointment in her eyes at night, in the morning it felt like she was ripping off a layer of her cornea when she first opened her eyes.
"It was very painful," she says. "The ointment helped, but it did not make the problem go away."
When Warrenburg learned of a possible treatment this spring, she made an appointment to see Dr. David Bauer, a Billings optometrist. After her problem was diagnosed, Warrenburg underwent a simple 20-minute procedure called LipiFlow that offered a warm, gentle eye massage.
It cleared the glands that produce the oily top layer of tears and restored the eyes' tear balance.
"It was actually very soothing," she says. "It was very comfortable, there was no pain, and it helped put moisture into my eyes."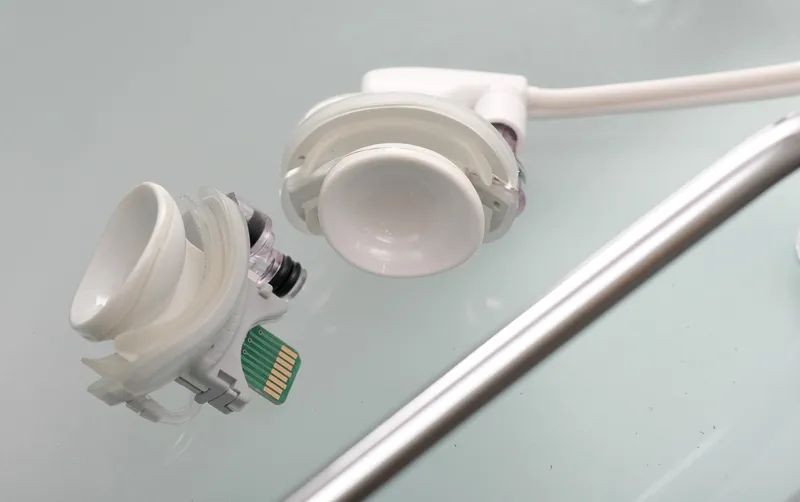 Warrenburg is one of estimated millions of Americans who suffer from dry eye disease. The condition is caused either when the eyes don't produce enough tears or the tears are of poor quality.
Tears, which keep vision clear and eyes healthy, are made up of three layers: the outermost oily layer, the middle water layer and the bottom mucin layer responsible for evenly distributing tears across the cornea, the surface of the eye. Whether external factors cause tears to evaporate or the glands that make tears decrease production, the result is dry eyes.
The condition affects more women than men, due, in part, to hormonal changes, and tends to worsen as people age. Certain medical conditions and medications can also contribute to the problem, and the environment can have an impact, says Dr. Robyn Clausen, co-owner of Bauer & Clausen Optometry.
"There's a lot of dry eyes in this region because of our dry climate," she says. "Montana is probably higher than the national average."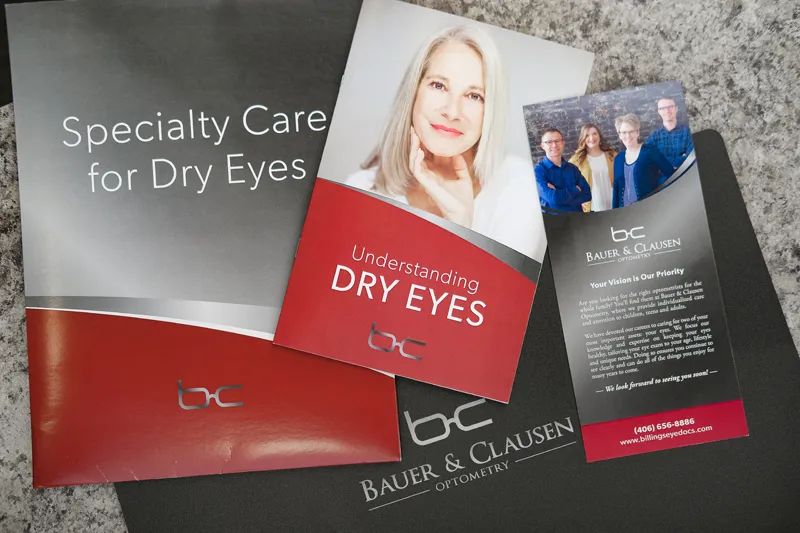 Symptoms "are sometimes the opposite of what you expect," Clausen says, pointing out that some people experience watery eyes. Their eyes may burn while they're reading, their vision fluctuates and they may experience a gritty sensation.
The four doctors at Bauer and Clausen Optometry saw enough of the problem that this March, their office acquired the technology and training to treat the condition.
"We've always treated dry eyes, but with the additional training and equipment, we're able to give patients newer and better options," Clausen says, adding that each treatment is specific to that patient's type of dry eyes.
Initially they planned to introduce the technology in 2020, but the pandemic led them to wait until this year.
"We had been looking into it for a couple of years, waiting for the right time to make it available in our practice," Clausen says.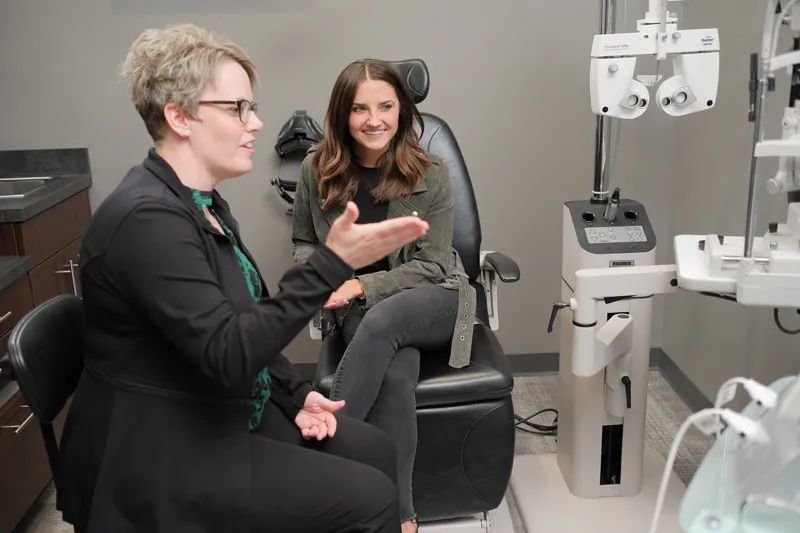 If a routine eye exam detects a possible case of dry eyes, dry-eye testing can later be performed to reveal the content of a person's tears or determine if the glands that produce the tears aren't working properly. Based on the results, a variety of procedures are available at the office, most performed in minutes, Bauer says.
"We usually see them back about eight weeks after treatment," he says. "Most people notice that their eyes feel better, less dry and more comfortable during the day.'"
He is quick to say the procedures don't necessarily completely eliminate the problems, and clients are encouraged to partner in their own care, continuing to use warm compresses and lubricant drops to extend the life of the treatments.
Results of a treatment such as LipiFlow can last between one and three years, he says, "assuming good compliance at home." Patients generally pay for the tests and treatments out of pocket. Certain tests are covered by medical insurance.
Vicki Veltkamp, 61, of Billings, who had worn contacts for years, experienced scratchy, irritated, bloodshot eyes.
"I started to feel like my eyes were getting itchy and I felt like my eyelids were getting goop built up in them," Veltkamp says. "And then I started struggling with redness."
She tried countless eye drops and ointments, but nothing seemed to help. After a recommendation from a friend, Veltkamp sought help from Bauer & Clausen.
She underwent two procedures, first Bleph-Ex, which helps restore health to the eyelid, and then LipiFlow. The treatments removed the redness from her eyes and "greatly improved the comfort of my eyes, although I still have some dry-eye sensation."
Veltkamp continues to use eye drops but is especially pleased that the redness hasn't returned.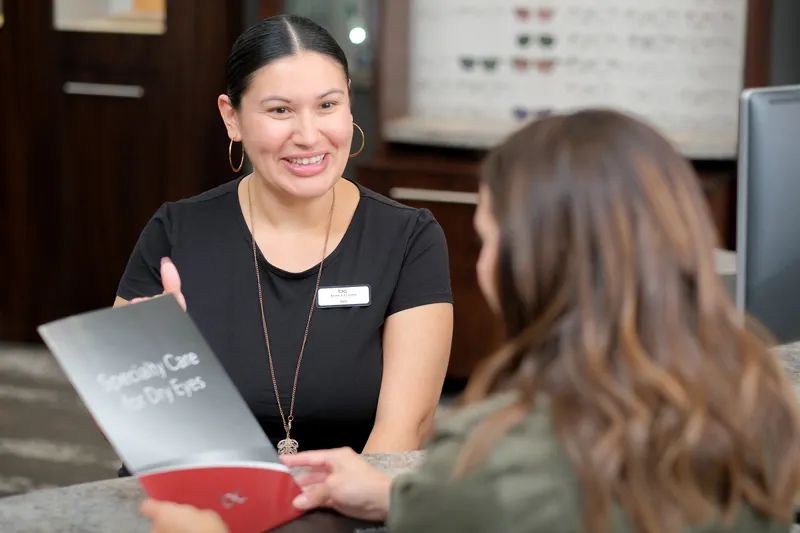 Madeline Randolfi, 31, of Billings, wore contact lenses since high school. But two years ago, dry eye disease kept her from wearing contacts and she had to rely on glasses. With her wedding coming up in mid-June, Randolfi turned to Clausen for help. Clausen evaluated, then treated her eyes, using LipiFlow.
"It was actually pretty incredible," Randolfi says. "I saw immediate results that carried through up until now," while also continuing to use eye drops and moist eye compresses.
Even better, on the day of the wedding, she popped in single-use contact lenses with no problem and wore them all that day.
"It was great to see my husband's face and his expressions," she says.