Revitalizing a Century-old School
From classrooms to modern living spaces
Some advocated tearing down the iconic Fratt building that sits near the heart of downtown. Architect Sherril Burke had bigger plans. She thought the century-old middle school instead needed a new lease on life.
"We wanted to keep the historical nature of the building," Sherril says. "It was important to me personally and to my family. We wanted people to walk into the building and remember it was a school."
Known in more recent years as St. Francis Upper, the stately three-story blonde brick building at 235 N. 32nd St. functioned as a Catholic middle school for nearly 100 years. The original name, Kate Fratt Memorial Parochial School, remains carved in stone above the front entry, dated 1918.
"My husband Michael has been interested in the building for the last 15 years," Sherril says. The keen interest turned into action a couple of years ago. Sherril and Michael, founders and principals of HGFArchitects (HGFA), along with Sherril's father and two brothers comprising Fagg Family Properties, purchased the property.
That's when the mission began to convert the century-old schoolhouse into living spaces with all the modern amenities.
"I was excited to take it on," says Sherril. "The building sat (vacant) for one or two years, however it had been kept up well. We worked hard to identify structural walls, keep doors and windows in place and reuse everything we could. We kept blemishes, the flagpoles, and 'Jimmy loves Sally,"' referring to a couple of long-ago etchings in the wood.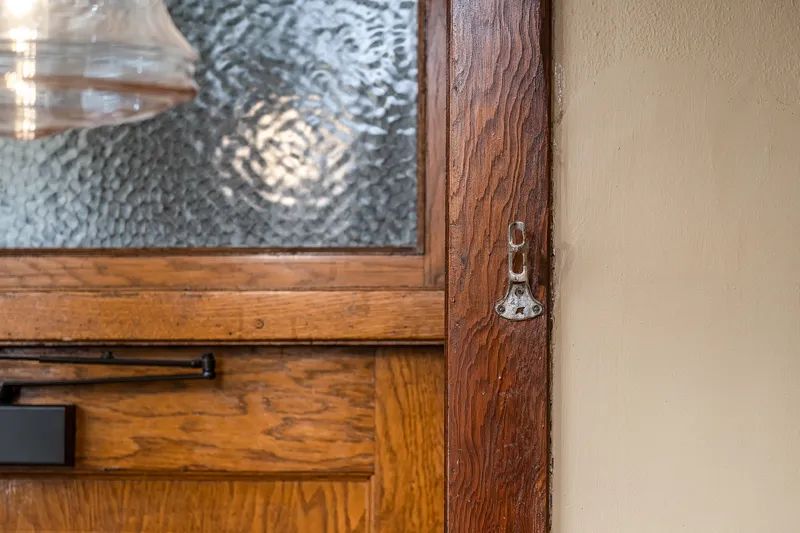 Great care was taken to preserve the history and exquisite craftsmanship of an earlier era. The restoration resulted in repurposing the interior from classrooms to 13 sophisticated living spaces known today as Fratt Historical Condominiums.
This site is now listed on the National Register of Historic Places. Thirteen-foot high ceilings lend an open, airy feel while original oak doors and casings reflect warmth and enduring quality. Maple hardwood floors on the second and third floors have been beautifully refinished.
"The hardwood floors were covered over with carpet squares and sticky glue," Sherril says, "so we had to scrape, re-scrape and use sanders. The first floor is concrete. It had tiles and asbestos adhered to it. It's now covered with LVP (Luxury Vinyl Plank)."
The discovery of asbestos resulted in Jones Construction, general contractor for the project, halting the demolition process for about six weeks this past winter while the cleanup ensued. Bryce Terpstra, president of Jones Construction, recalls, "We were on an accelerated schedule as the condos were sold before demolition."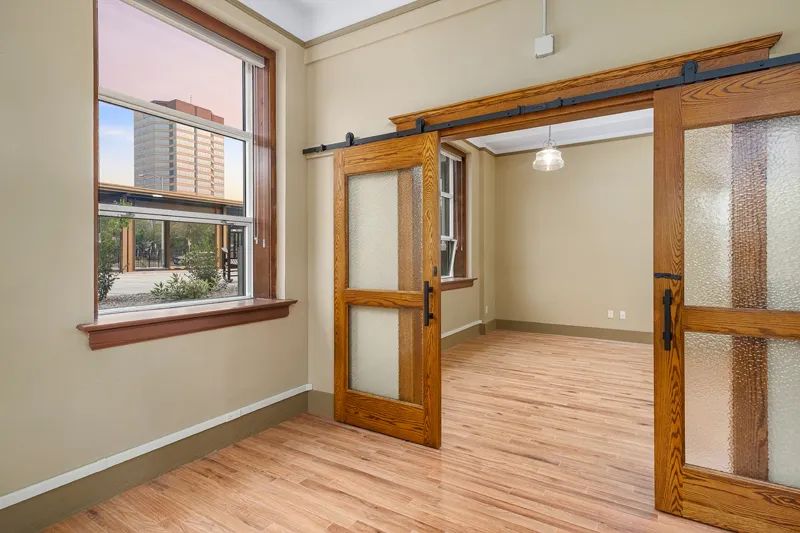 Realtors Julie Seedhouse and Shelby Williams of Century 21 Hometown Brokers sold the units in record time – in less than two months.
"We sold them based on beautiful renderings Sherril, Michael and their team had done," Julie says. "People trusted in the vision. It's taking an old building and repurposing it. It's great for the health of the Billings economy and for the downtown. Most of the buyers have a connection to Billings."
"It's remarkable that there was so much interest," says Bryce. "It's not very often you're able to own a piece of history, to preserve it and share it with the community."
"We preserved a very high percentage of it," he continues. "We repurposed doors, trim, floors, and kept the majority of chalkboard rails. Even heat radiators that were not in use are now décor."
Bryce says he's amazed at the amount of lath and plaster used in this "very stout" and "impressive" building. "The different materials we had to break through showed the amount of craftsmanship that went into it," he says. "In those days, it's what they had and could put together. And it lasted over a hundred years."
Even though the building's unique heritage remains, the condos are designed for contemporary living. And, progress requires increased accessibility.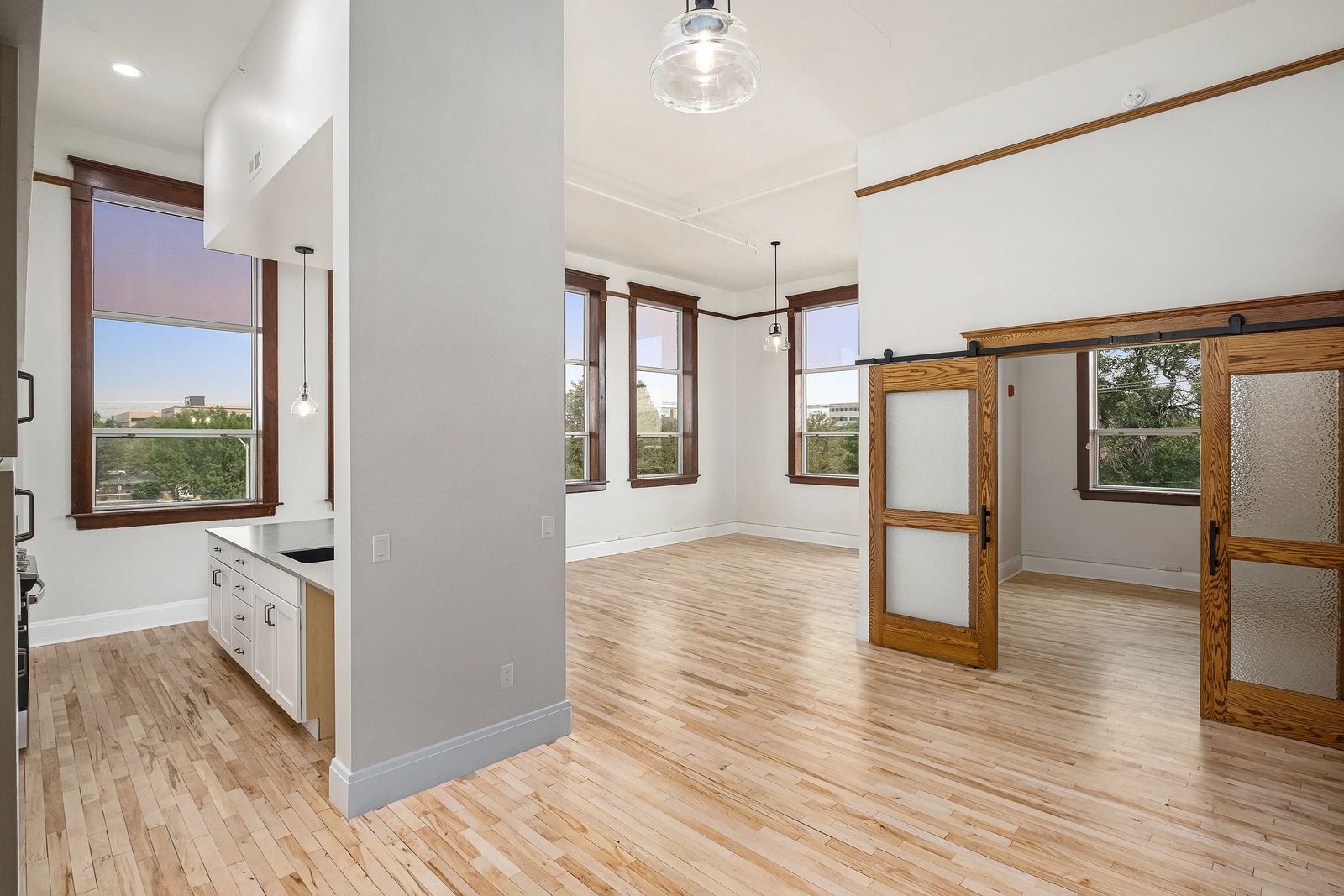 "From the interior wall standpoint," says Bryce, "it was all opened up and we were putting an elevator in the center of this old building. With Michael and Sherril and the entire team, it came together. It went from a place of learning to a place for living."
The personal living spaces have been custom fit for the new owners. "We replaced all the plumbing, electrical and mechanical," Sherril notes. "The owners were able to choose their cabinetry, appliance and lighting packages to personalize their spaces. They could also pick colors and grout from three different paint palettes."
The one-, two- and three-bedroom units, ranging in size from about 1,000 to 1,500 square feet, resonate with distinctive character.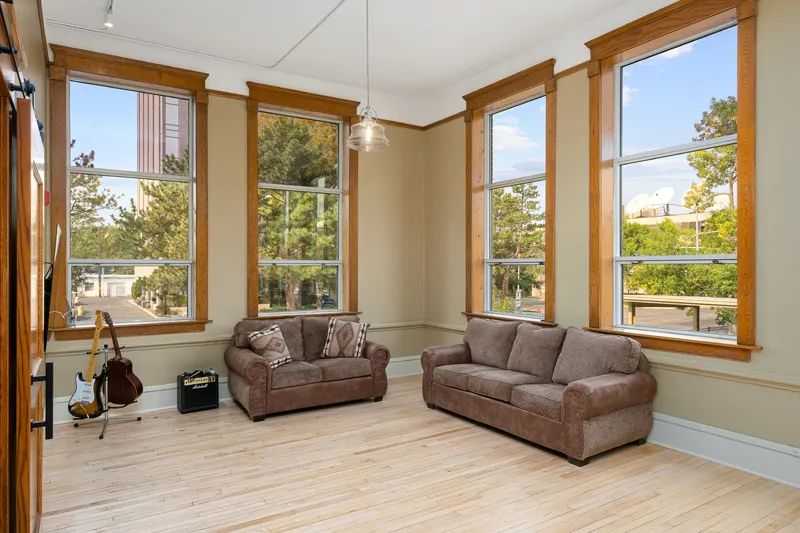 As we make our way to the second floor condo belonging to T.J. Lynch and his wife, Maggie Hicks, Sherril points out original transoms above the doors. The spirit of yesteryear continues with original oak millwork and glass framed entryways in the lobby area.
Montana natives T.J. and Maggie expressed their interest in this cultural property early in the renovation endeavor. T.J.'s recounts his connection to this grand building going back to when he was a first-grader. "I walked from our house by Daylis Stadium to school," he says. "I walked alone on Grand Avenue."
T.J.'s younger brother, Darren, started first grade the next year so the boys walked together. "We'd march with our coats and hats on down the block to St. Pat's Church basement for lunch, as there was no cafeteria here."
The memories flood in as does natural light through tall windows in the couple's open living space. "We went with a warm color in the living room," says T.J.. "We shook it up a bit." Complementing the maple floors, the newly trimmed windows remain resplendent in their beauty. Only the top panes have been replaced with opaque glass.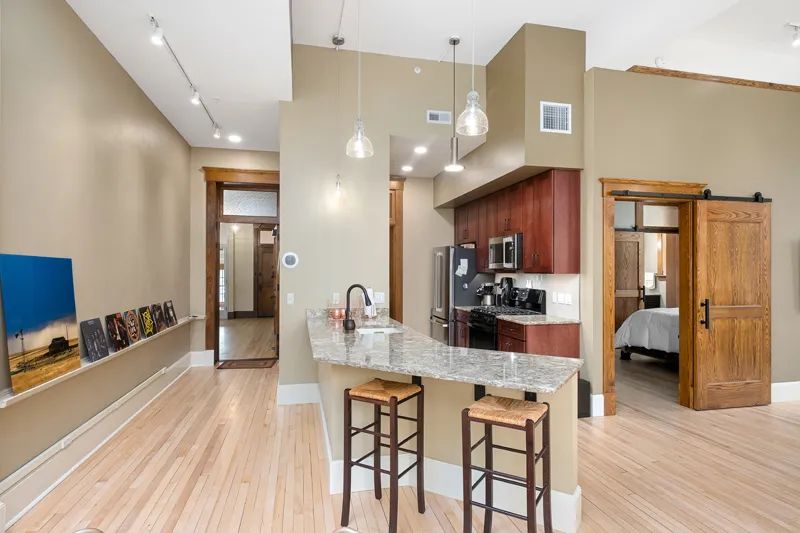 "This is to mitigate the strong sun," T.J. explains. "We get the sun coming over the building on the west windows." The couple's main living area in the one-bedroom, two-bath condo faces north, making for additional light and a spectacular view of the rims.
"The best part is coming into the living room," adds T.J., "and seeing almost the entirety of Billings." Maggie agrees, "I love the view of the rims. The lights at the airport are beautiful."
The airport's a quick jaunt to the new condo when the couple flies in from their home in California, where T.J., a Hollywood screenwriter, teaches lighting technique at film school. Maggie, now retired after working the past 20 years in L.A. law offices, spent her earlier career working for the Forest Service here and for Doris Poppler, Montana's first female U.S. attorney.
Ecstatic over owning one of the condos, the couple is already shaping new memories. The first week they moved in they discovered their street is on the route for Burn the Point. The large outdoor fenced-in patio provided the perfect spot for entertaining friends while watching the parade of classic cars stream by.
"Oh, that was fun," says Pam Boeck, who along with her sister, Debora Boeck, bought a two-bedroom, two-bath condo. "We met for margaritas on the patio and got to know Maggie, T.J. and a few other neighbors."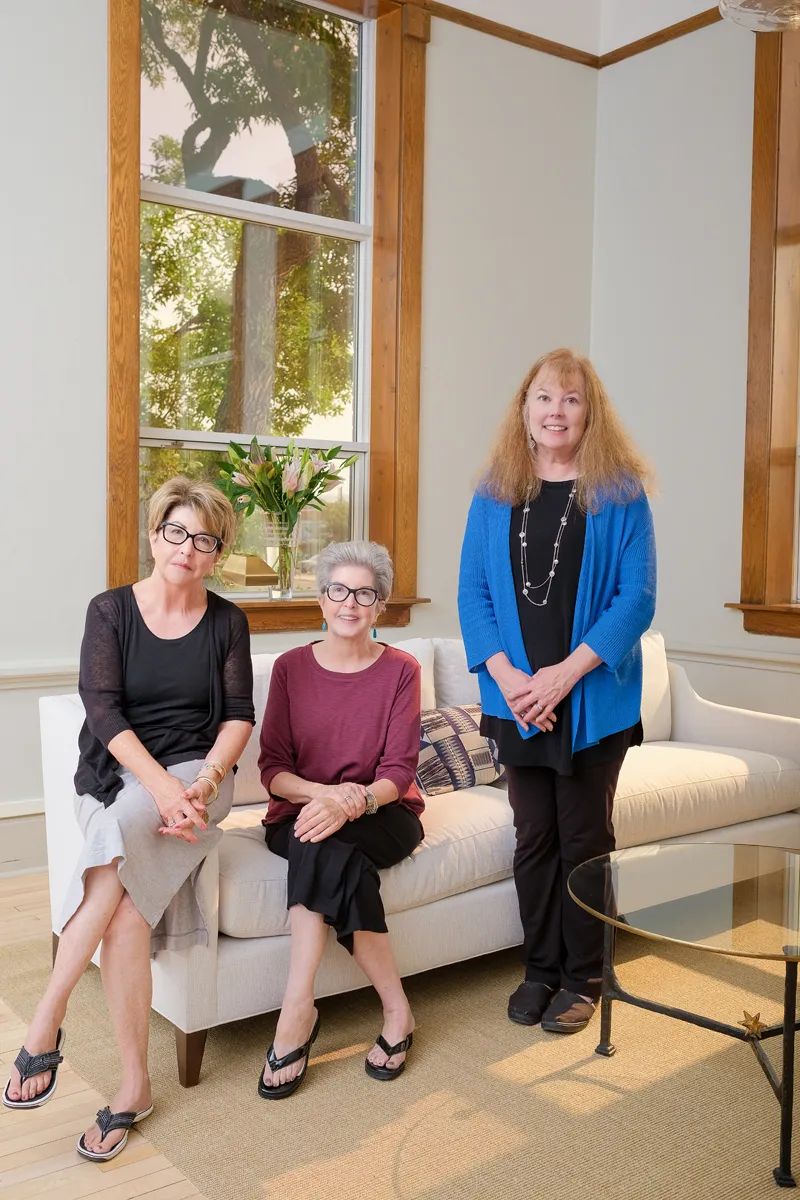 The sisters grew up in Billings, graduating from West High in the 1960s. They lived for years in Seattle before moving to Scottsdale, Arizona. Pam is a retired Delta flight attendant and real estate agent, while Debora works online with her education consulting business.
"We have lifelong friends and family here," says Debora. "We knew we wanted to live out of Scottsdale in the summer. Here, it's the ease of getting around. We had kept an eye on the Stapleton building after staying downtown two years ago. Julie Seedhouse lives there and told us, 'I know of this other project,' and that's how this all came about."
"Billings is the obvious choice for us," adds Pam. "It feels like home."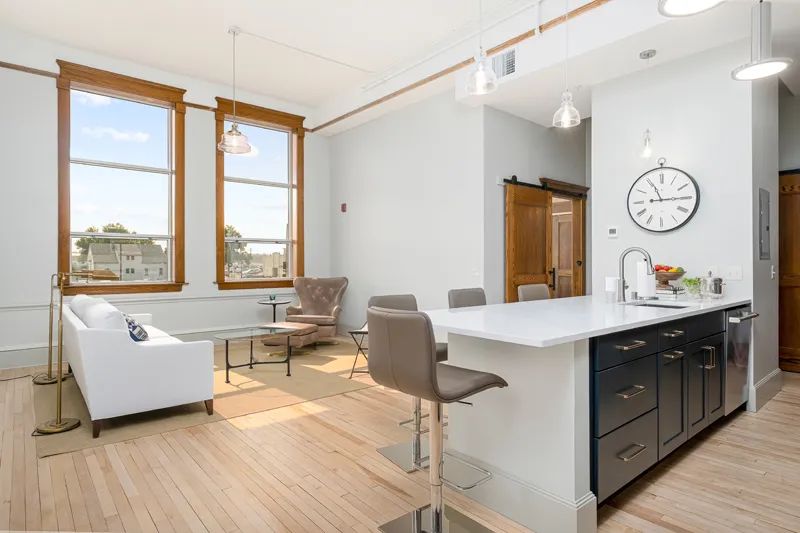 These enterprising women decided to "bring together modern aesthetics," as Debora says, "with old school." They opted for a grey wall color. "Everybody loves this paint color," says Pam. "It kind of has an aqua look to it."
The color highlights the white Cambria quartz countertop juxtaposed with navy-blue kitchen cabinetry. A classy cream sofa and tan leather chair with ottoman float in the open design living space. A colorful floral bouquet rests on the original oak window sill. "It's my thing," says Debora, "having fresh flowers around."
"And we love the chalkboard rail," Pam says. "It's adorable. I love how Maggie and T.J. put (LP) album covers on theirs."
Another added touch Debora and Pam chose was carpeting their bedroom floors. Debora's space pops with dark blue-colored walls in contrast with the beige carpet. "Part of this room was part of the school principal's office," says Debora.
Every square inch of this exceptional building tells a story. Each owner holds a connection to its past.
For Sherril the vision has come full circle. "It was a big project," she says. "It was challenging. It was worth it.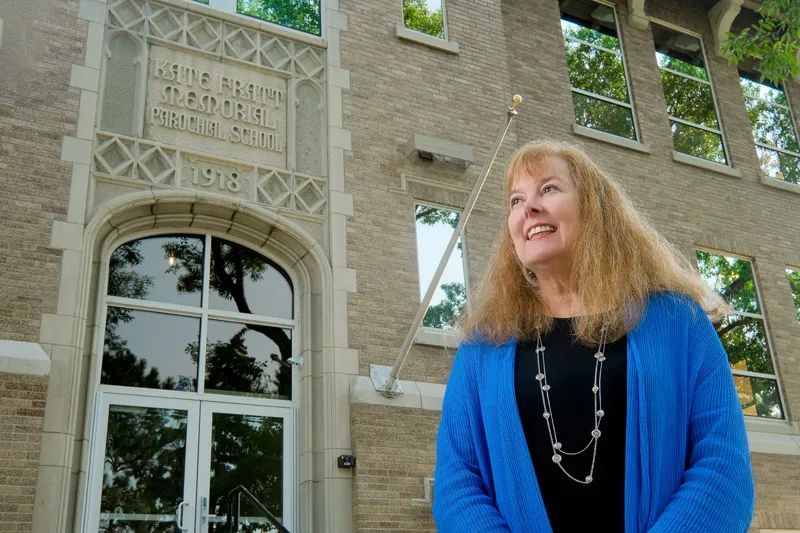 Sherril Burke keeps the Billings community close to her heart. Born and raised here, she ventured to the West Coast, where she attended the University of Oregon's Architecture School in Eugene, and where she met Michael Burke. After graduating with architectural degrees they married and moved to the Magic City.
"I worked with my father, Harrison Fagg, for 30 years," Sherril says. A decade ago she and Michael started their own architectural firm, HGFArchitects.
"I actually enjoy working with my husband and rely on his input and support," she says.
The couple has two married children and two "fabulous" granddaughters.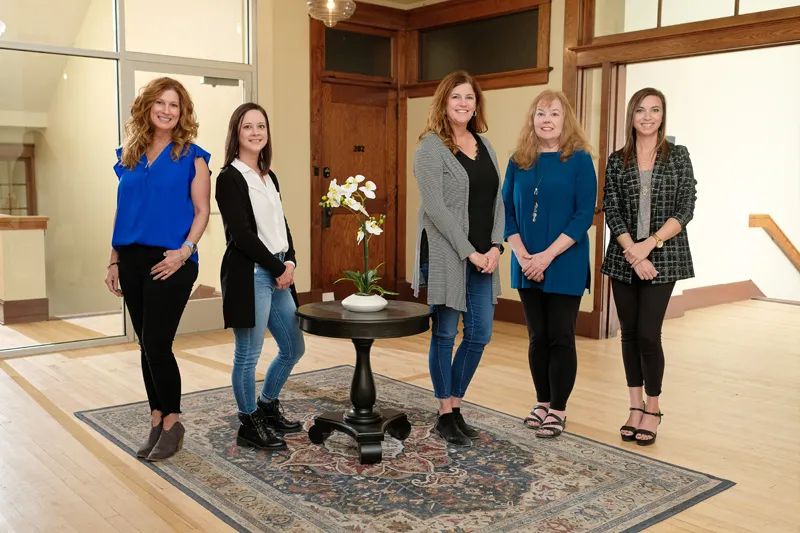 THE WOMEN WORKING BEHIND THE SCENES
The revitalization of the century-old schoolhouse took a concerted effort by many. The skills and talents of all involved brought this enormous labor of love to fruition.
A group of female professionals working closely with Sherril tied together the inner workings of this expansive development.
Realtors Julie Seedhouse and Shelby Williams, co-list agents for Century 21 Hometown Brokers, wasted no time promoting and selling the condos. "None of the units were completed when they sold," says Julie. "It's an incredible addition to downtown Billings and shows the demand for downtown living."
Emily Ludwick, interior designer at Hannesson Home, put together the three color scheme options, as well as sample packages the owners selected for use in their kitchens and baths. "Owners could go with stained cabinetry or painted to oak and hickory," says Emily. "We customized every unit.
"T.J. and Maggie went with hickory spice berry kitchen cabinets and Debora and Pam chose blue cabinetry. There were a lot of unique things to implement."
New schoolhouse-style lighting fixtures installed throughout the building brighten every nook and cranny. "We designed it to keep with the history and nostalgia of the building," says Lauri Patterson, owner of One Source Lighting.
"What we selected was a great package for each unit," adds Lauri. "We had only three owners that made changes. The common areas still feel like a school house and each unit feels like their own."
When considering functionality and form for kitchen appliances Emily Krieger, area showroom manager for Montana at Ferguson Bath Kitchen & Lighting Gallery, notes each space had to be checked out. "We met with each individual owner and essentially offered a base package with option to upgrade," she says.
"On the plumbing side selection, we went with the historic feel to stay with that era of the Fratt building," Emily adds. "It all meshed well with the updated look and feel without taking away from the historical aspect."
Additional Photos from This Project