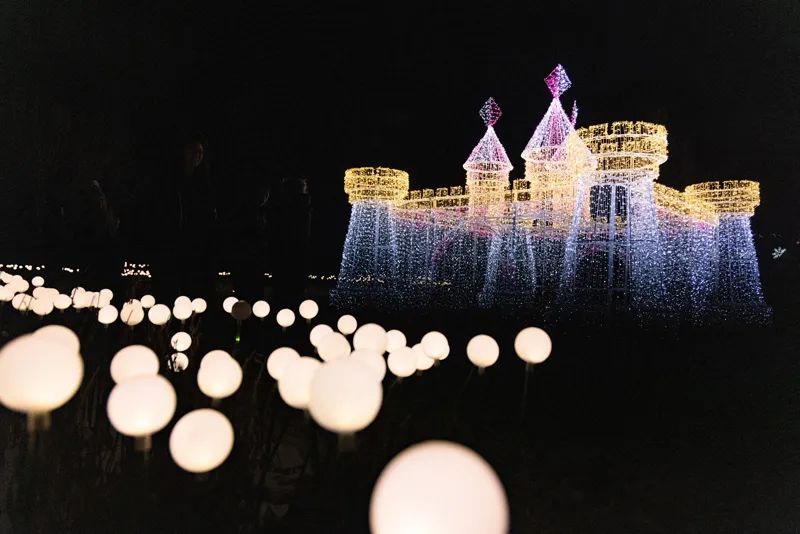 Light Up the Night
Holiday Nights is making a comeback to Billings in a big way
When Janese Carstens walked the grounds of ZooMontana in October, her face lit up almost as brightly as the trees wrapped in every color of Christmas light.
"Wait until you see what I am putting over here," she said. "The vision is coming to life! It's one thing when you see it in your head. It's another thing to see it take shape in real life."
Janese was hired late last July as the event director to orchestrate the second annual Holiday Nights. She hasn't slowed down since.
"We want to make this an experience," she says. "I remember going to see the lights with my parents when I was younger. That's so nostalgic that once in a while my extended family who lives in town will get a bus and go around together to enjoy that." She knows this event will be a destination for families. "I love the idea that what we knew as kids, we can give to the Billings community and it can be nostalgic for the next generation of kids," she says.
Since the beginning of September, crews have been out wrapping trees daily with miles upon miles of Christmas lights to get ready for the massive display that stretches over a third of the zoo. All told, there are nearly 10 million lights and several dozen large-scale displays — everything from a giant castle fit for princesses of all ages to candy cane arches that light up a pathway through the zoo. Holiday Nights is a walk-through experience that families can use to spend a night together taking in Christmas in a way that's never been possible in Billings before.
"I am excited," says Josh Benson, one of the owners of Holiday Nights. By day, he's in the gaming business, but over the past few years he's felt a pull to give something big back to his community.
"Christmas is just a special time," he says. "From the time I was little, my mom always brought out the porcelain cities and set up this massive display. I remember that as a child."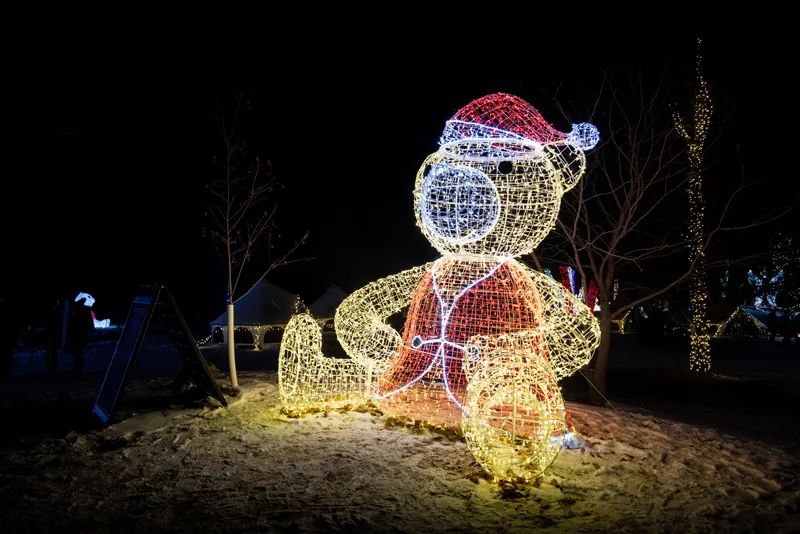 Two years ago, Josh and his family of five visited Sam's Christmas Village in Somerset, Wisconsin. It's a multi-acre display of millions of lights that mimics a European Christmas Village. After doing some digging, Josh realized there was nothing like this in Montana. In fact, the closest holiday light destinations were in Wisconsin, Idaho and Colorado, hundreds of miles away.
"I approached Jeff (Jeff Ewelt, ZooMontana's executive director), and ultimately he gave me the go-ahead to build something really cool here," he says. Josh brought the idea to two of his business partners — Pete Carlson and Tom Cusciotta — and they were all in. "We want to make it cooler and brighter and better year after year until you just can't go any bigger," Josh adds with a smile.
The timing couldn't have been more perfect. The drive-through displays that the zoo has hosted for decades are aging. Wires on some of the displays are exposed and the whole area needs new electrical infrastructure.
"The zoo says when it goes out — and it could be any day — that it's probably not going to be cost effective to set it back up," Josh says, adding that Holiday Nights will continue to use what it can within its own display.
For now, you'll be able to take wagon rides through the drive-through portion during Holiday Nights for an extra $5 per person. On Mondays and Tuesdays in December, Holiday Nights will open up the ZooLights for folks to drive cars through the much-loved display.
There's a lot to explore with Holiday Nights. They're bringing back the popular s'more tents that families and corporations loved in their inaugural year. The tents come stocked with a basket of goodies to make s'mores, games to play, a huge jug of hot chocolate plus their own personal fire pit.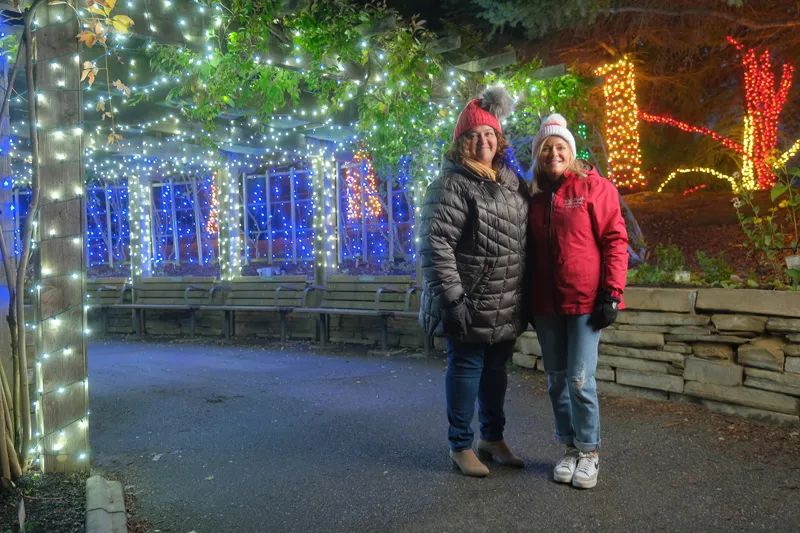 It was Heather Carlson's job to deck out each of the 13 tents with its own special flair — everything from a Grinch-themed tent to tents that offer a cozy, woodsy charm. She loves the fact that folks will use these spaces to build not only s'mores, but memories.
"I just love that there is something like this here in Montana that people can travel to, look forward to and make traditions," Heather says. "People walk in and they just smile."
As the show gets ready to throw open the doors for the season, Janese is putting the finishing touches on every inch of the event.
"This gets me jacked," she says with a laugh as she points to which displays will go where on the grounds. There are 16 themed sections stretching into new parts of the zoo. The barnyard area will turn into Christmas at the Farm, with a splash of multi-colored lights and visits from different characters. "I don't want to spoil too much, but we do have Frosty the Snowman this year," Janese says. "We also have a certain snowman who enjoys warm hugs!"
The waterfowl area will be transformed into a Winter Wonderland. "I'll be honest. It's going to be a showstopper," Janese says. "It will look like the entire place is frosted. I have these cool pathway lights that go both up and down. That's all I am going to say. I am not going to say anything else," she says with a laugh.
There will be a scavenger hunt for guests. On certain nights there might be live entertainment. Vendors will be on site with food and drinks. On Sundays, kids will have a space just for them to create a craft or two. And, who could forget Santa?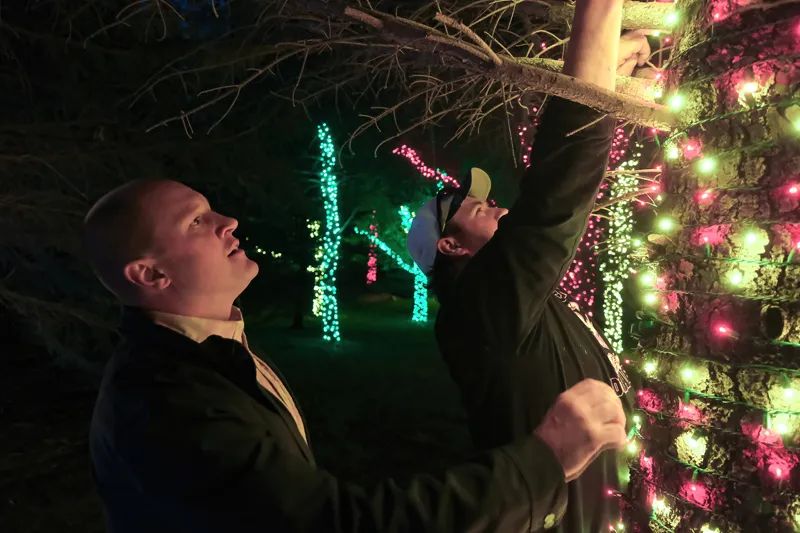 "The sleigh for Santa is one you can sit in with him," Janese says, adding that you'll be able to take pictures with Santa on your own phone or camera. "There's not a kid who wouldn't say, 'Oh, I wish I could be with Santa in his sleigh.' We are making that happen this year."
Twelve thousand people took in the light show last year. Janese is hoping for nearly double that number this year.
"It's a big production with a lot of people who have a lot of passion to bring this to the community," she says. She's counting down the days when she'll be able to watch people's reactions as they walk through the gates.
"Oh, I can't wait," she says. "I hope it's awe. I hope it's wonder."
HOLIDAY NIGHTS
Take in the spirit of Christmas with millions of lights
The walk-through experience is open Nov. 24 through Dec, 24 on Thursdays through Sundays and Dec. 26 through Jan. 1 every day. Doors open at 5 p.m. Admission gates close at 8 p.m. and the lights are out at 9 p.m. For more, visit holiday-nights.com.